Shinjo
This page describes a city in Yamagata. For the village in Okayama, see Shinjo (Okayama).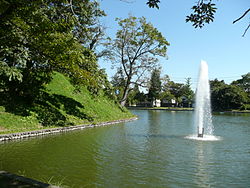 Shinjo
(新庄市;
shinjō-shi
) is a city in
Yamagata prefecture
.
Understand
Shinjo is a small city in the north of Yamagata prefecture that is at the end of the Shinkansen line. It is also the shopping hub for the region.

Climate

Winters in Shinjo can be rather cold, with a lot of snow and good skiing. Summers are very nice for outdoor activities, though the rainy season (around July) is very wet. The spring and fall can be quite nice, though planning visits well in advance can be difficult, because the time of change from winter to spring and fall to winter varies from year to year. As in much of Japan, spring cherry blossom viewing is quite enjoyable.

Get in
Shinjo is the northern terminus of the Yamagata Shinkansen from Tokyo. Coming by air would be inconvenient compared with train. The nearest airports are in
Sakata
and
Yamagata
. For those traveling by car, Shinjo is on Highway 13, going to Yamagata in the south and Akita in the north. An expressway between Yamagata and Shinjo is under construction; only the northern portion is finished. Night buses go to and from Tokyo.
Get around
There is limited bus service. Traveling by car is the easiest way to go.

Do
Shinjō FestivalThis annual 3-day festival, held since 1755, has a parade and traditional dancing.
Buy
Takahashi Nittō Shoten

address: 若葉町7−33

This liquor store is one of the only places in the region that has a decent selection of Belgian beer. It also has a lot of Japanese liquor and sake.
Eat
address: 五日町1317−1

This shop has tasty miso ramen.
Go next