Shirahama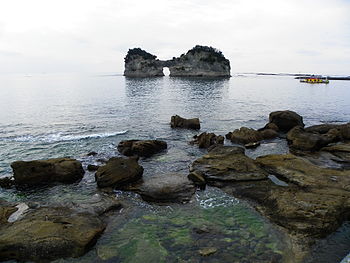 Shirahama
() is on the western coast of
Wakayama prefecture
,
Japan
. It is best known for its beautiful white beach and hot springs. The main beach is lined with hotels like a mini Waikiki. The hotels were built in the 1960s, 70s and 80s and have a very nostalgic look. During the summer, there are fireworks every night on the beach.
Get in
The easiest way to get to Nanki Shirahama is by air or by train to avoid the traffic jams on the country roads leading into Tanabe City and Shirahama. An express way connecting the city to Osaka almost reaches Shirahama. The expressway is only two lanes, so it can get crowded in summer.
By plane
Nanki–Shirahama AirportDaily flights to Haneda airport in Tokyo with JAL. Regular buses connect the airport to JR Shirahama Station (¥360-610 depending on route used).

Kansai International AirportThe nearest international airport. On weekdays there are three highway buses that leave from Rinku Town, one train stop away on JR or Nankai, and make multiple stops in the Shirahama area (2 hr 40 min to Shirahama Bus Center, ¥2680 + ¥370 train fare). Otherwise take a JR commuter train to either Hineno or Wakayama (changing in Hineno) and transfer to the Kuroshio limited express (about 2 hr 15 min, ¥4730).
By train
Shirahama stationLocated on the JR West Kinokuni line. Kuroshio limited express trains run hourly from Shin-Osaka (2 hr 30 min, ¥5600) and Tennoji (2 hr 15 min, ¥5270).
See
Three Step CliffA beautiful view from cliffs on the ocean edge that are 50 meters high. There is also a guided tour into to the caverns inside the cliffs. It is said that pirates (kumano suigun)used to inhabit the caverns and the remains of their dwellings can be seen. A good tour for young children and dads trying to avoid shopping. Admission charged.

SenjojikiA beautiful rocky point near Shirahama beach. The view is best late in the afternoon. Admission is free.

Kishu MuseumA small but interesting museum housing Ukiyo-e prints of all "Thirty-six Views of Mount Fuji" by Andō Hiroshige among some quality pottery and screens.

Engetsu IslandA small island in Shirahama bay (20 minutes walk from the mean beach to get in front of it). A rock formation with a hole in the middle allows in some days to see the Sun set through it. An enjoyable view and stroll in any (not too hot or humid) day.

Kumano KodoOld road.
Do
Shirahama Sakinoyu OnsenThis spectacular hot spring is celebrated as one of Japan's Top 3 hot springs and cited in old texts. As it lies just at the waterfront bigger waves from ocean cool down the pool's hot water and splash the bathers which adds to the fun and pleasure.
Sleep
In the summer time it is very crowded so reservations are advised. There are also reservation centers that might be able to help.
Guesthouse shirahama, a cool small guest house with dorm and group rooms ¥2000 a night

Hotel Koganoi

Koganoi Bay Hotel

Shiraraso Grand Hotel

Miyukien

Hotel Senjo

Minshuku A Course

Minshuku Katsuya

Shirara

Hotel Shirahama

Taiya
Go next