Shirakawa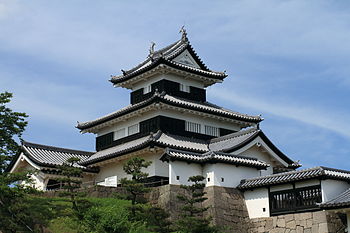 Shirakawa
() is a city in
Fukushima
Understand
Shirakawa is the southernmost city in Fukushima prefecture, with population of approximately 60,000 people.
The city was originally a castle town, situated at the border of the civilized Kanto region and the wilder Tohoku to the north. A park and memorial are situated at the site where the actual barrier gate (白河の関-Shirakawanoseki) is believed to have been located.
The famous haiku poet Basho is said to have passed through Shirakawa on his travels.

Get in

Shirakawa is served by the Tohoku Shinkansen, which stops at Shinshirakawa station. The journey from Tokyo takes about 90 minutes and costs around ¥6000 one way.
Shirakawa is also served by the Tohoku Main Line, which links Shinshirakawa station with Shirakawa station.
By car, the trip from Tokyo to Shirakawa takes around three hours using the Tohoku expressway.
Regular highway buses from Shinjuku also serve Shirakawa, arriving and departing from the Nishigo bus stop to the west of Shinshirakawa station. The journey costs ¥3400 one way, and takes three hours.

Get around
Although Shirakawa is not a large city and a circuit of town can be completed in about an hour, it is best explored by car, bus or taxi. Bus stops and taxi stands are located outside both Shirakawa and Shinshirakawa station. There is a JR car rental office at Shinshirakawa station.

See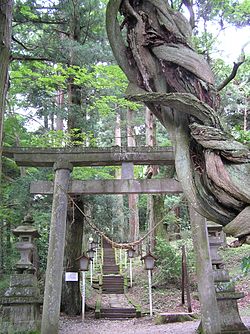 Komine CastleA reconstruction of a 17th-century castle.

Nanko ParkClaimed to be one of the first officially named parks in Japan, with a traditional garden and teahouse.

Shirakawa no seki

address: in a park to the south of the city

Believed to be the site of the ancient barrier between the unconquered north and the capital region of Kanto to the south. The poet Basho is said to have visited here.
Do

While Shirakawa does not have a large number of attractions, it is a pleasant rural city, close to several local attractions. (See the "Go next" section below).
Daruma Ichi is held on Foundation Day in February of each year. During this festival, daruma (traditional papier mache dolls) are sold in the streets of Motomachi. According to tradition (and the local sellers), a larger doll should be purchased each year.
Chochin Matsuri (Lantern Festival) is held between September 13th and 15th of every second year. The next festival will be in 2009. A smaller festival is being trialled for intervening years. During this festival, representatives from each of the villages making up the city parade through the streets carrying lanterns and mikoshi (portable shrines). The higlight of the festival is on the last night, when the parade wades through the Abukuma river to the Renhouji temple (聯芳寺).

Buy
Shirakawa is famous in the region for its unique daruma (wooden doll) design. Various sizes of these dolls are available from shops in the older part of town. Prices start at ¥200 for small daruma.
Local residents also pride themselves on their ramen (Chinese-style noodles), and although they may not be a suitable souvenir, they do make an excellent lunch.
Shirakawa is also home to several local sake breweries. Bottles of local sake can be bought from about ¥1000 at several shops in town, including the international store at the Mega Stage shopping mall.
Eat
Shirakawa is famous in the region for it's ramen noodles. There are claimed to be more than 100 ramen shops in the city.
Hanabusa

phone: +81 248-22-1250

address: Nibancho 6 (二番町6)

Various kinds of ramen and gyouza (dumplings) are served here.

address: Uenodai 12 (上ノ台12)

Rire et Rire

phone: +81 248-22-1985

address: Nibancho 46 (二番町46)

Traditional on the outside, cozy and modern inside. A variety of Japanese and Western set meals are available with soup and rice from about . There are also a few good desserts starting at .
Drink
Shirakawa has several sake breweries, and it is possible to try local sake at one of the many izakaya (Japanese-style pubs) in town.
Beer GardenSells snacks and large pitchers of beer for about . Beer Garden has a friendly atmosphere complete with photo-phobic dog Rabuchan. It is only open during summer, from about 5pm, but can vary randomly according to the owner's whim.

CaribooNakamachi 42, Basement of the Shirai Building (中町42白井ビル地下), is a Jamaican bar with occasional live DJs playing reggae music. The owner's wife is Jamaican, and makes a good range of light meals, including Jerk Chicken and Pepper Shrimp. Red stripe beer is available (¥680), as are a variety of rums (from ¥500). Downstairs opposite the Joyo Bank in by Shirakawa station. Look for the English sign.

Bend CafeIs a live music venue in a converted warehouse. Located next to the Pirate Ship restaurant.
Sleep
Shirakawa has several hotels, mainly located close to Shinshirakawa station.
Toyoko InnIs the local branch of this business hotel chain, with rooms starting from about ¥4600 for a single. Doubles are available for about ¥6800.

Sunroute Hotel Shirakawa, part of the Sunroute chain, is located next to Shinshirakawa station. (Singles about ¥7000, doubles from about ¥13000).

Shirakawa Business HotelIs located near Shirakawa station, about three minutes walking distance. The management is targeting the hotel as the alternative to Taxis and Daikos due to the abundances of snacks, bars and traditional Japanese restaurants nearby (1 minute from the Beer Garden, Cariboo, Bend Cafe and the Pirate Ship). (Singles about ¥4000, twins about ¥6500). They've recently started to offer a group discount and free WiFi in all rooms.

laguna

address: ootemachi 13-6ariga biru 3f

a friendly filipina owner,with a filipina staff....you can enjoy the karaoke at the same time drink at good prize.
Connect
Shirakawa City Tourism Section 0248-22-1111 (Japanese only); Shirakawa City Office, 7-1 Hachiman-koji Shirakawa city.
Japan Travel Phone is a service provided by the Japan National Tourist Office. They have English language operators from 9am to 5pm daily. 0088-22-4800.

Go next