Shkodra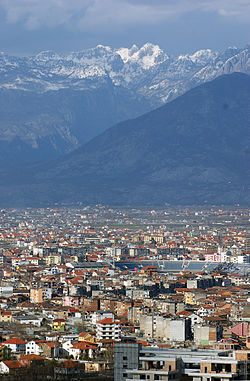 Shkodra
was the capital city of Albania for hundreds of years until 1915 when World War I broke out. Now it is the second largest city in
Albania
with 135,612 people. It has experienced a face lift as streets and buildings were renovated, a promenade opened and a new bridge built over the Buna River. Shkodra is 30 minutes away from the beach or 2 hours away from the mountains.
Understand
Visitor information
Shkoder Tourist Info Center

address: Rruga Teuta

Provide city maps and can help with any of your inquiries, including bus time schedules.

phone: +355 67 39 22 119

address: Rruga Kolë Idromeno 145

Tourist information, tour operator, hostel, transport services, bike and car rental.
History
Queen Teuta's Illyrian kingdom was based here in the 3rd century BCE. The Ottomans beseiged it in 1473 and 1479, and lost 14,000 and 30,000 men in these raids, respectively. Shkodra changed hands with Montenegro numerous times during World War I. Shkodra was badly damaged in a 1979 earthquake.
Get in
As in the whole of Albania there is no bus station per se. Instead there are a few gathering points for buses/furgons scattered around the city.
By bus
To Montenegro
From
Ulcinj
(
Montenegro
), buses cost €5 or 700 lek (plus €1 if you have baggage) and leave at 06:00, 07:00, 12:30 and 16:30. If they are not available, you can take a taxi to the border at Muriqan (€10) and after crossing the border, take another taxi to Ulcinj (€8). However, the return ticket from Shkodra to Ulcinj costs €5 and buses leave at 09:00 and 16:00 from the city center fountain.
From
Podgorica
, take public buses to
Tuzi
, then hire a taxi either to the border or to Shkodra.
Minibuses to/from
Hani i Hotit
(the Montenegro border on the way to Podgorica) run from around 300 lek. Taxis for this journey cost €15.
To Kosovo
Buses from
Gjakova
go at 06:00 directly to Shkodra via the highway from
Prizren
.
Get around

Finding your way round Shkodra is complicated by the fact that all of the roads have been renamed, and some of the old names have even been re-used in different places! All roads have got new road signs. Since all the maps and guides (including this one) give the old names, finding your way round is a bit like being in a parallel universe.
There are some public buses running inside city. There is also infrequent bus to the nearby village of Shiroke.

By bike
Shkodra is the bike capital of Albania, because it's flat. This is a heritage from the Hoxha era.

See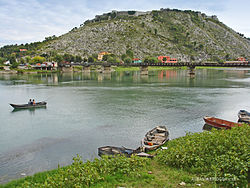 Kalaja/Rozafa FortressFounded by the Illyrians, this fortress was rebuilt by the Venitians and the Ottomans. Rozafa is a woman buried in the ramparts, who supports the structure. The renovated museum inside the castle explains its history and that the area of the former city is now consumed by the rivers beside the castle. The museum costs 200 lek extra and there is a private guide you can ask about almost anything. There are amazing views from the highest point.

phone: +355 22 243213

address: Rr. Oso Kuka, no. 12

The museum is in a traditional Shkodran house featuring valuable artifacts on every sphere of social life in the area.

Marubi National Museum of Photography

phone: +355 22 400 500

address: Rr. Kolë Idromeno, no. 34

Albanian's only photo museum capturing development of Shkodra and Albania in general. Major part of the collection comes from three generations of Marubis.

Lake ShkodraThe largest lake in the Balkans. Take a taxi to the village of Shiroke. Alternatively ask around for the public bus which goes to the edge of the city, where it is a pleasant 5-km walk by the lake to Shiroke. There is a less frequent bus directly to Shiroke.

Mes BridgeThis bridge was built in the 18th century by Kara Mahmud Bushati, the local Ottoman pasha.

Drisht CastleA ruined castle, the earliest traces of Frost Castle's fortifications date to the late Neolithic era. The walls and towers date to 1396-1478 during the Venetian era.

Shurdhah IslandIt is in the Vau i Dejës Reservoir, which is fed and drained by the river Drin. It is accessible by tourist boat in summer from the Vau i Dejës dam or Rragam. It contains the ruins of the medieval town of Sarda. You can visit the ruins of the 11th-century medieval castle, which includes two rings of defensive walls and towers (some submerged in the lake), the remains of a Byzantine church and other early medieval walls. The setting on the steep rocks rising from the lake is especially impressive.

Five Heroes monumentThis was "one of Albania's best examples of socialist-realist sculpture". Unfortunately, it was removed from there and replaced by a bland contemporary fountain. The monument was temporarily dumped at the city's garbage dump, only to be finally put back at the Dobrac Roundabout in the northern entrance of Shkodra. The site is still a useful reference point for finding your way around. Interestingly, the fountain is surrounded by seating, in the centre of a busy roundabout called Sheshi Demokracia (Democracy Square) with no pedestrian crossings! Only in Albania!

Museum of Memory

address: Bulevardi Skenderbeu

Museum dedicated to the crimes of the communist regime in Albania featuring photographs, videos, and first hand accounts of political prisoners from Shkodra.
Religious buildings
Lead Mosque

Ebu Beker Mosque

Shkodër Orthodox Cathedral

Shkodër Cathedral

Fretënve Church
Do
Kolë Idromeno St.Take a walk on the main pedestrian street of the city full of cafes and locals promenading in the evening hours.

Molo Promenade

address: Shetitorja Molos

Romantic renovated promenade along the riverside.
The Lake Koman ferry is a breathtaking trip across Lake Koman from Koman to Fierze, where you can move on to Bajram Curri or further to Kosovo. Take a furgon in the morning 06:30 from the second roundabout down Marin Barleti about 500 m away from the city centre. If you are at the center-most place (the one in front of the hotel Rozafa) before 06:00, you can shout "Koman" and people will guide you through the correct furgon or call the furgon driver by phone that he picks you up.

Canoeing in Bojana (Buna) River

FestivalsTake part in annual festivals such as the Carnival, Children's Festival, AniFest Rozafa Animated Film Festival, Lake Day, and the Shkodra Jazz Fest.

Traditional Plays FestivalTake part in the annual festival showcasing the best of the North Albanian Folklore at the end of March annually at Rozafa Castle.
Buy
"Skënderbeu" Kognak
Locally made souvenirs such as rugs located in Zogaj village or at the Artisan's Bazaar (Albanian: Pazari i Artizanatit) at Shkodra's entrance.
Eat
Carp fish in Shiroke village
Sheqerpare - desert
Lakra turshi - pickled cabbage
Restaurants
Lots of dining options are available on the main pedestrian street - Rruga Kolë Idromeno. There are also some nice restaurants and pizzerias on the promenade near Buna River Old Bridge (Rruga e Molos street).
Restaurant

address: Rruga e Molos

This is ampscale restaurant by Albanian standards, serving delicious food including fish. It has a nice atmosphere and is in a small garden.

San Francisco Bar & Restorant

address: Rruga Kolë Idromeno

A proper restaurant's look and feel and an extensive menu are provided. Some portions are huge, some aren't. The quality of food varies a lot, from superb to simply uneatable. It has a second floor terrace.

Green tavern

address: Rruga Kolë Idromeno

This restaurant has a little bit of a club atmosphere, but is nonetheless very ambient. Pizzas, pastas, and salads are provided.
Cafes
Shkodra is famous for its numerous patisseries where you can eat delicious sweets, and it's possible to come to Shkodra for this alone.
phone: +355 68 274 6492

address: Parruce

Superb cakes. Definitely one of the best in Albania. Extremely popular with locals.
Drink
Local beers "Korça" or "Tirana" and the famous Albanian spirit called Raki.

Sleep
Budget
Hotel RozafaOld communist-style hotel; clean; gentle and English-speaking personal; nice view over the city if you book in an upper floor; 91 rooms; no air conditioning.

Florian's Guest House

phone: +355682335921

address: Shkodra: shtoj i ri, reparti ushtarak. kodrajt

This is a 12-bed B&B/guest house run by Florian and his family, located amongst orchards and vineyards. It is outside, but within walking distance from the centre of Shkoder. Breakfast is included, and lunch and dinner are offered for €4, serving Albanian cuisine made from organic food farmed in the own garden. The family can help to arrange tours of Shkoder and to get into the Albanian Alps or to other cities in the country.

Camping Lake Shkodra ResortModern campsite 8 km from Shkodra with restaurant, Wifi and access to the lake, organises tours to Thethi.

address: Bulevardi Bujar Bishanaku 16

This is a holiday and short-stay apartment near main square "Sheshi Demokracia". The apartment is fully furnished and features a fully-equipped kitchen. The 80-m² living space includes: one bedroom, one living room with open kitchen, a bathroom, hall and a balcony. The balcony offers you a great panoramic view over the city, castle and mountains.
Mid-range
Go next
Puka
Velipoje - a coastal town 30 km south of Shkodra known for is curative beach sand. The beach is long and wide, and a lot of hotels offer nice rooms. However, the beaches are crowded in August. If you prefer quieter beaches, you should go to Southern Albania.