Shodoshima
Shōdo Island
(小豆島 / Shōdo-shima) is in
Kagawa
,
Japan
. It is the second largest island in the
Seto Inland Sea
.
Understand
The name Shōdoshima literally means "island of small beans". There are 2 towns on the island: Tonoshō and Shodoshima Town. Along with
Teshima
, the island comprises Shozu District in
Kagawa
.
Shōdoshima is famous as the setting for the 1954 antiwar movie Twenty-Four Eyes (二十四の瞳 / Nijūshi no Hitomi). The movie is based on a book written in 1952 by Sakae Tsuboi (1899-1967), who was born on Shōdoshima.
In 1908, the island became the first in Japan to successfully cultivate olives. Olive trees proliferate on the island and olive-related merchandise is quite popular with tourists.
Shōdoshima is also known for its soy sauce, wild monkeys, and beaches.
Shinto legend
According to Shinto legend, Shōdoshima was one of the first islands created by the gods.
Get in
By boat
Shōdoshima can be reached by boat from Uno Port in
Tamano
(90 minutes, ¥1,230), Shin-Okayama Port near
Okayama
(70 minutes, ¥1,050),
Kobe
(3.5 hours, ¥1,990),
Himeji
(100 minutes, ¥1,520), or
Takamatsu
on the island of
Shikoku
(60 minutes, ¥690 for ferry or 30 minutes, ¥1,170 for a speed boat).
Ferry schedules are available
online
.
Get around
By bus
Shidoshima Olive Bus
operates various routes around the island.
By bicycle
There are many places that offer bicycle rental. A list is available
online
.
By car
The Shodoshima Skyline Road runs for 10 km along the mountains in the interior of the island. It begins at a gorge near the monkey park and leads to the Kankakei Gorge. The road offers great views of the island and the
Seto Inland Sea
.
See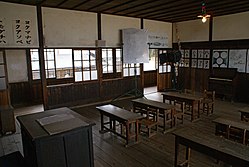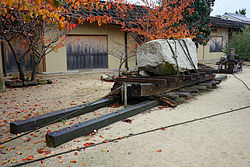 Dobuchi Strait is a straight between Maejima Island (location of Tonsho Port) and Shodoshima Island. It is in the Guinness Book of World Records for being the narrowest straight in the world, at only 10m wide at its narrowest point, making it look like a canal.
Shidoshima Great KannonA 50-m-high statue with a temple inside depicting Kannon, the Buddhist goddess of mercy. The statue was built in 1993. Visitors can walk or take an elevator to the top to see a display of the tooth of Buddha. The statue also offers spectacular views of the island. The temple also has hundreds of miniature statues of Kannon on display and a worship hall.

Nijushi no Hitomi Movie VillageNijushi no Hitomi (literally 'Twenty-Four Eyes') is a 1954 Japanese movie that follows the lives of a family in the years leading up to World War II. The movie was remade in color in 1987. The movie set consists of an entire reconstructed village.

Ruins of Osaka Castle Stone Cutting WorkshopAfter the destruction of Osaka Castle in 1615, many stones were harvested from Shidoshima to rebuild the castle.

Osaka Castle Stones Michi no EkiA museum dedicated to tools and stones harvested from Shidoshima to rebuild Osaka Castle in the early 1600s.

Marukin Soy Sauce Factory & MuseumSoy sauce has been produced on Shidoshima for over 400 years. The Marukin factory is open for tours and has English displays.
Do
Parks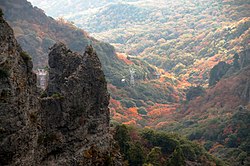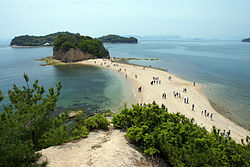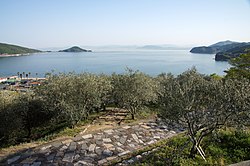 Kankakei Gorge (寒霞渓) @ Setonaikai National ParkConsidered to be one of the most beautiful gorges in Japan. As much as 812 m deep. Celebrated for its maple trees. The gorge can be traversed by cable car (¥750 one way, ¥1,350 return) or by a steep hike.

Choshikei Monkey ParkThere are 500 Japanese macaques roaming around the park. There are monkey shows twice per day as well as a feeding area. Near the park is an observation deck with a great view of the island.

Angel RoadA sandbar that connects 3 small islands to Shodoshima. Make sure to visit during low tide since at that time you can walk along the sandbar.

Senmaide Rice TerracesHundreds of rice terraces are carved into the hills. There is a stage that has hosted outdoor kabuki plays since the Edo period.

Olive ParkThe site of the first olive cultivation in Japan in 1908, it is a park full of olive trees and an olive museum. It also has the Sun Olive Bath House, which has 8 pools separated by gender. The bath house costs ¥700 and is open from 12:00 to 21:00.
Shodoshima 88 Temple Pilgrimage
Like the island of
Shikoku
, there is a pilgrimage route that will take you to 88 temples. The route begins near Sakate Port and runs clockwise around the island. It takes around 2 weeks to complete the pilgrimage on foot.
Buy
There are 6 convenience stores on the island that have ATMs.

Eat
phone: +81 879-75-0282

address: 2267-5 Ikeda

phone: +81 879-75-0806

address: 1512-2 Nakayama

phone: +81 879-82-3669

address: 1385 Yasuda Ko

Tour the noodle factory!
Drink
phone: +81 879-61-2077

address: 1010-1 Umaki Ko
Sleep
Splurge
phone: +81 879-62-5015

phone: +81 879-62-1177
Go next