Shrewsbury (England)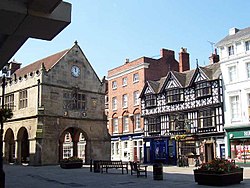 Shrewsbury
(
Welsh
:
Amwythig
) is the county town of
Shropshire
in
England
. It is a very traditional market town, with a lot of mediaeval architecture and feel to the town. Historically, Shrewsbury was a vital town in the wool trade with
Wales
. Due to its extremely good strategic geography, it was used as a garrison town and was part of the "Ring of Iron" of Edward Longshanks. It was the birthplace of naturalist Charles Darwin.
Understand
Shrewsbury is the county town of Shropshire, which is a large and rural county in what is known as the Welsh Marches. The border with Wales is only 9 miles away and there is considerable Welsh influence in the county. As Shrewsbury is the largest town anywhere near most parts of Mid Wales, you may hear Welsh spoken in the streets by some shoppers and daytrippers from over the border. The town even has a Welsh name and many other towns in Shropshire have Welsh names as well as their English ones.
The correct pronunciation of the town's English name is subject to considerable debate, with some advocating "Shrooze-bury", and others preferring "Shroze-bury".
The population of the town is now just over 70,000. It is not the largest town in Shropshire - that is
Telford
.
Get in
By train
There are frequent trains from
London Euston
to
Birmingham
where there are connections to Shrewsbury.
Shrewsbury railway station
is a large, imposing, Victorian building, opened in 1848. It is located on Castle Gates, right next to the castle, just north of the town centre, within easy walking distance of the town centre, shops and many of the town's attractions. Shrewsbury acts as an interchange for many rail lines, including the beautiful
Heart of Wales line
and
Cambrian Coastal line
and Shrewsbury is easily reached by rail from most of England and Wales. There are frequent services to
Manchester
,
Wolverhampton
,
Birmingham
and
Crewe
, and other services to
Chester
,
Wrexham
Aberystwyth
,
Swansea
,
Pwllheli
, and
Cardiff
.
The famous Heart of Wales Line runs between Shrewsbury and the sea-side city of
Swansea
, passing through some of Wales' most spectacular scenery and picturesque towns during its three hour and forty minute journey.
By car
Access via the M54 from the West Midlands conurbation, then the A5 from Telford. Parking in the town is notoriously difficult, therefore
Park & Ride
schemes operate
National Park and Ride Directory
, which enable the visitor to park outside the town in a large car park, and take a bus costing £1 per person (children under 16 are free; students 50p), into the town centre. The park & ride bus goes all round the town centre, and has stops outside most attractions, shops, etc. Park & Ride car parks are located at Meole Brace (to the south of the town), Harlescott (to the north), and Oxon (Shelton) (to the east).
By bus
Shrewsbury is on the route of the
London
-
Aberystwyth
and the
London
-
Wrexham
coach services (operated by National Express).
There are various local bus services, mainly linking Shrewsbury with other towns and villages in
Shropshire
and the surrounding area.
Get around

Park and Ride services from Oxon, Harlescott and Meole Brace to the town centre and back (Monday-Saturday) (free parking at Oxon, Harlescott and Meole Brace). Other bus services go from the in the town centre to places in town and further out in the county.
Cabs available at the train station on Castle Gates. Otherwise there are numerous taxi companies.
Roads inside the town centre are to be avoided if travelling by car. Please park outside the town centre in the many car parks available - St Julian's Friars, Abbey Foregate, Frankwell, etc.

See
Shrewsbury Castle and Shropshire Regimental Museum

address: Castle Gate

Shrewsbury Castle was built in the eleventh century. The castle now belongs to Shrewsbury and Atcham Borough Council, and houses the Shropshire Regimental Museum, and an exhibition about the history of the castle. The grounds are also pleasant to walk in and explore. Also site for outdoor drama productions and other events in the summer.

Shrewsbury Museum and Art Gallery

phone: +44 1743 258885

address: The Music Hall, Market St

Municipal art gallery and museum. The museum charts the development of Shrewsbury as a city from pre-historic times to the modern day in an interesting series of exhibitions.

Roman Catholic CathedralTown Walls: Pugin church - notable for its fine stained glass by Margaret Rope.

phone: +44 1743 365478

Anglican church dating from 1792, has a unique circular nave.

phone: +44 1743 357006

Stained glass windows dating from 14th-19th century.

address: St Alkmund's Square, SY1 1UH

1,100-year-old church in a enviable location. Offers a wide programme of events throughout the year. Nearby Fish Street and the former church of St Julian are worth a look.

phone: +44 1743 709661

address: Upton Magna, Uffington, SY4 4RW

phone: +44 1743 761330

address: Wroxeter Roman City, Wroxeter, SY5 6PH

At one stage, Viroconium Cornoviorum was the fourth-largest city in Roman Britain. The main attractions today are the remains of the bath house and a tall section of free-standing wall, as well as reconstructed town house, an impressive piece of experimental archaeology using only methods and materials available to Roman Britons.

Rowley's House

address: Barker Street

This seventeenth-century house on Barker Street houses was the municipal art gallery and museum, is now used by the University.
Do
phone: +44 1743 281281

address: The Square, SY1 1LH

Films usually show at approx 14:30, 17:30 and 20:00 daily. Originally opened in 1596 as a market hall in the centre of Shrewsbury, this Elizabethan building is now a performing arts venue showing touring or amateur dramatics productions. There is also an arts cinema showing foreign-language and artistic films of considerable variety. There is also a cafe-bar and digital arts exhibition. £5 for films (£3.50 for students, over-60s and disabled people. Free for Digital Arts exhibitions and cafe-bar).
Learn
Shrewsbury is home to Shrewsbury School, a public school , where Sir Philip Sydney, Charles Darwin, Michael Palin, John Peel, Nick Hancock and Michael Heseltine were educated. It is on a large commanding site ("Kingsland") just south of the town centre overlooking the loop of the Severn. The school was once located in the town centre, in the buildings that are now the main county library on Castle Street. Opposite it on the other side of the river is Shrewsbury High School, a private girls day school. However the majority of the town's resident children attend one of the town's seven comprehensive schools.
The
University Centre Shrewsbury
offers a small range of undergraduate and postgraduate degree courses, accredited by the University of Chester. International students are welcomed from around the world.
Buy
Shrewsbury Fairtrade Shop

phone: +44 1743 352048

address: 8 St Johns Hill, SY1 1JD

Sells a variety of craft and gift items from around the world, cards, Fairtrade food & drink.

address: SY1 2BW

Riverside Mall

Sundorne Retail Park

address: Arlington Way, SY1 4YA

Meole Brace Retail Park

address: Hereford Rd, SY3 9NB
Eat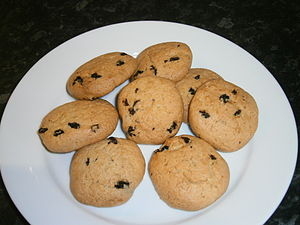 Shrewsbury biscuitsThe town's own delicacy. The Shropshire tourist site recommends the Baked for You brand which apparently can be found in retail outlets and local farmer's markets.
Budget
Shrewsbury Hotel

address: Bridge Place

phone: +44 1743 271847

address: 1 Shoplatch

phone: +44 1743 365661

address: Swan Hill

phone: +44 1743 239080

address: Claremont Bank

Dinkys Dinahs

phone: +44 1743 850070

address: Layby A458

classic basic road side cafe for your bacon sandwich.
Mid-range
phone: +44 1494 912631

address: 17 High St

phone: +44 1743 362507

address: 14 Princess St

phone: +44 1743 354647

address: 55 Mardol
Splurge
Drink
As a historic town Shrewsbury is well-endowed with traditional pubs serving various beers including real ales, many of which are Shropshire-brewed.
phone: +44 1743 362507

address: 14 Princess St, SY1 1LP

Dun Cow

address: Abbey Foregate

Lion Hotel

address: Wyle Cop

Cromwells

address: Dogpole

Loggerheads

address: Church Street

Particularly rustic boozer with creaking wooden panels, various rooms and corridors and little to remind you of the 21st century. Also sells a good range of real ales.

Three Fishes

address: Fish Street

King's Head

address: Mardol

Mardol

address: Belle Vue
Cafés
Café barIn Old Market Hall - a nice cafe and free wifi in the centre of town.
Sleep
Connect
address: Castle Gates

The Shrewsbury Library, which is in a historic building close to the castle, offers free internet access with registration.
Stay safe
Shrewsbury is comparatively safe relative to towns of a similar size; there is rarely a noticeable police presence in the town. Friday/Saturday evenings in the town centre are typical of any modern British town; night life activity is focused in the Claremont St/Bridge St and Raven Meadows area. Visitors should exercise caution when visiting The Quarry area at night.

Go next