Shushi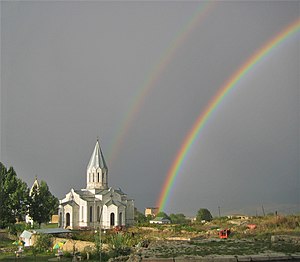 Shushi
is a city in
Nagorno-Karabakh
. This fortified city has long been a cultural center in Karabakh, and has had a history of conflict. The town was mostly destroyed as a result of the Karabakh war, but more and more buildings are being rehabilitated, and comfortable western hotels have opened.
Get in
You will most likely pass by Shushi in your bus or taxi from
Yerevan
about 20 minutes prior to arrival in
Stepanakert
.
From
Stepanakert
there is the bus line 301 which gores every half an hour are from 07:00 to 18:30 to Shushi. It costs 200 dram (March 2015). Taxis from Stepanakert cost about 2500 dram.
Buses to Stepanakert stop at the square at the bottom of the main town park - the far end from the Avan Shushi Plaza Hotel. Private cars heading to Stepanakert will often stop at the bus stop and pick up passengers for the same price the bus would charge.
Get around

It is easy enough to walk around Shushi. The streets of the lower part of the town are not yet paved. Therefore, expect a lot of mud if it is wet.
The tourist information office is located in the Njdeh street at the crossing with the Vararakn street.
Taxis are usually available in the area near and east of Ghazanchetsots Cathedral.

See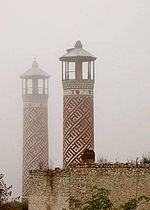 Ghazanchetsots CathedralArmenian cathedral consisting of a church and a bell tower. It was built in the second half of the 19th century, and was the largest Armenian church up until recently. It was in use till the Shusha massacre in 1920, and then was used as a barn. It was restored in 1998. Interior decoration is quite modest, which is traditional for Armenian churches.

Govheraga MosqueConstruction of the mosque was started in 1768 by Ibrahim Khan and then was frozen for years until Gevhar-aga, the successor of Ibrahim Khan, completed it. The inner space of the mosque is not much different from other places of worship in Karabakh of that period. There is a two-story gallery, separated by high stone pillars, as well as traditional domed ceilings. The mosque was heavily damaged in 1992, but in 2007 and 2011 it was completely reconstructed. You can enjoy the building from outside, but it doesn't function as a mosque anymore.

Shusha fortressFortress built in 1752 by Khan Panah Ali Bey to defend the northern part of the plateau, as it is geographically the most vulnerable part of the city. Fortress walls are 2.5 km long. There is also a secret exit from the fortress, leading to the gorge Karin-so. There were 3 gates: north, west and east.
Town WallsThis is where one of the old gates is in the town walls.
JtrtuzThe famous lookout of Shushi with spectacular views of the Karkar Canyon cliffs below.
phone: +374 47 73 19 48

address: 32, M. Mashtots

It demonstrates the rich archaeological finds of the Нellenistic period along with ethnographic items of the 19th century. Also one can find here a diorama of the Shushi battle.
Kanach Zham churchArmenian Apostolic Church whose name translates from Armenian as "Green Church", as its domes were painted green long ago. The church was built in 1818 at the place of the former Gharabaghtsots wooden one. Nowadays, the chapel features some unique interior decoration.
Outside the city
Zontik WaterfallBeautiful huge umbrella of moss, covered with dripping water, with a space under it is appropriately named Zontik - or umbrella. Beautifully sited right above the Karkar River, under the cliffs. Only accessible by hiking in.
Do
Drama theater

Art gallery

phone: +374 97 24 69 62

address: Ghazanchetsots str.

Exhibits works of Martiros Saryan, Pavel Kuznetsov, Minas, N. Nikoghosyan, Zhilinskiy, Safohin, Gayane Tiflisetsi, Yuri Grigoryan, Hakob Hakobyan, Galents and other prominent artists.

Janapar trailhead to KarintakMarked trail down into Karkar canyon, to Zontik waterfall and Karintak village.

Janapar trailhead to StepanakertJanapar trail to Stepanakert.
Eat
CafeAcross from the Cathedral is a hole-in-the-wall cafe. If you let them know ahead of time, you can eat very good dolma for a very reasonable price.

CafeLarge outdoor patio. Simple menu, decent food and prices.
Sleep
phone: +374 47-949400

Very comfortable western hotel with great food, totally rebuilt to purpose. A bit off center.

phone: +374 47-949400

Renovated high-rise Soviet hotel in the very center of Shushi. Smaller rooms often with good views.

phone: +374 47-949400

Small hotel right above the main Cathedral.
Go next