Siófok
Siófok
is a town on the south coast of
Lake Balaton
. The charming little town is one of the most popular holiday resorts in
Hungary
. The population is around 35,000 people but in the summer season there is another 200,000 people being on vacation at the same time. The name of the city means Cape Sió (Sió is a river bringing water into river
Danube
).
Understand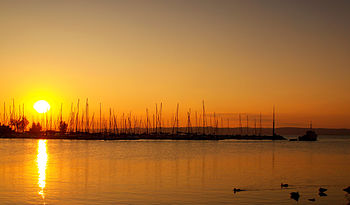 Siófok is mostly famous of its huge nightlife and the never ending parties specially in the weekends. The town is often called "the partying capital of Hungary". But outside of the town centre there are many peaceful beaches and strands. The party season usually begins by the start of the summer break at schools and the end of the spring term at universities which is the end of June, early July. The last party events are on the final weekend before the start of school.
phone: +36 84 315355, +36 84 696236

address: Víztorony, Fő tér 11

The Tourist Information office staff-Hungarian and foreign language skills will inform you about accommodation, places of hospitality, transportation, events, attractions, events and services. Maps, guidebooks, tourist cards, free publications, and bookings for local tour programs, accommodation, tickets for events. Also there is a small gift shop.
Climate
Siófok is on a fairly flat area at the south-east end of
Balaton
. As the north shore is quite hilly the wind usually hits the south coast bringing some random heavy storms usually in late June but other than that the climate is very hot all summer specially in August when the temperature can go up to 35 °C. People who don't like too hot weather can travel to the lake in May when it is not that hot but warm enough to jump in the water and to get suntanned.
People
Many tourists come to the city every summer (more and more every year). About 60% of the tourists come from
Germany
and there is a history of German tourism to Lake Balaton. Many school trips take place in the town with students arriving mostly from
Germany
,
Netherlands
,
Austria
,
Italy
,
Poland
and
Slovakia
.
Get in
By plane
There is a small international airport in
Sármellék
about an hour away from
Siófok
with flights arriving from many European cities especially
London
,
Zürich
,
Dublin
,
Stockholm
,
Berlin
and
Frankfurt
.
Budapest
's international airports are about 150 km from Siófok.
By car
Siófok can be accessed directly from the
M7 motorway
(part of European Routes
E65
and
E71
) or using national route 7, which is passing through the city.
By train
phone: +36 84 310 061

address: Siófok, Millennium park 1 /Kálmán Imre sétány 1

There is a daily train between Venice and Budapest which stops at Siófok (and other cities like Ljubljana and Trieste, by Venezia Experss ). The southern shore of Lake Balaton is one of the most important and most visited town Siofok. Three directions as a railway junction, Budapest,Déli pályaudvar railway station, taking about an hour and forty minutes (faster with InterCity Express) all via Székesfehérvár east, Nagykanizsa west via Fonyód and Kaposvár (south) receives from passenger and freight traffic. The Intercity trains also stop in Siofok station, which the Budapest-Nagykanizsa line train. The station in the southern railway line was built in 1861, after the transfer in 1863. The railway station building in its current form, sometime in the early 1900s was built, which now has a beautiful renovated state Millenium park to admire. Millennium Park was opened in 1994, very cozy, beautiful parks, a lot of plants. And special beauty of the park is not only contribute to the sight of the train station, but the statues and also the evening floodlight. Services: café, e-ticket terminal, Budapest season ticket sale, luggage storage (daily 03:45-22:25, lockers opposite to the ticket cash desk). The international travel tickets, seat reservation and travel card can be paid in euros. The rest back to be paid in forints.

Szabadisóstó Railway Station

phone: +36 40 494949

address: 8600, Baross Gábor u. 54 / B.

Domestic cash desk. Smaller station.
By bus
phone: +36 84 310 220

address: Fő utca 71-81

Kapos Volán is the local bus company. OTP ATM (24 hr), plus CIB Bank ATM.
By boat
Port of Siofok

address: Krúdy sétány 2

Erste ATM near Ship Station (Mártírok útja 11. phone: +36 40 222222)
Get around
Siófok may not have a huge population, but in the summer it is capable of hosting hundreds of thousands of people. As most of the visitors are interested in the
Lake Balaton
, the city has a length of almost 15 kilometers. The most practical way of getting around is using a bicycle or a moped, which can be rented in Siófok for €8 or €15 per day, respectively.
Siófok has a local bus system; the local transportation company charges ~€1.5 per trip. As the city has four train stops along the Budapest-Nagykanizsa railroad, it is very common to take the train from one end of the city to the city center or to the other end. It is probably the fastest way, although it takes quite a planning as trains stopping at each of the stations are a bit rare.
Taxis have a flat rate which changes from summer to summer. €10-15 per trip is general.
See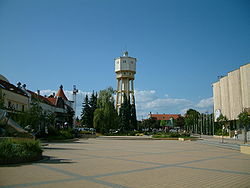 Visitation of Our Lady Church

address: Siófok, Fő u. 57

Visitation of Our Lady Church is a Roman Catholic Church. This is one of the oldest buildings in town. Built in neo-roman style in 1903. Above its entrance door a work of the international-famed painter-artist Endre Muzsinszki ­Nagy (1886-1975) is visible. Neoclassic station paintings of the church were painted by Bela Buky in 1928, while the triumphal arch, in the middle of which Patrona Hungariae is enthroned and receives homage of the Hungarian saints, is made fascinating by paintings of György Leszkovszky in 1938. Stained glasses of the church have been made in the workshop of Miksa Roth. Based on dispositions of the 2nd Council of the Vatican sanctuary of the building has been rebuilt in 1980 according to scene designs of Gyorgy Osztie. The pastoforium is work of a Tyrolean master of the 17th century, the bearded, thorn crowned Christ inclining his head to the right. The largest organ of the whole-Balaton region is also to be found in the church. The instrument was constructed by Frigyes Paulus master organ-builder according to drawings of Sandor Fabian cantor. In the church there are organconcerts organized every summer with appearance of well-known domestic and foreign artists. Garden: here can be see the Szűz Mária (lit. the Holy Mary) sculpture made by Kling József. The stone statue was erected in 1989.

Lutheran Church

phone: +36 84 310 549

address: Siófok, Fő u.220 (Oulu park)

Imre Makovecz, an architect who has fused the traditions of vernacular architecture with the most modern techniques, designed this truly unusual Lutheran church. As in most of the architect's other buildings, wood, as a natural building material, is dominant. The tower is crowned with a Cross that emerges from the Tree of Life, symbolising that the Cross of Golgotha is not a sign of death rather one showing the path to eternal life. The church has four entrances and 150 seats. The angel wings above its main entrance protect those who enter. Above the east-facing altar László Péterffy's Statue of The Resurrected (A feltámadott) can be seen.

phone: +36 84 311287

address: Siófok, Kálmán Imre sétány. 5

On the 105th birth anniversary of Imre Kalman, in 1987, a museum was opened in his birthplace in Siófok. The museum's permanent exhibition was held in the ground floor. In the internal corridor can be seen the contemporary Siofok, the mood of the last decades of the 19th century is affected the visitor, where in the summer writers, artists, musicians rest at this bathing place, turned their back on the big city life to get ready to their work. Subtitles: Hungarian, German

Museum of Egg

address: Szücs utca 9

phone: +36 84 350038, +36 20 5325257

address: Siófok, Kálmán I. sétány 10

The Carpathian Basin Minerals exhibit: Hungary's largest and finest private collection can be visited city in the center of Siofok since June 1986. Around 3000 minerals can admire in over fifty cabinet in five halls. Each rooms contains minerals from different locations as Hungary, the World, the Uplands (Slovakia), Cavnic (Maramures County, Rumania) and Transylvania. One of the highlight of the exhibit is the collection of mine flower of Transylvania. Only Hungarian subtitle.

Sio Canal

The Villa Jókai

address: Siófok, Batthyány u. 2.

The villa was built by Dávid Braun in 1897. The villa's name reveals that it is connected to the life of one of Hungarians most romantic writers, Mór Jókai. In the year 1903 Jókai spent the last summer of his life in this atmospheric villa in Siófok as a guest of the house owner. Mór Jókai frequently stayed in Siófok and he processed the experiences during the shipping from Siófok to Füred in his novel "Aranyember" (lit. Golden man). The villa served until the end of World War II as a summer residence. - After the War, the house served as a police station, as a music school and also as a centre for the region of Pannonia. In 1995 the house fell back into the hands of private property.

phone: +36 30 2448888

Here is also the Tourinform.
Rose garden
Further afield
Kőröshegyi viaductThis is an viaduct on the M7 motorway, the longest bridge of Hungary. Runs parallel to the southern shore of Lake Balaton. It was opened to traffic on August 8, 2007. The bridge is 1,872m long and the highest point on the ground level 88m, and the width of more than 23m. The highest pillar of bridge is 80m, the lowest is 18m. 120 meters the longest distance between the two neighbour pillars. Inside of the giant pillars are hollow, in two of them include elevator.
Do
Coke Club (the old Coca Cola Beach House) the main beach resort is the #1 attraction in town. The place offers many activities for visitors to do something more than just being on the sun. These activities include beach volleyball (organised amateur championships as well), swimming pool, streetball court, tennis, ping-pong, water polo and volleyball in shallow water, live concerts on the main stage, excersise shows on the main sandy beach, bars, restaurants, dancefloors all around the resort.
Free access beaches are usually less crowded. Families tend to like these better. These are usually less noisy.
Galerius Thermal Spa and Wellness Centre Siófok-Szabadifürdő, Szent László utca 183. In the summer of 2006 the thermal spa was opened to put Siófok onto the map of wellness centres in Hungary. The spa was named after the Roman Caesar Galerius and is opened all year. The complex is provided with water from Nagyberény which is circa 15 km to the south from Siófok. Guests enjoy bathing and relaxing in the warm (33-37°C) geothermal water that comes up from 1091 m deep, known for its positive effects on the skin and the bones.

The Imre Kalman Cultural Centre

phone: +36 84 311855

address: Fő tér 2

This is the biggest cultural institution of Siófok. The Cultural Centre is suitable for theater performance, cultural display, conference organisation. The establishment satisfies demand of the guests and inhabitants with different festivals, musical genre and fine arts. - In front of the institution is the worldfamous sculpture, Imre Varga's statuepark: Czóbel Béla (painter), La Charogne (by poem of Charles Baudlaire), Professor. Afore the entrance is a half-lenght portrait to find of Imre Kalman by Gyula Meszes Tóth (1997) and the hydraulic engineer, József Beszédes by Tamás Vígh (1963). It was placed on it's actual place in 1999.
Have a breakfast watching over the new main square of the city, then take a walk to find the local goods and souvenirs.
Get on a boat to see Siófok from another perspective, and visit Balatonfüred or famous Tihany.
There are several annual sailing races for those preferring competition. For boat rentals go to Siófok Marina to the west from the main port. An 8-m yacht from about Ft 30 000/day.

Kite surfingVery popular on Lake Balaton there is a beach where everyone can have a go after a quick lesson. For more information get in touch with the providers info@kiteline.hu.

Open Air stage

address: Jókai park 5.

Jókai park is a pleasant park. In the summertime tourists bustling around Petofi promenade where has been placed a monument, by the Kossuth Prize-winning sculptor Imre Varga, which depicts Gyula Krudy, Hungarian writer and journalist, chariot sat.

Millenium Park

address: Kálmán udvar

Wakeboarding
Events
Traditional Hungarian food
made by locals can be tasted if you come in August, when the
Bogrács fesztivál
(Cauldron festival) takes place. Several different types of goulash, Hungarian fish soup are just a few of the dishes you want to give a chance to.
Buy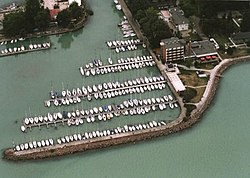 ATMs and Banks
Budapest Bank ATM

address: Siófok, Fő tér 6

Languages: Hungarian, German, English
Stores
Hernyo Shopping Centre

address: Semmelweis utca 2

Market Hall-Siófok

address: Siófok, Vámház. u.

Try for some fresh food, also K&H Bank ATM

address: Vak Bottyán utca 4

Discount store chain.

Sio Plaza

address: Siófok, Fő tér 6.

Shopping center with Erste ATM
Eat
Amigo Restaurant and Pizzeria

address: Fo Utca 99

Not a Mexican restaurant despite the name. Open all year round - great pizzas from a wood fired pizza oven. Hungarian dishes too. Very reasonably priced.

McDonald's

address: Vak Bottyán utca 2

Fast food. Outside is a OTP ATM (Zúgó u. 1, available 24 hours)

address: Erkel Ferenc utca 30

If you feel like having a traditional Hungarian meal with friendly service then this is the place to go. The restaurant can be found just outside of the town centre. It offers party service as well and it has been voted into the top 100 restaurants in Hungary in 2002.

Mala Garden hotel and restaurant

address: Petőfi sétány 15./a

This place is a special design hotel and restaurant. On the menu you can find Hungarian specialities and Asian foods as well. The whole building and the interieur has been inspired by the modern architecture of Bali Island.
Marcipán Café and Confectionary offers petit déjeuner, cakes, coffees at a reasonable price in the very heart of the city. Address here.

Pap Wine cellar

phone: +36 70 3399 883

address: Balatonszabadi, Petőfi S. u.

A small restaurant (cap. 20 person). Try some Hungarian food on a half covered garden place. Hungarian, German.

Strand Snack Bar

address: Deák Ferenc sétány 15-17
Drink
Café Móló, Szent István sétány 1. . Café Móló is one of the most popular bars in Siófok. It's not the cheapest place so it is mostly visited by people over the age of 25. There is a sandy beach right in front of the restaurant so you can enjoy the sunset whilst having a colourful cocktail.
Bacardi Music Café, Petőfi sétány 5. . During the day this terraced place is a cocktail bar and osteria. When the night begins they open the dancefloor in the back and it often ends up in great parties.

Clubs
Sleep
Stay healthy
phone: +36 84 501700

address: Semmelweis utca 1

OTP ATM
Connect
Cope
Siófok postal code is H-8600.
Religious services
Holy Cross Roman Catholic Church

phone: +36 84 310 484

address: Siófok, Darnay tér

The church was built in 1998.

Szent Kilit Roman Catholic Church

phone: +36 84 322977

address: Siófok, Asztalos u. 4

The church was built in 1801-1804.

Reformed Church

phone: +36 84 311 017

address: Kele u. 10-13

St. Lawrence Roman Catholic Church

phone: +36 84 310484

address: Siófok, Szépvölgyi u.

The church was built in 1995.

St. Peter - St. Paul's Roman Catholic Church

phone: +36 84 310484

address: Siófok, Töreki u

The church was built in 1990.
Go next
Fonyód — another bigger resort town on the southern lakeshore