Siberia
Siberia
(
Russian
: Сиби́рь
see-BEER
) is a region in
Russia
. Historically, the term Siberia includes all Russian territory in north
Asia
, with the
Urals
and the
Russian Far East
; this article however covers the Siberian Federal District.
Regions
Cities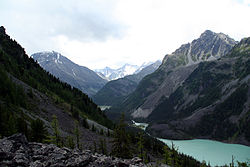 Other destinations
. The pearl of Siberia. It is the deepest and one of the purest lakes in the world.
Understand
With an area of nearly 10 million sq km., Siberia is vast. While the popular view of Siberia is of howling Arctic wastes dotted with penal colonies, the truth is more complex. The west of Siberia is covered by a swampy plain, the central plateau is heavily forested, and the east has mountains soaring to above 3,000 m. Only the extreme north is true tundra, where temperatures can reach -68°C in winter. The Siberian people, like most Asian Russians, are more closely related to the people of Kazakhstan or Mongolia or to the Inuit than to European Russians. However, during the Soviet times the government spent money to attract Europeans to Siberia's larger cities. Today Europeans form a majority in the urban areas while the rural areas remain largely populated by the indigenous Siberian people.

Talk
The languages spoken in Siberia are varied, with many unique dialects. Almost any place Russian is speakable and understandable. English is rarely spoken except for a handful of young people, and even then, Russian is more popular.

Get in
By train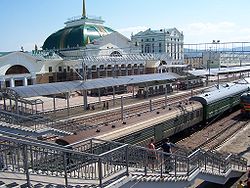 The
Trans-Siberian Railway
, connecting
Moscow
to
Vladivostok
, is by far the most famous method of transportation in Siberia. Covering a distance of 9,289 kilometres, making it one of the longest railways in the world, the full trip takes over 6 days and crosses 8 time zones. Its branches the Trans-Manchurian and Trans-Mongolian connect to
Beijing
in China, the first directly, the second via
Ulaanbaatar
in
Mongolia
.
Less famed is the
Baikal-Amur Mainline
(BAM), a northern line running parallel to the Trans-Siberian for 4,234 km. Completed only in 1991 and built mostly for military reasons, further away from the border of China, the BAM is less popular with tourists.
By car
The
Trans-Siberian Highway
, an unofficial grouping of seven Russian federal highways, open the path for a 11000km cross-country journey from
St. Petersburg
and
Moscow
to
Vladivostok
. The last section, the Amur Highway, was paved in 2010.
See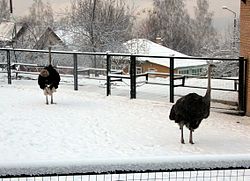 Primarily
natural attractions
.
Mountainous Altai (Gorny Altai) - this region of Siberia is very popular among eco tourists. Mountaineering and mountain rivers' rafting are wide spread here. The area is famous for its stunning scenery.
Ethnic Khanty Nomad Camp, Kazym
Ethnic Mansi Nomad Camp, Yasunt
Do
With its vast areas of wilderness, Siberia is a challenging destination for
outdoor life
.
Whitewater rafting
Dog sledding
Reindeer herding
Nature observation
Eat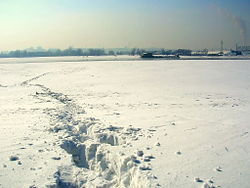 Drink
Vodka (водка) and tea (чай)