Sibiu
Sibiu
is a town in southern
Transylvania
,
Romania
, 280 km by road from
Bucharest
.
The old town centre is very attractive. Sibiu is also a good base for exploring elsewhere in Transylvania.
Understand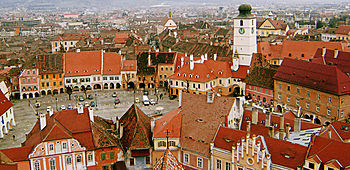 Known in
German
as
Hermannstadt
and in
Hungarian
as
Nagyszeben
, Sibiu has always been the centre of Romania's German minority since medieval times. Even today, it contains Romania's largest German community, and due to initiatives by the local government, the Germanic feel of the area has been maintained. Sibiu also has a Hungarian minority, remnants of Transylvania's past as part of the Hungarian Empire and, later, Austria-Hungary. Despite this, Sibiu is also distinctly Romanian (95% of the population today are ethnic Romanians) and manages to fuse these three cultures, as well as smaller minorities of Roma, Slovaks and Ukrainians into a city that is as wonderful as it is vibrant.
Today, Sibiu is one of Romania's cultural and tourism landmarks, attracting tourists due to its wonderful medieval charm, excellent views of the surrounding landscapes, great food, and stunning parkland. Sibiu today is also doing excellently economically, having an income per capita higher than the Romanian average.
Much of the city was reconstructed in preparation for being the European Capital of Culture in 2007. The people in Sibiu are much more relaxed and friendly than in Bucharest, and much of the city is pedestrian-friendly.
Get in
By plane
Sibiu International AirportServed by Austrian (to Vienna), Blue Air (to Stuttgart), Lufthansa & Tarom (both to Munich) and Wizz (to Dortmund, London Luton, Memmingen, Madrid, Milan and Nuremberg). There are no direct flights to other cities in Romania, eg for Bucharest you'd face an absurd detour via Munich. Small café & currency exchange, car hire desks.
By train
There are three trains a day from Bucharest, taking 5 or 6 hours. From Budapest there are two direct trains, departing around 09:00 and 22:30 taking ten hours, plus indirect services taking 16 hours. It's about 5 hours by train from Sighișoara with a change at Mediaș (12.50 lei, Sep 2018).
For current timetable the easiest website to navigate is
DB
. The railway station is 500 metres NE of city centre and next to the bus station.
By road
Romanian highways are mostly well-signed and in good repair: reckon 7 hours to drive from Budapest. Drive defensively of course, watching especially for horse-drawn carts; but the lunatic driver quotient is probably lower here than elsewhere in South Europe. Your main difficulty will be finding your way through the old town one-way system to your hotel, ask ahead for precise directions.
Sibiu has
buses
to Bucharest (roughly 5 hours, run hourly, 50 lei) and Cluj-Napoca (roughly 4 hours, run hourly, 30 lei). There's also at least one direct bus per day to Budapest (11 hours, 150 lei). The main operators are Dacos, Fany and Transmixt; check times and prices on www.autogari.ro. The buses are reliable, comfortable and cheap. The bus station is next to the train station, listed above. For those who want to rent a car locally
by Swiso Rent Sibiu
the average starting price for a day's rental (small car) is about €10.
Get around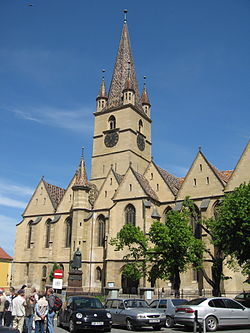 Walk.
The city is large, but almost all the sights of interest are within the compact old centre, much of it pedestrianised. You can hire a guide via the TIC or main hotels, but wandering at random among the cobbled alleys is half the fun.
You'll need a bike (hire available), car or # 13 bus to reach the ASTRA outdoor folk museum, listed below. The fascinating Transylvanian villages (eg Biertan) are within cycling range but the main roads are busy and not much fun by bike, though bike-on-train to
Medias
is an option. Otherwise either hire a car – eg from Autonom at the foot of Str Balescu, also at the airport – or arrange a tour, eg with Tursib. The only other excursion for which you might consider the train is to
Sighisoara
. Reckon 2½ hours, it's an infrequent service, but the bus connections are worse.
Sibiu taxi drivers are generally decent, and switch on the meter without being nagged. But if you're silly drunk and wearing a "Please rob me" T-shirt....
Alas, Sibiu's network of trams and trolley-buses has recently been ripped out, just as other cities are expensively re-installing theirs.
See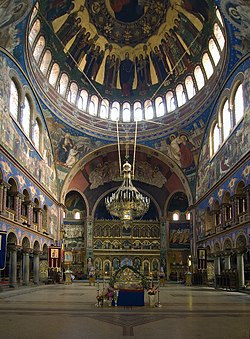 The Old Town
is beautiful. It was mostly built in the late medieval period by the German merchants who were encouraged to settle in and around Sibiu. It's in excellent condition, having escaped modern encroachments, and having been thoroughly renovated to be European Capital of Culture in 2007. (Standards were maintained in the following decade, in spite of economic woes.) Within Old Town, the
Upper Town
, containing most of the historic sights, is ranged around three squares: Piate Mare the Great Square, dominated by the RC Cathedral, Piata Mica the Little Square has most of the bars and cafés, and Piata Huet is an attractive Gothic conglomeration around the Lutheran Cathedral. The
Lower Town
is home to many charming buildings and cobbled squares.
Piata Mare and Piata Mica are linked by a passageway, above which stands the "Council Tower" or Turnul Sfatului.
The Great Square

Huet Square

Turnul SfatuluiClimb the tower and get a panoramic view of Sibiu.
Multiple routes connect the Upper and Lower Towns, the two best being Pasajul Scărilor – the stairway from Piata Huet down into Str Turnului, and alternative cobbled ramp – and down Str Ocnei from Piata Mica under the Iron Bridge. This, being the traditional rendezvous of merchants and of lovers, is better known as "The Bridge of Liars". About 200 m south of Piata Mare, paralleling Str Cetatii, is the surviving section of the
Citadel Walls
, with a series of towers and bastions. Beyond this hurries the traffic of the sprawling modern town: the spell is broken.
Churches
of interest include:
the Roman Catholic Cathedral on Piata Mare,

St Mary's Lutheran Cathedral

address: on Piata Huet

The church is mostly closed for tenovations in 2018 and 2019, but you can still see its excellent collection of medieval tomb covers, including that of Vlad the Implaler's son, Vlad III, who is said to have been murdered by his enemies outside the chruch after an Easter Sunday service. The tower gives you the highest lookout over the city, and is reached via a series of steep wooden and stone staircases this is not for those with mobility or heart problems.
St Ursuline's on Str General Magheru, and
*the stunning
Orthodox Holy Trinity Cathedral
(
Catedrala Ortodoxă Sfânta Treime
) on Str Mitropol.
The only museum that ranks as "must-see" is the skansen, the outdoor
ASTRA Museum of Traditional Folk Civilization
(Muzeul Civilizației Populare Tradiționale) 5 km south of the centre, and listed below. Sibiu's other museums and galleries are important in a local context, for a nation that is not well endowed – where else could a Romanian go to see a genuine Egyptian mummy, or a Brueghel painting, without leaving the country? But Westerners have huge multicultural riches on their own doorsteps. See the other museums here if time and interest allow, but not through "fear of missing out".
Brukenthal National MuseumNamed for Samuel Brukenthal, 18th-century governor of Transylvania. Paintings from the Dutch and Flemish schools, Italian schools and, of course German, Austrian and Romanian collections. Also displays Brukenthal's personal collection dating from the 15th-18th centuries.

"Franz Binder" World Ethnography MuseumCurios that Binder and colleagues collected on their global travels.

ASTRA Museum of Transylvanian CivilisationSmall exhibition space. In April 2017 it displayed 19th-century & modern icons.

Steam Locomotives MuseumDecaying locomotives near the railway station.

ASTRA Museum of Traditional Folk CivilizationHuge outdoor collection of traditional farmsteads, waterwheels, mills, labourers' cottages, churches and so on, picturesquely ranged around a lake in Dumbrava Forest. Pick a fine day, but the circuit track is tarmac so it's okay when wet. Allow 3 hours to stroll round.
Do
Sibiu Music Festival - second weekend in September. Stages in each of the piatas and near the old city walls.
After visiting ASTRA, continue driving south through the village of Rasinari, to see that charming rural Romania isn't just in a museum. From there continue up to the road end at the ski resort of Paltinis. Or turn east for more village scenery via Cisnadioara and Cisnadie, till you loop back to Sibiu via the main north-south highway.
Ocna Sibiului is a bathing resort some 15 km NE of Sibiu. The lakes are salt, formed by the flooding of ancient salt mines. In some, the waters are utterly black and opaque. Enticing, yes?
Hike Fagaras Mountains and Cindrel Mountains.
Guided bike tours around Sibiu.
Guided enduro trips in the mountains, riding levels from tourist to hard.
Go on the Transfăgărășan road, crossing the Fagaras mountains with dramatic views. Or

Transalpina

, an even higher road.
Buy

Lots of souvenir and craft shops, especially on Piata Mica.
German language book, incl. history and calenders, at the market square
local beer in 2.5 L. botles.
second things from rest of euorpase

Eat
You won't go hungry. Food & drink here is to a good standard, and cheap by West European standards – reckon €30 for two people with two courses and drinks. The main concentration of restaurants, cafes and pubs is in and around Piata Mica. Hearty Transylvanian fare includes "ciorbă" (sour soup with various meat or veg), "sarmale" (stuffed cabbage leaves), stews and grills, often with mamaliga (polenta). Vegetarians and vegans shouldn't starve but will need to enquire carefully. Also lots of fast food from familiar chains, but you can do better.
phone: +40 269-210461

address: Str Papiu Ilarian 3

Excellent cellar restaurant offering traditional Romanian cuisine at reasonable prices.

La Cuptor

phone: +40 742 396 696

address: 9 Mai 7

Good food at reasonable prices.

phone: +40 746 779 283

address: Pasajul Scărilor

Long-established atmospheric place, good food.
Drink
A local speciality is a "meter" of beer served in pubs.
Club Liquid
on Str Somesului is a night club which plays mainstream music. The audience is about 50% tourists/locals.
Sleep
Hostels
phone: +40 747 534 998

address: Str Gheorghe Lazar 6

100 m from Piata Mare. Formerly "Flying Time Hostel", no reviews since change.

phone: +40 269 216 445

address: Piata Mica 26

In a 450-year-old building looking onto the Small Square. Breakfast is not included but you can use the kitchen all you want. Laundry is available for €2. Dorms have about 10 beds per room.
Hotels
Zanzi

phone: +40 724 528 348

address: Str Constitutiei 1

Small pension near railway station.

phone: +40 269 212 465

address: Str Nicolae Teclu 14

Comfortable and modern hotel. Internet is available in rooms.

phone: +40 372 692 692

address: Piata Unirii

This modern 13 floor, 182-room hotel is plain but well maintained. Its rooms often have nice views. Often accommodates tour groups. At the edge of the pedestrianised centre of Old Town. Street parking outside is vigorously policed, get permit at reception for checking in, take their advice on medium-stay parking.

Hotel Imparatul Romanilor

phone: +40 269 216 500

address: Str Nicolae Balescu 2-4

Grand 18th-century pile, very central, atmospheric but in need of sprucing up.

Noblesse Boutique Hotel

phone: +49 369 418 000

address: Str Blanilor 17

Friendly pleasant place just E of old town, close to railway & bus stations

phone: +40 269 224 451

address: Str Livezii 43

Cosy 3-star, rooms are well equipped and well kept. Breakfast is included. Free wireless Internet available. English-speaking owners.

phone: +4 269 228 875

address: Soseaua Alba Iulia 120

Simple 3-star near airport
Go next
Spend at least a day exploring the nearby
medieval fortified churches
– you'll need your own transport. The Saxon settlements of Transylvania came under attack in the 15th & 16th century, but instead of erecting castles, they fortified the churches with walls and lookout towers. Most examples are clustered around
Medias
, the best being the UNESCO World Heritage sites of
Biertan
and
Valea Viilor
.
Sighisoara
has an attractive old citadel. It can be combined with a day-trip to the fortified churches, but stands as a centre in its own right. Other notable centres include
Cluj-Napoca
,
Targu Mures
, and
Brasov
. Further south, into Wallachia, is
Curtea de Argeș
an old fortress city in
Muntenia
.
If your itinerary includes
Bucharest
, try to visit it before Transylvania. It's interesting but far from pretty, and it's going to look especially drab after seeing Sibiu.