Sibu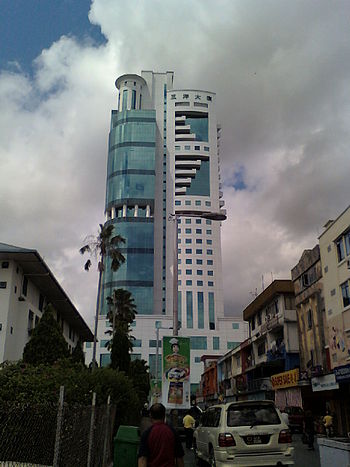 Sibu
is a town in
Sarawak
,
East Malaysia
. It's not much of a tourist destination itself (though it does have some beautiful Chinese temples), but it's a common transfer point for boats up the
Rejang River
to the small towns of Borneo's interior.
Understand
Garden City to be, this is a quiet town along
Rejang River
. Sibu is one of the three towns in Malaysia which consists of a predominantly Foochow-Chinese population (Yong Peng in Johor and
Sitiawan
in Perak are the others). Sibu is not only famous for food (such as Kompia, Kampua and the like), but also boasts of being the hometown of a national patriot called Rosli Dhoby. The town symbol is the Swan.
Unofficially, Sibu has been coined the '
Wild West
' of
Malaysia
and the term has existed for more than 20 years. The nickname came about due to the nature of 'lawlessness' and frequent
triad
activities in Sibu.
Visitor information
There's a visitor information centre at the Sibu Cultural Heritage Museum on Jalan Central.
Get in
By plane
To/From Kuala Lumpur: Malaysia Airlines flies twice daily between Kuala Lumpur and Sibu. AirAsia also flies direct non-stop three times daily.
To/From Johor Bahru: AirAsia flies on Monday, Wednesday, Friday and Sunday.
To/From Kuching: Malaysia Airlines flies one flight daily and AirAsia has two flights daily. MasWings flies five times daily.
To/From Kota Kinabalu: MASWings flies 5 times daily. 4 direct flights, and one via Bintulu.
From the airport, you may purchase a taxi coupon to downtown Sibu. The fee is approximately MYR 35. There is no bus service connecting Sibu town and the airport.
By bus
To/From other Sarawak cities:
Numerous bus companies such as Biaramas, Suria Bus Express and Borneo Highway Express link Sibu with other Sarawak cities such as
Kuching
,
Miri
,
Mukah
,
Sarikei
and
Bintulu
. Most express buses arrive at the long-distance which is located on Jalan Pahlawan. Buses from
Sarikei
arrive at the short distance bus terminal downtown (near the express boat terminal).
To get to the long-distance bus terminal from the city center, take local bus Lanang 21/5A from the short-distance bus terminal for less than 2 ringgit (2019). It only runs every 60–90 minutes from about 6AM to 6PM, so if that's not convenient, you can also take a Grab or a taxi.
Buses to
Miri
run several times a day, with daytime and overnight buses available. The trip takes about seven hours and costs RM50 (2019).
By sea/river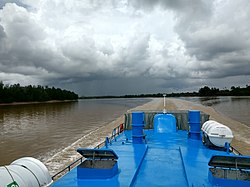 To/from Kuching Daily express boats connect Sibu and Kuching via Sarikei and Tanjung Manis. From Sibu leaves at 11h30am (RM55), (5h approx.) and from Kuching at 8h30am. See Kuching#By boat for details.
To/from Kapit Sibu is the entry point of the upper Rajang, and there are express boats services(4 times daily). Some boats will transit at Song, a small town before Kapit. From Kapit leaves around 8h15am and 1h15pm RM25-30
Get around
By taxi
Tel: 6084-313384 Most taxis here are not metered.
To get to destinations outside the city or on the outskirts, you can find yellow-roofed taxis near the Central Market going to specific places.
The ridesharing app Grab is popular.

By bus
Head over to the short distance bus terminal, near the Central Market and express boat terminal. There is an inquiry counter there, and you may ask for directions. The buses however are non-air conditioning buses.

By foot
Downtown Sibu is a very compact area, so it is discoverable by walking too.

See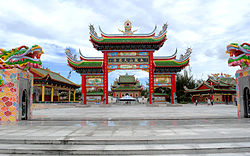 Tua Pek Kong TempleA must see in Sibu. Its history dates back to 1870. Better go around sunset and ask the key to go to the topfloor of the tower for a fantastic view of Sibu and the river.

Sibu Town SquareThe largest town square in Malaysia. Once here, you may walk to the waterfront(at the end of the square) and see the confluence of two great rivers, the Rajang and the Igan. This waterfront is popular for the locals to hang out and also for recreational purposes.

Lau King Howe Hospital Memorial Museum

Sibu Central MarketThe largest indoor market in Malaysia. Lots of local things can be bought here. Do not miss to try the food at the 1st floor of the market. Also there is a very affordable attire sold on the 1st floor.

Bukit Aup Jubilee ParkThe popular attraction of the park is its lake, which have lots of fish and you can feed them. Also, the park is popular for hiking. Once you reach the top of the hill, you can enjoy the view of Igan river and the town. The hill is the highest point in Sibu, and it has a cemetery and an indigenous religious site.

Sibu Lake ParkThe park comprises an area of 11 acres lake, footpaths, jogging tracks, boat house, habitat island, bird sanctuary, barbeque and picnic areas, spash pool, canteen, jetty and others.

Sungai Merah Heritage WalkBuilt to commemorate the arrival of 100 years of the Foochows immigration to Sibu. See the red colored water of the river.

Sibu Heritage Center

Yu Long Shang Tian En ShiThe temple is dedicated to three faiths: Buddhism, Taoism and Confucianism.

Tan Hua Hu Temple

address: Jalan Bukit Assek

A beautiful Chinese temple with intricate designs.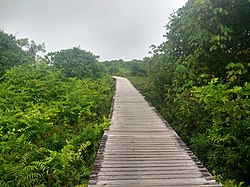 Bukit Lima Nature ReserveA chunk of swampy jungle conserved within the city limits. It includes a couple of trails – actually boardwalks – that are popular for jogging. The longer route is about 5 km, along which you can see lots of plants, birds, and insects, and maybe lizards, small mammals, and even monkeys if you're lucky. Be careful if jogging, because the path can be slippery.
Do
Visit the local Sibu Central Market. Local products can be found extensively such as local olives, exotic fruits and vegetables as well as some handicraft.
Do not miss out on the action in Sibu Night Market in the evening till midnight every day. You can get anything here. From delicious Chinese food, Malay delicacies and bargain for attire. It is said that the night market in Sibu is the liveliest in Sarawak.
Bars and pubs, often occupied by the regular patrons. Take caution of shady characters. Do not stare back when looked at.

Buy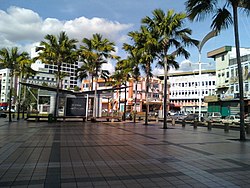 Wisma Sanyan
A fairly comprehensive shopping mall located inside the tallest building in Sibu, Wisma Sanyan. Main tenants here are Ria by Parkson, Giant, KFC, and Pizza Hut.
Sarawak House
A small mall with a department store on the 1st floor, and various small shops on the ground floor. Located adjacent to Premier Hotel. There is a Watson's outlet, and a handicraft shop here.
Medan Mall
A mall with main outlet such as Medan Departmental Store. There are lots of hair saloon here(Ground Floor) and the price for a hair cut is very cheap.
Kin Orient Plaza (old Sing Kwong)
Farley
There are many outlets, although all are Farley outlets, but there are bakery, shoes outlet, departmental store, and supermarket. There is also Farley Food Court and Farley Restaurant nearby.
New Sing Kwong
(opposite Farley) houses a supermarket, departmental store, and some small outlets. Also here there is KFC, Pizza Hut, and a Watson's store.
Delta Mall
A small mall located at Jalan Pahlawan. The mall is NOT in a walking distance from downtown. You may use taxi or local bus to bring you here. Tenants here include; Hush Puppies, SenQ, Giordano, KFC, Popular Bookstores, and etc.
Star Mega Mall
The largest mall in Central Region of Sarawak. The anchor tenant is Daesco. Recently soft-opened.
Giant Hypermarket
Located at Jalan Ling Kai Cheng.It is one of the newest addition of shopping venues in Sibu. Houses Giant, Giordano, SugarBun, LeaCentre, and et cetera.
Eat
Local Specialties
Chai Pau: Vegetable buns, with varieties of vagetables as ingredients was a common dim-sum for hawkers and other blue-collars. Chai Pau is so different with others because of its delicious vegetables contents and less flour on its outer.
Diang Biang Hu: As is called by local Foochow, 'Diang' is wok, 'Biang' is side, 'Hu' is porridge prepared with grinded rice. So Diang Biang Hu is a rice-grinded-poridge cooked on the surface of a heated wok. Most Foochow pronounce it as Diang Miang Hu.
Kampua Mieng: In Foochow, it means mee or noodles on a dry plate. The Mieng (noodles), usually oily nature, is soaked in boiling water for a while, is then brought on ingredient (usually fried onion and sauce) application prepared on a plate. The plain Kampua Mieng has no red-pork-slice added, is usually cheaper. Kampua Mieng is sold at most coffee shops and restaurants in Sibu District. Price varies from RM2.20 per plate from coffee shop to RM 5.00 per plate at restaurant.
Kong Piang: In Foochow dialect, 'Kong' is pottery flask, 'Piang' is biscuit. The traditional way of making Kong Piang is in a charcoal 'oven'. The pre-mixed flour, usually glazed with peanut oil and lightly dusted with sesame seed on the surface with a small hole in the middle, is sticked on the inner surface of the pottery flask. The pottery flask has a narrow mouth, a big mid-section and bottomless. After 15 minutes of charcoal heating, the delicious Kong Piang is ready for meal. Kong Piang is available at some bakeries and eateries. It's available either hard or soft. May come with meat fillings.
Red Wine Chicken: This unique blend of red wine is a tradition among Foochow people. In the olden days, the family of a pregnant woman would start brewing red wine months prior to the birth of her new child. The ingredients consist of rice, yeast and varieties of herbs. The red wine thus brewed is dense, and is kept in bottles stored in a dry and warm place. Red wine is a vital ingredient to longevity noodles/rice vermicelli (chang shou mian)and pre-cooked chicken which is served to friends and relatives who pay congratulatory visit to the family with new born baby. Red wine is also consumed by the woman who give birth to the baby in the believe that it will help her to recover health in shorter period of time. Nowadays red wine is commonly used as an ingredient for longevity noodles/rice vermicelli with pre-cooked chicken in many traditional Foochow restaurants due to high customers' demand. Besides Red wine chicken, Sibu is well known for Red cao chicken. 'Cao' is the residue of wine.
Places to Eat
New Capitol Restaurant

address: 46 Jln Kampung Nyabor

phone: +63 14-6935429

address: Jalan Bandong

Serves a variety of local Halal Malaysian dishes. New Hits Menu: Nasi Ayam Dara Must try: Nasi Goreng Seafood, Nasi Goreng Warung, Tom Yam Kung, Steam Fish, Vege's, Sup Tulang, and many other choices. They also provide catering services for weddings and other occasions. This restaurant is always packed almost every day, so be sure to get there extra early to secure a seat.
Drink
Do not miss to try the famous Teh C Special. It is available in most kopitiams. It is a three-layered drinks, tea, milk and flavour (available in Pandan and Gula Apong flavors).

Sleep
Tanahmas Hotel
Tel: +60 84 333188 @ Ext. 8214/8223
Newly renovated 3 stars hotel which is located in a walking distance from the express boat terminal and the Central Market. Winner of the Best Accommodation, Excellent Service(3 Stars) Sarawak Hornbill Tourism Awards 2003.
Kingwood Hotel
Tel:+6084-33 5888
This hotel is the only 5 star hotel in Sibu,after the expansion project was completed. Rates start from MYR 245.
Lihua Hotel
Tel:+60 84-324000
Located near the Rajang Esplanade, and the express boat terminal.
Premier Hotel
Tel:+60 84-323222
a 3-star hotel located in the Sarawak House complex. Rates start from MYR 140.
Kawan Hotel
Tel:+60 84-315888
located in Jalan Lanang. Rates start from MYR 85.
Orchid Hotel
Tel:+60 84-331999
Rates start from MYR 60. Located in Brooke Drive.
Zuhra Hotel
Tel:+60 84-310711
Rates start from MYR 58. Located opposite of RH Hotel.
Paramount Hotel
Tel:+60 84 33 11 22
located in Kampung Dato'. Rates start from MYR 165.
RH Hotel
Tel:+60 84-365 888
the newest upscale hotel in Sibu. There is a sky bridge connecting the hotel with Wisma Sanyan shopping complex. Rates start from MYR 260.
Garden Hotel
located near the Sarawak House. Rates start from MYR 75.
Tel :+60 84 317888
Destino 365 Homestay
Behind old Sing Kwong, nearby Sibu Town. Rates start from MYR 60. Fully furnished Semi-D come with 4 Bedrooms & 2 Bathroom. Internet WiFi, Satellite TV- Njoi, Washer, Refrigerator and light cooking kitchen ware are provided.
There are also lots of budget hotels around town. Usually these hotels do not need prior reservations and at a very affordable price. This is an information web page about accommodations in Sibu provided by the official Sibu website.

Royal Inn

address: No. 58-60, 1st, 2nd & 3rd Floor, Persiaran Brooke Off Jalan Kampung Nyabor, 96000

Upstair they have some 43RM cheap room, AC, included bathroom. No WIFI. Near central market and heritage center.

Ban Hin Hotel

phone: +60 84 312831, +60 19 859 1898 (WhatsApp)

address: 12, 1st Floor Island Road

No-frills budget hotel. Not especially clean, but it is cheap. Free wifi and air conditioning.
Stay safe

Gossip is an endemic problem in Sibu. It can be difficult to escape unwanted and intrusive attention but keeping a low profile can help to reduce the extent of this problem.
There are many shady characters in Sibu, whom one must avoid at all costs.
Gangsterism is a problem in Sibu; most of the gangs are probably connected with some of the numerous timber barons in the town.
Be on high alert while walking, especially at Sibu Central Market. The risk of being pick-pocketed is high,as there are several cases involving the customers and also shop owners being pick-pocketed. Should you have been pick-pocketed, go to the nearest Tourist Police Station, not far from the Central Market.

Go next