Sibu Island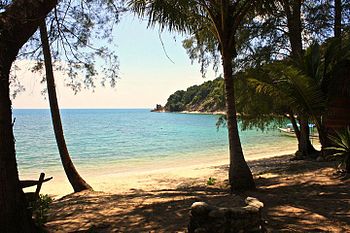 Sibu Island
(
Pulau Sibu
) is an island in Mersing District,
Johor
,
Malaysia
.
Get in
Access to Sibu is via the small town of
Tanjung Leman
, about 130 km north of
Johor Bahru
and 72 km south of
Mersing
. There is no public transport to Tanjung Leman, so you need to sort out transfers with your resort (from RM 80/person return, incl. boat) or take a taxi (around RM 180 from JB). If you want to cut back on your taxi fare, take a bus to
Kota Tinggi
first and continue from there. Some of the resorts operate shuttle buses directly from
Singapore
, with a total transfer time of about 3.5 hours.
There is no Ferry from Tanjung Leman to Sibu. All the resorts on the island arrange transport for visitors. The trip takes 30 mins and costs RM 70 return.
Get around

There are no Roads on Sibu. The island does have 1 motorbike in the Kampong. The easiest way is to travel around the island by boat or walk. The lack of roads has kept this island noncommercial unlike some other island in the region.

Do
Scuba Diving and snorkeling from Pulau Sibu are excellent as the whole area was turned into a Marine Park in 1993. It is the closest island to Singapore for Scuba Diving.
Dan's Nasty Frogmen has been operating out of Sea Gypsy Village on Pulau Sibu for 18 years. It is both a PADI registered dive centre and an SSI store.
The Mersing Marine Park is located in the South China Sea and consists of 13 islands including;
Pulau Sibu, Pulau Harimau, Palau Mensirip, Pulau Goal, Pulau Besar, Pulau Tengah, Pulau Hujong, Pulau Rawa, Pulau Tinggi, Pulau Mentinggi, Pulau Sibu Hujung, Pulau Pemanggil and Pulau Aur.
You could also go for walks through the forests to explore the island. Though there is nothing much, you could still spot a monitor lizard in the wild!
Note: Scuba Doo PADI Dive Center at Cabanas Resort has been closed down since Oct 09.

Eat

There are no independent Restaurants on the island, the one that did exist 'On the Rocks' fell into the sea and was not replaced. All the resorts on the island have restaurants however most include the food with the price of their accommodation.
The food quality is excellent on the island, resorts offering a mix of Western and Malay choices. Saturday Nights are traditionally BBQ nights.

Drink
You can buy alcoholic drinks in the resorts. A beer would cost about MYR 14 in Sea Gypsy's beach lounge bar. A full range of cocktails, liquors and wines is also available.

Sleep
Sea Gypsy Village ResortSea Gypsy is a well established and popular eco resort catering for all pockets that thrives in harmony with the natural surroundings, which makes it well worth a visit. It is nestled in 5 acres of jungle with a pristine sandy beach completely devoid of any hawkers.

Sari Pacifica Hotel, Resort & Spa - Sibu Island

phone: +60 3-89428888

This elegant resort is surrounded by a lush tropical backdrop and features a private bay with golden powdery sandy beach and a picturesque view of Tinggi Island. All the guest villas have views of the sea and islands beyond...all with luxurious appointments fitted with large LCD televisions and entertainment units, huge comfortable beds and bathrooms with a spa bathtub for two. Sibu Island, Teluk Kambau Kecil, Pulau Sibu Tengah, Mersing, Johor, Malaysia .
Connect