Sicamous
Sicamous
is a town of 2,400 people (2011) in
Shuswap
region of
British Columbia
. It is at the eastern end of Shuswap Lake and is known as the Houseboat Capital of Canada.
Understand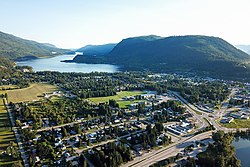 "Sicamous" is an adaptation of a Shuswap language word meaning "river circling mountains".
History
In the 1800s, Sicamous and area was inhabited by a semi-nomadic Indigenous nation called the Secwepemc or Shuswap. They crossed the Rocky Mountains to hunt buffalo on the plains. In this area they were called the "Schickamoos".
In 1864, gold was discovered on the Columbia. Seymour Arm became a supply centre in the Big Bend Gold Rush. In 1885, permanent settlers arrived after the driving of the Last Spike at Craigellachie, which linked Canada sea to sea. Among the first settlers in Sicamous were families from Finland. Old Town, or Eagle Pass Landing as it now known, became an almost instant town in 1871. It was the central supply centre for railway construction. Today it is used primarily for recreational purposes such as sledding, houseboating, hiking, swimming, and biking.
Later, in the early 1900s, CPR hill became a residential development. Finlayson's store and a jail were built in 1892, adding a post office in 1904. The first school opened around 1908.
Get in
Get around
Sicamous is directly around the Trans-Canada Highway, and so travelling by car is the best way to get anywhere. If you want to see the lake, the best way is by boat. It is an excellent idea to hire a houseboat and travel around the lake, or if you are short on time, hiring a speedboat is always a fun and quick way to admire the scenery of the hills and lake. There are even 2 stores in the middle of the lake in the summer for supplies.

See
phone: +1 250-836-4304

address: 1321 Maeir Road

Farm fresh dairy store and zoo of exotic animals including llamas, donkeys, goats and exotic birds, as well as the calf barn, milking parlour and cheese making plant which tourists can enjoy. The dairy store has served millions of old-fashioned ice cream cones in an array of flavours.

address: Trans-Canada Highway, Craigellachie

A plaque and display commemorate the site where the last spike in the Canadian Pacific (trans-continental) railway was hammered in.
Do
Houseboating
Sicamous is the houseboating capital of Canada, and is the base for numerous operators. A Pleasure Craft Operator Certification (pleasure boat licence) is not mandatory, but a valid driver's lcence is required, and it's best to inquire with rental company. It's best to reserve ahead of time.
Beaches
Mara Lake
Cartier Beach

address: Cartier Road

A sandy oasis tucked in a residential area. Small and intimate.

Mara Provincial ParkA day-use provincial park, the park is open with services from May 1 to September 27. Mara Provincial Park is dedicated to intensive recreation, providing opportunities for public recreation access and use of Mara Lake, with emphasis on swimming, picnicking and boat launching. Mara Provincial Park provides good sandy beaches and the only major public access and boat launch on Mara Lake.

Two Mile Beach

address: Tecumseh Avenue

A quiet beach that highlights amazing sunsets, a lighthouse and Hyde Mountain Golf Course.
Shuswap Lake
Silver Sands Beach

address: Finlayson Street

A beautiful sandy beach with a designated swim area. Enjoy the playground, splash water park, picnic tables, volleyball court and washrooms. The perfect place to play or relax while watching the boats head up the lake or wave to the train conductors as they pass by. Parking s available on Finlayson St; there is also parking along Silver Sands Rd.
Golf
Go-karts
phone: +1 250-836-5594

address: 1230 Titus Road

Go-karts, for all ages.
Buy
Shops include Askew's (a general grocery store), Beach Chic (a clothing store), BC Liquor Store, Brothers liquor store, Moose Mulligans liquor store, IDA pharmacy, and a furnishings and souvenir shop.

Eat
phone: +1 250-836-4906

address: 734 Trans-Canada Highway

Family friendly, fully licensed restaurant has fresh homemade meals, daily specials, great service and a cozy atmosphere.

phone: +1 250-836-2713

address: 1133 Eagle Pass Way

Breakfast, lunch, and dinner; breakfast served until 2PM; pizza and pasta served after 2PM.

phone: +1 250-836-3603

address: 1122 Riverside Ave

Good bar and restaurant, and not too expensive. Moose Mulligan's serves a variety of sandwiches, fish and chips, seafood, mexican cuisine and more. The restaurant is child-friendly, offering a kids menu. Of course, as in the rest of British Columbia, under 19s cannot go to the bar or the liquor store (of the same name) which is attached to the restaurant. The restaurant has indoor and outdoor seating, a car park and space to moor boats as it overlooks the river.

Licks n Splits Ice Cream

phone: +1 250-836-0129

address: 325 Main St

Excellent, reasonably priced, soft-cream ice cream. Open in the summer. The store offers 30-50 flavours of ice cream and also sells slushies, ice cream cakes and drinks. There are picnic seats outside.
Drink
phone: +1 250-836-2337

address: 420 Main Street

Another bar attached to a liquor store. As with the other places in the town, the pub has a small, community feeling, but is still a good night out.

phone: +1 250-515-2000

address: 302 Finlayson St

Gourmet espressos, lattes, and frappes; hand-made gourmet sandwiches and wraps crafted with locally-sourced Okanagan ingredients.
Sleep
Hotels & motels
Camping
phone: +1 778-212-2151

address: 3499 Luoma Road, Malakwa

phone: +1 250-836-4097

Midway between Sicamous and Revelstoke. RV Park which also offers hot pools, waterfalls, hiking, and vacation suites.

Family Tree Riverside RV & Campground

phone: +1 250-836-2583

Offering full, partial, non serviced sites, and cabins with plenty of room between sites.

Sicamous KOA

phone: +1 250-836-2507

address: 3250 Oxbow Frontage Rd, Malakwa, BC

Whispering Pines RV & Tent Campsite

phone: +1 250-838-6775

address: 11 Hamilton Road, Mara, BC

Whispering Pines is a family oriented pet friendly RV and tenting campsite 2 km south of Mara Lake.

Yard Creek Provincial ParkYard Creek Provincial Park is part of the Interior wetbelt characterized by and old growth forest. The park has 65 quiet shaded tent and RV camping sites, hiking trails, and a popular day-use area with a log picnic shelter.
Go next