Siem Reap
The town of
Siem Reap
(សៀមរាប), in northern
Cambodia
, is the primary access point for the
Angkor Archaeological Park
, just north of the city.
Understand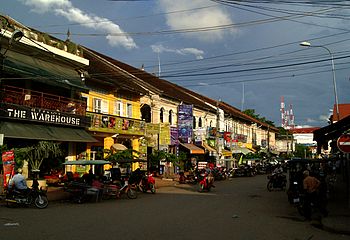 The name Siem Reap literally means "Siam Defeated". These days, however, the only rampaging hordes are the tourists heading to the Angkor Archaeological Park. This once quaint village has become the largest boom town and construction site in Cambodia. It is quite laid-back and a pleasant place to stay while touring the temples. It is a nice compromise between observing Cambodian life and enjoying the amenities of modern services and entertainment, thanks to a large expatriate community. Since Siem Reap is a major tourist destination, prices in some instances are higher than elsewhere in Cambodia. Expect to receive almost constant offers for motodop and tuk-tuk rides, along with everything else which drivers may be able to offer to you.
Be sure to pick up your free
Siem Reap Angkor Visitors Guide
and the equally free and useful
Siem Reap Pocket Guide
from your hotel/guesthouse. It contains lots of info on Siem Reap and the Angkor Archaeological Park, including hotel/bar/restaurant/shop info, travel info, and maps. For the eco-sensitive tourist, check out
Stay Another Day: Cambodia
, a detailed guide with local spots that support the environment and community. Another address is the
ConCERT
tourist office, a local NGO committed to raising the standards of responsible tourism and eco-tourism activities and providing information on the causes and effects of poverty in Cambodia, volunteering opportunities and eco-tours.
Get in
By plane
The airport is around 7 km from the town centre. Prepaid taxis cost $ 10, see the prepaid booth just outside the terminal. Prepaid tuk-tuk rides for slightly less are also available. Thrill seeking solo travellers without much baggage can save money by opting for back of a motodop for $ 9. Most hotels offer a free airport pick-up if you've booked in advance. (4/17)
By bus
Bus is a common way for getting around Cambodia with a range of bus companies serving Siem Reap, with several daily departures and arrivals (especially from Phnom Penh). Major companies include
Phnom Penh Sorya Transport
,
Capitol Tours
, and GST Express. Try to book at least the day before travel. Travel agents and guesthouses will do this for a $1-2 fee. Buses tend to leave in the morning or early afternoon. There are also night buses on some routes.
Many buses terminate at an out-of-town bus station to the east of Siem Reap, from where travellers will need to take a tuk-tuk into town. This should cost no more than $2, or maybe $3 if you're not keen to drive a hard bargain.
If arriving from the west
, consider getting off the bus as it passes through town on Hwy 6, say as it crosses the bridge over the river, before it reaches the bus station.
If arriving from the east
you have little choice but to face the touts. Capitol Tours buses, however, terminate at the company's office in the centre of town, near old market, making them the most sensible choice.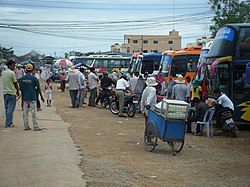 Domestic services
Domestic services are frequent — for instance
Phnom Penh
is served by a dozen companies some of which have a departure every half hour during the day. The bus trip from the capital is 6-8 hours and tickets are around $10 depending on the company. This is a well traveled route by both locals and tourists, but often an uncomfortable trip as buses will make many stops and go slow. A more expensive, but far more comfortable option is by Wi-Fi-equipped minibus. Trip by minibus takes only 4-5 hours.
Other places with services include
Kampong Cham
, Soung,
Battambang
($6-8),
Sisophon
,
Poipet
(for
Aranyaprathet
, the main route from Thailand),
Preah Vihear
($12) and
Anlong Veng
(for Ban Pakard in Thailand). Destinations further away include Koh Kong (via
Phnom Penh
, a long journey),
Sihanoukville
($15-25) by a 10-12 hour overnight sleeping bus or daytime sitting bus that should be booked at least 1 day in advance,
Banlung
($24),
Mondulkiri
($18-24.50),
Stung Treng
($20) and
Kratie
($24).
International services
Laos
There are buses from
Don Det
in the 4,000 Islands region ($25-29), the Lao border ($25) nearby and
Pakse
($30). Direct buses from Vientiane don't seem to be available as of February 2019.
Thailand
Buses in general start in the morning, though there are also night buses on this route. The journey takes about 8-11 hours including the time it takes to pass through immigration and customs at the border.
Starting from from Bangkok, agents in Khao San Road offer tickets to Siem Reap from 300 baht. In the other direction tickets cost $11. The ticket is valid for the whole journey but you will change buses in
Poipet
.
If traveling independently to the
Aranyaprathet
/
Poipet
border, see those towns' articles for advice on how to reach the border, survive immigration and avoid the
"Government" bus scam
.
There are also some more expensive services; the government bus daily direct service from Bangkok (Mo Chit bus station) to Siem Reap and back. The trip is $28 per direction, but is scam-free and fast. The Cambodian side of the company is named Nattakan. Giant Ibis direct bus to
Bangkok
: the Cambodian premium transport company
Giant Ibis
offers daily direct transport for $32, departure time 7:45. The buses have free WiFi, power supply and generally good service, including free pick-up from partner hotels/ hostels in Siem Reap.
Vietnam
Ho Chi Minh City
($18-27) 12 hours on a sleeping bus. If you use this in the other direction, have your Vietnam visa ready (if your nationality needs one) and valid before taking this trip. Visas for Vietnam are not available at a land border even if you have visa on arrival.
By boat
A more expensive and more time consuming option from
Phnom Penh
($35, 6 hr, possible to book
online
, all seats are provided on a first come-fist serve basis so no benefits of reserving it online) or
Battambang
($20-25, 5 hr) is to take a Soviet-style hydrofoil across Tonle Sap Lake. These can be fantastic trips giving you the opportunity to view life on the lake, floating houses, working fishermen, and to get a suntan if you choose to sit on the roof of the boat. However, the trip can be ruined due to bad weather. Remember to use sunscreen and take a waterproof jacket. You may not be able to access your luggage during the journey (sometimes the baggage is available, sometimes it is not). If you have the time, it is better to visit the floating villages as day trips from Siem Reap rather than see them from the boat.
By shared taxi
The quickest method of getting from the
Poipet
border to Siem Reap is a
shared car
. A four-seater car costs $25-45, depending on your bargaining prowess, and takes 2-3 hr. Even if you're travelling solo, it shouldn't be too hard to find others to share the expense. Walk past the roundabout to negotiate a cheaper taxi fare, otherwise you will pay more by being in the police controlled pricing cartel area. Do not get on the "government approved" tourist bus unless you want to pay more for taxi's minibus, etc.
By private transfer
Family or group of tourists can book a private transfer to Siem Reap. It is comfortable, but expensive way. Comfort-class transfer from the
Poipet
costs $65-75.
By helicopter
Helicopters can be chartered to go nearly anywhere in the country. They seat 5-6 people. Prices start at $1,000 for trips to some of the temples north of Angkor Wat. Companies include
Helicopters Cambodia
and
Helistar Cambodia
. Helicopter transport is also available from other cities, e.g. from
Battambang
($1,600/helicopter) or
Phnom Penh
($4,700/helicopter).
Get around
Travel to and around the Angkor Archaeological Park is extensively covered in its own article. The following is a discussion of travel inside Siem Reap.
On foot
The city centre is fairly compact and flat.
By bicycle
phone: +855 92 332 730

Well maintained bicycles can be hired through various guest houses affiliated with this local charity that uses hire proceeds to fund youth education and clean drinking water projects in villages around Siem Reap. The website lists location where the bikes are available.
Many guesthouses will lend you bicycles either for free or cheaply ($1-3). Bicycle rental shops in town mostly don't open earlier than 7am, so if you want to ride to Angkor Wat early in the morning, rent one the day before.
By motorbike
Motodops (motorbike taxi) abound and will make sure you know where they are. Rides within town should only cost $0.50 or 2,000 riel, although prices can double at night or during bad weather. Agree a price first. Full day can be arranged for ~$10. Helmets for passengers are rare though may materialize if requested in advance.
Renting a motorbike is prohibited
for foreign travellers in Siem Reap, though motorbikes rented elsewhere are permitted.
Petrol stations vary from first world forecourts to roadside stalls selling fuel of dubious quality in drinks bottles.
By tuk-tuk
Tuk-tuks, like motodops, will call at tourists from nearly any street corner.
A trip within Siem Reap should cost $1 regardless of how many people pile on. Most tuk-tuks can convey four people comfortably though the extra weight can make the low-powered bikes laboriously slow. Prices can double at night or during bad weather.
Ensure both you and the driver are in crystal clear agreement on the destination and total fare before departure. Payment is made on arrival and doesn't increase if the driver got lost or had to take a circuitous route.
By car
Cars with drivers can be hired for single or multiple days. While all drivers are familiar with the area and happy to suggest good routes, most speak little English and are not actual tour guides. Licensed tour guides charge $45-50 per day for a driver and English speaking guide. Drivers will likely ask for $5-10 extra for trips to further temples such as the those of the Big Circuit, Banteay Srey and more for remote sites like Beng Mealea.
The taxis ($7 fixed cost) from the airport to Siem Reap proper may provide a full day of touring for $25-30.
Siem Reap Transport ServiceA private tuk-tuk and car service providing transportation within Siem Reap and around the Angkor Wat temples. Private cars also available to and from Phnom Penh.
See
Most people come to visit
Angkor Archaeological Park
, which is thoroughly covered in its own article. The town itself has some worthwhile attractions and a number of beautiful modern Buddhist temples.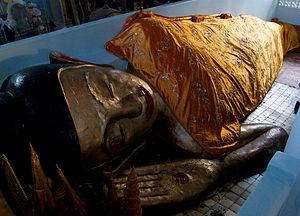 phone: +855 63 966 601

address: 968 Charles de Gaulle Blvd

Exhibits covering the history of the Angkor complex as well as Khmer culture and clothing using high tech displays and video screens. Some say the 1,000 Buddhas room is as impressive as it sounds.

Wat Bo

address: Samdech Tep Vong St and St 22

As one of the oldest temples it makes a nice contrast between the oldest and the glittering new ones, though the rough artwork wouldn't match the craftsmen of Angkor. The architecture of the ramshackle open air hall next to the main building blends French-style arches and balustrades with Thai-influenced Buddhist details. A forest of chedi surround the main hall, in between frangipani trees and some fine topiary.

Wat DamnakA landscaped temple with many stupas, a small decorative pool, and a school on the premises.

Wat Preah Prom Rath

address: Pokambor Ave

The glittering modern temple grounds give few hints as to its 500 year history. Though the lotus-themed architecture seems to emulate temples from over the border, the front gate integrates Bayon-style heads and a scene in relief of the Buddha seated under a tree, while armies fire arrows on one side and others are eaten by crocodiles on the other side, that looks like it could have been taken directly from Angkorian mural. Legend is that the site was established around 1500 when a famous monk landed ashore on a piece of his sinking boat. The boat wood was carved into the oddly foreshortened reclining Buddha installed in a swimming pool-like pit behind the imposing, yet despondent looking, seated Buddha in the main hall. Perhaps mimicking the construction materials origins, the reclining Buddha has taken on a sunken slant at the feet end. A pair of small weather worn cannons on either side of the hall are of unknown origin but their style, an embossed crown-like seal and mysterious numbers suggest a European origin.

Wat Thmei Temple & Stupa Memorial to the Killing FieldsA large Buddhist temple. In the grounds is a stupa with glass sides contains bones and skulls of victims of Pol Pot's army. Be wary of people purporting to be guides or asking for donations. Also, several of the photographs on the display boards are actually of the holocaust in Nazi Germany. Take this attraction with a pinch of salt.
Nearby
phone: +855 97 852 7852

address: Sanday Village

Banteay Srey Butterfly Centre is a community development project and tourist destination just down the road from the Landmine Museum and Banteay Srey temple. Revenue from admissions is used to pay families in remote villages who are farming butterflies for the exhibit. The project makes a real difference to the farmers' livelihoods and provides a wonderful experience for visitors as they can see spectacular local butterfly species flying close at hand in a beautiful tropical garden.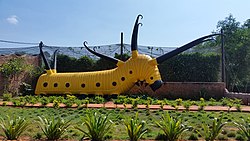 phone: +855 12558768

address: Kantrak Village

A park with butterflies amongst many species of plants and flowers, with waterfalls and ponds.

Kampong Phluk Floating VillageThis mangrove forest offers a much more authentic floating village experience than the one close to the Tonlé Sap ferry harbour. This fascinating village on stilts can be reached by tuk-tuk from Siem Reap. It takes about 1 hour to reach the village, depending on the road conditions and water level. Depending on where you buy your tour, your haggling techniques and your initiative to book a tuk-tuk and boat ride yourself the price varies between $7-60 per person for a round trip. Beware of scams. When you reach the school in the village, your tour guide will give you pack of exercise books and pencils as "a payment to village for visiting them". The queue of pupils will be longer than number of books you have. Immediately you receive next pack but then you will need to pay $9 for the second pack.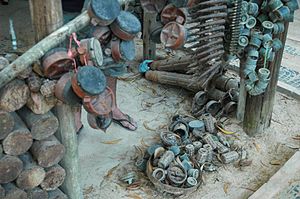 phone: +855 15 674 163

This tiny museum was set up by local deminer Aki Ra to educate locals and tourists about the dangers of land mines. Piles of defused mines and unexploded ordnance (UXO) lie around the site and the guides are mostly teenagers who were orphaned or injured by mines, many of whom live on-site. This is a very worthwhile attraction that brings home the scale of the problem and shows you a slice of real Cambodia.

Phnom BokThe highest hill in the area. Temple ruins similar to those found atop of Phnom Krom and Phnom Bakong can also be found on top of Phnom Bok. It lies 20 km to the north east of Siem Reap. Expect a tiring hike up the stairs. A guard may be able to show you around. Don't forget to check out the old howitzers from the civil war. Admission is free, no pass is needed for the Angkorian ruins.

Phnom KromThe hill which dominates the view, as you approach the floating village of Chong Kneas from Siem Reap. At the top, temple ruins similar to the other two hills can be found. This particular hill is popular for sunsets, as it can be viewed over the flooded plains during the wet season, and over incredibly vibrant rice fields in the dry season.

phone: +855 97 4578 666

Collection of old (mainly Russian) tanks, artillery, landmines, handguns etc. Also some history background about the Cambodian civil war is displayed. Worthwile for a 1-2 hour visit if interested in military.
Do
Activities
phone: +855 12 755 286

Daily pottery classes for beginners as well as professionals in pottery making, carving and glazing by local potter, Mrs Paruth Hann. Make your own design and take your glazed pot home as a souvenir. An enjoyable experience whilst supporting an enterprise creating fair wage jobs for the poor village women in Siem Reap.

Pottery Classes & Painting classes

phone: +855 17 843 014

address: 130, vithey Charles de Gaulle

With the pottery class and clay class course, you can make your own ceramic artifact on the potter wheel. After you finish your piece, you can add different designs on it with potter's tools. With the painting activities, you can draw and / or paint your own design on a pot, cup, plate or other kind of ceramics products.

phone: +855 089746459

address: Siem Reap, Road 60, Trang Village, Sangkat Slorkram - 200m East of Naga Bridge

An alternative tour experiences platform, they enable locals to offer authentic and unique activities to tourists such as fishing on the mekong like a local fisherman, coconut carving workshops, Cambodian Boxing, Apsara dance classes, even a fear factor challenge where you learn to cook insects which are sold by vendors along the streets in Phnom Penh. A social enterpise, they work with many underprivileged people who either serve as hosts or facilitators. The facilitators will pick you up from your hotel and translate for you. These facilitators are usually young students looking for work to pay for their education or orphans looking to transition into society. Transport is provided for most activities in Phnom Penh. A great way to interact with local people, take in the culture and have a memorable souvenir.
Adventure
KKO - Off Track Mountain Bike Tours

phone: +855 93 903 024

address: St 20, Wat Bo Rd

KKO is a local charitable non-profit NGO. They offer unique Angkor park and countryside off track bike tours and mototours also to the countryside. The entire profit generated from the bike tours flows back to the local KKO School. $30-$40 for a guided full day biketour and $45-$60 for a full day mototour. Booking is required.

Sabai Motobike and Jeep Adventures

phone: +855 0 88 372 3121

Explore the Cambodian countryside on a guided motobike adventure or in a Jeep. On tour, get off the beaten path to discover authentic, rugged, and fascinating Cambodia. Sabai Moto and Jeep Adventures tours start from Siem Reap.

Shooting RangeArmament and explosives availability apparently is only limited by how much you are willing to spend. Listening to the soldiers-turned-used car salesmen put the hard sell on a new machine gun is almost worth the trip. This is a true game of Russian roulette. Fancy pulling the pin of a 30+ year old grenade and possibly getting the faulty one? Make sure that whoever is supervising you is also willing to stand next to you. It can be a little bit difficult to find, and a tuk-tuk driver may know where it is.
Cooking classes
phone: +855 77 562 565

Cambodian cooking classes in a village 10 min from town. The classes are three hours long and include a visit to a local family and information on Cambodian cooking customs and beliefs. Hands on classes for a maximum of six people unless you book a private group.
Cultural performances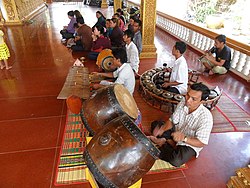 phone: +855 63 963 561

address: Wat Bo Rd

A flashy performance of traditional, popular and classical dances.

phone: +855 63 963098

address: Airport Road # 6, Khum Svay Dang Kum, Krus Village

Cambodian culture in a nutshell, miniature of Cambodian landmarks, Cambodian traditional house replicas, and cultural performances.

phone: +855 63 6550168

address: Smile of Angkor Grand Theatre (Angkor COEX)

A lavish production of Cambodian traditional dances equipped with a large screen featuring Angkor civilization. "Smile of Angkor" is the grand epic show that revives the Angkor dynasty in all aspects; from foundation to prosperity, tale of folk customs, past to present. The performance expresses traditional Cambodian culture with the latest technology.

We Are The Champions Performances by the Local Disabled Community

phone: +855 12 676826

address: Night Market

A two act play written and performed by participants who share with great feeling what it is like to be disabled in Cambodia and the challenges of their lives. As many of the performers are in pursuit of education to better their lives they appreciate donations of school materials such pens and writing books.
Festivals
Angkor Photography Festival: Photography for ChangeAnnual festival that showcases outdoor projections and various exhibitions around Siem Reap of regional and international photographers. The festival is held during the last week of November every year, consisting of 7 evenings of outdoor projections and more than 10 gallery exhibitions across various venues in the city. The festival is the first of its kind in Southeast Asia and is also the biggest. It aims to highlight the work of Asian photographers and provides free workshops for 30 young photographers from the region every year, led by world renowned professionals, which are showcased during the event. There is a full time office/gallery for the festival located on the East river road near the Bopha Angkor Hotel. As well as the festival, the organisers support a local NGO working with street children, that promotes the arts and runs a photography course with students. Photography from these students is also showcased as part of the festival programme.

The Annual Street Puppet FestivalAn exciting pageantry with the concept of sticks and stilts manipulated puppets much like those which debuted in the opening parade of the 1992 Barcelona Olympics and also quite similar to the Trinidad & Tobago Carnival.

The Water FestivalThis vast festival is probably the most extravagant festival in the calendar. Over three days starting with the last full moon day in October or the beginning of November up to a million people from all walks of life from all over the country flock to the banks of Tonle Sap and Mekong Rivers in Phnom Penh to watch hundreds of brightly coloured boats with over 50 paddlers battle it out. The boat racing dates back to ancient times marking the strengths of the powerful Khmer marine forces during the Khmer empire. In the evening brightly decorated floats cruise along the river prior to and complimenting the fireworks displays. there is often a parallel festival at Angkor Wat and although it is smaller in scale it is just as impressive due to the backdrop of Angkor Wat. The festival marks the changing of the flow of the Tonle Sap and is also seen as thanksgiving to the Mekong River for providing the country with fertile land and abundant fish. It is at this time when the river flow reverts to its normal down stream direction. The remarkable phenomenon that is the Tonle Sap sees the river flowing upstream during the rainy season and then change direction as the rains cease and the swollen Tonle Sap Lake empties back into the Mekong River leaving behind vast quantities of fish.
Massage
The Khmer believe that Thai massage is derived from Khmer massage and that it is more relaxing as it requires less twisting and turning. The numerous Khmer-style massage shops mostly offer genuine massage and are not a front for sexual services. Contrary to common belief, blind massage services do offer
special massages
too.
Fish MassageThis Thai fad has crossed the border. Dip your feet in a tank of fish and wince as they eat the dead skin off your toes. Trying a tank with feet already inside it will tell you if the fish are hungry. Some claim to have no piranhas while others offer a free beer to subdue any doubts.

phone: +855 63 964391

address: 615/617 Hup Guan St

Wonderful spa with a nice atmosphere, peaceful rooms, and experienced staff. The massages actually feel like trained people are giving them. No special services or hidden fees. It is a nice place to go as a couple or alone. They have massage tables and air conditioning. Tasteful exterior surrounded by frangipani plants (partly obscuring their tasteful green sign saying "frangipani").

phone: +855 12 387 385

address: 7 Sivatha Blvd

Lovely little spa with a relaxing atmosphere and experienced staff. 60 minute Khmer massages are $15, while 90 minute Khmer massages are $22. They also offer oil massages, "spiritual massages," and manicures/pedicures. Treatment rooms have air conditioning, and they provide a cool drink before treatment and warm tea afterwards. They also claim to pay higher wages than most places in Siem Reap, as well as provide other benefits to their workers.
Orphanage visits
Children are not tourist attractions
, and especially orphaned children. Some visitors feel visiting an orphanage is a good way to make a positive contribution to Cambodia, while others feel that orphanage tours do more harm than good. The largest child protection group in the country has asked that tourists
not to visit orphanages
. The great majority of Cambodian children in orphanages have living parents, who rent them to the orphanages. Most are scams and have histories with severe child abuse. It is strongly encouraged that you do not support this 'business'.
However, some transparent and genuine, long running orphanages that have a good reputation are:
Cambodian Children's House of Peace

phone: +855 92 407077

address: No.004 Phum Mondul 3, Sangkat Slorkram

The Cambodian Children's House of Peace (aka Santepheap, which means Peace in English) is an orphanage in Siem Reap responsible for over 30 children. The children of the orphanage put on a traditional Khmer Dance show every Sunday night from 19:00-20:15 to highlight traditional Cambodian culture as well as draw attention to the orphanage in general.
Buy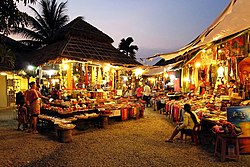 As elsewhere in Cambodia, US dollars, and to a lesser extent, Thai baht are preferred over Cambodian riel except for the very smallest purchase. Using riel for small purchases can be better than using dollars as retailers tend to round up $ prices.
The
Heritage Watch
non-profit organisation supports business that promote Cambodia's arts, culture, heritage and development. Certified businesses display either a gold or silver Heritage Friendly logo.
International
ATMs
in Siem Reap are plentiful and most banks will do cash advances from credit cards.
Arts and crafts
Beverages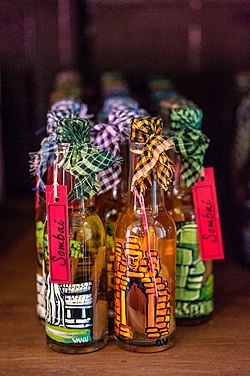 Georges RhumerieInfused. Alcohol made in Siem Reap, composed of 10 flavours, inspired by Cambodian fruits and taste. It can be found at Georges Rhumerie restaurant for a free tasting during the day, and also at night. The packaging comes in 2 forms, one normal composed of cardboard, making it legit for the picky custom agent, and the other one more traditional, best for a gift, made by villagers around Siem Reap.
Sombai Cambodian Liqueur Shop & Workshop

phone: +855 63 555 02 80 (Khmer), +855 63 555 02 80 (Khmer)

address: 176 Sombai Road, Salakamreuk Village

This shop is the factory outlet of the locally-produced infused liqueur called Sombai. The beverage comes in nicely hand-painted bottles. The shop offers free tasting and a general presentation of the brand. Also available: a range of non-alcoholic products that also come in hand-painted bottles and jars. It is recommended to book in advance.
Markets
Angkor Trade CentreThe mall, Cambodian-style. A reasonably extensive selection of packaged food, drinks whitening deodorant, imported alcohol and the familiar feeling of shopping in air conditioned comfort.

Central MarketEclectic collection of clothes and trinkets. Bargain. Most stalls carry the same selection so you can shop around and find the cheapest price.

Psar ChasA range of knick-knacks and tourist junk. Some items purport to be antique, but they probably aren't. If so, most likely it has been stolen.
Other
phone: +855 97 3042827

address: In the X Bar, at the end of Pub St

Lex Roulor's Tattoo Shop Siem Reap features a French artist with a personal and professional approach to each project. European hygiene standards. Interesting combination of Western old school style and traditional Khmer designs.
Eat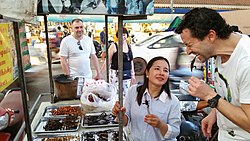 Eating options span the full spectrum of tastes and budgets from the rudimentary Asian staples and pizza to authentic Khmer and sophisticated fine-dining featuring exotic local ingredients. The highest assortment of restaurants are in few blocks north of the old market, but there are appetizing alternatives along Wat Bo Rd and hidden in the surrounding neighbourhoods.
Old Market area
Though
Pub St
is better known for its bars, a handful of places serve great food, many with seating upstairs so you can escape the partying milieu on the street below. Crammed along
The Alley
is a wider selection of restaurants that offer a generally quieter and more intimate experience. The local restaurants lining
Phsar Chas
have extensive, yet near identical, menus of cheap fried rice and Westernised approximations of Khmer dishes. At dusk the Kindergarten on the corner of Street 8 and 11 becomes a jumble of small BBQ stalls, replete with billowing smoke, noise, and the persistently entreating peddlers. The
phnom pleurng
here is the cheapest you will find.
Wat Bo Rd and environs
Outside of the main part of town in the sometimes dusty neighbourhood streets and area along Wat Bo Rd are some trendy restaurants and small local places serving the most authentic Khmer food.
Budget
phone: +855 95 839 745

address: Sok San Road 17259

French food. Exquisite cuisine made by a passionate chef, who prefers excellence and quality before all. Subtile and creative cuisine in a friendly atmosphere, Bringing authentic French cuisine, wines and hospitality to Siem Reap

phone: +855 12 422 247

Local food along with good vegetarian options.

phone: +855 63 965687

address: #719, St. 14 / Mundol 1, Khum Svay Dangkum

Serving Western dishes; chicken tenders, grilled cheese, crispy chicken apple salad, German chocolate cake, seasonal muffins, cinnamon rolls and some Asian dishes. All profit goes to fund local humanitarian projects through NGO People for Care & Learning. Air-con & high speed Internet.

Curry Walla

phone: +855 63 965 451

address: Two locations Sivatha Blvd & Night Market Rd

Authentic vegetarian & non-veg Indian food.

phone: +855 12 436 869

address: #072 2 Thnou St

Italian and Khmer food. Has been operating since 1994. Many kinds of pizza and pasta dishes. You can request your own pizza with either thin or thick crust. Western & English-style breakfasts any time. Fruit shakes, soft drinks, draught beer, wine. Free delivery available.

phone: +855 88 580 00 10

address: Little Pub Street New street A

Restaurant with decoration factory and street art. Located in front of Pub street. There is pizza, pasta, cocktail and beer.

Taj Mahal

address: Street 11

Classic Indian dishes. All the food is halal.
Mid-range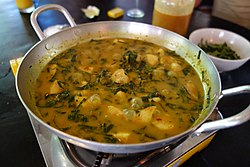 Butterfly GardenVegetarian restaurant serving Western and Cambodian food. Vegan options available. In a quiet street (opposite Karavansera Hotel). A few butterflies though their stock is sadly depleted

Chamkar

address: The Passage, Off Pub St

Vegetarian restaurant with Cambodian food and numerous vegan options in the lively Pub Street area

phone: +855 92 963 242

address: Central Market

The menu diverges from the usual with fairly authentic Khmer and Chinese foods. The Western menu is not nearly as intriguing. Free Wi-Fi.

address: East River Road

An unusual place combining home-style cooking with environmental displays. Large mostly vegetarian menu comprised of both authentic Khmer food and grilled sandwiches and fresh salads, juices, and shakes.

phone: +855 92 245 915

address: 2 Thnou St

The restaurant looks simple but the Hong Kong dim sum, Vietnamese pho and Chinese wonton soup provide a welcome variation from what you find elsewhere.

phone: +855 17 838 854

A bright orange Mexican restaurant. Burritos, enchiladas, and quesadillas are reasonably authentic considering the location. They have some Khmer dishes if you want to eat more local food while enjoying the view over the balcony.

phone: +855 86 814 303

address: Lane 10A, between Pub Street and Street 7

French restaurant owned by a Belgian expat. Excellent meats, crepes and a wide beer collection.
phone: +855 98 663 929

address: Rambutan lane

Cosy restaurant offering Organic Khmer and Western food of high quality. The vegetables are from the uncle´s farm, which can also be visited on a nice and educating half-day tour. Plenty of vegetarian and even vegan options available. They also offer cooking classes for Khmer cooking. The dishes are rich and delicious, and not too spicy. Always serve some spicy peanuts.
phone: +855 12 826 346

address: #246 Wat Bo Rd

Stylish Khmer restaurant that is often so full you will have to wait for a table. The extensive menu is a mix of Khmer and Asian-esque dishes and with some vegetarian options. Some say the food is not spicy enough but the outdoor setting is nice if it is not raining.

phone: +855 968 617 448

address: Wat Damnak, next to quad adventure

Features Creole fusion dishes with a nice Cambodian touch coming from home-style chilli and chutney. The cocktails are made better through the use of the Georges infused rum.

phone: +855 78 34 24 04

address: Chocolate Road, Wat Damnak area

Training restaurant teaching disadvantaged young adults. Cambodian, Asian, Western Food, with many vegetarian/vegan options.
Splurge
L'AngeloProbably Siem Reap's most daring restaurant, serving fusionesque Italian cuisine like foie gras on a bed of white asparagus and balsamic vinegar ice cream in a setting so achingly modern that the only decoration is a cloud of black dots on the white wall. A full meal with a glass or two of wine costs around $100 for two.

address: Sivatha St

French cuisine and Khmer specialties, all made with local and fresh products. Central city location that opens early in the morning for breakfast.

The Dining Room (Park Hyatt Hotel)

address: Sivutha Blvd

Formerly known as Meric when this was the Hotel de la Paix, the name-change has not blunted the quality of the food, which is excellent. Acclaimed by some as the best Khmer restaurant in all Cambodia, it is set in a chic hotel with a minimalist modern feel. The chefs source the freshest ingredients for both Khmer tasting menus, as well as a la carte dishes. Sit in air conditioned comfort, or outside tables and lounge furniture and enjoy the nighly music and dance performances that commence at 20:00.

The Red Piano

address: Pub St

2 floors. Serves a variety of Italian and other European food with Britney Spears music videos in the background.
phone: +855 77 347 762

address: Wat Damnak Market St

French food with Cambodian influence. Only has two tasting menus, no à la carte dishes. Indoor and outdoor seating.

Cafe D'Angkor (Raffles Grand Hotel D'Angkor)This restaurant is inside the colonial-era Raffles Hotel. Main courses include western and Khmer dishes, and range from $20 to $30. Both the food and services were excellent. There are other restaurants in this hotel.

address: Pokambor Avenue, Siem Reap Riverside

High end restaurant with chefs who produce specialities from around Cambodia
Drink
Coffee
address: 200 pokambor St, Siem Reap, Siemreab-Otdar Meanchey

Run by two Australian sisters. Located in an old colonial building. Excellent coffee. Wonderful atmosphere.

address: Behind Hotel Riviera, Central Market Road

Cosy, chic cafe offering excellent coffee. Healthy meals.
Bars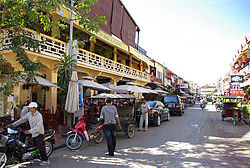 The majority of bars and pubs of
Siem Reap
are concentrated in on a strip called Pub Street and its surrounding alleys. Although peaceful during the day, the streets in the Pub Street area which is just a block away from the historic Psah Chas (Old Market), comes alive with lights and music. Tourists, both local and international alike, starts pouring into the bars and pubs and give the streets almost a nightly street party scene.
Started in the late-1990s by a local business called Angkor What? Bar and followed by its rival, Temple Bar, from the across the street, Pub Street is often recommended as a must-see attraction in Siem Reap.
The distinction between eating and drinking establishments is fairly blurry as even the most humble of restaurants can have an extensive cocktail list on their menu. Nonetheless, a vibrant drinking scene concentrated along Street 8, aptly dubbed "Pub Street", is where serious drinkers head for cheap beer, loud music and the sweaty backpacking hubbub scene akin to Bangkok's
Khao San Road
. The biggest and most well-known Pub St bars, Angkor What?, The Red Piano, Temple Club and Le Tigre du Papier, are easy to find, with Angkor What? and Temple Club engaged in a running battle playing pop music across the street at very loud volumes.
Travelers looking for more subdued place to appreciate a quiet drink can seek out some of the smaller places along "The Alley", "The Lane" and the adjoining streets. A few drinking holes offer a bit more than cheap drunkenness.
Most places have draught Angkor beer for $0.50 and cans of other beers for $1-2. Cocktails and spirits go for as little as $2. Imported red and white wine, generally from the less prestigious wine producing countries, is widely available and cheaper than you would expect. Better quality Australian and French wines are available in more upmarket establishments at a correspondingly premium price.
KTV
These are hostess clubs popular with the locals, room charges are about $5-10 per hour, beer is $2-4. Most of these places are fronts for prostitution. Many of these places have two menus. One for Cambodians, which has cheaper prices, and one for foreigners, which have higher prices. If you see that the beer is $4, they probably gave you the foreigner price.
Bars
Pub St features two main late night bars, Angkor What? and Temple Club which are directly across from each other. Commonly late night bar-goers will also congregate and drink in the street between the two bars and consume their own alcohol there, which is readily bought at stalls or shops in the immediate area.
Khmer Pub Street Beergarden KTVsThere is a strip of local Cambodian bars near the Platinum KTV. If you walk past it, there is a whole 2-3 block street full of local cambodian bars. Menus are not in English and few employees speak English, but the prices are good. These are restaurant/bars, they have young women sitting at the entrance, and you can have one accompany you for $1.50. Beers are $1.

Score Sports BarMore than just a sports bar, with free pool table and 3 large HD TVs. Great place to watch rugby and football. Expensive drinks.

address: Pub St

The most famous backpacker bar in Siem Reap, located directly across from competing late night spot Temple Club. $1 draught beers, $2 mixers, $6-8 buckets. Large Western crowd. Offers inside and outside drinking. Open until late.

Banana Leaf Cafe

address: Pub St

Small contemporary street side café, with weekend live music. Efficient and professional staff will entertain the crowd until late. Great cocktails.

phone: +855 12 263 271

address: 102 Sok San Road

Open air rooftop bar featuring a 2 m skateboard halfpipe, jam sessions every Wednesday evening, live DJs and bands every week and a resident tattoo shop with a French artist. Probably the best city views in town, and unusual sunset over the halfpipe. At the end of Pub Street, look up for the X.

phone: +855 92 9987801

address: The Lane, behind Pub St

Food & cocktail bar. Restored in 2012, Asana is the last wooden house in the city-old market area.

address: The Lane, behind Pub St

A delightful corner bar playing jazz and dispensing cocktail infusions to a friendly expat crowd.

address: The Lane, behind Pub St

Tucked away from the rowdy chaos of Pub St, this sophisticated bar serves up delightful refreshing cocktails in a sultry red lounge plucked straight from 1930s Shanghai.
Sleep
A seemingly inexhaustible range of sleeping options from upmarket hotels to grubby backpacker hostels, with many guest houses, boutique rooms, bungalows, concrete cells, wood huts and French villas in between, make finding a place to sleep one of the easiest things you will do on your trip.
Hotels are spread over the entire city but most larger hotels line the national highway to the airport, cheap backpacker hostels tend to surround the old market area and stylish boutique hotels a nestled in the trees along Wat Bo Rd. Small Khmer run hotels and guest houses, especially in the low season, can be surprisingly good value if you are willing to do a bit of hunting for one that hasn't been overrun by the guidebook toting hoards.
Accommodations at every price point generally offer hot showers, cable TV, Internet and airport or bus pickup. Some may include free breakfast, though don't expect much more than an egg on toast and a coffee.
Budget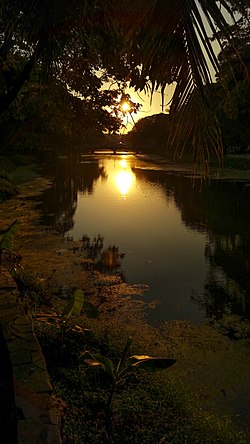 Mid-range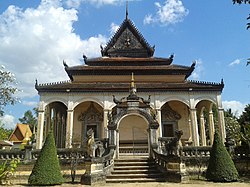 Splurge
Stay safe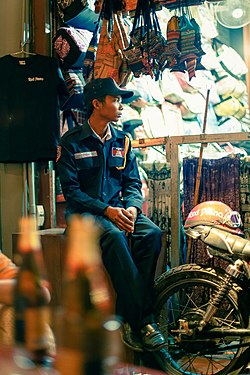 Scams
Most locals are decent people just trying to make an honest living, but a few shady characters try every trick to take advantage of travellers' good will. Be alert to deceptive dealers but don't let suspicion ruin your trip.
Convenience stores
have been known to give incorrect change and pocket the rest. Check your change before you walk out of the store and point out any short changing. Most likely they will admit to their "mistake" and give you the right change.
Street vendors and beggars
in competition for generous travellers' handouts have developed cunning, if underhanded, techniques to get your attention (and money). The "beggar army" of young children will come up to you in the crowd and grab your hands, leading you to a shop where they will then try and have you buy food/baby milk/water for them. Baby milk powder seems to be a popular one. It might sound like a more humanitarian way to help than simply giving them money, but once you leave the store the goods you bought for them are sold back to the shop owners or to other locals and the cash goes to an adult. Young women with babies cradled in a krama perform a similar trick.
Donation-collectors for orphanages
may approach you in the street claiming to be volunteer workers, showing you convincing photos of themselves in the orphanage and a clip board listing the generous donations made by foreign visitors. Though these young adults may be well groomed and speak excellent English it's possible that your donation will go directly into their pockets. A donation (either of money, or your time) to a recognised charity might be a better way to help.
Baby-milk scams
may be encountered in the centre of town, outside supermarkets. A very poor looking woman will beg for some milk powder, pointing to her baby. If one cracks and buys the milk, she later returns it to the shop, and the money is split half-half.
Dollar bills
need to be checked, as you will find out that you won't be able to change bills with any tiny cut. Fake dollar bills are also wide spread, and can even be issued from ATMs.
NGO safari
should be avoided. Do not schedule any orphanage visit unless this is the main purpose of your trip.
Paedopilia scam
is a danger for any Western male travelling alone to Siem Reap. Crooked NGO APLE ("Agir pour les enfants"), is trapping individuals with child-abuse related false allegations. Do not stay alone with young people (room, temple, school, countryside, stadium, car) and do not respond to any favour they ask of you (transport, phone call, help, use your toilet or a glass of water)
Stay healthy
For general information on health in Cambodia, see the article on
Cambodia
.
Royal Angkor International Hospital

phone: +855 63 761 888

address: National Rte 6, Phum Kasekam, Khum Sra Ngea

Owned by the Bangkok Hospital Group and caters specifically to tourists. The care is not cheap, but it is of a very high standard. There is a fully stocked pharmacy, general surgeon, orthopedic surgeon, paediatrician and other hospital services such as treatment for fractures and intestinal problems.
Connect
Internet
The numerous Internet cafés charge anywhere $0.50-1.50/hr. Speed of connection, and speed of PC, very much depends from place to place. A free public Wi-Fi network covers the Pub St and Alley areas but it can sometimes be spotty and always terribly slow.
Most hotels will have cable TV with many international channels such as BBC and CNN as well as those from surrounding countries. There are several FM radio stations, which include international broadcaster Radio France International on 92.0MHz.

Go next