Sierra Vista
Sierra Vista
(Spanish:
Mountain View
) is a city in
Southeast Arizona
and the commercial hub of the region, making it a convenient base from which to explore the area. It is perhaps best known for historic Fort Huachuca, established in 1877 during the Apache Wars. Although still an active U.S. Army military base, its two military museums and historic cemetery are open to the general public.
The landscape around the city is typical for the
Southwestern United States
, and the nearby mountains and canyons can be explored on foot, by bike, or on horseback. Because it is a major stopover point on avian migration routes, the area is popular with avid birdwatchers and naturalists, and is known as the "Hummingbird Capital of America".
Understand
phone: +1 520-417-6960

address: 3020 E Tacoma St
Get in
Sierra Vista is 75 miles (121 km) from
Tucson
, the nearest major transport hub.
By plane
phone: +1 520-573-8100

address: 250 S Tucson Blvd

Served by a number of airlines, this is the closest airport with commercial service.
By shuttle bus
The following shuttle bus companies offer transportation to and from Tucson International Airport, as well as to nearby communities.
phone: +1 520-803-6713

Offers shuttle service to/from the Tucson airport, as well as to/from Benson, Whetstone, Sonoita, Patagonia, Tombstone, and Bisbee, and even to hiking areas. Reservations are best made by phone, not email, at least 24 hours in advance. The same company also offer guided bus tours of the region.

phone: +1 520-439-0439

Provides shuttle service to/from the airport; reservations made less than 24 hours in advance have a $7 surcharge. Also provides transportation service within the Sierra Vista area, with no prior reservation required.

Arizona World Shuttle Express

phone: +1 520-458-3330

address: 51 N Garden Canyon Ave

Reservations should be made 24 hours in advance.
By car
Take I-10 heading south of
Tucson
or west from
Silver City
, NM, then head south on Hwy 90.
Get around
By rental car
phone: +1 520-458-2425

address: 743 E Fry Blvd

phone: +1 520-335-6065

address: 247 S 7th St
By bus
phone: +1 520-417-4888

address: 2050 E Wilcox Dr

The public bus operates normal routes Monday-Friday, with limited service on Saturdays. Route maps and schedules are available for download.
By bicycle
The city is very bicycle-friendly with a well-developed network of bike paths and bike lanes. Maps of bike and multi-use paths can be downloaded
here
.
See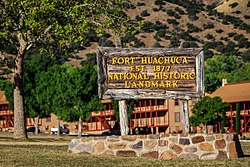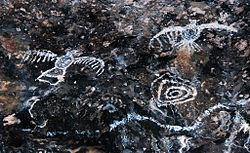 For travelers interested in military and local history, Sierra Vista offers some museums and sites. In addition to this, the views to and from the nearby mountain ranges are fantastic and many of the city's best attractions are actually located outside the city itself.
Fort HuachucaAn active military installation, the fort was established in 1877 and played a pivotal role in the Apache Wars of the late 19th century.
Note: All visitors who do not have a DoD (Department of Defense) ID, CAC (Common Access Card), Military ID, Military Dependent ID, or Gold Star ID must make a formal application and submit to a background check at the (VCC, , open daily 24 hrs) by the Van Deman Gate (East Gate). The process takes about 30 minutes; details and instructions are outlined here. International visitors are required to arrange for an official escort prior to their visit, and in addition to formally applying at the VCC should contact the (Sierra Vista City Hall, , ) at least three weeks in advance.
phone: +1 520-533-4946

address: 41401 Grierson Ave

Has a small gift shop.

phone: +1 520-533-1127

address: Bldg 41411

Old Post CemeteryHas the graves of US Army Cavalry and Buffalo Soldiers, who fought in the Apache Wars, as well as several Apache scouts and their wives. Gravestones marked 'Unknown' are for victims of Apache attacks who were too badly mutilated to identify.

Reservoir Hill Overlook

address: Reservoir Hill Rd

Has good views over the Fort and the neighboring Whetstone Mountains.

Garden Canyon

address: Garden Canyon Rd

A lovely place for hiking, picnicking, and birdwatching. Follow the road up the canyon to see Apache (ca. 1700 CE) and Hohokam (ca. 400-1250 CE) pictographs in two different sites. The pictographs are protected behind fences, so they're easy to find.
phone: +1 520-417-6980

address: 2590 E Tacoma St

This small museum exhibits historic artifacts and photographs from the region, and also has a small gift shop.
phone: +1 520-417-6960, +1 520-378-6165

address: 56 E Folklore Trail

The Arizona Folklore Preserve features outstanding musicians in concert every Saturday and Sunday.
Do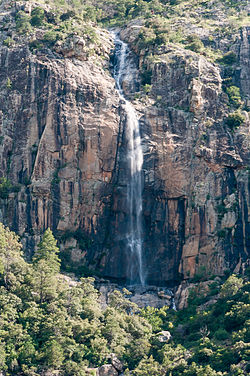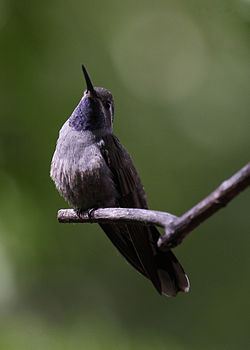 Outdoor activities
Bird watchingVarious locations in the Huachuca Mountains offer excellent opportunities for seeing birds as well as wildlife. SABO (Southeast Arizona Bird Observatory) and the Huachuca Audubon Society () offer guided walks and tours throughout the area.

phone: +1 520-366-0049

address: 1140 N Colombo Ave

Enjoy sharing the boundless dark skies of Sierra Vista. The Huachuca Astronomy Club hosts public events, both at the Patterson Observatory (operated by the University of Arizona) and at other outdoor locations.

Huachuca MountainsThe Huachuca Mountains are part of the Coronado National Forest, and have many great trails to challenge both the novice and expert hiker. The guide book Trails of the Huachucas by Leonard Taylor is an excellent resource, available from Amazon and the public library. The Monday Hikers and Tuesday Hikers clubs (, ) meet weekly, hiking locations vary.
Sierra Vista Ranger District

phone: +1 520-378-0311

address: 4070 S Ave Saracino, Hereford

Sells hiking maps for $10, and has updated trail and camping information.

phone: +1 520-378-2785

address: 27 E Ramsey Canyon Rd

More than 170 species of birds have been found here, including 14 species of hummingbirds. There is also a small bookshop and a mile or so of easy hiking trails, one of which continues on to the Hamburg Trail on National Forest land. The best time to visit is between April and September. Parking is limited to 27 spaces, and it is not permitted to park along the roadside. If the parking lot is full you will have to return some other time, or better yet arrange for someone to drop you off and pick you up.

Brown Canyon RanchA historic century-old ranch in the foothills of the Huachuca Mountains, with a few easy hiking trails connecting to the trail network in the National Forest.
San Pedro Riparian National Conservation Area

phone: +1 520-439-6400

address: Hwy 90; Charleston Rd

The area provides opportunities for birdwatching, camping, hunting, hiking, fishing, biking and horseback riding.
CyclingThe region has many excellent routes and trails for both road and mountain bikes. Bicycles can be rented from () and from ().
phone: +1 520-533-5220

Has horses to rent to individuals or groups by the hour. Also offers guided horseback riding excursions as well as riding lessons. Note: as this facility is located on Fort Huachuca, visitors must comply with admission requirements as outlined above under 'See'.
Hang gliding

address: Carr Canyon Rd, S Hwy 92

Carr Reef, the large cliff face overlooking Carr Canyon, is a popular jumpoff point for hang gliders.
phone: +1 520-417-4800

address: 2900 Martin Luther King Jr Parkway

'The Cove' is a 36,500 sq-ft facility hosting a wave pool, water therapy pool, diving pool, and water slides. Good for hot summer days.
Festivals and events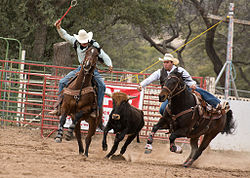 Cochise Cowboy Poetry & Music Gathering

phone: +1 520-417-6960, +1 520-508-9359

address: 5225 E Buena School Blvd

A three-day event held every February, featuring local and nationally-recognized poets and musicians. Tickets can be purchased at the Sierra Vista Visitor Center, , Safeway, and online.

Cochise College Rodeo

phone: +1 520-417-6960

address: Wren Arena

An annual two-day event showcasing bronc and bull riding, steer wrestling and roping, and barrel racing.
Buy
phone: +1 520-459-1801

address: 135 S Hwy 92

Besides Walmart, this is the only place in town which carries outdoor equipment.

Crafted Luxuries

phone: +1 520-439-4487

address: 108 El Camino Real

Custom made jewelry, candles, artwork and special order gift items.

phone: +1 520-452-0011

address: 2200 El Mercado Loop

Southeast Arizona's only mall, anchored by Dillards and Sears, with a Cinemark Cinema.

La Salida del Sol Lions Club Swap Meet

phone: +1 520-456-7816

address: 5801 E Hwy 90

A good place to find curiosities and collectibles, with food vendors as well. The best time to come is Saturday morning.
Eat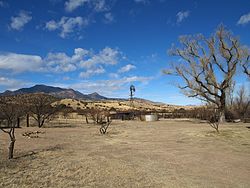 The local restaurant scene includes American diners, Mexican restaurants, pizza places and some places with Asian food but also a surprising number of German restaurants and cafés.
Budget
phone: +1 520-458-5150

address: 1630 E Fry Blvd

Has a good deli counter, with great potato salad. Also has a good selection of imported German groceries and other products.

Bread Basket

phone: +1 520-458-8580

address: 355 West Wilcox Dr

German bakery with great soups and salads, sandwiches, schnitzels, breads, and pastries. Eat in or take away; very popular for lunch.

phone: +1 520-459-4624

address: 400 W Fry Blvd

This well-established family restaurant is especially known for large breakfasts.

Rodolfo's Taco Shop

phone: +1 520-439-4000

address: 862 E Fry Blvd

Cheap, fast, authentic Mexican food, featuring tacos, burritos, and carne asada.
Mid-range
phone: +1 520-458-2376

address: 465 E Fry Blvd

A busy place known for excellent margaritas and Mexican food.

Country House Restaurant

phone: +1 520-378-4400

address: 4373 S Hwy 92

Offers reliable American classic diner food.

phone: +1 520-456-1705

address: 1232 E Fry Blvd

Excellent, authentic German food. Reservations recommended.

phone: +1 520-459-0095

address: 386 W Fry Blvd

The long-established, family-run restaurant specializes in traditional Vietnamese cuisine, and even offers a few vegetarian dishes. Their spring rolls and pho are especially recommended.

phone: +1 520-378-0022

address: 4755 E Neapolitan Way, Hereford

Offers Neapolitan pizzas fired in a traditional wood oven.

phone: +1 520-378-3220

address: 7196 S Hwy 92, Hereford

A long-established restaurant which was rebuilt in 2012 after burning down in a wildfire the previous year. They offer Sonoran style Mexican food with good margaritas.

phone: +1 520-459-6853

address: 1221 E Fry Blvd

For being in a spot a long distance from the sea, they offer some surprisingly excellent sushi. Very popular, and rated 'Best sushi in AZ' by Arizona Highways. Take out available.

phone: +1 520-459-7400

address: 2075 El Mercado Loop

A national chain which offers steaks and fall-off-the-bone ribs.

phone: +1 520-459-2315

address: 1977 S Frontage Rd

The most popular pizza place in Sierra Vista.
Grocery stores
Drink
phone: +1 520-508-8047

address: 920 E Fry Blvd

This friendly place serves great coffee along with baked goods and even breakfast burritos.
Sleep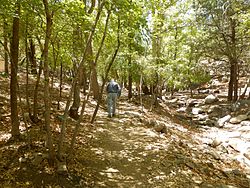 Budget
Camping
phone: +1 520-378-0311

address: 4070 South Avenida Saracino, Hereford

8 dry tent campsites, with water and toilets available. Trailers under 12' permitted. Reservations can be made online.

Reef Townsite CampgroundLocated on the site of the old mining town of Reef, with many relics of the old town still visible. Great views, toilets available, no water. Trailers under 12' permitted; longer trailers cannot navigate the steep switchbacks up the mountain. Reservations can be made online.
Hotels
phone: +1 520-458-0540

address: 1850 E Wilcox Dr

This hotel offers free high-speed internet access, free coffee and an exercise room. Fully equipped kitchens in every room. Pet friendly. Special entertainment packages available for guests: golf, swimming, date nights, movie nights, etc.

Windemere Hotel & Conference Center

phone: +1 520-459-5900

address: 2047 S Hwy 92

Swimming pool, pets permitted. Includes one free happy hour drink at the onsite bar, as well as continental breakfast. Free wi-fi. While earlier online reviews of this hotel have in general been positive, reviews from 2014 are for the most part negative describing the hotel as run-down and filthy.
Mid-range
Beatty's Guest Ranch and Orchard

phone: +1 520-378-2728

address: 2173 E Miller Canyon Rd, Hereford

Popular with naturalists and birdwatchers, this lodging is surrounded by National Forest and offers six units with breakfast.

phone: +1 520-458-5583

address: 3123 N Thistle Rd

Located within the San Pedro National Riparian Conservation Area. Two suites available, with pool. No smoking indoors, pets accepted.
Splurge
Casa de San Pedro Bed and Breakfast

phone: +1 520-366-1300

address: 8933 S Yell Ln, Hereford

Chef Lark Beaugureau also offers cooking classes.

phone: +1 520-439-8800

address: 1902 S Hwy 92
Connect
phone: +1 520-458-4225

address: 2600 E Tacoma St

Computers available, free wi-fi access everywhere in the building during opening hours (no library membership required).

phone: +1 520-452-0011

address: 2200 El Mercado Loop

Free wi-fi is available throughout the mall (see listing above under 'Buy').
Cope
Go next
Head east on Charleston Rd toward
Tombstone
, and along the way explore the old ghost towns of Charleston and Millville. Or head east on Hwy 90 towards
Bisbee
, or south on Hwy 92 and visit Coronado National Memorial. Drive north on Hwy 90 and visit Kartchner Caverns State Park, and then continue on towards
Tucson
.