Sigatoka
Sigatoka
(pronounced Singatoka) is a town on the southwestern coast of
Viti Levu
,
Fiji
.
Understand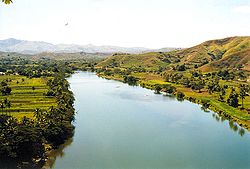 Sigatoka is the western gateway to the
Coral Coast
, which continues all the way to
Suva
. The town overlooks the mouth of the Sigatoka River. Many of the good restaurants, views and resorts are located slightly southeast of town on a narrow, picturesque piece of land called the
Sunset Strip
.
Sigatoka was founded in the colonial sugarcane period of Fiji's history. Between 1912 and 1932, banana crops in the area were ravaged by a fungal disease which came to be known worldwide as Yellow Sigatoka. However, Black Sigatoka was named so due to its similarities with the Yellow Sigatoka fungus, not because the disease first occurred in the town.
Today, the town and the surrounding region is nicknamed the
Salad Bowl of Fiji
because of its valley shape and fertile land suitable for growing fruit and vegetables.
Get in
By bus
The two bus services that go to Sigatoka from Nadi and Suva are Sunbeam and Pacific Transport. Buses are by far the cheapest mode of transport but take a slightly longer time (even the expresses) than car or taxi.
===By car===
It takes slightly over an hour to drive from
Nadi
to Sigatoka via Queens Road.
By taxi
From Nadi International Airport, a taxi ride to Sigatoka will cost about $80.
Get around

The main town and markets are small enough to make moving around by foot the best option. However, you will need a car or taxi to get to the points of interest in the surrounding regions.

See
phone: +679 652 0818

address: Naroro Village

Tavuni Hill Fort was built by 18th-century Tongan chief Maile Latumai and later destroyed. Since then it has been semi-restored and preserved by the people of Naroro Village. The guides at the fort provide a glimpse into Fiji's precolonial history, including tribal warfare and cannibalism.
Do
phone: +679 650 1721

address: Main Street

Jet boat ride in customer built boats through the scenery of the Sigatoka valley. The ride incorporates visiting an authentic Fijian village and experiencing their culture.

Sigatoka Sand Dunes National Park

phone: +679 652 0243

address: Queens Road, Yadua

The sand dunes are a geological, ecological and archaeological treasure. The dunes themselves stand between 20 to 60 metres tall. The park is rich in endemic wildlife, especially birds. In the 1980s, an ancient burial site was discovered which has been dated to around 2600 years old. Shards of pottery produced by the ancient Lapita people have been and continue to be found within the dunes.

phone: +679 909 3200

address: Sunset Strip, Korotogo

Watch and learn the art and science of shaping and designing molten glass at Fiji's oldest glassblowing studio. The head glassblower Alice is very informative and engaging. In addition to taking your back your own creation, there is a souvenir shop where you can buy a range of colourful glass art.
Buy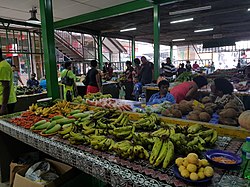 Sigatoka is the shopping hub of the Coral Coast. The local handmade pottery is renowned and an ideal souvenir to take back from your trip.
address: Market Rd

A colourful market bringing all the fresh produce around to town. There is a variety of fruits, vegetables and seafood available along with other goodies like home baked cakes.
Eat and drink
Cuppabula Cafe & Bar

phone: +679 650 0199

address: Tappoo Fiji Market Complex, Sigatoka Valley Rd

Varied international cuisine with a decent choice of cocktails.

Flying Fin Restaurant n' Bar Fiji

phone: +679 650 2073

address: Sunset Strip, Korotogo

A classy restaurant with beach and ocean views. All kinds of food is served including pizzas, big burgers, pasta and fresh seafood.

phone: +679 652 0877

address: Sunset Strip, Korotogo

One of the best restaurants not within a resort. A mix of Fijian, French and Thai cuisine.
Sleep
phone: +679 6520200

address: Queens Highway

A small 3-star resort that holds Polynesian dance and fire shows every Friday and Sunday night. Gecko's is wheelchair accessible.

Outrigger on the Lagoon Resort

phone: +679 650 0044

address: Sydney Drive

This an awesome place to stay, with superb and friendly staff, great air-conditioned rooms, decent shops and lots of things to do. The beach is so-so, but the extra large pool is well maintained and makes up for it to some degree. There are daily activities for children travellers, and a good amount of regularly scheduled activities for everyone. Catch their amazing breakfast and attend the frog race if you get a chance, often on a Friday night.

phone: +679 650 0476

address: Sunset Strip, Korotogo

As the name suggests, this smallish hotel is right next to the beach and offers ocean views. The sea breeze around cools your skin. The hotel also has its own foot spa treatment.
Go next
Head east, absorb the stunning views of the Coral Coast and stop at Fiji's adventure capital, Pacific Harbour