Sighișoara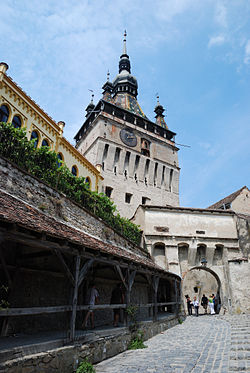 Sighișoara
is a city on the Tarnava River in Mures county, in the historic region of
Transylvania
.
German
craftsmen and merchants, the Transylvanian Saxons, were invited here by the King of
Hungary
during the 12th century to settle and defend the frontier. Central Sighișoara has preserved in an exemplary way the features of a small medieval fortified city, which the Saxons called "Schäßburg", and it has been listed by
UNESCO
as a World Heritage Site. Each year a Medieval Festival takes place in the old citadel in July. Sighișoara is a popular tourist destination due to its well-preserved walled old town. The landmark of the city is the Clock Tower, a 64-m high tower built in 1556. It is now a museum of history.
Get in
By plane
The nearest airports are
Targu Mures
(
TGM
) away, Sibiu (SBZ) away, Cluj Napoca (CLJ) away, and Bucharest Otopeni (OTP) away - see those pages for flight options. If you fly in and hire a car, none of those transfers are difficult. If you're relying on public transport, you probably need to stay overnight in the city you land in. Romania time is +1 hour on western Europe and +2 hours on UK, Eire and Portugal, so last trains and last buses will leave that much earlier.

By train

There are 6 direct trains daily from Bucharest, 6 hours; 3 per day from Sibiu usually changing at Medias or Copsa Mica, 3 hours; and 3 from Targu Mures, 5 hours.
From Budapest the best option is the overnight direct train, leaving at 19:00 to arrive 07:00. Destinations further west, e.g. Vienna, Prague and Warsaw, will usually mean a change in Budapest. From Istanbul take the overnight Bosfors Expres and change in Bucharest.
For timetables, the easiest site to navigate is Deutsche Bahn.
The is 1 km N of the old centre, next to the bus station. As you exit, zag right then left onto Str Garii/Station Rd, walk south with the citadel in plain view ahead, a jog left then right takes you over the little bridge into the centre.

By bus

Direct buses to Cluj-Napoca (3 hours), Bucuresti (5½ hours), Otopeni OTP airport (6 hours, 250 lei), Sibiu (3½ hours) or Targu Mures (1 hour); but the times may be erratic. The is near the railway staion. For timeatables check www.autogari.ro.

By road

Romanian highways are mostly well-signed and in good repair: reckon 8 hours to drive from Budapest. Drive defensively of course, watching especially for horse-drawn carts.

Get around

It's such a small town that you will have no problem in going around walking. If you need any suggestion there is a tourist information office inside the Café International and Family Center or the tourist information booth, both located in the main square Piata Cetatii; they will help you reach the fortified churches in the area. For more information see the Do section.

See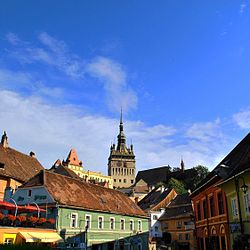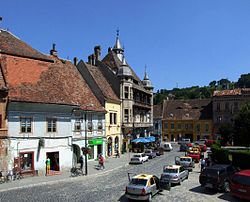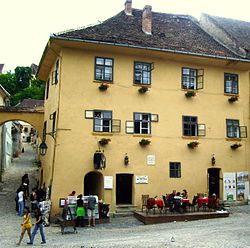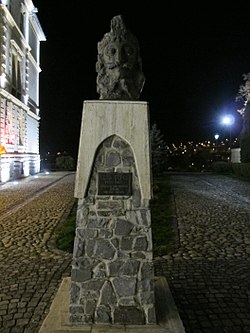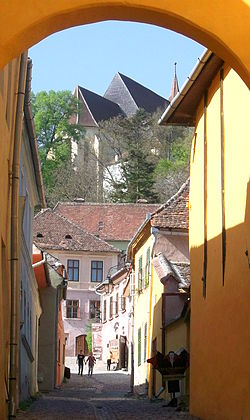 Sighișoara CitadelA 12th-century Saxon edifice, it is the historic centre of the city. Still inhabited, the citadel is listed as a UNESCO World Heritage Site. Inside the Citadel:
Clock TowerBuilt in 1360 and standing at 60-m tall atop the citadel hill. Balcony with a great view on the top. It includes a museum of local history with explanations mostly in Romanian.

Iron Smiths' Tower

Rope Makers' Tower

Boot Makers' Tower

Tailors' Tower

Butchers' Tower

Tin Smiths' Tower

Coat Makers' Tower

Monastery ChurchLutheran church in late Gothic style, next to the Clock Tower, built starting in 1291 by the Dominican Order.

Medieval Weapon MuseumVery small, but it contains an interesting selection of medieval weapons (swords, arrows, etc.)

Covered Staircasean old stone staircase with a wooden roof along the whole span. This leads up to the Church on the Hill, the cemetery and the Joseph Haltrich High School (a.k.a. "School from the Hill")

The Hill ChurchLutheran church in late Gothic style, contains many frescoes and a crypt. Close to the cemetery on the side of the hill, which contains many German tombstones.

Vlad Dracul HouseAlleged to be where Vlad Țepeș "The Impaler" (a.k.a. "Dracula") was born.

Bust of Vlad ȚepeșIt's around the corner from his birthplace, within sight of the Clock Tower.
Outside the Citadel:
Holy Trinity Church

Cornești ChurchThe oldest Orthodox church in town, built in 1797, in the "Corneşti" neighbourhood
Do
Special events:
Sighișoara Medieval Festival: During the annual event, the town receives around ~30,000 tourists, doubling its population. Numerous cultural events take place during the 3 days of the festival - theatre, indoor and outdoor music concerts, handicraft demonstrations and exhibitions, painting, sculpture, seminars, film projections, etc.

Pro EtnicaAnnual interethnic music and art festival, with indoor and outdoor performances (music, dance, film) of representatives of most ethnic groups living in Romania.

DAVA Festival: A young electronic music festival, organized in a former glass factory, 5 min away by car from the city centre.
The town is quite small, so one day to visit it is enough. In any case, you can consider staying more to visit the surroundings.
Hike or cycle up to the great Oak forest on the Breite plateau - a wonderful walk in nature.
A great picnic location is the hill to the south of the city directly opposite the clock tower (get your bearings from the lookout at the base before you set off). Grab some goodies from a local shop and walk up any road leading to that hill. Just keep going up and, eventually, the road will die out to grass which you can walk over (it's public land) towards the defunct communications tower on the hill. A seat up here will give you a grand view of Sighișoara and the villages beyond.
A day out on a bike which you can easily rent (€1/hr or €10/day) involves heading south out of town to Soas, then on to Apold where you can see the fortified church. From Apold head left by the church towards Vulcan (signposted). The road becomes a stony track. After a few km, turn left following signs to Vulcan. At Vulcan, bear left over a tiny bridge and then onto a dirt track. Follow this uphill out of Vulcan. At the brow of the hill go straight across and down the valley to Sighișoara. If it has rained in the last couple of days or is raining, the track from Vulcan to a few kilometres south of Sighișoara will be a quagmire. It is a very beautiful descent into Sighișoara though. Be prepared for mud!

phone: +40 372 772 890

address: Village of Prod

This farm offers short and long horse riding excursions (from two hours to 5 days), as well as wagon rides, under the guidance of proprietor Mihnea Vîrgolici, who was a steward at the Athens Olympics. Rooms have private baths. Beginners and experts welcome. Simple, hearty food, great views, beautiful horses, and Wi-Fi.
Buy
Paintings - local artists will have displays of their works on the sidewalks during tourist season. Many nice watercolors and oil paintings can be purchased in RON, EUR, USD, or HUF.
Eat
Rustic Romanian Restaurant - It looks a bit posh, but the food tastes good.
Hotel Sighișoara restaurant - Romanian and international cuisine in a medieval atmosphere.
La Perla - Pizza and other foods, a meeting place for locals, across the post office
Casa Vlad Dracul - Good soups and traditional Romanian fare. The childhood home of Vlad Țepeș, the inspiration for Dracula, makes it a fun tourist night out. As would be expected, the price is inflated to match the tourist trade.
Café International and Family Center - Piata Cetatii 8. It is an important resource for a tourist there. It is in the main square of Sighișoara; if you come inside you'll meet few girls dressed in traditional clothes giving touristic information. On the same floor there is a café serving sweet cakes or sour pies baked locally with organic ingredients. The juice is organic, too. The prices are higher than normal, but the quality of the food is very good. Very good breakfast sets for up to 15 lei. If you go downstairs you will find an Internet point.
Concordia Pizza and Spaghetti - Italian cuisine, nice terrace, open until late.
Vila Franka - a restaurant on a hill surveying the Târnava valley, offers an outstanding panorama point. Can be reached by car or on foot (~1 hour walk/hike from the Citadel)
Sleep
Budget
Burg HostelA nice hostel/bar in the Citadel, around the corner from the Clock Tower. Nice rooms, and a pub in the basement.
Mid-range
phone: +40 265-779432

address: Consiliul Europei street, no. 7

Casa CojoSpacious self-catering apartment with garden in the medieval citadel, sleeps 5, €40 per night, historical house full of old world character.

Casa SăseascăGuest house at the Citadel Square

Casa Legenda5 rooms, €33-60/night/room, 2 minutes walking from the Citadel Square

Casa cu Cerb3-star guest house at the Citadel Square

Casa Wagner3-star guest house at the Citadel Square

Hotel Claudiu3-star hotel/restaurant/bar in "downtown"

phone: +40 265 772211

address: 804 Principala street

On the Tarnava Mare river banks, in a natural setting, close to the settlement of Danes and few kilometers from the Citadel Accommodation and meals, pool-bar, horseback riding or taking horseback riding lessons at the equestrian and leisure center in the immediate vicinity.

phone: +40 265 772754

address: Strada Pastorilor 43

Cozy family friendly B&B in a quiet part of town, under German management, with inside parking and common garden terrace.
Splurge
phone: +40 265 779173

address: 13 School street

5-star luxury pension mixed with 500 years of history in the middle of the Citadel.
Go next
Spend at least a day exploring the nearby
medieval fortified churches
– you'll need your own transport. The Saxon settlements of Transylvania came under attack in the 15th & 16th centuries, but instead of erecting castles, they fortified the churches with walls and lookout towers. Most examples are clustered around
Medias
(another well-preserved Saxon medieval center), the best being the UNESCO World Heritage sites of
Biertan
,
Saschiz, Valea Viilor
and
Viscri.
Other fine examples close by include
Apold
and
Malancrav.
Sibiu
has a beautiful medieval old town. It can be combined with a day-trip to the fortified churches, but stands as a centre in its own right. Other notable centres include
Cluj-Napoca
,
Targu Mures
, and
Brasov
.
If your itinerary includes
Bucharest
, try to visit it before Transylvania. It's interesting but far from pretty, and it's going to look especially drab after seeing Sighisoara.