Sighnaghi
Sighnaghi
(Signagi) (Georgian: სიღნაღი) is a town in Georgia's easternmost region of
Kakheti
and the administrative center of the Sighnaghi District. It is one of the country's smallest towns with a population of about 3,000.
Understand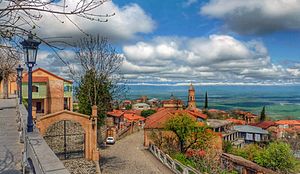 Sighnaghi has undergone a fundamental reconstruction program and has become an important center of Georgia's tourist industry. While Sighnaghi itself requires just a day or so for sightseeing, it is probably the best base for exploring the region through day trips. You can follow the road from Sighnaghi to
Telavi
via
Gurjaani
, visiting wineries on the way, escape for a day to the
Kvareli
lake resort or
Lagodekhi National Park
, and go visit the
David Gareja
monastery on the
Azerbaijan
border.
Do not expect wild night life here (except perhaps if there is a busload of tourists in town). Sighnaghi is the place to take in the view of the mountains, drink homemade wine, and enjoy delicious Kakhetian food in one of the many restaurants.
Tourist Information

phone: +995 355232414

address: Kostava St. 10
Get in
By bus
Marshrutkha stationPublic toilets right on the square.
From specific destinations:
Tbilisi – To Sighnaghi marshrutkas run daily every odd hour from 07:00 to 17:00, the last one leaving at 18:00, from the Samgori metro station, from the lot of marshrutkas farthest from the metro entrance, past the open market. While most drivers will point you in the right direction, you can also look for the two "m"s with "right arms" in სიღნაღი on the destination placard. Travel duration is 1 hr 45 min, for 6 lari (as of 2019).
To Tbilisi marshrutkas leave at 07:00, 09:00, 11:00, 13:00, 16:00, and 18:00 every day. Book tickets back to Tbilisi in advance (buy your ticket from the small kiosk on the marshrutka station's square), even a few hours before, since all marshrutkas are usually full. Like most marshrutka travel, seats are first-come, first-serve. It is possible to arrive early, pick a good seat, set your bag or backpack in that seat, and then get a bite to eat. Check with the driver for actual departure time. As a courtesy to the locals, assume every seat will be occupied by a person by the time the vehicle departs. Also check with driver if you have a big backpack that needs to be stowed underneath the rear seat.
Kakheti region – There are also marshrutkas every hour to nearby Tsnori, from where you can get a marshrutka to many Kakhetian destinations.
Rustavi – From Sighnaghi daily at 07:00 and 09:15. Vice-verse, expect similar times.
Get around
Most sights can be reached on foot, even the Bodbe Convent. Though, you might want to take a taxi or hitch-hike there to save time.

See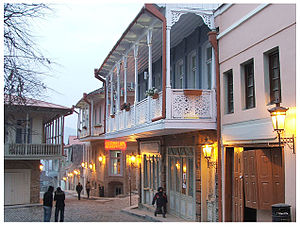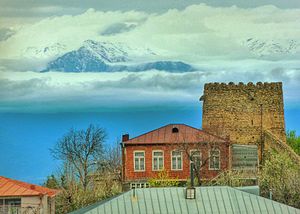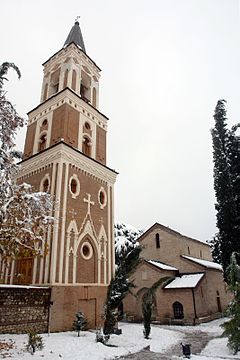 Sighnaghi town wallSighnaghi's fortifying wall (18th century) is one of the longest in Georgia; it occupies 40 ha. The wall has 23 towers, each one named for a nearby town, and six gates. Its width is 1.5 m, height 4.5 m and total length is 4.5 km. A small section of the wall, perpendicular to the snow-capped mountain range, has a walkway with open towers. You can walk from the center of the old city to the road to Sakobo/Tsnori, where there is a restaurant and picnic spot and great view of the valley. With little traffic you can walk alongside the road back to the old city. Walk along the wall a couple of times (and climb up into the towers) at different times of the day because you get different views of the valley and the mountains. Walking the whole wall can be difficult, after the walkway it goes steep down a hill and at the bottom you have to overcome a step of about 4 m. Also this an further parts are overgrown and partly degenerated.

St. Stephen ChurchThe church tower commands an excellent view of Sighnaghi's surrounding areas, and people can climb over the fortifications. There is often an old man here (the candle seller who is in every Orthodox church) who tries to extract a fee from visitors, but there is no price for admission to the church or the tower.

Bodbe ConventIt is one of the most important places in Georgia for pilgrimages: St. Nino Equal to the Apostles, who brought Christianity to the country in the IV century, is buried here. Her tomb is in St. George's Basilica in a narrow chapel, to the right if facing the iconostasis, under a white marble altar. Mtskheta and Sighnaghi represent the beginning and the end of St. Nino's ministry in Georgia. Buried at the entrance to St. George's is Abbess Nino, the mother superior in 1924 when the convent was closed by Bolshevik Russia. The monastery was constructed at the end of the 5th century by King Vakhtang Gorgasali and then reconstructed in the 19th century. The complex, with two churches, a bell tower, a cemetery, and a tasteful gift shop, as well as facilities for 30 sisters, has beautiful gardens and fantastic views of the Alazani Valley. Just before 10:00 on a Sunday morning (2016) the gates to the convent were opened, and visitors were allowed into the church to receive communion with the nuns and a blessing.

St. Nino's SpringThere is a sister at the font and small church to manage pilgrims who wish to wash in the holy and allegedly healing water here. It appears to require undressing and putting on a white tunic, which you rent/buy from the sister. Same-sex groups of maybe four enter at one time, and others cannot go in until they come out. The water is reportedly very cold. There is a road to get to the spring from the convent by car or taxi.

St. Giorgi ChurchXVII century

Sighnaghi MuseumThe ground floor holds an impressive exhibit of archeological artifacts, many of which were discovered locally. The upper floor features 16 original paintings by the famous Georgian folk artist Niko Pirosmani, who was from the Mirzaani Valley, as well as a gallery for special exhibitions.
A 20 minutes taxi ride away, the following might be worth visiting if it is Sunday:
Bodbiskhevi Bazaar Sunday Market

address: village adjoining Tsnori

The largest market in the region, Bodbiskhevi offers the traditional Soviet Sunday market day experience. At Bodbiskhevi market the prices and variety of goods are unmatched, selling such things as fresh produce, meats, cheeses, crafts, clothes, livestock, and house and farm goods. There is some confusion about whether the market is in the Bodbiskhevi village, which is 4 km southwest of Tsnori – best to ask locals.
Do
Visit the towers of the town wall and walk along it.
Sighnaghi is part of the popular wine route of Kakheti.

Getting marriedSighnaghi is the Georgian wedding city, with the registry office running all around the clock, from morning to evening. Consequently, many celebrations take place in Sighnaghi, which you will notice. Also foreigners can get married here without hassle: you just need your passport. A notarial translation is recommended to be on the safe side (any notary office will do, 15 lari).

Pheasant's Tears Restaurant, Wine Bar, and Fine ArtPheasant's Tears wine bar offers wine tastings and interesting takes on traditional Georgian cuisine with an eye towards wine and food pairings. A must-see for wine tourists, as the winery produces organic wine made in the traditional qvevri method and focuses exclusively on Georgian varietals. Their restaurant and wine is considerably more expensive than other restaurants. Pheasant's Tears can also organize wine tours throughout the region or even arrange an acclaimed folk ensemble to provide Georgian polyphonic song during your feast. Pheasant's Tears also sells traditional and antique Georgian carpets, as well as fine art painted by the primary partner in the winery, a graduate of the Surikov Institute in Moscow. English and Russian friendly.
Buy
The Knitting LadiesIn a small section of Sighnaghi, several ladies offer a picturesque array of knitted goods for sale for astoundingly cheap prices. Here you cay buy Georgian socks with traditional patterns and local wool, hats, scarves, slippers, and baby booties.
Eat
Host of Sighnaghi

phone: +995 595139336

address: Baratashvili str.

First restaurant you see entering Sighnaghi coming from Tbilisi. Delicious khinkali, mtsvadi and other Georgian specialties.

Nikala

phone: +995 555424765

Nikala boasts excellent Kakhetian food and some of the best khinkali and mtsvade in town. Their menu includes several more rare Kakhetian delicacies than most restaurants in the area. English friendly.

phone: +995 599192356

address: Tamar Mepe 9

Pancho Villa may be one of the few, if not the only, Mexican restaurant in Georgia. The restaurant does an excellent job at recreating Mexican flavors and dishes with Georgian ingredients and mentality. They also offer the most exotic liquors in Sighnaghi, and the only margarita for miles. The food here is more expensive than other restaurants, but the gastronomical variety they offer is invaluable. Make sure you at least stop by for their incredible desserts and a Mexican hot chocolate!
Drink
If you are in a restaurant, order a glass of house wine. If someone invites you to a wine-tasting, go (maybe 10 lari for a cup of red and a cup of white wine). If someone wants to sell you a liter of wine, buy it (15 lari). Yes, the local, homemade wine comes in used plastic soda pop bottles. Don't worry; the wine still tastes great, and, as the locals will tell you, it's all-natural.
Sighnaghi is part of the popular
wine route of Kakheti
—checkout the information and available wineries
there
. Many guesthouses can organise day trips to the wineries and monasteries of the region.
Sleep
There are plenty of home-stays in Sighnaghi as well as high class hotels.
Hotel Maia

phone: +995 99554371

address: St Giorgy street 7

a really nice place with hospital hosts.

phone: +995 555616611, +995 599479470

Nato & Lado Guesthouse

phone: +995 599212988

address: Pirosmani Str. 5

Get your welcome drinks, some home made wine, chacha and a coffee, in this nice Guesthouse. Traditional Kakheti food is available on request, 5 lari for breakfast and 10 lari for dinner. It is a nice, clean and comfortable place, with Wifi, a computer on request and hot shower, run by the English speaking Nato. Nato or her father Lado can take you in her car to her own vineyard and around local sights in Kakheti. Beware, there are two hotels at the same address... take the left one with the green entrance!

David Zandarashvili's (Hotel Family)

address: 11 Giorgisminda St

A charming homestay run by a very kind and welcoming English-speaking family. Terrace overlooking Kakheti. Lovely rooms. Dinners (optional, extra) are a communal affair and a great way to meet other travelers.

Guest House Pirosmani 60

phone: +995 558 230001

address: Pirosmani Street 60

Away from most of the tourists, down an everyday Georgian residential street, where you can practice your "Gamarjoba" with elderly ladies carrying groceries and use "Hello" with children playing ball in the street, this guest house has four-star accommodations, including shiny and new bathroom fixtures. The house, like the street, is quiet. The bed is comfortable, and the wifi is strong.

Hotel Mate

phone: +995 57402080

address: Gorgasali Str, 20

This is a great guesthouse with a homey atmosphere. The rooms are clean and comfortable, some of them with a great view of the valley and the mountains. There is a large dining room downstairs, where the guests can hang out and have some wine. For additional price Manana, the hostess, can cook a hearty breakfast or a traditional Georgian dinner. There is also a garden in the back where one can enjoy fresh air or try home-grown grapes. The guesthouse is close to St. George Church and other touristic attractions. It's suitable for young travellers, and for families with children.

Dodo Guesthouse

phone: +995 551221617

address: Baratasvilli Str. 16

The old woman is friendly but does not speak English. Coffee and tea is for free and Wifi is available.
Go next
Tsnori – small nearby town with transportation to all Kakhetian destinations
Gurjaani – one of the centres of Georgia's wine industry. Landmarks include the Church of the Dormition (Kvelatsminda; 8th-9th century), Museum of Local Lore and History, Museum of Nato Vachnadze, and the historic mud-cure resort of Akhtala.
Dedoplis Tskaro - nearby town with a nice church and Eagle Gorge on the outskirts, in a close proximity to Khornabuji fortress
Telavi – the capital of Kakheti is a convenient base for exploring the region's wineries, castles, and monasteries
Lagodekhi – A pretty border town (next to Azerbaijan) and a nearby nature reserve with subtropical forests.
Vashlovani National Park
David Gareja Monastery Complex – A 6th century cave monastery clinging onto a rocky hillside lying meters away from Azerbaijan, with beautiful frescos. Can be reached by taxis or organized tours, no public transport available from Sighnaghi (only Tbilisi). 50 km from Sighnaghi, a detour along the way to/from Tbilisi.
Also, see
Kakheti
for more details.