Sigtuna
Sigtuna
is a city in
Sigtuna Municipality
in
Stockholm County
, north of
Stockholm's
northern suburbs
.
The city of Sigtuna was Sweden's capital from the 10th to the 13th centuries and has 8,000 residents.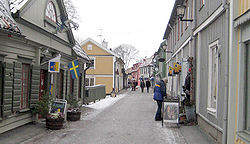 Understand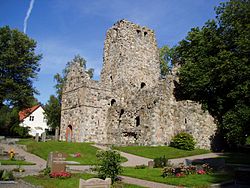 Sigtuna is located on the shores of Lake Mälaren, but the plains around Sigtuna were below sea level from the Ice Age until the beginning of common era. The land was fertile, and became densely populated during the
Viking Age
, leaving a heritage of runestones, graves and monuments, while Lake Mälaren was part of the Baltic Sea.
According to tradition Sigtuna was founded in 980 AD by king
Erik Segersäll
(the Victorious). The founding of Sigtuna is considered an important step in unifying Sweden into one centralized kingdom. It replaced
Birka
as the most important trade node in the region, and as an early Christian centre it competed with the pagan
Uppsala
for religious supremacy. Erik's son and successor
Olaf Skötkonung
constructed a mint in Sigtuna, and thereby became the first king to mint coins in Sweden. With a royal mint and a bishop, Sigtuna was effectively the capital of Sweden until power shifted towards Stockholm and
Uppsala
in the 13th century. The city was raided by "pagans from the East" in 1187, and a few years later in 1190 the archdiocese was moved to Uppsala.
However, Sigtuna prevailed, and in 1237 the first Dominican monastery in Sweden was built there. Sigtuna's decline accelerated in the 16th century due to the
Protestant Reformation
, as power and wealth moved from the convent in Sigtuna to the king in Stockholm. Between 1648 and 1666 the city suffered three city fires and was eventually abandoned. In 1700 the population of Sigtuna was only 108 people.
Sigtuna's population was down at the hundreds for 250 years, until the city was revived in the 1910s as a nationalist project. Even though many of the buildings look traditional, most of them are from the early 20th century. However, due to the conservative spirit in which the city was reconstructed, it did not experience the same heavy urban renewal that many other Swedish cities did in the 1950s and 60s.
Tourist office
phone: +46 8-594 806 50

address: Stora Gatan 33
Get in
By plane
(
ARN
) is located in Sigtuna Municipality and is by far the largest airport in Sweden. For public transport between Arlanda and Sigtuna, bus 579 goes directly, while bus 583 connects Arlanda with Märsta where you have to change to bus 570 or 575.

By public transit
The local public transportation operator in Stockholm County is SL.
There is no train station in Sigtuna, the closest one being in Märsta some 7 km east of Sigtuna. Sigtuna is reached from Märsta station by local buses 570 or 575. These buses are synchronized with the local communter trains between Stockholm and Märsta.

By boat
Strömma has a tourist ferry line between Stockholm and Sigtuna, with a stopover at Skokloster Palace in Håbo.

By car
Route 263 passes through Sigtuna and continues towards Enköping in the West and connects to the highway E4 in the east. The E4, in turn, carries traffic between Uppsala in the North and Stockholm in the South.

Get around
Sigtuna is small and walkable. Unless you intend to leave the town for the surrounding countryside there is no real need for a vehicle.

See
Runes and Ruins
Runestones and other artefacts from the Viking Age in Sigtuna. Over 40 runestones has been found in Sigtuna, and some 170 in Sigtuna Municipality.

address: Fågelsångsvägen 1A

Built in the first half of the 12th century. It was turned into a school after the Protestant reformation but was destroyed in a fire in 1658. All that remains today is one of the church towers.

address: Olofsgatan

Built in the first half 12th century. The church rests on an even older foundation which might be from the first stone church constructed in Sweden.

address: Sankt Persgatan

Built in the first half of the 12th century. Supposedly the cathedral of the archdiocese of Sweden before it moved to Uppsala.
Do
Hiking
,
cycling
and
fishing
during summer.
Ice-skating
and
cross-country skiing
during winter.
MunkholmsbadetA public beach in Lake Mälaren.

SjudargårdsbadetA public beach in Lake Mälaren.
phone: +46 08-592 540 12

address: Norra Vibyvägen 187

A golf club with one 18-hole and one 6-hole course.
Annual events
Buy
Eat
Drink
As most residents venture to central Stockholm for nightlife, Sigtuna municipality mostly contains local hangouts and hotel bars.
Cafés
Sleep
Budget
Mid-range
phone: +46 8 592 566 95

address: Stora gatan 79

A hotel.

phone: +46 8-592 580 00

address: Rektor Cullbergs väg 1

A hotel.

Sigtunastiftelsen Hotell & Konferens

phone: +46 8-592 589 00

address: Manfred Björkquists allé 4

Founded as a private Christian cultural foundation in 1915 and became one of the driving forces in the resettlement of Sigtuna in the early 20th century. Their main building is inspired by a Tuscan monastery and is today used as hotel and conference venue.
Splurge
phone: +46 8-592 501 00

address: Stora Nygatan 3

Branded as Sweden's smallest 5-star hotel.

phone: +46 8-599 293 30

address: Wenngarn 1:7

A 17th-century palace, though there are historical records since the 12th century. Among most Swedish people, the palace is known as a rehabilitation home for alcoholics during the early 20th century. Today, it is used as a conference hotel.
Go next