Sihanoukville
Sihanoukville
(
Krong Preah Seihanu
), formerly
Kompong Som
is a seaside town featuring
Cambodia
's best-known beaches.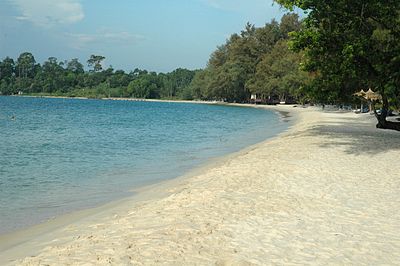 Understand
In a land with thousands of years of history, Sihanoukville is a colourful but tragic upstart. A joint French-Cambodian project carved a camp out of the jungle and started building the first deep-sea port in a newly independent
Cambodia
. Named
Sihanoukville
in 1964 after the ruling prince of Cambodia, the booming port and its golden beaches soon drew Cambodia's jet-setting elite, spawned the first Angkor brewery, and the modernist seven-story Independence Hotel which, claim locals, played host to Jacqueline Kennedy on her whirlwind tour of Cambodia in 1967.
Alas, the party came to an abrupt end in 1970 when Sihanouk was deposed in a coup and Cambodia descended into civil war. The town, renamed
Kompong Som
, soon fell on hard times. The victorious Khmer Rouge used the Independence Hotel for target practice and, after they hijacked an American container ship, the port was bombed by the U.S. Air Force. Even after Pol Pot's regime was driven from power, the bumpy highway to the capital was long notorious for banditry and the beaches stayed empty.
Peace returned in 1993 following historic elections organised by the United Nations Transitional Authority in Cambodia (UNTAC) and in the ensuing ten years Sihanoukville was busy picking up the pieces. First visited only by a few intrepid backpackers, guide books still talk of walls pockmarked by bullets, but any signs of war are hard to spot in today's Sihanoukville, whose new symbol seems to be the construction site. The
Independence Hotel
is up and running again, more and more Khmers and expats have settled down to run bars and restaurants, and the knowledge of what the
New York Times
dubbed "Asia's next trendsetting beach" is starting to spread.
Sihanoukville is a relatively new city (1950) and grew along with the steady growth of tourism, all the negative elements came along too. It is not safe, even for men, to walk alone on the beach after 21:00, there are plenty of glue+sniffing children and a lot of methamphetamine-smoking girls and boys and a price-fixing tuk-tuk cartel.
As of September 2019, this town is one big Chinese construction site. Roads are gridlocked, around 90% of the signs are in Chinese (and maybe Khmer) and businesses are thronged with Chinese construction workers. It appears that this city will soon become an exclusively Chinese enclave. Also, it seems that the influx of Chinese immigrants caused the city waste managment to fail, turning at least the city main square into a garbage dump. Until this construction phase is over, it is probably better to visit Sihanoukville only to change from bus to boat and visit nearby islands with unspoiled beaches instead.
Get in
By plane
Sihanouk International AirportCambodian Angkor Air serves it. There are direct flights from Saigon in Vietnam and several Cambodian airports. Air Asia fly here from KL and Bangkok. There are also numerous flights from cities in China, serving the growing Chinese expat community. The airport is extremely small, unprepared for the influx of Chinese investments (and people). There is no place to sit on the landside (the landside is so small so that some of the check-in desks are outside). The only way to get from/to the airport seems to be taxi. You can arrange a taxi from hotels in the center for around US$15, if coming from the airport to the city, you have to haggle hard to get this price.
By train
Passenger services between Sihanoukville and the capital
Phnom Penh
via
Takeo
and
Kampot
runs at least four times per week. The service takes approximately 7 hours from
Phnom Penh
and 1½ hour from
Kampot
. Tickets are cheap and there is usually some air conditioned carriages on the train.
Sihanoukville railway station
By bus
Frequent buses arrive in Sihanoukville from Phnom Penh (4-5 hr), Siem Reap (10-12 hr), Ho Chi Minh City (10-12 hr), and Bangkok.
Phnom Penh Sorya Transport
,
GST Express
, and
Mekong Express
operate hourly bus services from
Phnom Penh
, taking 3-5 hr and costing US$4.50-10, depending on the quality of the bus and the number of stops. The first bus leaves
Phnom Penh
at 07:00, the last at 17:45. All buses arrive and depart from the bus station near the Central Market. Tickets can be booked at the bus company offices, travel agencies, and many guesthouses. It is worth reserving a day in advance to be sure of a seat. National Rte 4 between
Phnom Penh
and Sihanoukville is one of Cambodia's best roads.
Rith Mony
,
Bun Thou
, and
Virak Buntham Express
operate daily air-conditioned minibus service leaving at 08:30 to/from the border with
Thailand
at
Koh Kong
/
Hat Lek
, taking about 5 hr. "Local" and "tourist" minibuses service this route; they are always jam-packed, and the trip can be uncomfortable. "Local" service price depends on how much space you want (a whole seat, half a seat, or a space on the roof); foreigners can expect to pay around US$6-8. They will also typically have pickup in front of the offices on the main strip in town at 07:30, after which they simply drive over to the station to wait until the 08:30 departure time. You may be offered pickup at your hotel for a premium. Sometimes there are buses leaving at 14:00 but the service may be available only with suitable demand and ticket prices may be higher (~US$15).
Virak Buntham Express
offers a bus service from Ha Tien in Vietnam to Sihanoukville via the new Xa Xia/Prek Chak border post. From Ha Tien, there is a ferry to Phu Quoc Island, another popular tourist destination. Unlike even recent travel guides report, this trip now has become easy and straightforward. Visa on arrival for US$25 (550,000 dong), and bring a photo.
By taxi
A chartered taxi from
Phnom Penh
's Central Market can make the trip in less than 3 hr and will around US$25-40 per car, depending on the petrol price of the day and the condition of the vehicle. You can reduce the price by sharing seats, but Khmers will squeeze as many as eight people into the car, including two in the drivers seat, so you may need to buy two seats for comfort.
By boat
There is no boat to/from
Koh Kong
/
Hat Lek
(the border crossing with
Thailand
) anymore.
Modest numbers of cruise lines, e.g., Oceania, offer one-day port visits, usually along with more stops in Vietnam enroute to or from Bangkok.
phone: +855 69 367684

Opened in Oct 2013, a yacht marina for boats up to 25 m. On the breakwater (island Koh Prib) Sihanoukville port. Visa on arrival for boaters US$25 for 30 days.
Get around
Distances between the beaches are too long to walk comfortably, but getting around is easy, as the roads are wide and bike taxis (
motodop
) are everywhere. The standard price is US$1 per trip, although expect to haggle at night or if the distance is long. They'll gladly pile on two people and their luggage too. For larger groups, car taxis can be called by phone (fixed US$5 to most places around town).
There are dozens of the ubiquitous tuk-tuks around the new bus station and the accommodation areas. They are some of the most persistent and over-charging drivers in
Cambodia
; they have formed an "association" for price fixing - a trip to the bus station, US$2 in Phnom Penh, costs US$3 if your bus company pays but they charge US$6 if you arrive at the bus station and want to go to the beach. If you have decided where you will stay it can help to call for a pick up. Even if it's not free, it may save you some overcharging.
The ride from the new bus station to Serendipity Beach should cost no more than US$3 during the day.
Another great choice to get around is to rent a scooter. Haggle a bit and you can get it for US$4 a day or more depending on the season. Fuel is not very cheap (about US$1.25 per litre) but can be bought at many roadside shacks. However, as of 2009, renting scooters to foreigners is illegal, and the police may stop and fine you.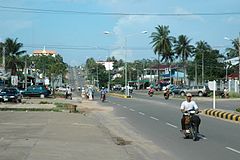 See
The town doesn't offer much to see. The main areas of Sihanoukville of interest to tourists are Serendipity Beach, Otres Beach, Victory Beach, and the various islands off the coast.
Beaches
The main reason to visit Sihanoukville is the beaches. They are not as crowded as many of those in
Thailand
, but can be cramped on weekends and holidays. Like many beaches in
Southeast Asia
, they are often covered in a lot of rubbish.
Independence Beach

Ochheuteal BeachA long narrow strip of white sand beach in Sangkat No 3. The northern section has now become known as Serendipity Beach, a beach popular with Western tourists, noted for small guesthouses right on the beach. There are around 30 beach huts serving good value meals and a wide selection of drinks, a golf course development at the south end, and a cluster of mid-range hotels and restaurants in the middle. Grass umbrellas, rentable beach chairs, and little drink huts line the beach from one end to the other. Further south along the beach in front of the golf course development, a number of budget backpacker-oriented bar/restaurant/beach hangouts have sprung up offering chairs, umbrellas, drinks and a chilled-out atmosphere. Expect noise and exhaust fumes though from the numerous 2-stroke jet skis in the area. Swimming can be dangerous and several tourists have been killed by jet skis.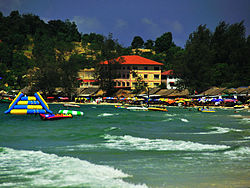 Otres BeachAmazing 4 km long stretch of clean, white sands. Far less crowded and more relaxed than other beaches in Sihanoukville. Every season more and more beach bars and guesthouses pop up along the beach. Tourists will find accommodation in rooms or bungalows (prices ranging from US$5-30), e.g., Cinderella Beach Bungalows, Castaways Beach Bar and Bungalows. Like most of Sihanoukville's budget accommodation, no air-con is available in Otres Beach lodgings, except for the Secret Garden Resort, at the far end of "Old Otres" (Otres 2). Otres Beach is great place for lazy sunbathing, but other activities also available (catamarans, windsurfing, kayaks, various boat trips, bicycles.) Unlike Serendipity Beach, marijuana and marijuana-based baked goods are openly and safely smoked and sold at the beach side bars/guesthouses and on the beach itself, which is now attracting a young Western crowd to the area. A second part of Otres Beach about a 5-10 min tuk-tuk ride away, referred to as "Otres 2", has several guesthouses open and is beginning to attract tourists looking for an even less crowded beach than the relaxed main strip of Otres Beach. Otres 2 is far less developed and less crowded, but offers only minimal activities and locations. There are no stores of any kind in Otres 2, though in the main strip of Otres 1 there's a bank machine. Adjoining that on the road in from Occhuteal is a Khmer village with various stores and a few Khmer restaurants; with a small, modern convenience store on the side road out of the village that leads to and from Occhuteal. Otres has a different climate than Snooky; it may be sunny all day when downtown Sihanoukville and the other beaches are raining and flooding. It's also known in the area as having the best sunset, and people staying in closer beaches often drive out to watch it from there (with few vendors or other harassment unlike closer to the city). Otres is fairly large away from the beach; side roads lead to other areas inland, including along the small river that flows through the broad prairie that lies inland from the beach strip. Along it, another village lies, and a few small resorts, and during high season, a small public market with entertainment. There's a couple of resorts and bars there, including a funky westerner-run backpackery bar and stage, and another more modern one with dining room and also a stage. The river can be navigated by kayak, and fish from it is part of the menu among local Khmer. The beach at Otres is very shallow for a couple of hundred meters out, or more, depending on the tide. The bottom is soft sand and clean and when there are no waves very safe for children and novice swimmers.

Serendipity BeachGuesthouses and bar/restaurants right on the beach, open until the early hours. This beach is the most popular and typically has the greatest number of people on the beach.

Sokha BeachOwned by Sokha Beach Resort. It is private, but you can access it by paying a couple dollars. You won't have many people begging or trying to sell you something here.

Victory BeachPlenty of budget accommodation nearby on Weather Station Hill. This beach is close to the seaport.
Rivers
The mangrove-lined Ou Trojak Jet River, Sihanoukville's longest river, runs from Otres Pagoda to Otres Beach. It is popular with both canoeists and anglers, and the lower section harbours a marina. Restaurants along the south bank of the river serve fresh seafood supplied by the local inshore fishing boats.
Other
Kampong Pier Nup LokThe old fishing port. Offers some nice views.

Koh Rong (Monkey Island)Advertised all around Serendipity Beach, Koh Rong is a small island 2-3 hr away from Sihanoukville by ferry that offers a relaxed location away from the crowds, a long beach, a small jungle to trek, as well as a handful of bars, restaurants, and guesthouses on the beach covering an area of only about 2 km. Ferries from Sihanoukville to Koh Rong leave 3-4 times daily from various docks and several different ferry companies in Sihanoukville. Ferries can be booked from any guesthouse or travel agent. Round trip tickets are sold for between US$5-15. A tourist may be quoted more for the ferry, but can be negotiated down, and should not pay more than US$15. Both dorm beds (US$7) and private rooms (US$15-30) are readily available on the island. Fishing, diving, and snorkelling are available as well at prices similar to the rest of Sihanoukville. Most places on Koh Rong run electricity on a generator and usually have electricity from sunset until midnight, though a few bars will run throughout the day and go until 04:00. Koh Rong does not have an ATM.

Ream National ParkA wonderful mangrove nature reserve about a 30-min drive from Sihanoukville. Take a moto to park headquarters for US$2. From there, park rangers can arrange boat rides for US$40 per boat through the mangroves. The boats leave a few miles away just before the highway crosses the river, so don't send away your moto or taxi. Destination is an island where you can walk on a decaying boardwalk that leads to a viewing tower you may not climb due to decayed ladder. You have spend all your time watching your step so the walk (100 m, perhaps) is not worth taking. Call in advance. Hiking trail with ranger accompanying has been suspended as of November 2018 due to fallen trees on the trail that the park lacks money and manpower to clear.

Kbal Chhay Waterfall

address: Kbal Chhay Waterfalls, Ou Treh, Sihanoukville, Cambodia

A waterfall approximately 7 km from the city of Sihanoukville and then a further 9 km along a red dust track. Popular swimming area, families come to spend the day, many food stalls, rest houses and other facilities line the stream. The swimming is the attraction more than the waterfall so don't expect much nature at the stream.
Do
Buy
Banks and ATMs
ATMs can be found throughout the city. Downtown, there are ATMs from
ANZ Bank
Canadia Bank
Acleda Bank
May bank
ABA Bank
CIMB Bank
Union Commercial Bank
Cambodia Commercial Bank
UCB Bank.
There are also ATMs around the "Golden Lions", on Beach St, at CCS Hotel and one at the Golden Sands Hotel, Occheuteal Beach. There is also an ATM in Otres 1.
T E Lee Hong Money Exchange 7 Markara Street.
Supermarkets and groceries
There are several supermarkets in the town, plus a standard Cambodian market ('Psaa Leu').
Orange Supermarket

phone: +855 34-933878

address: Ekareach Street

Samudera Supermarket

address: Ekareach Street

There is a money exchange with in the Samudera supermarket.

Lucky Ocean Supermarket

phone: +855 34-451155

address: 7 Ekareach Street

Psar Leu (Public Market)

address: 7 Makara Street

Low-priced fruit and vegetables. also sells home wares and clothing.
Eat
Along the beaches, especially at Ochheuteal Beach, there are many food stalls and some restaurants serving grilled, meat, chicken, and seafood with chips/fries and a beer for US$3-4. There are a good many restaurants in town as well. Sihanoukville has a surprisingly diverse set of cuisines.
Angelo's RestaurantExcellent BBQ (try the ribs!) and Greek cuisine.

The Beach ChaletCambodian and Western food, fresh and cheap. Prices are fixed all the year. Staff friendly, always helping you in all what you need. Try the barracuda or red snapper BBQ.

Castaways Beach Bar and Restaurant

phone: +855 12 998492

address: Otres 2, Sihanoukville

Very casual family-run eatery and bar with home-cooked Khmer and Western meals at reasonable prices. Dine in the covered bar/lounge or in one of the couch areas in the sandy courtyard, or right on the beach facing Otres' unforgettable sunsets. This was the original tourist resort and restaurant in Otres and is the only Khmer-run and owned place in the whole of Otres. Marasprao and Luclak and Amok dishes, excellent chicken curry and tom yam, Western menu includes omelettes and pancakes. Or just ask the owner, Ouk, what he would recommend, and let him lay something on you not on the printed menu. Full cocktail menu. Great ambience, rustic authenticity and a good pool table.

phone: +855 12 613380

Very pleasant coffee shop/cafe just off Ochheuteal Beach with comfortable indoor and terrace patio seating. Reasonably priced menu featuring Western, Korean, and Asian dishes. In addition to coffee there is beer, wine and cocktails.

Ernie's BurgersYou can build your own burger with over 24 free toppings.

Grand Restaurant KampucheaThe chicken amok curry (served in a coconut) is a particular highlight. Traditional Khmer food.

HappaJapanese teppanyaki (hot plate) restaurant.

l'Luna d'AutunnoItalian. The staff are well-trained and friendly, and prices are not overly expensive.

phone: +855 15 966221

Siem Reap's popular Indian, now opened a sister restaurant in Sihanoukville.

The Mexican

phone: +855 12 315338

Mexican and Khmer food.

Mick and Craig's Restaurant and GuesthouseA Sihanoukville institution which has been providing comfort food in Sihanoukville since 1997. Their Mexican menu and Sunday roast are particular favourites. Also have rooms with fan and bath set in a tropical garden. Clean and comfortable.

Noh Kor PhnomFriendly no-frills seafood restaurant with an extensive menu of over two hundred options.

La Paillote

phone: +855 12 632347

French-Khmer cuisine in one of the finest restaurants in the country.

Pim's RestaurantWestern a la carte menu, BBQ and wok menu. Traditional Cambodian evenings. Nine hole mini-golf, boules, darts, pool, and table tennis.

La Reserve SihanoukvilleGourmet French cuisine with master chef, Patrick Escribe, Table de France.

Same Same But DifferentReasonable food, good prices, good staff. Excellent Thai green curry.

Sunshine Cafe

phone: +855 12 828432

Great cafe and beach bar on the more relaxing Otres Beach. Run by a Polish lady and her family who cook excellent food. It has a nice community atmosphere. Her Khmer partner runs boat trips, US$15, to more interesting places than the other boat tours. He also does night fishing boat trips when there are sufficient numbers. They also have a few simple beachfront rooms for US$5.
Drink
Golden Lion Plaza at Occheteal Beach, 10 friendly bars in one street, but all are also used as spots for picking up prostitutes.
The trend on Serendipity Beach is to advertise a permanent happy hour, which usually implies cocktails for US$2-2.50 and draught Anchor beer for as little as US$0.50-0.75. Beer prices generally rise to US$1 at night with cocktails remaining US$2-2.50.
Bars in town
Captain MorganNice looking bar with friendly staff. Food and snacks.

Star BarExtremely cold Anchor draught beer (happy hour US$0.50, rest of the day US$0.75). Friendly waitresses. Good pool table. Decent kitchen with Western-oriented menu. Popular Wednesday evening barbecue, US$2.
Sleep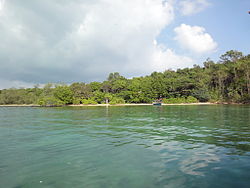 Accommodation ranges from basic guest houses on the beach to four-star resorts. There are plenty of guesthouses, however, the cheapest guesthouses directly on the beach frequently sell out. Reservations are necessary at peak times such as at New Year. Due the extensive construction works in the city, any list of accommodation might be outdated. As of Sep 2919, it seems that most of the hotels aim at Chinese clientele.
Budget
phone: +855-87919834

address: Phum 1 Sang Kat 2

Air-con double room with own hot water bathroom and cable TV. Wi-Fi. Free use of large swimming pool & gym.

phone: +855 97 8573786

Clean and quiet rooms, close to the centre. 2 minutes from the beach, private garden, 15 nice rooms, cable TV & free high speed Wi-Fi, motorbike rental, laundry, Internet, international calls and a 24/7 convenience store.

phone: +855 12 806155, +855 12 489377

Offering some cheapish pleasant huts above the bar with sea views (over a huge concrete building next door) and more expensive air-con rooms. The menu is short, but the food is excellent. The bar has a 61" TV for sport and films, and stays open as long as it needs to, which is generally 24/7.

SavannphoumA nice alternative for people wanting to stay close to rather than on the beach. Most of the guests are Khmer. Good cheap Khmer food, clean rooms, cheap scooter rentals.

TEN103

phone: +855 92 502374

address: Koh Ta Kiev Island

Sleep in a tree house or in a hammock with a mosquito net. The facilities are very basic, but that's what makes the place so special. Koh Ta Kiev Island is full of unexplored jungle, lovely beaches, and almost no tourism.

Onederz Hostel SihanoukvilleSupposedly one of the last hostels in Sihanoukville. Features a small swimming pool and a bit overpriced Khmer food.
Mid-range
Above Us Only Sky (Bar & Bungalows)

phone: +855 89 822318

Spacious bungalows on a very quiet part of the beach. It has fan and air-conditioning rooms and a nice porch in front of the bungalow with comfortable chairs and couch and brilliant ocean view. Wi-Fi. There is also a nice little bar downstairs. No restaurant, but there are plenty nearby.

phone: +855 12 380296

Khmer-style wooden bungalows, air-conditioned rooms and apartments with balconies giving ocean views. Restaurant serves breakfast, lunch and dinner and Western and Khmer foods.

The Don Bosco Hotel SchoolHotel in a lush garden with a swimming pool, air-conditioning, and free Wi-Fi, pick-up and shuttle to the beaches and city. It is a training hotel to help young Cambodians learn a skill and find a job.

Malibu Beach HotelAnother one of the older stalwarts, now encroached on both sides by noisy nightclubs. At the bottom of that, turn right, the Malibu Beach Hotel is the first on the left. There have been a couple of reports of theft, from the rooms and from the hotel safe.

phone: +855 34 935999

An international-class beach resort. Very bland and a bit rough around the edges, but the beach is gorgeous and hassle-free, and the resort is family-friendly with children swimming pools and playgrounds. Try their best Restaurant, Lemongrass, and "The Deck" Tapas Bar. 180° views of the gulf.
Splurge
phone: +855 34 934 300

address: St 2 Thnou, Sangkat 3

A modernist concrete seven-story block on top of the cape and with great sea views, it has a pretty pool and attractive, expansive gardens. A nice touch are some black and white photographs of the hotel in its heyday. The best feature is the adjacent clean pale sand private beach which has crystal clear water and some big rocks, although this may be under development as the hotel are planning bungalows. Some distance from town.
Stay safe
While violent crime is extremely rare, purse snatching, pick-pocketing, and petty theft are extremely common occurrences on and near Serendipity beach during both the day and night. Women should not carry purses containing anything valuable, and if possible should not carry any purse at all. Groups of young children often surround women leaving the beach bars at night, cut off their purses and run away. In addition, criminals on motorbikes will often grab a woman's purse and then drive off during both the day and night, dragging the woman behind them until they let go. The majority of this activity is confined to the Serendipity area and travellers to Otres Beach or the rest of Sihanoukville should be careful, but far less concerned about crime.

Jet ski
At least six tourists and one local boy were run over and killed at Ochheuteal Beach and Otres Beach by jet skis since Sep 2009. The number of tourists and locals injured by banana-boats and jet skis is unknown. In 2009 the police marked a swimmers-only area with buoys along most of the beach but the employees of the jet ski & banana-boat operators completely ignore it and keep showing off silly but very dangerous high speed stunts just meters from shore and in the middle of swimmers to hunt and attract customers. Complaints to the police are ignored. On weekends you will see many very drunk Cambodian tourists on jet skis, chasing each other inside the swimming zone and ignoring the simplest safety rules. At Serendipity, the northern end of Ochheuteal Beach, jet skiers race between the coral bommies, completely disregarding the safety of snorkellers, damaging and killing marine life with the oil in their exhausts. All but one jet ski are old models from the 1990s with 2-stroke engines. If three or four jet skies running at the same time, the whole beach stinks from the highly toxic exhaust fumes - not to mention the permanent chainsaw noise the beach is blasted with. If you want to enjoy a quiet, relaxed day on the beach, do not rent a jet ski and tell everybody about the danger – or go to one of the other beaches outside of town and pay US$3-5 for a one-way ride with a motodop.

Stay healthy
Medical services in Sihanoukville are very limited and basic. The best medical service is offered by the CT Clinic or Sihanoukville International Clinic. These are the only clinics trusted by expats who live in Sihanoukville. The public hospital should be avoided at all costs, as it is terrible. In case of major illness or injury evacuation is necessary.
HIV/AIDS
is nowhere near as prevalent as it was, but the infection rate is still relatively high within certain high risk groups such as female sex workers. In 2016 the infection rate for brothel-based female sex workers was estimated to be 14.7%, but government initiatives have raised the rate of correct and consistent condom use to over 90%. However, many sex workers are now operating outside of brothels, so the rate could be significantly higher in this group.
Connect
Sihanoukville's area code is 034.
Internet
There are many Internet cafes and some guesthouses and many hotels offer Internet access. Many now have Wi-Fi, some for free.
Post
The new main Post Office is near the Victory Park on the left hand side of the road as you go to Victory Hill. There is also a branch at the market downtown, but here you can only leave your postcards during office hours, as it does not feature an outdoor mailbox.
Consulates
Vietnamese ConsulateIssues 30-day tourist visas for pick up at 10:00 the next morning. In Feb 2014 applicants arriving after 12:00 are charged an additional US$5 to have their visas processed same day.
Go next