Sikhote-Alin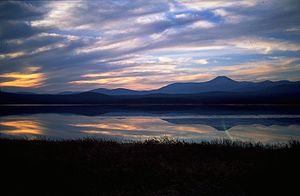 The
Sikhote-Alin
(
Russian
:Сихотэ́-Али́нь,
see-ho-tae-ali-n
) is a mountain range in
Primorsky
and
Khabarovsk Krai
, extending about 900 km to the northeast of the Russian Pacific seaport of
Vladivostok
. The highest summits are Tordoki Yani (2,077 m), Ko Mountain (2,003 m), and Anik Mountain (1,933 m). The area is listed as a
UNESCO World Heritage site
.
Understand
History
Landscape
Sikhote-Alin is a very beautiful natural place: the sea with cliffs and stacks, lagoon lakes, waterfalls, rivers full of rapids and bright streams, the taiga forest here is like a forest from fairy tales.
Innumerable mountain ranges and spurs, cut by river and steam valleys form the panorama of the region. Here and there among them rise huge tops; lowlands occupy big river valleys and sea Holocene terraces.
At the bottom of the sea and on the rocks sea urchins, kelp which is similar to mermaid's hair, crabs and scallops live; different types of fish swim in the water. There are a few lakes with a paleolagoon origin in the coastal zone; some of them have a constant or periodic contact with the sea, while the others have completely lost it and became nonsaline.

Fauna
Sikhote-Alin Mountains possess a great biodiversity. Here inhabit noble and spotted deer, roe deer, wild boar, Himalayan black and brown bear, Far Eastern wild cat, yellow-throated marten, sable, Amur ghoral and Siberian tiger. Rivers are filled with tasty fish: brown trout, char, chum salmon comes, cherry salmon and humpback salmon.

Vegetation
The vegetation is very diverse; ones communities are replaced by others with height. Sikhote-Alin is a forest area; about 95% of its territory is occupied by different forests communities. Mongolian oak forests grow on the seaside slopes. Sometimes a constant impact of winds and fogs leads to the appearance of shrubs-like crooked oak forests. They are peculiar, very strange and even mystical.
The most unique woody communities are broadleaved-coniferous forests they create formed by various broadleaves species and Korean Pine (Pinus koreansis). Korean Pine reaches the height of 40 m and diameter of 1.5 m, the oldest trees are about 500 years old.
At altitudes of 800-1200 m grow spruce and abies forests with a thick moss cover. Trees are very close to each other, epiphytic lichens hang on the branches. It seems that this is an unreal, mythical world inhabited by spirits of the forest. Even higher inhabit crooked stone birch forests, which are then replaced by thickets of draft pine and mountain tundra. There are stone rivers and conglomerations on the slopes of the mountains, from the peaks you see endless mountains.

Climate
Do
Sleep
Lodging
Camping
Backcountry