Silesian Voivodeship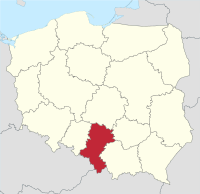 Silesian Voivodeship
(
Polish
:
województwo śląskie
) is a province in southern
Poland
.
Cities
Silesian Metropolis
— capital of the Silesian Voivodeship, a large coal and steel centre as well as a business and trade fair centre.
— with a 11th-century castle.
— its historic silver mine is listed as a .
Cieszyn Silesia
— at the Biała River with a beautiful market square and several protestant churches.
— medieval and Classicist town.
Częstochowa Region
— this city is most famous for the Baroque National Shrine at Jasna Góra, one of the most important Roman Catholic pilgrim sites in the world. The city serves as a great base to visit the castle in nearby Olsztyn.
Silesian Beskids
The southernmost part of the voivodeship. Popular destination due to is proximity to Beskid mountain range.
- located next to many mountains, a popular starting place for a lot of hiking expeditions. Site of numerous hotels and such,
— where one of the most popular Polish beers is brewed.
Understand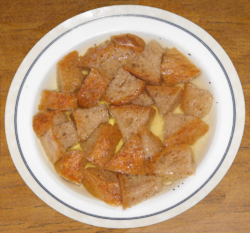 In the early Middle Ages Silesia was part of Poland since the 10th century. When in 1138 the Seniorat of Poland was formed, Silesia was one of the Polish duchies and several Silesian duchies were Seniors of Poland until the late 13th century. In the 12th and 13th centuries Silesia fall apart into several duchies of which
Racibórz
,
Oświęcim
,
Siewierz
and
Cieszyn
as well as
Częstochowa
are in Silesia. In the 14th century Siewierz and Oświęcim again became a part of Poland, Częstochowa was also Polish, while Cieszyn and Racibórz came under Czech rule. Bohemia was ruled at this time by the German Luxembourg, later the Polish Jagiellonians and finally by the Austrian Habsburg. In 1741
Prussia
annexed most of Silesia, besides Cieszyn and Częstochowa. After the Third Partition of Poland in 1793 Częstochowa was also annexed by Prussia, but became independent as part of the Duchy of Warsaw between 1807-1815. After the Congress of Vienna, Częstochowa became part of the Kingdom of Poland, ruled by the Russian Tsar. In the 19th century coal mining developed in this region, while the Beskids in the south remained rural and unpolluted. After World War I and the Silesian Uprisings, Silesia became largely part of the Second Polish Republic but was occupied by Nazi-Germany between 1939 and 1944. After World War II it again became part of Poland. Nowadays it is situated in the south of the country, bordering Germany and the Czech Republic.
Talk

Polish is spoken by all. Depending on who you believe, the dialect or language of Silesian is spoken here too. There is also a notable German minority presence in the region with some bi-lingual signage in both languages. As in a large part of western and northern Poland, place names exist in both Polish and German due to the area's history. Many young people study English and German.

Get in
By plane
The region's international airport is the
Katowice Pyrzowice Airport
(,
KTW
). The airport is a base of Wizzair and offers wide variety of flights across Europe and Mediterranean.
Alternatively, Kraków Airport is only one hour away from Katowice and Wrocław Airport (, WRO) offers a number of connections and is within a 2-hour drive or a train ride (including a bus connection) from the Silesian Voivodeship.

See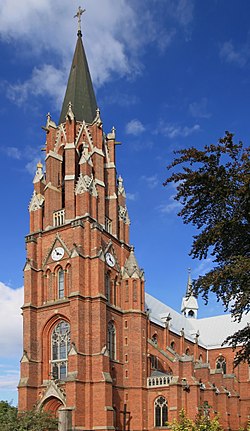 Do
Silesian Culture and Recreation ParkThe largest city park in Europe (the area of the park is 620 hectares) between Katowice and Chorzów. Among other things Silesian Stadium, Silesian Zoological Garden, Silesian Planetarium, Silesian Amusement Park, Upper Silesian Ethnographic Park and Katowice International Fair Grounds are located in the park.
Eat
Silesian cuisine
is distinctive from other parts of Poland. specific meals include: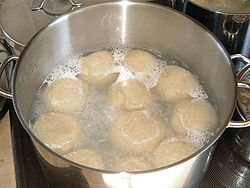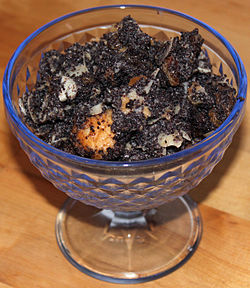 Wodzionka or brołtzupa (ger. brot - bread, pol. zupa - soup) - soup with garlic and squares of dried rye bread.
Żur - soup made of soured rye flour and meat.
Kluski śląskie (Silesian dumplings) - round shaped dumplings served with gravy, made of mashed boiled potatoes, finely grated raw potatoes, an egg, grated onion, wheat flour and potato flour.
Szałot (Silesian potato salad) - a salad made of squares of boiled potatoes, carrots, peas, ham, various sausages, pickled fish, boiled eggs, bonded with olive oil or mayonnaise.
Krupniok - kind of blood sausage made of groats and animal blood.
Żymlok - like krupniok but instead of groats there is bread roll (żymła).
Knysza - pita bread with meat and lots of cabbage.
Bejgli - many elaborate recipes possible; based on finely ground poppy seeds, with raisins, almonds, candied citrus peels, honey, sugar, pudding, and flavoured with rum. Decorated with fingers of crumbling.
Makówki or moczka - traditional Christmas Eve dessert, its main ingredients are: poppy seeds, gingerbread extract, nuts and dried fruit, strawberry compote and almonds.
Kopalnioki - hard candies made of sugar, anise oil, and the essences of St John's wort, honey and peppermint. Its black colour comes from charcoal food dye.
Go next