Siliguri
Siliguri
is a city in
Darjeeling district
in the northern part of
West Bengal
,
India
.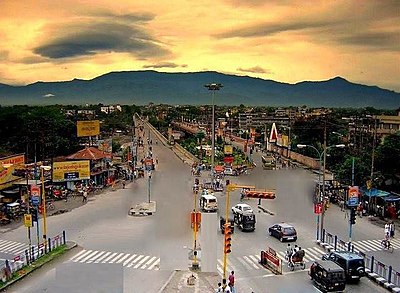 Understand
Siliguri has a population of half a million (around one million for the entire metropolitan area), making it the third-largest city in West Bengal.
With massive developments, the city has grown from a small, sleepy town into one of the most important commercial hubs in north east India. Sprawling and boisterous, modern condominiums dominate the landscape on entering the city, followed by streets of market stalls that surround a core of up-scale shops and shopping malls.
Due to its position as a shopping and business hub and a centre of learning, the city enjoys a sophistication and range of shopping usually only associated with the metro cities. It is also known for its liberal and laid back atmosphere and vibrant music scene.
Siliguri is the only city in West Bengal other than
Kolkata
to have a commercial airport and, perhaps due to the high concentration of colleges, institutes and private schools, the city has the highest literacy rates in the state. Traditionally, Siliguri has been known for the four 'T's — tourism, timber, tea and transport — and is the gateway to
Darjeeling
,
Sikkim
,
Bhutan
and the
North East
.
Get in
By train
Siliguri has three railway stations: New Jalpaiguri (NJP), Siliguri Junction and Siliguri Town, of these New Jalpaiguri is the busiest, and is a 20- to 30-minute ride from the city center. Although mostly servicing local routes, Siliguri Junction also has a few long distance trains including Mahananda Express (from New Delhi) and Kanchankanya Express (from Sealdah).
By bus
Siliguri Bus Station is located across the street from the Sher-e-Punjab Hotel on Hill Cart Road (Tenzing Norgay Road).
By plane
Bagdogra AirportDue to the airport being designated an air force base, it is still known as Bagdogra, but, in reality, it is Siliguri Airport. The number of flights operating from Bagdogra has increased substantially and the airport has links with most major Indian cities - Delhi, Mumbai, Bangalore, Chennai, Kolkata and Guwahati. In addition, a number of airlines operate connecting flights to/from Bangkok, while Druk Air offers twice in a week direct flights to the Thai capital, which begin and terminate in Paro. Taxis are available from the airport to Siliguri (approx ₹500), as well as to Darjeeling, Gangtok, and Phuentsholing.
Get around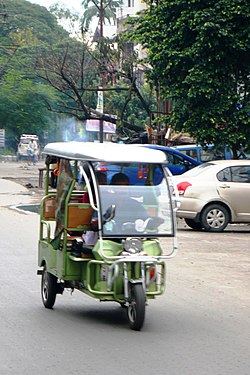 Moving in and around Siliguri is cheap. Cycle-rickshaws, auto-rickshaws, buses, taxis are easily available in almost every part of the city. Cycle-rickshaws can be hired to move around within the radius of 1-2 km. The fares are pretty nominal, exactly ₹10. To go 5-10 km, one can hire/share auto-rickshaws. Electric rickshaws are a comfortable and common means of transport in Siliguri and cost ₹10 from point A to B on fixed routes. Cars can be hired from several agencies.
App based cabs are also available. At present OLA serves the city.
City landmarks
New Jalpaiguri railway station

Siliguri Junction railway station

Siliguri Town railway station
See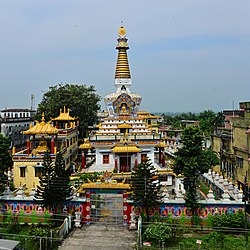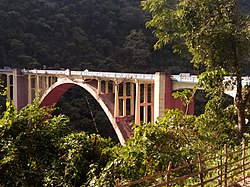 Buddha Mundir Monastery

address: Buddha Mundir Road, Salbari

A monastery established by the Nyingma yogi, Chatral Sangye Dorji Rinpoche

Coronation BridgeYou can see the turbulent Teesta roaring below.

phone: +91 353 259 0264

address: Junglee Mohal, Toribari Village, Behind Bengal Safari P. O P.S, Distt, Bhaktinagar, Salugara

A large Buddhist monastery in the Nyingma tradition

phone: +91 99 33 062222 or +91 98 32 049416

address: Dhansara

A monastery is in the Nyingma tradition of Tibetan Buddhism. Accommodation available at the compound.

phone: +91 92316 84759

address: Iskcon Rd, Ward 41, Haidar Par

International Society for Krishna Consciousness (ISKCON), also known as Hare Krishna Movement manages the ISCKON temple, Siliguri. The temple houses many beautiful idols of Advaita Acharya, Lord Narasimha, Lord Chaitanya and many more.

Mahananda Wildlife SanctuaryThis is a wildlife sanctuary at the foothills of the Himalayas. Vehicles can be hired to enter the sanctuary at a minimal charge. While many different types of animals live at the sanctuary, wild elephants and peacocks are its most famous inhabitants. The sanctuary is closed during the rainy seasons (15 July to 15 September).

Madhuban Park

address: Sukna

A spacious park known for its manicured lawns, pathways and children's play areas.

phone: +91 353 2643900

address: Ashrampara

The park contains, a leopard, tiger, rhino, deer and Himalayan black bear safari, bird aviaries, small cats compound, crocodile ponds and a botanical trail

Science CityThe campus has a museum, a planetarium and an Interpretation Centre that displays various type of flora.

Sed-Gyued Institute of Buddhist Studies

address: Salugara

The institute was inaugurated by the Dalai Lama in 1999, and belongs to the Kagyu tradition of Tibetan Buddhism. The compound includes a 100-foot Tashi Gomang Stupa.

Sevoke Kali MandirThis is around 20 km from Siliguri, near the Coronation Bridge. This is a temple of goddess Kali, the goddess of destruction, and is considered very holy. People from far off places come here to pray and worship her.

Surya Sen Park

address: Mahakal Pally

A children's park with green lawns, fountains, toy train, alternative energy exhibition, and picnic areas.

Triratna Monastery

address: Salbari

A monastery in the Nyingma tradition of Tibetan Buddhism
Do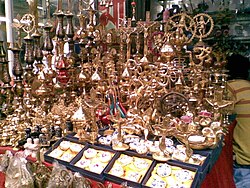 Blue Mountain ClubA relaxing country-club with landscaped gardens. Membership required to use club facilities.

phone: +91 9599 456 385, +91 9734 000 411

address: B35, Satellite Township, Dabgram

Bike rentals, specializing in tours to Bhutan, Darjeeling, and Sikkim

phone: +91 97328 51000

address: Ghoshpukur Canal Road, Fulbari

An amusement and theme park.

Kunchenjunga stadiumMatches, exhibitions and varied events.

Netaji Indoor StadiumExhibitions and varied events.

phone: +91 33-30285410-19

Dagapur (near Darjeeling More). An amusement and water park among tea plantations.

SwimmingViramma Club, Siliguri Club, Cinderella Club, Stadium Swimming Pool

Tea Estate ToursVisit the serene and spacious tea farms in and around the city.

phone: +919734377000

address: Module 105, First Floor Webel IT Park, Phase – III Khaprail Road, Matigara
Buy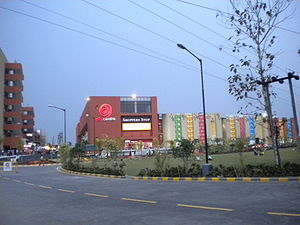 Basically, Silguri sells its wares on three streets - Hill Cart Road, Bidhan Road and Sevoke Road. The former offers more traditional stores and is home to many of the city's hotels, Sevoke is home to several upscale shopping malls and is the center of the city's banking, while Bidhan Road is primarily known for the street markets that span out from the thoroughfare.
As the centre of a tea growing area, Siliguri is an excellent place to pick up some Darjeeling and other brands of the leaf.
Handicrafts
Fab India, Vega Circle Mall, Salugara and City Centre Mall, Matagari - two large branches of the national chain that specializes in hand spun material and natural soaps and cosmetics.

phone: + 98519 82567

address: Iskon Temple Road

A workshop specializing in Buddhist statues made from fiberglass and copper.

phone: + 97333 29274

address: Sevoke Road, Panitanki

A wholesaler and order supplier of Buddhist ritual handicrafts and other religious items.

phone: +91 9832034561

address: Bidhan Market

An eclectic mix of handcrafts, including religious statues.
Tea
phone: + 8759 763800

address: GF, Planet Mall, Sevoke Road

A modern shop selling traditional Indian teas, flavoured teas, Indian oolong, and tea making equipment and accessories.
ChiPan, Hill Cart Road (opposite Hill Cart Road Bus Station), Tel: 91 81458-99825 - Good selection of Darjeeling tea for retail and wholesale.

Rakhadevi Tea Company (Rai Exports)

phone: +235 2430350

address: Rai Bhawan, Seth Srilal Market

Excellent selection of Darjeeling and Assam teas at retail and wholesale prices

Siliguri Tea Auction Committee

address: Mallaguri, Pradhan Nagar

A place to make bulk purchases of Darjeeling and other locally grown teas.

phone: +91-9733061444

address: Teaxpress Pvt. Ltd, Manjusha Tower, Eastern Bypass Road, Near Baneswar More.

An international tea wholesaler, specializing in tea-based products sourced from Darjeeling, Assam, Nilgiris, and Nepal.

phone: +353-2527249

address: Binda Jayanti Building, 31 Sevoke Road

Wide range of teas offered for wholesale and online sale.
Malls
City CentreA huge mall offering major brands, international chain eateries, and live music events.

City Mall, Sevoke Road

address: Sevoke Road

A large and up-scale mall.

Planet Mall

address: Sevoke Road

A mall known for its distinctive cafes, pubs, and restaurants.

Vega Circle MallHome to an INOX movie theatre, hotel, and international stores, including a large branch of Hamleys toys.
Street markets
Bidhan Market, near the Kanchenjunga Stadium. The oldest and largest street market in Siliguri, Bidhan Market meanders along streets and alleys and is particularly bustling and atmospheric at night.
Hong Kong Market, a pedestrianized street near Bidhan Market. Specializes in imported goods - mostly from China, but also from other Asian countries such as Nepal, and Thailand. However, beware of duplicate items. Even items made in Delhi stamped with "Made in China" are being sold here. The actual price of the item will be 1/2 or 1/3rd of the price the shopkeeper asks.
Nivedita Market

Seth Srilal MarketBuzzing market in the heart of the city, where you might get the best deals. Also famous for its Momo Gali (Momo Street).
Eat
Due to a high number of Nepalese and Tibetans living in Siliguri, the city offers an excellent selection of authentic Tibetan and Nepali delicacies. In addition, there are also several good quality restaurants specializing in Western and Chinese cuisine as well as a considerable number of US fast food outlets.
Aagan - the Global Cuisine Restaurant

phone: +(91) 353-2541423

address: 1st Floor, Shanti Tower, 2nd Mile, Sevoke Road

Chinese, Italian and Indian cuisine - pure vegetarian. Open kitchen. Modern decor.

phone: +91 353 2431682, +91 353 2431701, +91 353 2431683

address: Hill Cart Road

Multi-cuisine restaurant and bar
Around the Corner, Patel Road By-Lane, Near Biswadeep cinema hall, Pradhan Nagar. Tel: 91 9593296761. Quality Italian, American and British Cuisine.

Badshah Biryani Hut

phone: +91 9641330010

address: Rishi Aurobindo Road

Excellent Biriyani along with several other cuisines.

Bedwin

phone: +91 353 2534732

address: Bidhan Market, Old Bus Stand

Known for its delicious Biryani.

address: 143 Hill Cart Road

Bengali cuisine.

phone: +91 353 2544130, +91 353 2547136

address: 3rd Mile, Sevok Road

Amrapali - Vegetarian multi-cuisine restaurant, Recoil - Bar, Sizzler - discotheque for private parties, Patio - Roof-top restaurant-cum-bar.

Havelli

address: Hill Cart Road

An excellent restaurant for fish and mutton items. Also offers high standard Chinese and continental dishes. Cool decor.
Hi Spirits Cafe and Pub, City Centre Mall. Tel: +91 353-2576105. Lebanese, Mexican, Chinese and Tibetan dishes cooked to a very high standard. Live music.
Indian Pagoda, Sevoke Road. Authentic Chinese cuisine.

KalpanaBengali cuisine

Kalpatru Pice Restaurant

phone: +91 353 2642893

address: Ramkrishna Commercial Complex, Sevoke Road

Bengali cuisine

Momo Gali

address: .Seth Srilal Market

A street of restaurants and stalls selling fantastic momos.

phone: +91 9609743399 , +91 8116290697

address: Bihar More Bagdogra, West Bengal-734014

This serene motel in a colonial-style building is 12 km from Savin Kingdom and 13 km from the Jore Pokhri Wildlife Sanctuary. Warmly furnished rooms feature TVs and garden views. Upgraded rooms add sitting areas and sofas. Kids age 11 and under stay free with an adult. There's a Northern Indian and Chinese restaurant, as well as a private dining room for events and family gatherings. There's also a bakery, a furnished terrace and a garden.

Monarch Restaurant

address: 10 Sevoke Rd

Famous for Indian, Tandoori and Chinese dishes.

New Zaika Biryani House

phone: +91 9434689708

address: Hill Cart Road

Mughlai dishes

phone: +913532545678

address: Sidhi Arcade, 2nd Mile, Sevoke Road, Siliguri.

Ranjit

address: Hill Cart Road

South Indian cuisine plus others

Rasoi

address: Sevoke Road

South Indian and Chinese cuisine.

Rasoraj

address: Mahabirsthan

Sagar Family Restaurant

phone: +91 353-2545448

address: Golden Enclave Building,Near Ravi Auto, 2nd Mile,Sevoke Road

A vegetarian restaurant offering Chinese, Indian, Italian and continental dishes.

Sartaj

phone: +91 353 2431758

address: Hill Cart Road

Good food, good ambience

Sharma Sweets

address: Mahabirsthan

phone: +91 80015 84124

address: 94, Udham Singh Sarani, Ward 13, Punjabi Para, Siliguri-734001

Asian fusion restaurant, specializing in Thai and Chinese cuisine. Creative interior.

Tai Wah

phone: +91 353 2436132

address: Sri Bhavan building, ground floor, Hill Cart Road

Chinese cuisine.

phone: +91 353 2517674

Also: O3 lounge bar, 5-10:30PM.

Tibet Restaurant

address: 3rd Mile, Sevoke Road, Salugara Bazar, Salugara

Simple and authentic Tibetan cuisine

Viramma

address: Viramma Resort, Dagapur.
Drink
Coffee
As Siliguri is at the heart of a tea-growing area, it has traditionally been associated with tea. However, following the international trend, coffee culture has made inroads in the city and there are now numerous branches of cafe chains as well as a growing number of independent coffee shops in and around Siliguri.
Barista, Vega Circle Mall, Salugara

phone: +91 094344 96177

address: Opp. Navjeevan Apartments, near Shiv Mandir, Shiv Mandir Road, Punjabi Para

Great coffee. Innovative snacks and meals. Rough brick walls. Live music.
Cafe Coffee Day, Bidhan Road (next to Hotel Dolly)
Cafe Coffee Day, Basement, Cosmos Mall, 2nd Mile Sevoke Road.
Cafe Coffee Day, Savin Plaza, Dagapur, Cinemax.
Cafe Coffee Day, Bidhan Market near Panitanki More
Cafe Coffee Day, near Khela Ghor More

Cafe Italiano

address: Vega Circle Mall, Salugara

Authentic Italian cuisine and high quality coffee.

phone: +74074 48000

address: 2nd Mile Sevoke Road

Coffee, international cuisine

phone: +91 87683 06069

address: Opposite JCB Showroom, Hill Cart Road, Salbari

A cool cafe with outdoor seating. Coffee and meals.

phone: + 99331 30005

address: Manjushree Complex, Pranami Mandir Road

Excellent coffee, tea, and munchies - contemporary and stylish interior. Good selection of books.

phone: +91 085974 35436

address: 41 Khaprail Bazaar

Great coffee. Specializes in fancy cakes

phone: +7001445897

address: Swamiji More, Nazrul Sarani, Ashrampara

A small bakery-cafe that specializes in custom-made cakes and pastries.

phone: + 97332 50863

address: 1F, Planet Mall, Sevoke Road

Excellent coffee, Lebanese and Indian cuisine. Free wifi. Good sound system.

phone: + 89727 72026

address: 3F Vega Circle Mall, Salugara.

Espresso based coffees, pastries, and pizza

phone: + 79809 17609

address: 3F, Planet Mall, Sevoke Road,

A cafe offering excellent Persian/Parsi dishes. Free wifi.
Tea
phone: +91 97330 78100

address: Parnami Mandir Road, Opp Shreedham Apartment

Chai cafe with fusion cuisine.
Netaji Cabin , Bidhan Market. A rustic traditional tea house in a street market. Offers chai and simple meals. Open: 7AM-10PM.
Alcohol
With a young, educated, and liberal population, Siliguri enjoys a vibrant and lively pub scene. Planet Mall is the city's main watering hole, and there are a number of pubs and cafes situated throughout the mall.
phone: + 353 254 5886

address: 3F, Planet Mall, Sevoke Road

Chic bar. Asian fusion cuisine. A very cool and happening place.

phone: +91 98320 99995

address: 3F. Planet Mall, Sevoke Road

European-style pub. live music, dancing, pizza, continental cuisine.

phone: +91 353 257 6105

address: C0206, 2F, City Centre Mall, Uttorayon

Casual dining pub-cafe with live and recorded music. Oriental, continental, Tex-mex, Himalayan cuisine. Well stocked bar
O3 in Sinclairs. Worth checking out for a nice evening drink and snacks.

phone: +91 96096 01818

address: 3rd Floor, Infinity Square, Sevoke Road

Live movie, hip hop, Rustic and warm interiors with Italian comfort food. alcohol and coffee. A very happening place in the heart of Siliguri/

phone: +91 70290 70290

address: 3F. Central Park Building, Sevoke Road, 2nd Mile

Disco. Bar and restaurant. Sophisticated, urban decor. Good food.

The Swedish Cafe and Pub

phone: +91 98328 29835

address: 2F Planet Mall, Sevoke Road

A stylish pub - serves innovative meals, alcohol, and coffee

address: B29, Planet Mall, Sevoke Road

Cafe and pub - chic interior, good selection of drinks, coffee and meals

phone: +91 98000 90100

address: Saluja Residency, Level-1, Hill Cart Road

Dance and night club, lounge, hookah lounge
Sleep
Travelers using Siliguri as an overnight halt might like to consider their hotel options based on the convenience for traveling to their next destination. Bagdogra, Matigara, and Darjeeling More areas are convenient for Darjeeling, Kurseong (route 110), and the airport (route 327), while Salugara, 2nd or 3rd mile Sevoke Road addresses are good for Kalimpong, Gangtok, and Bhutan (route 10).
Budget
Athithi Guest House

address: Hill Cart Road

A well maintained hotel at low rates with AC and non-AC rooms.

Dewan's HotelA simple hotel located just outside New Jalpaiguri (NJP) Station. After exiting station, turn into first alley on right (adjacent to the taxi parking lot). The hotel is at the end of the alley.

phone: +91 947 5908 908, +91 891 8079 640, +91 912 6588 308

address: Kharagsingh Road

phone: +91 353 2535 825, +91 92336 56407, +91-94340-07001

address: 143 Hill Cart Road

Hotel Ranjit

phone: +91 353 243 1680, +91 353 252 4053

address: 44, Hill Cart Road, Mahanandapara

Nine Ten Hotel

phone: +91 353 2543539

address: Navin Sen Circle, Sevoke Road

Nest Guesthouse

address: Just off Swami Avedananda Road, 50 meters from the Hotel Sundaram Palace

Its about a ten minute walk from the Siliguiri Junction train station. Its well off the main road. Its relatively quiet at night, apart from a few barking dogs. The cost for a single person was 500 Indian rupees March 2019. For this I got a double bed sized room. No wifi

Nest Guesthouse

address: Just off Swami Avedananda Road, 50 meters from the Hotel Sundaram Palace

Its about a ten minute walk from the Siliguiri Junction train station. Its well off the main road. Its relatively quiet at night, apart from a few barking dogs. The cost for a single person was 500 Indian rupees March 2018. For this I got a double bed sized room.

Sunakhari LodgeI did not stay at this hotel. I found it after I had checked into another. Sunakhari Lodge has wifi. Singles with shared bathroom start at 400 indian rupees, 500 indian rupees with attached bathroom (March 2019). It is less than a ten minute walk from the Siliguri Junction train station. (Not the New Jalpaiguri train station)
Mid-range
Hotel Central PlazaHill Cart Road, Pradham Nagar. Located about five minute taxi ride from main bus station. Clean and acceptable facilities. ₹650 non A/C to ₹3,500 for suite.

Hotel Heritage

address: Hill Cart Road, Pradham Nagar

Across from the city's main interstate bus station, Heritage is a well maintained and efficiently run hotel. ₹900 non A/C to ₹2,500 for suite.

Hotel Manila

address: Hill Cart Road, Pradham Nagar

Next to Hotel Heritage. ₹600 non A/C to ₹2,400 for suite.

Hotel Vinayak

phone: +91 353 2431130, +91 353 2433154

address: 35, Hill Cart Road

phone: +91 9749093020 (Mr. Rajib)

address: This is just a stones throw away from the IXB airport.

Mainak Tourist Lodge

address: Hill Cart Road, Pradhan Nagar.

Basic restaurant, but modern and smart rooms.

phone: +91 99333 33111, +91 90027 76070

address: Fulbari hat, Changrabandha Village, Fulbari

Simple, but well equipped resort, outdoor baths, tea plantation, organic farm.
Splurge
Many of the modern, up-scale hotels are located on Sevoke Road (2nd-3rd mile), near Vega Circle Mall.
Stay safe
Siliguri is one of the safest large cities in India, and assaults on tourists are unheard of. Even domestic violence figures are some of the lowest in the entire country.

Connect
Internet cafes:
One internet cafe is directly behind Hotel Heritage on Hill Cart Road (across from the main bus station).
News:
Cope
Money exchange
There are several banks on Sevoke Road that offer foreign exchange and ATM service.
Centrum Money Exchange, 75 Ramapada Bhawan, Hill Cart Road (near Sevoke More).
Hospitals/clinics
Ayurvedic medicine
Aarogyaveda, Payel Cinema Hall, Opp. Sevoke Road, Haidar Para. Tel: + 81720 77557 Mon-Sat: 11:30 AM – 2PM, 6– 8PM
Tibetan medicine
Men-Tsee-Khang (Tibetan  Medical & Astro. Institute), http://www.men-tsee-khang.org/index2.htm#, Sevoke Road, Salugara. Tel: + 353 2590354, +92336 23874 email: salugara@men-tsee-khang.org
Western medicine
Desun Hospital, http://siliguri.desunhospital.com/ Medical College Road. An international standard hospital. Tel: 9051640000 (24 hour emergency), 9073692687 and 9674019660 (OPD booking)
Neotia Getwell Healthcare, Behind City Centre Mall, Uttorayon. A state of the art hospital with full facilities. Tel: +353 305 3000
North Bengal Hospital, Meghnad Saha Sarani, Pradhan Nagar. Located in an old building, but known for its professional treatment. Tel: +353 251 0441
Go next
Darjeeling — one of the oldest hill stations in India with interesting sites as well as trekking opportunities.
Dello — a small and peaceful Himalayan hamlet that is a peaceful getaway amid the majestic mountains for those who want a break from their busy schedules
Gangtok — this hill station is a popular site as a jumping off point for treks, the home of the Banjhakri Falls, views of surrounding mountains and friendly atmosphere.
Gompa Dara — a small village that is the site of Gompa Rock and meditation caves and the Ogyen Mindrol Samtenling (Buddhist monastery)
Jalpaiguri — headquarters of the Jalpaiguri Division is a city with many historical links to the past
Jaldapara — this national park is a 180-min drive from Siliguri. It's famous for its wildlife, in particular the Indian rhinoceros, bison, elephants, and peacocks.
Kalimpong — a small city with many gardens and religious sites.
Kathmandu. The Indian border town of Panitanki is around one hour from Siliguri. From there, it is 1.7 km to the Nepalese border town of Kakarbhitta (rickshaws available). Buses depart Kakarbhitta for Kathmandu (12 to 13 hours) from 3 to 6PM. Direct Siliguri to Kathmandu deluxe bus service on alternate days.
Lava — a hamlet surrounded by beautiful natural forests. Home to the Lava Monastery and a spot to view Kanchenjunga peak at sunrise.
Loleygaon or Lolegaon — a village noted for its Canopy Walk, Jhandi Dhara Sunrise Point, and Lolegaon View Point.
Mirik — a hill station with scenic views, tea gardens, Sumendu Lake, several religious sites and near the Bokar Monastery (Buddhist meditation centre).
Mongpu — a small village (hill station) with beautiful views was once known for its medicinal plant cultivation. It was the site where poet laureate Rabindra Nath Tagore wrote his famous poem Janmadin.
Pelling — a small town ideal for nature walks and monastic treks.
Phuentsholing — Buses depart for Phuentsholing at 7:30AM and 1:30PM everyday from opposite Golden Plaza on Burdwan Road (behind Air View More). Tickets are sold at a counter near the bus. There are more frequent Indian buses to the border town of Jaigaon from Siliguri Bus Station on Hill Cart Road.
Raiganj — visit the Raiganj Eco Park and the Raiganj Wildlife Sanctuary.
Rishop — suitable for a one-day stint. There is no city/town life here, just a small village with spectacular views of the third largest mountain peak of the world (Kanchenjungha) and its range.