Silkeborg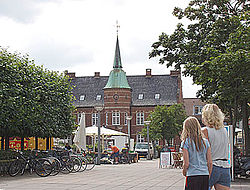 Silkeborg
is a town in
Jutland
founded in 1844 around a paper mill (Silkeborg Paprfabrik) at the Gudenå River. The history of the place goes back to the 15th century, when a castle was located at an islet in the lake of Silkeborg. This castle gave Silkeborg its name, meaning 'silk castle'.
The city has been proclaimed as the "
Outdoor capital
" of Denmark, due to its many outdoor possibilities, and events.
Being surrounded by forrests and lakes, nowhere in Silkeborg is far from nature. The city is situated on the longest river in Denmark,
Gudenå|Gudenåen
(The Gudenå river), which makes water sports and activities very popular.
Get in
Rail or bus from
Aarhus
or
Copenhagen
via
Skanderborg
. It's also a small sidetrip if driving along Jutland's main north-south artery, the E45.
Get around
Hjejlen
sails between Silkeborg and Himmelbjerget (1hr 15 min). Bookings tel: 86820766.
Hjejlen
is both the name of the oldest boat and the company that now operates several boats. The Hjejle-boats stop at many interesting places and with a return ticket, you can go on and off. This also gives you the opportunity to ride at least once with the original steam paddleboat.
See
phone: +45 86 82 14 99

address: Hovedgårdsvej 7

The museum is located at the place of former Silkeborg Manor from 1767, the oldest building in town. It presents iron age archeological founds. The most famous items on display are the mummies of Tollund Man and Elling Woman, bog bodies found during peat digging in the nearby swampy area. Although aged 300 B.C., the head of Tollund Man is remarkably well preserved, including a peaceful facial expression and wrinkles.

AQUAFreshwater aquarium with fish, otters, birds. The big tanks can be viewed both from above outside the building and from the side, inside the building. Has touch tank where you can pet the fish.

phone: +45 86825388

address: Gudenåvej 7-9

Houses the Asger Jorn collections.

Paper museumAt papirfabrikken (the paper factory).

phone: +45 86 81 63 29

address: Gjessøvej 40 A-D, 8600 Silkeborg

At a location of magnificent natural beauty by the Ørnsø lake surrounded by protected forests, the Art Centre Silkeborg Bad is located. The Art Centre has been established in the old spa facility that has undergone meticulous renovation.

Bunker museum
Do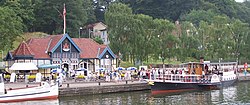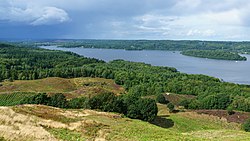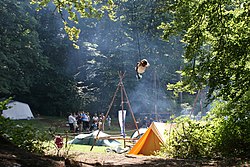 HjejlenGo on a boat ride on the oldest operative paddle steamer in the world.

HimmelbjergetWalk this 147 meter "mountain" (Himmelbjerget is literally sky mountain) and the tower on top of it (DKK 7.50 entrance for the tower). There are kiosks, restaurants, toilets next to the top. You can get there by the river boats (stop: Himmelbjerget).

phone: +45 86 80 30 03

address: Østergade 36, 8600 Silkeborg

Rent a canoe, kayak or motorboat. From 125DKK for an hour, to 400DKK for all day rental. You can arrange to leave the kayaks at another stop, so it does not have to be a return trip

Go swimmingSilkeborg has some of the cleanest lakes of the country, and there are several good places to go for a swim, or beach activities. The most popular lake is Almind sø, where you can find bathing piers, volleyball courts, changing rooms and toilets

address: Gl. Ryvej 2, Rodelund

A land of labyrinths. Also indoor puzzles as well, for rainy days.

phone: +45 - 2065 7620

address: Ansøvej 14, 8653 Them

A show with hawks, owls, and lots of other birds. Has a pen with bisons as well.

address: Bakbjergvej 7, 8653 Them

MountainbikingThere are several good routes in the forrests surrounding Silkeborg. There are also very good bike lanes for regular bike rides. Ask in the rental shops for the best route nearby. Rent a bike for

phone: +45 20 28 46 48

About 40 minutes of riding in beautiful surroundings.

Go karting

phone: +45 20 24 68 95

address: Knudlundvej 16, 8653 Them

Indoor Go kart track. All equipment is included in the rental price.
Eat
There are several restaurants at the paper mill:
phone: +45 88822222

The restaurant and brasserie at the Radisson hotel at papirfabrikken.

Cafe Eval

phone: +45 86803366

address: Papirfabrikken 10

Good beers and tapas, pastas, steaks, and burgers.
There are also many restaurants around the main square and on the shopping streets radiating out from the main square. These restaurants meet all budget ranges and includes:
Restaurant Gastronisk Institut

address: Søndergade 20

Fine food and wine. Three tables in front for streetside eating at lunch. Reasonably priced two-course lunches (105 DKK) and sandwiches. Dinners feature both ala carte and fixed price courses.
Three restaurants in Silkeborg are featuring in the White Guide; an authorative, but not complete, gastronomical guide to the Nordic countries.
phone: +45 86 81 12 55

address: Nygade 31

French-inspired gourmet cusine, but with many local and seasonal delicacies to let you know you are dining in Denmark. One of the best restaurants in the inner city, with about 20 years of experience. Closed in July.

phone: +45 23 36 40 11

address: Uglesøvej 1, Virklund

An international gourmet cuisine, but with many local and New Nordic inspirations. The broad selection of various cheeses from near and far is notable. Karoline Amalie has a focus on indulging the senses of its guests and a dinner here is not something to be rushed; only book a table if you are prepared to spend the evening on a dining experience out of the ordinary. The locales are furnished with roccoco style chairs and a general romantic decor; perhaps remeniscent of Parisian restaurants. As a peculiarity, Karoline Amalie only serves Austrian wines; wines the owner and head chef imports herself.

phone: +45 86 88 80 40

address: Julsøvej 248

An international gourmet cuisine; simple yet elegant and cooked with great skill. Often local and/or organic ingredients. The romantic surroundings greatly enhance and broadens the experience and Ludvigslyst is by some considered among the best places to eat in the region of Søhøjlandet. Lunch and various from 12-15 hours. Evening dinners from 18 hours. Special evening menus Wednesdays. No evening dinners Sundays.
The region holds several
Kroer
; Danish inns held in high social regard where you can dine and sometimes stay. Kroer (plural of
Kro
) near Silkeborg includes:
phone: +45 86 87 01 77

address: Gl. Kongevej 70, 8643 Ans

Historic Kro since 1663 near the village of Ans, where the Gudenå river meets the lake of Tange Sø, less than 20 km north of Silkeborg center. Dine here for breakfast, brunch, lunch or evening dinner. Stay here for all-inclusive minivacations if you like.

phone: +45 86 87 70 04

address: Svostrupvej 58

Another historic Kro, since 1834, about 10 km north-east of Silkeborg center. Svostrup Kro is situated right at the Gudenå, Denmark's largest river, immediately west of the beautiful landscape of Gjern Bakker. Combine your dining here with a stay if you like.
Drink
address: Kragelund Møllevej 4

This is a relatively new microbrewery from 2007, but with a steadily increasing production and variety. All their brews are unfiltered and unpasteurised. You can buy from the brewery itself on Fridays 16-18 hours or at a number of restaurants and eateries in the Silkeborg area and across Denmark.
Sleep
Radisson SAS

phone: +45 88822222

address: Papirfabrikken 12

Good hotel located at the Gudenå river in the former paper mill. Free internet, wireless at ground level, wired in rooms(get access code, RJ45 cable at the reception).

Scandic

phone: +45 86 80 35 33

address: Udgaardsvej 2

Nice hotel not far from the Silkeborg Langsø, 2 km or so out of town.

Hotel DaniaCentral location.

DanhostelThe youth hostel with a view of the river and in the center of town well kept and with good standards (very often outbooked).