Simferopol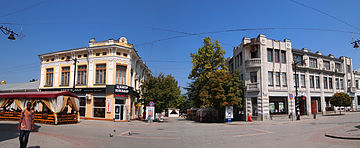 Simferopol
(
Russian
: Симферополь) is the capital city of the
Crimea
. The note on the Crimea page regarding the current political situation also applies to this page; please read it.
Understand
For the most part this is a place of transit to the coast or to the mountains. It is famous for having the world's longest trolley bus service it's 56 km long.

Get in
All roads coming to Crimea lead to Simferopol, the undisputed transport hub of the region.
By plane
Simferopol International Airport

phone: +38 0652 59-55-45

Operates only flights from Russia with Russian airlines, e.g. Moscow and Saint Petersburg The ICAO & Eurocontrol recommend avoiding this airspace, because Ukrainian and Russian air traffic controllers both claim to be responsible for the area, and this conflict could lead to mistakes.
Marshrutka buses leave from across the car park outside the arrival area, look for the large
Krimtrolleybus
sign. Buses leave for city centre and the railway station every few minutes. Bus №49 connects with Central Intercity Bus Station, №115 or №98 with the railway station and the
Kurortnaya
bus station which have connections to sea-side cities such as
Sevastopol
,
Yalta
,
Sudak
and
Yevpatoria
. Also, there are lots of annoying private taxi drivers at the airport, if you take a taxi always agree on a rate before you board a cab and make sure that the price is for the entire route (not for each kilometer).
By train
Simferopol used to have very good train connections with all major domestic destinations and several international routes too. These ceased when Crimea was annexed in 2014. Russian trains are operated by
RZD
.
By bus
There are about a dozen a day bus and
marshrutka
rides from
Sevastopol
each day. They get busy, particularly at weekends, and it is best to book some time in advance. If you are unable to take public transport, taxis will take you there.
By car
Get around
By marshrutka
A convenient way to get around is by public transport, and Simferopol has a wide range of it. The most popular is called marshrutka or a minivan, minibus, or taxi. Taxi of course is most expensive but is a fastest alternative. A ride on the minivan or the bus however, might cost you only the equivalent of . The public transportation will bring you almost all around the city.

By taxi
Always agree on a rate before you board a cab. If driver offers you a cheap price make sure that this price is for the entire route not for each kilometer. Be warned that it's difficult to communicate with drivers, as they speak virtually no English or any other foreign language.
Taxi cost of one journey to any place of the city can be up to USD 20. To order taxi by phone is a way to save money. Some numbers: +380 63 250-3350, +380 652 547200, +380 652 710071 from mobile phone or 1504, 1567, 1568 and some others from local phone.

See
It's not the most interesting city, but there are a few things to see.
Lenin Square - the only square in Simferopol which boasts about nothing much. Skateboarders skating in the evenings, live concerts on and off, a place where locals usher in the New Year, a politician party campaigning site.
Central Market (Centralny Rynok) - everything from fresh food to clothes to hardware is easily available here. Generally the best place for shopping, and for getting skidkas (Ukrainian for "discount").
Train Station - a lovely building, especially to leave the city from.

Scythian NeapolisScythian Neapolis was a settlement that existed from the end of the 3rd century BC until the second half of the 3rd century AD. The archeological ruins sit on the outskirts of the present-day Simferopol. This city was the center of the Crimean Scythian tribes, led by Skilurus and Palacus (who were probably buried at the local mausoleum). The town ruled over a small kingdom, covering the lands between the lower Dnieper river and Crimea. In the 3rd and 2nd centuries BC, it was a city "with a mixed Scythian-Greek population, strong defensive walls and large public buildings constructed using the orders of Greek architecture". Neapolis was destroyed halfway through the 3rd century AD by the Goths.
Parks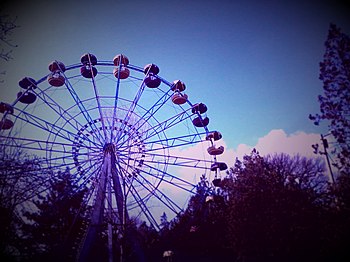 Kid's Park

address: 57 Kirova ave

A wonderful place where you can relax with the whole family. There is small amusement park with Ferris wheel. Here you can buy cotton candy, popcorn and soda. There is a famous

giant oak "Hercules Tauris"600 - 750 years old. Circumference of his tree trunk about 6 meters, diameter of the crown 30 meters. There are some smaller 300-500-year-old oaks nearby.
Zoo

phone: +38 0652 27 88 86

address: 57 Kirova ave

Although it's not up the Western standards it's still fun place to entertain both children and adults. There are more than 300 species of animal: camels, deer, bears, wolves, jaguars, leopards, monkeys, bison and some others.
AquariumSmall aquarium where live about 10 species of turtles, 3-4 species of snakes, amphibians, fish and a few crocodiles.
Museums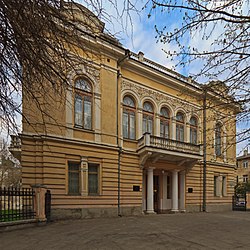 phone: +380 652 662630

address: 35 Dolgorukovskaya st.

It consists of two exhibitions: first is an exhibition of local art (paintings, drawings, sculptures, some photos from the museum of Aachen), second one is on the different subjects which changes every month.
Do
There is always a time where you can run out of things to do in this place. Nevertheless if you look hard enough, you will find something to occupy your time with.
In the harsh hot weather during the summer with temperatures ranging over 45 °C, you may take a stroll in the park. There are horse riding activities, boating, feeding ducks. Besides that, the best thing to do is rehydrate yourself as often as possible, and protect yourself with some SPF (read SPF 30 and above).
Then comes the other extreme - the cold chilly winter. Temperature may dip down to as low as -25 °C in late January and February. Skiing in Ai Petri is a great getaway from the town. In the centre itself, there is a skating rink.
Besides that, you may opt to drink some vodka to keep yourself warm.
Caves - around 17 km from the city. Take a minibus from the railway station to the end stop Perevalnoe for 3 hours, and then either walk 3 km to the Red Cave or take a taxi 11 km up a nearby mountain to the tremendous Marble Cave, discovered in 1987. A full tour takes 80 minutes. Shorter tours are cheaper but the full one is well worth it.
Buy
The most popular place for shopping is in 'Silpo'. Its quite a big supermarket with all essential items and food stuff. There are also several boutiques in it.
There are also supermarkets like 'Furshet' and 'Rainford' around the city. Best would be to ask a taxi driver to take you to these places, or get familiarised with the names of the roads, and you can easily take a minivan there.
Minivan No. 62, 10 and 74 can take you to the shopping place called "Foxmart".
Debit and credit cards are accepted in most shops in the city, but not accepted in rural area and markets. There are a lot of ATM.

Eat

The number one must-eat food in Simferopol is plov. This Turkic rice-based dish with sauteed meats and vegetables is very oily, so those on dietary restrictions may want to check twice before eating. One plate of plov cost approximately USD3 at the Central Market.
Number two must eat food is meat on skewer, cooked over charcoal. It's called shashlik by the locals. Goes very well with raw onion with vinegar and with lepeoshka (round bread)
Number three on the list is lagman, a local version of noodle soup.
In fourth place is the locals' favourite borsh. It's a vegetable soup, generally eaten with bread. Solenka is also a local soup that is worth trying.

Drink

Crimean wine, best to buy in supermarkets or in a company outlet shops. Also drink Ukrainian vodka - horilka. "Hortitsa" brand of horilka is recommended.

Sleep
Budget
As with the rest of Crimea it's possible to find private accommodation, just look for people (mainly women) with signs "Housing" (Russian: Жильё) near the railway station. It's considerably cheaper than hotels, but it's of the very different quality. Ask for photos if available. The main gathering point for them is 100 meters away from the outdoor screen (displaying train timetables) in the direction to city center.

Hotel of the International children center "Artek"

phone: +7 3652 22 62 04

address: 5 Gagarina st.

Salgir Hotel (temporarily closed in 2014)

phone: +380 652 521920

address: 9 Lenina boulevard

Accommodating staff. Perfect furniture, hot water 24 hours. Rooms are spacious. Breakfast - Ukrainian cuisine, fine.

phone: +7 978 70-555-48

address: 5a Automobilistov st.

Good budget hotel, built in 2012. Rooms with kitchenette. Beautiful grounds, ambient atmosphere.

phone: +7 (3652) 272-311

address: 50 Zhelyabova st.

Quite OK hotel. Friendly staff, breakfast is included in the room rate. Sauna with a pool. Cons: small rooms, poor Wi-Fi signal.

phone: +7 (3652) 60-84-82

address: 17-B Mate Zalki st.

Pros: good location close to Central bus station, cafe available on the 8th floor. However, not so much friendly staff, rooms are not tide and looks old. Soviet style building.

ApartmentsMore than 30 apartments in the Central area from budget to luxury. WiFi. Free pickup at the airport. For short and long term.

Guest house on the Suvorovsky descent

address: 9 Suvorov descent

Good location: close to the center, as well as many restaurants, shops, banks. Clean and comfortable. Good free WiFi. Bad soundproofing.
Mid-range
phone: +380 652 620 615

address: 2 Kievskaya st.

Decent hotel, Soviet-style, renovated in 2010. Friendly staff, clean. Great selection of food for breakfast. Poor soundproofing. Some rooms have old furniture and bad WiFi.

phone: +380 63 817 9121

address: 21 Bespalova st.

Spacious rooms.

phone: +380 652 60-00-64

address: 17A Dekabristov st.

Small, cosy hotel. Good rooms and tasty breakfast.

Private mini-hotel "Rio"

phone: +380 652 788234

address: 11a Lermontova st.

Hotel "Valencia" (temporarily closed in 2014 for renovation)

phone: +38-0652-51-06-06, +38-050-360-44-88

address: 8 Odesskaya st.

Very decent hotel. Good value for the money.

phone: +38-0652-547-488,+38-0652-547-489

address: 22 Kyivskaya st.

Bad combination of price and quality. Old furniture, cigarette smell.
Splurge
phone: +7 3652 532-253, +7 978 835-52-25

address: 7 Alexandra Nevskogo st.

Probably the best 4-star hotel in the city. Interior decoration reminds a palace. The hotel is not without flaws, sometimes unfriendly staff. Lovely Breakfast. Restaurant with good although expensive food, huge menu.

phone: +380 652 605 555

address: 40 Krzhizhanovskogo st.

Near the airport, good reviews.

Hotel "European"

address: 16 Octyabr'skaya st

Clean, comfortable. Good breakfast included. Pleasant staff. Price - quality ratio is quite good.

Guesthouse "Terrazzo"

phone: +380 68 468 4092

address: 35a Bespalova st.

Cosy budget private mini hotel. Although rooms have everything you need, but they are very small for the long term stay. Delicious food at the restaurant on ground floor.

Family-run Hotel Regence

phone: +380 66 653 9000

address: 65 Krasnoarmeyskaya st.

Friendly and welcoming hosts. High-speed Internet, sauna and pool. Large and comfortable rooms, each room includes refrigerator and a stove.
Go next