Simien National Park
Simien National Park
, also known as
Simien Mountains National Park
, is in the Amhara region in
northern
Ethiopia
. It was one of the first sites added to the
UNESCO World Heritage List
in 1978. It features spectacular scenery viewed from its peaks and escarpments and fascinating gelada monkeys and other wildlife. The park headquarters are outside the park in Debark, the nearest town, on the main road between
Gondar
(to the south) and Shire and
Axum
(to the north).
Get in
Buses travelling between
Gondar
and Shire/
Axum
pass through Debark, which is the main starting point for the national park. Debark is about 3 hours from Gondar on a paved road. It is 5-7 hours from Shire over a road that is being improved and paved (as of 2014), but while the roadworks are going on it can be extremely rough and dusty.
Minibuses to and from Gondar are available; however there are no buses that start in Debark and head to Shire/Axum, and those that pass through Debark are usually full by the time they arrive in town. The best options are either to go back to Gondar and find a bus to Shire/Axum from there, or have someone else go to Gondar and reserve tickets on your behalf. This latter option can usually be done by hotel staff, or can be arranged by your tour organizer if you happen to be trekking in the Simien Mountains through an organized tour.
Fees and permits
Go to the park office in the south end of Debark – if coming from Gondar, this is on the left just after reaching the town. They will arrange permits and the mandatory scout, and take fees. Hikes can be arranged and, if desired, they can find an official guide, cook, mules and a muleman. They have gear for rent, though it is low quality. The scout, guide, and muleman may expect you to feed them, so take sufficient food.
The fees, as of December 2014, are:
1. Entrance fee for foreigners, 90 birr; plus 10 birr per day for camping.
2. Guide fees:
1-5 people – 700 birr
6-10 people – 350 birr
11-20 people – 450 birr
21+ people – 700 birr (they will take 2 guides in this case)
July 2019: 400 ETB regardless of number of people.
3. Game scout: 150 birr per day
4. Cook:
1-3 people – 300 birr
4-10 people – 450 birr
11+ people – 600 birr
5. Mules: 200 birr per day per mule, and mule man also 200 birr per day.
6. Vehicle transfers – one-way, either direction. The two most popular are below, but there are transfers from Debark to other places in the park as well.
Debark to Sankaber: 87 USD
Debark to Chennek: 127 USD
As of July 2019: 60 USD total from Debark to Simien lodge and back, during a rainy (=low) season.
The only required fees to be paid are the entrance fee and game scout fee, so hiking through the park can be quite cheap, especially if you can avoid the rather exorbitant transfer fees (there are mixed reports on being able to flag down local vehicles or otherwise negotiate with the official cars). There are very basic "community lodges" available throughout much of the park, though they are more expensive than camping.
A lot of people will hassle you in Debark. If you are going to hire a guide, make that one of your first tasks, since your guide will get rid of unwanted people following you around and can help you sort out any last minute details or concerns. Do not hire an unofficial guide off the street – travellers frequently complain about their experience with unofficial guides.
Get around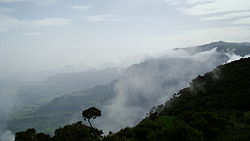 A road runs from Debark through the park and accesses some of the campsites and villages. 4x4s and lorries go through Sankaber, Geech and Chenek, but tourists are prohibited from using them and most visitors use mountain hiking paths to get around. As a tourist, the only way into the park are to hire a 4x4, walk or go with a tour company.
Be sure to arrange transport out of the park before entering. There are no working phone lines in the park, so you can't call headquarters for a 4x4 once you're in. Buses and trucks aren't allowed to pick up hikers. They'll ask for upwards of USD200 to overlook this rule.
See
The park contains Ethiopia's biggest and most spectacular mountain range, the Simien Mountains. Ras Dashen at 4,553 m is the country's highest peak, although the views from the Northern Escarpment are arguably a bigger attraction, with rock faces falling away thousands of feet from summits like Inatye (4,070 m) and Imet Gogo (3,960 m).
Wildlife is an attraction of the park, including birds and some mammals. Troops of grass-eating geladas, a close relative of baboons, are a common sight on hikes and will come close to tourists, scouts and guides, but not so close to the villagers who live and graze stock in the national park. The rare walia ibex is found in higher parts of the ranges. If you're really lucky, you may see one of the rare Ethiopian wolves (sometimes called jackals or foxes) found here and in a few other mountain ranges in Ethiopia. With only a few hundred of the species remaining, these are the world's rarest canid and Africa's most endangered carnivore, and feed mainly on mountain rodents.

Do
Nearly all visitors to the Simien National Park come to hike through the spectacular mountain scenery. You can do a 5-day trek from Debark to Sankabar Camp to Geech Camp to Chenek Camp and back to Debark via Sankabar (skipping Geech) and see all the main sights. You need 9 days to trek to Ras Dashen, the highest peak in Ethiopia, and back without transport.
The park website provides information on the most popular routes, along with useful tips on visiting the area.
A number of companies offer fairly standard fully organized trips (incl. guide, scouts, food, cook, and camping gear) starting at 2 days (~$150pp) up to 17 days (Debark to Lalibela).
Buy
The essentials are usually bought in Debark. A woven gabi, a thick shawl, is useful for the cold mountain nights and can be purchased at the market (around 300-500 ETB, depending on quality). Maps are available at the park headquarters.

Eat
In Debark, the Simien Park Hotel on the main road offers reliable Ethiopian food. A few shops sell tinned food and bread. Food suitable for trekking is available in Debark, but it is cheaper to buy it in Gondar or Axum where there is a much better selection.
In the mountains, live chickens and eggs can be bought from villagers. Otherwise, the only alternative to one's own supplies is the Simien Lodge at Buyit Ras, a few hours hike from Debark.

Drink
Both hotels mentioned serve St. George beer and delicious Ethiopian coffee, even if you are not staying.

Sleep
The main hotel in Debark is the Simien Park Hotel on the main road south of the bus station. There are a few other decent places nearby if the Simien Park Hotel is full.
In July 2019 you could get a simple room for 2 people (two single beds) for 300 ETB total (shower and toilet outside, not very clean).
Giant Loblia Hotel - 400 ETB (July 2019) for a double room. Make sure you go directly to the reception, instead of having someone "help" you get there since then you will get charged more (this extra money will go to your helper, but naturally you can approach the reception by yourself).
In the mountains, the
Simien Lodge
, self-proclaimed "highest hotel in Africa" at 3,260 m, offers upmarket accommodation in tukels, or huts. A dorm bunk costs USD31, a two-person tukel USD135 and a four-person tukel USD183.
Go next