Simlipal National Park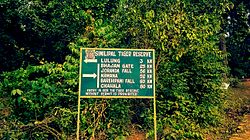 Simlipal National Park
is situated in Mayurbhanj district of
Odisha
(formerly Orissa) in
India
. Total area of the park is 2,750 sq km with a core area of 850 km². The area is a plateau with various picturesque peaks. Similipal remains open from 1 November to 15 June only.
Understand
Thick green forests, extensive meadows, twinkling waterfalls, meandering rivers, high peaks – entire diversity of nature in one place. It was once the hunting place of the Maharaja of Mayurbhanj.

History
The park was notified as one of the major tiger projects in India in 1980.

Landscape
The park is on a plateau mean elevation 900 m. The Khairi, Palpala, and Budhabalanga rivers originate here.

Flora and fauna
The largest wild life sanctuary in India. Major attraction of the park is its tigers. Other animals such as antelope, deer, neelgai, leopards, bear, crocodile and other wild animals are also plentiful. It is also a bird lover's paradise.

Climate
During summers, the temperature is around 40 °C whereas during the winter it falls to about 14 °C. The monsoon season brings moderate to very heavy rainfall.

Get in
By road
Baripada, the district headquarters of Mayurbhanj, on the junction of NH 5 and 6, is 270 km from
Bhubaneswar
, 240 km from
Kolkata
and 55 km from Balasore and 16 km from Pithabata, which is an entry point. The other entry point Jashipur is 97 km from Baripada on NH 6. Both places are well connected by regular bus services. Taxis and jeeps are available.
By rail
The nearest railhead is Balasore (60 km from Baripada), served by major trains running on the South-Eastern sector.
By plane
The nearest airports are Bhubaneswar (270 km) and Kolkata (240 km)
Direct drive down from Kolkata is preferable.
Fees and permits
You can enter into Similipal through Pithabata (22 km from Baripada).
Entry permits can be obtained from the Range Officer, Pithabata check gate or the Assistant Conservator of forests on payment of prescribed fees.
Day visitors can enter between 6AM & noon and visitors with reservation between 6AM & 2PM.
Second entry point is Joshipur. Permits from Asst Conservator of Forests (Wildlife). It is advisable to get permits one to two weeks in advance.

Get around
Local jeeps are available for hire for moving within the forest.

See
Panoramic view of Barheipani (21:56N,86:23E) and Jaranda waterfalls. The magnificent peaks of Khairiburu and Meghasani dominate the area. Crocodile farm. Glimpse of the tribal culture of the area.

Do
Bird watching, trekking and nature walks.

Buy
Local handloom products, stone carvings and curios.

Eat
Normal Indian fare available at the tourist lodges. Local fare at restaurants outside the forest area.

Drink
Bottled water available. Alcoholic drinks and beverages are prohibited inside the park.

Sleep
Lodging
Odisha Tourism has a number of Forest rest houses within the forest. Reservation: Tourist office, Baripada, Ph. 06792 - 52553, Fax 56705, . or other Odisha Govt tourist offices in the major cities / Assistant Conservator of Forests, Jashipur Ph. 06797-2474. Panthasala at Bangiriposi (35 km from Baripada on way to Jashipur). Advance booking is necessary. Visitors can also stay at Baripada or Jashipur in private hotels.
Lodge i.e. Saramani and Madhumagna are available at Udala which is near to Devakund
Camping
Backcountry
Stay safe
Mosquito repellent.

Go next
Khiching (149 km from Baripada and 55 km from Jashipur) is famous for the shrine of Kichakeswari . Private buses and shared Jeep are available for Khiching Jashipur which is on NH-6 20 km from Simlipal. There is a Govt Tourist lodge here. During Shiavaratri festival a big market is held in Khiching.
From Khiching 2 km down there is a small village (Uttarposhi) famous for black stone work.
Kuldiha Wildlife Sanctuary. Haven for researchers, trekkers nearby and easily accessible via surface transport.
Other places Chandipur, Bhubaneswar, Puri, Konarak, Gopalpur-on-sea, Sambalpur.