Simon's Town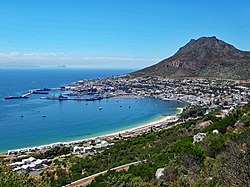 Simon's Town
(often incorrectly spelt as "Simonstown") is located at the east side (
False Bay
side) of the
Cape Peninsula
near
Cape Town
,
South Africa
and is home to the South African Navy.
Get in
By car
Follow the Main Road (M4) south from Cape Town via
Fish Hoek
to the Cape of Good Hope along the east side of the Cape Peninsula.
By train
There is a regular
MetroRail
service from Cape Town via
Fish Hoek
,
Kalk Bay
,
Muizenberg
, Wynberg and Claremont. Be sure to buy a first-class (metro plus) ticket; these are not expensive. Although safety on trains has been an issue in the past, MetroRail has put a lot of effort into improving the situation and now the Cape Town-Simon's Town line is considered totally safe and reliable. The journey from Cape Town takes just over an hour. A good option is to buy MetroRail's special "hop on, hop off" tourist ticket. This allows you unlimited travel between Simon's Town and Cape Town for an entire day; you can get off and on at any station. The cost is a very reasonable R20/R25. However please be aware that there is a MetroPlus and a Metro option on the coaches and the corresponding tickets are first and second/third class. There are no obvious differences in the coaches but if you sit in the wrong one you can be fined.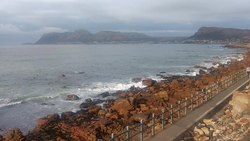 is the terminus for the line and located at the north end of Simon's Town, about a 10 minute walk to the centre of Simon's Town. Frequently, the sand dunes can cover parts of the line and you may have to exit at Fish Hoek and hop on to a MetroRail provided bus service that takes you to Simon's Town. Alternatively you can grab a ride on the back of a
Rikki Taxi
(see "Getting around" below).
By plane
The nearest airport is that of Cape Town, a good hour's drive away. You can also go on a trip with
Civair
from the V&A Waterfront in Cape Town along the Cape Peninsula.
By boat
phone: +27 21 786 1703

address: King George's Way

False Bay Yacht Club has a large 'Blue Flag' marina and regularly accommodates visiting yachts on local or round-the-world voyages. A variety of maintenance services can be provided.
Get around
Simon's Town is small enough to get around by foot (it takes less than 30 minutes to walk from one side to the other). From the train station to the centre of town is a 10- or 15-minute walk (turn left as you exit the station).
If you really don't feel like walking you can take a "Rikki" taxi. A "Rikki" is a small minibus which usually runs from the train station to
Boulders
Beach (and beyond if requested). Unlike other minibus taxies, Rikki's do not hoot their horn constantly so you must keep an eye out for them. Their vehicles are unique in that they are obviously a minibus but much smaller in size and painted white (often with an advertisement on the back) and often flash their lights.
A Rikki taxi meets every train that arrives at Simon's Town station. It costs R3.00 to go from the station to central Simon's Town and R5.50 to go to Boulders Beach.
Golden Arrow
buses travel between Fish Hoek and Simon's Town, going as far as
Boulders
Beach, Murdoch Valley, Rocklands and Seaforth.
phone: +27 21 786-2136 or +27 72 387 4366 (mobile)

phone: +27 80 065-6463
You can also hire bicycles, including motorised and electric assist bicycles to get around and take a trip to cape point or nearby villages.
phone: +27 730 56 6727

address: 60 Saint George's Street, Simon's Town

This business is run by Sandy, a friendly British expat who will go out of his way to look after you. From R150 per day.
See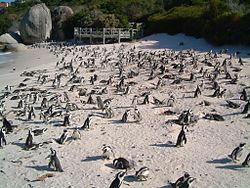 Penguins
Simon's town is home to a large colony of the endangered African Penguin. The penguins can be seen at a variety beaches along the coast here, the most famous and highest concentration being at Boulders Beach. Access to Boulders Beach and the visitors centre costs R60 for adults, however a smaller number can often be seen for free on the adjacent Seaforth Beach.

phone: +27 21 786 2329

Boulders Beach is a sheltered beach made up of inlets between granite boulders, from which the name originated. It is a popular tourist stop because of a colony of African penguins which settled there in 1982.
Museums
Along the main road through Simon's Town there are a number of museums on the False Bay side, including the Simon's Town Museum, South African Navy Museum and a Toy Museum.

South African Naval Museum

phone: +27 21 787 4686

Museum showcasing the history of the South African Navy
Other
Bronze statue of Just Nuisance (a Great Dane and the only dog ever to be enlisted officially in the Royal Navy) in Jubilee Square. Just Nuisance's grave can be found at the top of the hill above the town.
Do
Stop in Simon's Town and stroll around the harbour and the little shops along the main road. Then have something to eat, before you leave for Boulders, just outside the town (in the south).
Swim at Seaforth Beach

phone: +27 82 501-8930

address: Town Jetty

Take a sea kayak trip to the Penguin colony.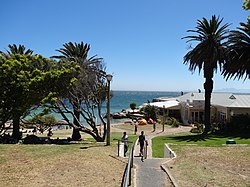 phone: +27 21 786-5243

SAS Assegaai, formerly the SAS Johanna van der Merwe, was one of three Daphne-class submarines acquired from France during 1970 to 1972, which became the first submarines to serve in the South African Navy. She was renamed SAS Assegaai (Assegaai is the Afrikaans word for 'spear') in 1999 and was the last of the SA Navy's Daphne class submarines in commission and decommissioned in 2003. She is preserved as a floating museum but is closed for safety reasons.
Eat
phone: +27 21 786-2138

address: Quayside Centre, Simon's Town Waterfront

Right on the water's edge overlooking the harbour. As the largest restaurant in town, you should always be able to get a table here without a booking. The menu is similarly large with a good selection of steaks, fish, burgers, salads etc. Has free WiFi, however this can be temperamental.

phone: +27 21 786-2272

address: 118 St George's Street

As with everywhere in this area you can get a great choice of steaks and seafood here, however where they really stand out from the rest of the restaurants in town are the wood fired pizzas available to eat in or take away. Has a bar at the back and free WiFi.

Harbour View

phone: +27 21 786 1431

address: Quayside Centre, Simon's Town Waterfront

Eat inside or out on the balcony overlooking the harbour. They also have a takeaway counter next door and sell a selection of items such as springbok or crocodile pate. Has good free WiFi.

Just Sushi

phone: +27 21 786 4340

address: Quayside Centre, Simon's Town Waterfront

Maybe the best sushi in Cape Town.

Quarterdeck

phone: +27 21 786-3825

address: Jubilee Square, off St George's Street

phone: +27 21 786-1918

address: Wharf Road

Fish and chips fresh from the sea. The kingklip is particularly recommended.

The Meeting Place

phone: +27 21 786 1986

address: 98 St George's Street

Excellent (but expensive) food, with great views north over False Bay. There is a restaurant and cocktail bar upstairs and a deli/coffee shop downstairs.

phone: +27 21 786-4200

address: 82 St George's Street

Coffee shop with fantastic cakes and pastries.

phone: +27 21 786 4810

address: Seaforth Beach Seaforth Road Simon's Town 7975

Overlooking the beach where penguins waddle around as you eat. Go on a Tuesday for their 'all you can eat' prawn special, or Thursdays 'all you can eat' calamari.

phone: +27 21 786 1919

address: Quayside centre, Simon's Town Waterfront

Fantastic food with great midweek specials, very popular so booking ahead is recommended. Tuesday night is 1/2 price steaks, Wednesday is 2-for-1 burgers and Thursday is seafood night.
Drink
address: 88 St Georges Street

A pub popular with locals and visiting navies, as such you can find plaques and signed perry buoys from various countries ships hanging from the wall, along with flags draped from the ceiling. Screens numerous football games, occasional live entertainment and free WiFi.
Sleep
phone: +27 21 786-1758

address: 4 Boulders Place, Bellevue Road, Boulders

Situated above Boulders Beach. Self-catering units also available.

British Hotel Apartments

phone: +27 21 786-2214

address: 90 St George's St (Main Road)

Fully equipped self-catering apartments in the centre of Simon's Town.

Central Hotel

phone: +27 21 786-3775

address: 96 St George's St (Main Road)

In the centre of Simon's Town.

phone: +27 21 786-3761

address: 58 St George's Street (Main Road)

Old-fashioned hospitality in a traditional British inn.

phone: +27 827845675

address: 29 Penguin Drive, Glen Marine, Simons Town

Amazing mountain and sea views with secure parking and DSTV.

Miller's pointCamping.

phone: +27 21 786-1410

address: Froggy Pond

Camping.

phone: +27 21 786-3838

address: Simon's Town Waterfront, Jubilee Square

Luxury hotel overlooking the harbour and False Bay. Part of the Relais Hotels group.

phone: +27 82 855-3180

address: 10 Rocklands Rd, Murdock Valley

Self catering cottage. Magnificent sea views.

phone: +27 21 786-1964

address: 66 St George's St (Main Road)

Well run hostel with wooden floors, large community room and Balcony towards the bay. Parking in the street.

phone: +27 21 786-5537

address: 176 St George's Street (Main Road)

Budget accommodation in an old convent, which has been converted into a delightful guest lodge.

phone: +27 21 786-3291

Guest house overlooking False Bay with friendly and caring staff.
Stay safe
Simon's Town is relatively safe compared to the rest of the
Cape Town
area, however this is still South Africa and so keep your wits about you and keep expensive possessions hidden. Tourists have often been caught out at ATMs here, whilst not often violent, a 'helpful' local changes the ATM language to Afrikaans and then forcefully offers assistance to get your money out - that being the largest denomination offered, which is then grabbed before they run off.
If walking on any of the trails out of Simon's Town, particularly over the top of the hill to the west and towards the Kleinplass Dam, there has been a history of violent crime and muggings as you get closer to the Red Hill Settlement (township).
Go next