Sinai
The
Sinai Peninsula
, often shortened to
Sinai
(
Arabic
: سيناء‎
sīnā'
;
Hebrew
: סיני) is the easternmost part of
Egypt
between the Mediterranean and the Gulfs of Suez and Aqaba, both forks of the Red Sea. The western and northern coasts are practically uninhabited, but several Bedouin settlements and tourist attractions dot the eastern coast.
Above ground is a harsh, forbidding and (in summer) brutally hot desert of parched rock. The reason most tourists come here are the vistas underwater: the Sinai coast offers some of the
best diving
in the world. The region is also important because of its places of importance in the Abrahamic religions.
Cities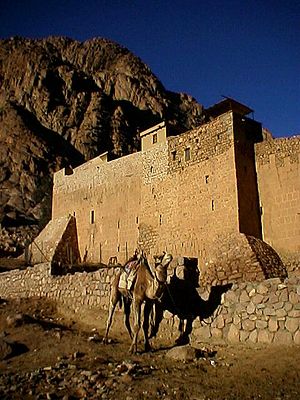 - the hippie mecca of the Middle East
- the capital of South Sinai Governorate; visa extension in 1 hr for nationals of most countries
- a port city
- where the package tourists hang out — the Las Vegas of Egypt
- at the border with Israel
- purpose-built resort close to border with Israel
Nabq Bay
Ras Um El Sid
Other destinations
- reputedly the Mount Sinai where Abrahamic scripture claims Prophet Moses received the Ten Commandments, and the neighboring Monastery of St. Catherine
- nature reserve between Nuweiba and Dahab
- one of the oldest and most popular Ecolodges in Sinai. Israelis are forbidden from entering the campsite.
- among some of the most beautiful rock formations hidden in the mountains
Understand

In 1967, Israel invaded and took control over the entire peninsula. The Suez Canal, the east bank of which was controlled by Israel, was closed. In 1979 Israel and Egypt signed a peace treaty. Israel pulled out of Sinai in several stages, including the removal of its settlements which ended in 1982.
The tourist cities are built around previous Israeli settlements. While the original population are Bedouin, most of the staff and workers in this area come from Lower Egypt and especially the canal cities.
Al Tor is the regional center of Southern Sinai, which includes Dahab, Nuweiba and Sharm. Al-Arish is the regional center of less visited Northern Sinai, close to Rafah and the border to the Gaza Strip.

Talk

As is the case throughout Egypt, the language of the Sinai is the Egyptian dialect of the Arabic language and local Bedouin Arabic dialects. But in tourist areas you also get by with English, and on the east coast also with Hebrew, because here many Israelis come for holidays. On Mount Sinai and in other heavy tourist zones, you are likely to encounter multi-lingual Bedouin capable of conversing (and negotiating prices) in a repertoire that includes French, Spanish, Italian, Russian and German.

Get in
No Egyptian visa is required, as special 14-day Sinai permits are granted on arrival at the
Taba
border, Taba Airport and
Sharm el-Sheikh
's airport. This permit allows travel only on the eastern Sinai coast and the Mount Sinai with St. Catherine's Monastery.
By land
There is a busy border crossing between
Eilat
,
Israel
, and Taba. See the
Taba
article for details on crossing in either direction.
By air
Sharm-el-Sheikh International Airport
(
SSH
) is a major international airport serving the south-east coast of the peninsula. The airport has regular, year-round air services from UK, German, Russian and other cities.

By ferry

Ferries run regularly between Aqaba in Jordan and Nuweiba, bypassing Israel and the sometimes complicated border arrangements. Generally there is no visa fee for entering Jordan through Aqaba since it is a part of the free trade zone. The line to Nuweiba is operated by ABMaritime, see their website for the timetable and prices.
There is more information about the boat crossing in the itinerary Ferries in The Red Sea.

By train
There are trains from Cairo to Port Said at the northwestern edge of the Sinai, but no further.

Get around
Whether you're going from the airport to your hotel, traveling from beach resort to beach resort, trekking up to St. Catherine's Monastery and Mount Sinai, or heading to Nuweiba to catch the ferry to Aqaba, Jordan, the trick to getting around in Sinai is to coordinate all ground transport through your hotel.
By taxi
If you're on any kind of reasonable budget, avoid at all costs the local taxis, whose prices are higher than Cairo taxis by a factor of around 10. However, it is possible to use the local taxis if you know the price in advance, and haggle a bit before going inside the car. LE 10 should be considered the maximum payment for any taxi inside the cities (LE 15 for Sharem).
By minibus
St. Catherine to Dahab:
Bedouin Bus
runs a twice weekly bus service from St. Catherine to Dahab and back on Tuesday and Friday. Buses leave at 11AM from the parking next to the bakery (opposite the mosque) in St. Catherine and cost LE 50 one way. The bus stops in Dahab at
Hotel Jowhara
(Mashraba street) and
Marine Garden Camp
(Lighthouse area) and returns to St. Catherine at 5PM from above mentioned stops.
By minibus to Nuweiba:
Bedouin Bus
runs a twice weekly bus service from St. Catherine to Nuweiba and back on Wednesday and Sunday. Buses leave at 8AM from the parking next to the bakery (opposite the mosque) in St. Catherine and cost LE 50 one way. The bus stops at Nuweiba port and at the hospital in Nuweiba city and returns to St. Catherine at 2PM from the hospital and 2:30PM from Nuweiba port.
There are minibuses traveling to and from Cairo, which leave all day, as soon as they are full of passengers, from Sharm el-Sheikh and Dahab. In Sharm el-Sheikh, you can find these minibuses at the west end of the taxi parking lot in front of the strip mall in the center of town.
By bus
East Delta bus company: regular cheap full-sized coaches depart daily for points throughout the peninsula from bus stations in Sharm el-Sheikh and Dahab. Be sure to check schedules at the bus station, however, because the times are always changing and even hotels can get them wrong. In Sharm el-Sheikh, the East Delta bus station lies about 2 km outside of town on the road toward the airport and Dahab. Call the appropriate East Delta office ahead to check the timings & rates that concern you:
Taba: 069 - 3530250
Nuweiba: 069 - 3520371
Dahab: 069 - 3641808
Cairo: 02 - 23428589
See
Desert landscapes: Sinai's mountains and desert are spectacular. Rugged mountains made up of different mineral layers, contrasting with golden sand and blue skies. Trees and lush oases provide a beautiful surprise. Recommended is Wadi Ulrada and the Coloured Canyon. But many more little gems including hot springs and pharonic ruins are also to be found.
Sunrises and sunsets: Sun rises over the Saudi Arabian Mountains and the Red Sea are a beautiful sight. As are the sunsets from the Sinai Mountains over the Red Sea to Saudi Arabia - when the sea is calm on a clear day you will see the Red Sea become red!
Underwater attractions: The Sinai peninsula is situated by the Red Sea and as such is an ideal point for diving and snorkeling. Various dive centers operate in each resort town or city to arrange both recreational and educational trips for all levels of experience and budgets.
Mount Sinai: Mt. Sinai is a religious location for Jews, Muslims, and Christians. The Mountain has several beautiful religious shrines and ruins. Including a small synagogue, a small mosque, a Greek Orthodox Christian Chapel, and the ancient Christian Monastery of St. Catherine-the oldest active monastery in the world.
Do
If you love hiking, this is the place to be, so many hiking trails, i.e. Tarboush Mountain, El Galt el Azrak, Gabal El Banat, Bab El Donia mountain (gate to life) Nabateya village, Wadi Etlah, Kharazet El-Shhagg, Gebel Abbas Pasha, Ain Najila, St. Katherine mountain and Moses mountain. Arranging a hike and guides are fairly easy. You can base at El Karm Echolodge in El-sheikh Awwad, or the Bedouin Camp in Katerina village.
The custom in Sinai is that tourists asking for a guide are sent to Sheikh Moussa who is the official person responsible for allocating guides on a rotating basis. The Sheikh, in return, gets a cut (a third of the price paid) for acting as the middle-man.
Moussa

phone: +20 126625133, +20 191857698

He is a competent guide and a very good cook and knows the area very well. A good option if you want to cut down on "middle-man" costs.
On the other hand, Sheikh Mousa, Mob: +2 0106880820, the official figure for arranging treks, can help you hire a Bedouin guide and camels to carry luggage to your destination. You can also check
Sheikh Sina
website for Bedouin treks arrangements. Bedouins will also arrange dinner for the group. Several local organizations offer
trekking
and excursions into the Sinai desert.
The Bedouin tribe of the mountains
organizes treks in St Katherine's national park.
Saint Katherine
website also offers information on the region, and you can download useful trekking and hiking resources free from the
Discover Sinai
website.
The Muziena Tribe offer you Coloured Canyon, Ain Hudra, The blue desert and many more beautiful places to visit. Try Sheikhs Travel at Sheikh Salem House for organising tours and safaris in east Sinai. They also offer taxi transfers from Taba, Nuweiba, Dahab, Sharm El Sheikh or St Catherines if you can't wait for the buses. .
Others offer
yoga
trips to the St Katherine's area and the desert where the silence and tranquility is ideal for relaxation and meditation.
Underwater attractions: The Sinai peninsula is situated by the Red Sea and as such is an ideal point for diving and snorkeling. Various dive centers operate in each resort town or city to arrange both recreational and educational trips for all levels of experience and budgets.
Sleep
Budget
phone: +2 011-322-7554

address: 20 km north of Nuweiba

Backed by the starkly beautiful red-tinged cliffs of the Sinai and occupying a prime piece of white-sand beach along the Red Sea's shore, laidback Sawa Camp is the perfect antidote to modern life. The huts here sit directly on the beach. All come with a shady porch and hammock and have electricity available from 8AM-2PM and again from 4PM-midnight. The bathrooms are communal and are kept super-clean with hot water supplied by solar-power. The large and shady restaurant area is a great place to hang out and serves up an extensive menu of local and international dishes with lots of fresh seafood options and nearly all of the ingredients sourced locally. There is excellent snorkelling (equipment provided) just off the beach and a whole host of activities (diving and desert-trips) can be arranged onsite. A wonderful option for those who want a peaceful and relaxing beach holiday. See the website www.sawacamp.com for further details.
Bir Sweir - Cheap and amazing place, 32 km from Taba, with direct access to beaches, mostly cost LE 20-30 for a hut. You can start in one beach and leave it, if there are too many mousquitos for example. The most popular beaches are Paradise (in the middle of Bir Sweir, the cheapest food but the noisiest place) and Alexandria (in the South), but there are also Aquarium beach (of Auda, a local intellectual), Diana or Antica. Try the sweet hot Sahlab, the Baba Ghannoush (eggplant salad with tahini) and the Bedouine Salad. Give a try to the Sudanese Salad in Alexandria beach. when you go in a taxi from Taba, pay LE 40-50 or LE 50-70 alone, if they ask for more, start to walk away and bargain.

address: Wadi Mahash

Harby's Place is a Bedouin-owned and -managed eco-lodge. Its remote location and authentic beach huts make it a unique destination for eco-tourism and peace-seeking visitors. It is also very suitable for workshops and training courses, spiritual retreats, or similar group activities. Harby's Place operates on two fundamental principles: the Principle of Simplicity and minimal environmental impact, and the Principle of Hospitality - the highest Bedouin virtue. Guests experience the hospitality and culture of the Bedouins in the simple comfort of the Zula. The camp's restaurant offers local organic and seasonal food and seafood
Ananda Camp, around 42 km south from the Taba check point, (+2) 012-356-1742. One of the most beautiful places in the coast of Taba/Neuibaa. Wooden bungalows that accommodate 2 persons, with two screened windows. Some huts are right on the beach with rugs over sand and no electricity, and others with hard tiles and electricity available. Nice hangout area and few shady ones on the beach. Clean, shared modern bathrooms are available with showers and hot water. Electricity is available throughout the camp from 6PM-midnight. Prices: hut which comfortably accommodates 2 people costs LE 60 per night. Meal is between LE 25-50. Drinks are reasonably priced.
Stay safe
There are Salafist terrorist organizations that operate in the Sinai, so check on current conditions in any area you plan on visiting.
Also, be wary of the usual
scams
that a visitor might be subjected to in most places with high tourist traffic and a wide income disparity between tourists and locals.