Sindhudurg
Cities
Cities in Sindhudurg are not as such cities which are very well developed and modernized. But you can find almost all signs of progress.
Other destinations
Talk
Marathi is the official language of this district. Conversing in English is not very advisable.
A regional language-Malwani (dialect of Konkani or sometimes also defined as creole between Konkani and Marathi) is almost exclusively employed language. Goan Konkani is also spoken/ widely understood, though mostly Christians use it regularly.

Get in
NH 17 Runs throughout the length of the whole of the district. Well connected by roads to major cities around. Like its counterpart on rail, this route is also very scenic. The twisty road rivers through the countryside of Konkan.
The sole railway line that runs through the district is Konkan Railways, which connects the district with Mumbai at one end and Goa at the other. This rail route is extremely scenic and is much more satisfying if you are travelling in the rains. For most of its part, it follows a typical pattern of a railway bridge connecting two hillocks, followed by a tunnel and then by a station. The route encompasses one of the longest tunnels of Asia - the Karbude tunnel as well as one of the tallest bridges.
The nearest international airport is the Dabolim Airport in Goa.
See
Check out the city articles for more sights, some things worth seeing outside those locations are: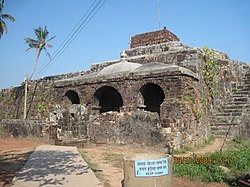 Sindhudurg Fort

Kaleshwar Temple

address: Nerur

This is a Lord Shiva temple in the town of Nerur. It is village deity here (Gramdevta). This temple is established since 1500BC. It is worshiped by all kinds of people irrespective of their religion, many developments have been done till date. A Devi Sateri temple (Snake Goddess) is next to the main Temple of Shri Dev Kaleshwar. Mahashivratri festival is celebrated here with most priority, which is a huge festival in whole Konkan. People of all sects attend this festival with equal faith.
Amboli
Sawantwadi
Devgad
Do
Plan your days accordingly if you really want to taste the flavor of Konkan. There is a lot a to see and to do here and that too in every season. Ideally it would take over a week if you want to get real close-up. In all probability the best idea to see this district is to follow the geography. You can start from the north of the district and proceed to south or vice versa.
At North, Devgad and Vijaydurg are the not-to-be missed places. Visit to Devgad will be well worth it if you are going in April or May- The prime time for mangoes. Devgad is well known for best quality mangoes' production. Vijaydurg and Sindhudurg are forts. Though now withered by time, they do present a treat to savour the might of Shivaji's time.
A number of pristine beaches like Tarkarli, Malvan, Shiroda, Vengurla, Aarawali, Redi, Bhogave mark the coastline of the district. The virgin beaches with long stretches of white sands, are usually crowdless. Following the footsteps of Kerala, even backwater tours including houseboats have also been initiated in recent times near Malvan. Tarkarli has also seen a rising activities in scuba diving as well.
Sawantwadi is a centre of tourist attraction in the south of the district. Many places like some beaches or hill station, Amboli are within a short reach from Sawantwadi. Amboli, a pristine hill station - unspoilt by man made vagaries is a must-visit place during monsoon. It also hosts adventure sports academy which intermittently organises adventure camps which include activities such as Jungle Trail, Rock Climbing in Waterfalls and possibly paragliding.

Eat
Hotel "Swami" (Near Varerkar auditorium) in malvan is a nice place for vegetarian and non vegetarian authentic malvani food.
In Sawantwadi, Hotel Bharatmata and Hotel Visawa are budget hotels famous for the delicious vegetarian food. A bit on higher side, Hotel Mango and Kamat's TRC (Tourist Reception Centre) serve some great food as well. Hotel Gomantak offers traditioanl Malvani seafood at reasonable prices. A small restaurant - Hotel Chaitanya can also be a great place for the seafood connoiseu
Shilpgram
- Shilpgram provides an insight in the rich and cultural diversity that the Konkan takes prides in....... it is all about the touch-n-feel of village life, the smell of the moist soil, the greenery all around, resplendent with the calm and solitude which always accompanies it.
Salient Features of Shilpgram Resort :-
Spread over lush green meadows.
Specious individual cottages.
Veg-Non veg multi cuisine restaurant.
24 hours room service.
Indoor games.
Specious parking
Open space for parties & get together.
Drink
Solkadi: Is a pink color appetizer usually found in Malvani Cuisine. Made up of coconut milk and kokam ( "sol" in Malwani/Konkani hence called as Solkadi). Its an integral part of Malvani/Konkani cuisine.
Kokam Sharbat: Also called as "Agul" in local Malwani/Konkani dialect. Its red color drink.
Coconut Water: Even though common, you should also enjoy it here. Usually called as "adsaar" or "shela" in local Malwani/Konkani dialect.

Stay safe
Carry a flashlight, water, magnetic compass, eatables, extra clothes while trekking.
Go next