Singapore/Bugis
Bugis and Kampong Glam
are districts of
Singapore
, just to the east of the city centre.
Understand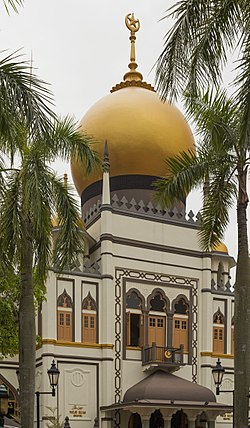 Bugis
has a colourful past. Originally named after the bloodthirsty race of pirates who prowled in the Straits before the arrival of the British, the area where Bugis Junction now stands was the original home of Singapore's small Hainanese community, famous for their large contribution to Singapore's culinary culture, before they moved to Beach Road in the early 20th century to make use of the docks and seafront. The area was then taken over by Singapore's Japanese community, and was originally populated by girls from poorer parts of Japan who came to Singapore to work as prostitutes. The Japanese community then grew and in their heyday just prior to World War II, were running many businesses and even had their own school and newspaper. However, the British repatriated all ethnic Japanese in Singapore after World War II, and did not allow any ethnic Japanese to enter Singapore for the next few years, thus spelling a temporary end for the Japanese community in Singapore. (The Japanese came back eventually, but these days they hang out around
Robertson Quay
.)
For a long time after the war, the area was Singapore's equivalent of
Patpong
, a red-light district known for its bars and transvestite prostitutes or
katies
(the anglicized version of the Thai
kathoey
), and was a popular hangout spot for American soldiers on their days off during the Vietnam War. However, in 1985 the area was redeveloped with a vengeance, turning it into a sanitised shopping experience for the whole family.
Neighboring
Kampong Glam
, also known by the name of its main thoroughfare
Arab Street
, was where Singapore's Arab traders settled in the founding days of the colony, and was also the part of town allocated to the Malays when Raffles drew up his town plan. But here too, the original inhabitants fled in the 1920s as real estate prices drove through the roof, and today the heart of Muslim Singapore beats in Geylang Serai on the
East Coast
.
So what's left then? A slice of modern Singapore at its most
hyperactive
: hundreds upon hundreds of shops and restaurants, several attractive promenades, and a bazaar selling the cheapest T-shirts in town. Head here on a weekend to experience Singaporean consumerism at its finest.
Get in
The
Bugis
(East-West and Downtown lines) and
Lavender
(East-West line) MRT stations are the primary entry points into the district.
Rochor
(Downtown line) is a good alternative to get to northern edge of the area. If arriving by bus from Malaysia, you'll most likely be deposited at either the Queen St bus terminal or Golden Mile Complex, which lie on the edges of the area.
If exiting at Bugis, the key roads are
Rochor Rd
and
Victoria St
. Walk north on Victoria St until you spot the golden domes of the Sultan Mosque; turn left here for
Arab St
, or keep walking north for Lavender MRT. Alternatively, head west on Rochor Rd to reach
Little India
, within easy walking distance; or head south on Victoria St to return to
Orchard Road
.
Get around
The pedestrian sections of Albert St and Waterloo St make exploring the area on foot a pleasure. Getting to Kampong Glam from Bugis is a slightly longer hike though, hop on any northbound bus on Victoria Rd for a few stops to shortcut the distance.

See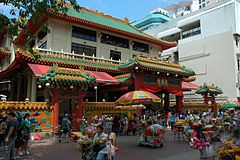 Except for the odd mosque or temple there are few attractions
per se
in Bugis. Do as the Singaporeans do and window-shop your way through, stopping for quick eats every now and then.
Sri Krishnan Temple

address: 152 Waterloo St

A Hindu temple dedicated to Lord Krishna, an incarnation of Vishnu. Right next door to Kwan Im Thong Hood Cho, and there's a steady stream of Chinese visitors hedging their bets by making offerings to the Hindu gods too.

Kwan Im Thong Hood Cho

address: 178 Waterloo St

The most popular Buddhist temple in Singapore, dedicated to Kuan Yin, the Goddess of Mercy. According to legend, wishes made in here come true, which would explain why it's always packed. The procedure goes like this: enter, light some joss sticks, pray, then shake a container of cham si (bamboo sticks) until one falls out. Get a free matching slip with verses (also in English) explaining your fate, and maybe take it to one of the resident soothsayers for more explanation.

address: 100 Victoria St

A testament to Singapore's dedication to public education. There is the Central Public Library in the basement and the Lee Kong Chian Reference Library in levels 7-13. Designed to be environmentally-friendly, there are two public gardens (the Courtyard on Level 5 and the Retreat on Level 10) where you can get a good view of the city. They sometimes hold a few small events and exhibitions. Levels 3-5 host the Drama Centre, a theatre for plays and the performing arts.

address: 3 Muscat St

The largest and one of the oldest mosques in Singapore, the building is easily identified thanks to its golden domes, but there's not much to see inside. Shorts, short skirts, or sleeveless T-shirts are not permissible attire, but you can borrow a cloak if needed.

address: 85 Sultan Gate

Set on the grounds of beautifully restored Istana Kampong Glam, the site looks gorgeous from the outside but despite some half-hearted attempts at whiz-bang multimedia, the museum inside is rather disappointing.

Hajjah Fatimah Mosque

address: 4001 Beach Rd

Singapore's second most important mosque historically after Sultan Mosque. It was named after an aristocratic Malay woman who donated money to build it. Its design is a mix of local Malay Muslim and colonial British architecture. This minaret tower is also worth a look as it leans slightly off-centre towards the main prayer hall. As with all mosques, revealing clothing should be avoided.
Buy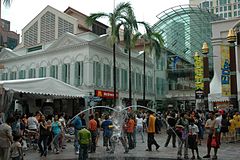 Bugis in particular is all about shopping these days!
address: 200 Victoria St

Singapore's teenage haven, built around the restored shophouses of Hylam and Malay Streets, covered with a roof for shopping in any weather. Anchor tenants include department store BHG and the minimalist Japanese home decoration shop Muji (BHG 2F); also check out the ever-surprising fountain in the middle of Bugis Square. The basement has a good selection of cheap to mid-range eateries, and the Food Junction food court on the 3rd floor is a cut above the usual.

address: 201 Victoria St

The latest mall in Bugis, aimed squarely at the same teen market as Bugis Junction and housing more or less the same shops, plus an 9-screen Film Garde cineplex. Worth a look at night, when the panels outside pulse and shift in an impressive light show. Houses (at least for now) a unique food court, Ramen Champion, comprising nothing but ramen shops from Japan and that's worth a visit for ramen fans.

Bugis VillageRight across Victoria St, Bugis Street no longer has bars and transvestites, but it does have a bazaar that sells all sorts of vaguely touristy knick-knacks as well as mass-market street wear. This is the cheapest place in Singapore to buy T-shirts for family back home, although the quality of those $2 shirts is pretty much what you'd expect. If you haven't sampled tropical fruits yet, take a look at the fruit stalls at the other end.
If you continue walking straight through Bugis Street, you'll reach the
Albert Street
and
Waterloo Street
pedestrian mall. Browse through shops offering
Buddhist paraphernalia
and take a peek at the two temples on Waterloo St. Keep going straight to reach electronics haven Sim Lim Square and beyond it
Little India
.
Sin Chew Chinese Cultural Products Supermart

address: 192 Waterloo St

True to the name, this store packs in vast quantities of Buddhas and Confucian deities, glittering in gold, blinking lights and all shades of kitsch. Note the statue of Hotei the "Laughing Buddha" outside — there is a steady crowd trooping up to rub his big belly, hoping to catch some of his good luck.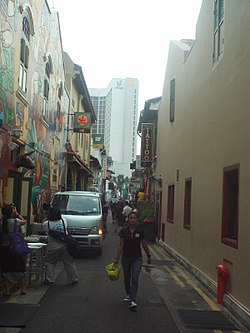 Like
Little India
and
Chinatown
,
Kampong Glam
has been restored, refurbished and new life breathed into it, bringing back the former colour and vibrancy of the area. Rows of conserved shophouses can be found in Arab Street, Baghdad Street and Bussorah Street. Many of these shophouses have new tenants such as design and IT firms, art galleries, crafts and curios shops, food caterers and restaurants. They blend in with traditional businesses like textile and carpet shops, antiques and handicrafts shops including those selling traditional games, blacksmiths, and shops selling religious items used by Muslims. On
Haji Lane
, local independent fashion boutiques and quirky little shops offer a unique shopping experience. It has in recent years emerged as a prominent location for both second-hand clothing and trendy street fashion, featuring the works of both local designers and imported wares from Japan and the States.
Kampong Glam is also an area dotted with good restaurants, from Malaysian coffee shops and bakeries to fine modern European dining. Many of the stores on
Arab Street
specialize in
batik
and
silk
. Be prepared to bargain.
address: Beach Rd

Sells surplus equipment from the Singapore Armed Forces and the Singapore Police Forece. Mostly popular with local soldiers shopping for replacements, but also of interest to low-budget camping enthusiasts or camouflage fetishists.
Eat
Bugis has a wide selection of restaurants catering to every taste. A highlight is the area near
Arab Street
, which specializes in
halal
(Muslim) food with quite a few Middle Eastern eateries too.
Golden Mile Complex
, on Beach Rd, is favoured by the local Thai population and consequently serves the cheapest and most authentic Thai food in town.
Fortune Centre
, on Middle Rd, and the area around it is a popular area for vegetarians, with a big variety of options.
Budget
There is a large food hawker centre at the intersection of Albert and Waterloo St, and plenty of others scattered through the area.
Deli Moroccan

phone: +65 9121 5121

address: 30 Bussorah St

Run by a Malay-Moroccan couple, this no-frills eatery serves up the best couscous and tagines in Singapore at ridiculously low prices — the most expensive dish on the menu is $6.50. Show up early, since service is slow and they tend to run out of the good stuff, and avoid on rainy days since there's very little indoor seating.

address: 56 Kandahar Street

This café specialises in old-fashioned desserts and pastries. The decoration goes along with the theme and consists of a collection of items of everyday life in Singapore from yesteryear. Try one of their set meals consisting of a cup of traditional coffee or tea with either toast or a slice of cake.

Golden Mile Claypot Rice

address: Golden Mile Food Center #01-65

A humongous claypot bowl packed with rice, chicken and thick dark sauce will cost you just $5, but prepare to wait while they make it. You may want to opt out of the super-salty dried fish if you're not previously familiar with the stuff though.

Zam Zam

phone: +65 6298 7011

address: 699 North Bridge Rd

One of Singapore's best-known restaurants for all sorts of Muslim-Malay food. Celebrated their 100th year of operation in 2008. Try their legendary murtabak, a type of stuffed pancake eaten with curry, although the nasi briyani spiced rice is also pretty good.
Mid-range
phone: +65 6293 5101

address: 5001 Beach Rd #01-67/68

Authentic greasy spoon Thai food by Thais for Thais, so steer clear if you can't handle the spicy stuff. The pad Thai here is probably both the cheapest and the best in town.

address: Fortune Centre, 190 Middle Road, #01-13/14

One of the many vegetarian restaurants in Fortune Centre. Serves mostly Japanese food including a lot of imitation dishes such as salmon sashimi or donkatsu.

phone: +65 6298 1196

address: 56 Arab St

Authentic Turkish cuisine in the heart of Arab Street, Sufi serves up some of the best kebabs in town. Get away from the crowd and ask to sit in the back garden area!
Splurge
Drink
For a district once known by sailors as
Boogie Street
, modern-day Bugis is woefully short on dedicated places to drink, although you can of course get a cold beer at any hawker centre. Until 2014, the area was well known for Arab-style water pipes (
shisha
), but these have now been banned in all Singapore, will all current shisha licenses set to expire by mid-2016.
phone: +65 6396 4466

address: 600 North Bridge Rd

Located within a building locally referred to as "Gotham Building" for its peculiar façade design, this bar features the world's largest gin collection within a big tower in the middle of the bar. If you have the necessary small change, go there to soak up in the posh and quite unique art deco atmosphere.

phone: +65 9821 6961

address: 11 Bali Lane

One of the few places in Kampong Glam that serve alcohol, including a long list of beers, and while food is served as well, the main draws here are the laid-back ambience and the live music, which runs the gamut from rock to jazz. Grab a drink and a seat outside on the sidewalk, screened from passing cars by a thicket of greenery, and just chill; or if you want to get your groove on, there's a DJ and dance floor on the 2nd floor. Very popular on weekends.

phone: +65 6221 8846

address: Bugis+ #05-07

Great place to chill and hear live acts from the local music scene. There are regular performances every day, and the tapas and bar food aren't half bad. Often a stop before or after a movie in the nearby cinema.
Sleep
A few hotels are scattered about Bugis and Kampong Glam, although backpackers might wish to head to neighbouring
Little India
instead.
Budget
phone: +65 6338 8826

address: 490 North Bridge Rd

Air-con. Internet.

phone: +65 9669 9990

address: 2 Jalan Pinang

Hostel located right behind the Sultan Mosque. Air-con and wifi, however not all rooms have windows.
Mid-range
Splurge
phone: +65 6338 7600

address: 80 Middle Rd

Swanky modern hotel done up in an attractive pseudo-colonial shophouse style, well located in Bugis Junction itself.
Connect
Sun Byrd

address: #01-21 The Bencoolen, 180 Bencoolen St

Broadband Internet for $1.20/30 minutes.
Go next