Singapore/North and West
The
northern and western
parts of Singapore are the city's hinterlands, consisting of jungle dotted with public housing blocks and a significant industrial area in Sungei Kadut and the reclaimed area of Tuas. In addition there is a reclaimed island,
Jurong Island
, made from the merging of 7 previously smaller islands.
Get in
The western junction of
Jurong East
is 20 minutes away from the city center on the MRT East-West Line. Traveling there by the North-South Line will take closer to 60 minutes as it goes one big loop to Woodlands and the North.
See
Johor Bahru
for information on crossing the Causeway and the Second Link from
Malaysia
.
See
The sights of Singapore's hinterland can be easily divided in two: there's the zoo and the bird park, and then there's everything else.
Wildlife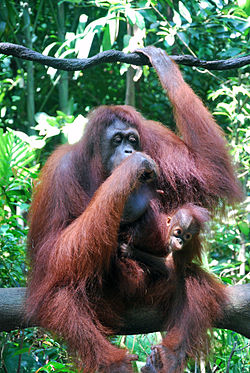 Without a doubt the top attractions in the area, the Singapore Zoo, Night Safari, River Safari and Jurong Bird Park offer joint tickets valid for one month (Park Hopper tickets). Adult combination tickets to any two attractions vary from $26 to $49, while combination tickets to all four parks cost $89.
phone: +65 6265 0022

address: 2 Jurong Hill

A 20.2 hectare open-concept park dedicated to, you guessed it, birds representing various species. This is Asia's largest bird park with a collection of more than 5,000 birds from 380 species. The park is attractively presented and quite enjoyable even if you aren't a hardcore ornithologist. The park has 4 free-flight aviaries including the world's largest aviary, the African Waterfall Aviary, with over 600 free-flying native African birds. There's also the Lory Loft, where you get to feed the colourful lory and lorikeets. This is a chance to get up-close with these friendly little birds. Don't be alarmed if they end up perching on your hand, shoulder, or even head. You can also explore the Southeast Asian Birds' aviary, which features Asia's largest collection of Southeast Asian birds, including the critically endangered Bali Mynah. The fourth free-flight aviary is Jungle Jewels, home of the colourful birds from South America. The park also has a collection of penguins which are housed in an outdoor enclosure. The recently opened Breeding & Research Centre provides a behind-the-scenes look at how eggs are hatched and taken care of. For kids needing reprieve from the tropical heat in Singapore, head over to Birdz of Play, a bird-themed water playground.

phone: +65 6269 3411

address: 80 Mandai Lake Road

This rainforest zoo is home to over 3,000 animals from over 316 species. The animals are kept in spacious, landscaped enclosures, separated from the visitors by dry or wet moats. The park boasts the world's first free ranging orang utan habitat in a zoo. To spare yourself walking under the hot tropical sun, you can board a little tram that trundles through the park.
Bring along swimsuits for kids, so they can cool off in the "Rainforest Kidzworld".
There's also an award-winning programme, the Jungle Breakfast with Wildlife ($29/19 adult/child extra), daily from 09:00-10:30, where you get to enjoy a buffet in the company of elephants, orang utans, snakes, and more. Advanced booking is highly recommended to ensure a spot.
phone: +65 6269 3411

address: 80 Mandai Lake Road

A completely separate wildlife park situated near the Singapore Zoo, this is the world's first wildlife park built to be viewed at night. The grounds are larger than that of the Singapore Zoo and animal exhibits are accessible to visitors on foot via 4 walking trails and a guided tram tour (Tram Safari). There is a 30 minute show at the amphitheatre with trained animal displays at least three times per night (weather permitting). The guided tram tour is recommended if you do not have the time to do a lot of walking and it brings you to the eastern part of the park which is not accessible by walking. Lighting throughout the park is minimal, but sufficient. Stopping at the second tram station is a must as there is a walking path (The Leopard Trail) for viewing giraffes, flying squirrels, lions and others. There are three other walking trails situated around the park – Fishing Cat Trail, East Lodge Trail, and the newest addition, Wallaby Trail. Explore the walking trails to see animals not visible from the tram journey. Flash photography is not allowed, so a tripod is recommended. Some other animals you can expect to see include tigers, lions, hyenas, tapirs, elephants, bats, hippopotamus, porcupines, leopards, badgers, and pangolins.
phone: +65 6269 3411

address: 80 Mandai Lake Road

Mandai's latest attraction, the River Safari is themed around river ecosystems from the Amazon to the Yangtze to the Congo and Mississippi and is a rather fascinating mix between a zoo, an aquarium and a bird park. All areas are surprisingly under cover and protected from the elements, making it a good choice in bad weather. The highlight of the park is surely Kai Kai and Jia Jia, giant pandas on loan from China along with their associated merchandise, although you'll only get to see them for 15 minutes as they sometimes hide in their dens. The Amazon River ride is now open to the public. Here you can take a boat ride around the river, and see many types of animals like jaguars an flamingos during the ride. It is similar to the Amazon Forest. The manatee enclosure is a very soothing endpoint (if traversing the park clockwise).
Gardens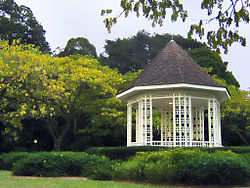 address: Bukit Timah Rd

This UNESCO World Heritage site was once considered among the finest botanical gardens in the British empire, and it is still a firm favorite for visitors and locals alike. Features trees and plants from tropical climates around the world. Walking and jogging trails are throughout, and you can register for regular free guided tours highlighting different themes or areas such as the rainforest, and the healing garden. Outdoor sculptures dot the gardens. Look for the girl on the swing that appears to hang from an invisible chain in the air. Picnicking is allowed, but there are also quite a few cafes and restaurants (see Eat). Sunday evenings often see musical concerts showcasing light classics, Chinese or SE Asian performances from local orchestras at the bandstand.

Chinese Garden and Japanese GardenFree and nice for a walk and/or picnic. Also check out the tortoise and turtle sanctuary in the Chinese Garden. $5 adult admission and $2 for leafy vegetables and food pellets let you get up close and personal with these wonderful creatures. Worth a visit during the Mid-Autumn Lantern Festival (Sep-Oct, exact date varies), when the garden is lit up with tens of thousands of lanterns, including complex installations with moving figures based on themes ranging from Hello Kitty to Chinese folk tales.

National Orchid Garden

address: in the Botanic Gardens

This is where you can spot Singapore's national flower, the Vanda Miss Joaquim orchid, and many more. Accessible by bus or car, parking at the visitor's centre.
Historical
Quite a few sites related to
World War II
are scattered around the island, but most will appeal only to war history buffs.
address: 9 Woodlands Rd

The War Cemetery is the final resting place of 4,461 British Empire servicemen and women of World War II in marked graves. The names of over 24,000 personnel killed across South-East Asia whose bodies were never found are inscribed on the Memorial Walls. A number of other memorials are on the site. Quieter than the Changi Chapel, but no less moving.

Surviving the Japanese Occupation: War and its Legacies

phone: +65 6332 7973

address: 351 Upper Bukit Timah Rd

War museum at the old Ford Motor Factory, where British Lt-General Percival surrendered Singapore to the Japanese. Focuses on the subsequent Japanese occupation and the experiences of both civilians and POWs with modern presentation and multimedia gadgetry, but if you're pressed for time, the Changi Chapel covers much the same territory and is probably the more interesting of the two.

phone: +65 6375 2510

address: 31-K Pepys Rd

Small but well-implemented commemorative museum for the last stand of the Malay Regiment in World War II's Battle of Bukit Chandu. If visiting here, make a short detour to the free Canopy Walk next door (a part of the Southern Ridges Walk), an elevated footpath through the jungle offering nice views of Singapore's heartlands.
Other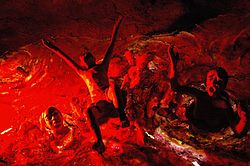 Haw Par Villa

phone: +65 6872 2003

address: 262 Pasir Panjang Rd

Formerly the Tiger Balm Gardens, this is the former site of the villa of the Tiger Balm brothers, Aw Boon Haw and Aw Boon Par, now packed with an incredibly bizarre assortment of statues illustrating Chinese legends and moral values. The most famous bit is the Ten Courts of Hell, which demonstrate in gruesome detail how sinners get punished in the underworld: for example, ingratitude is punished by grilling on a red hot copper pillar, while cheating in exams merits having your body dismembered and your intestines pulled out.

Kong Men San Phor Kark See Monastery

phone: +65 6849 5300

address: 88 Bright Hill Rd

Singapore's largest Buddhist temple and monastery sprawls over a hill in a residential suburb of Singapore. Founded in 1920, the present buildings are all oversized and rather gaudy concrete structures, but it's still a rather surreal place. The highlight is the Pagoda of 10,000 Buddhas, whose dome is decorated on the inside with, you guessed it, ten thousand tiny Buddha figures. Runs meditation retreats (mostly only in Chinese though) and gets packed with worshippers on major Buddhist holidays.

Lee Kong Chian Natural History Museum

phone: +65 6601 3333

address: National University of Singapore, 2 Conservatory Drive

This museum showcases animals and plants with a focus on south-east Asia. The main floor contains many specimens, including two dinosaur and a whale skeletons. There is also a smaller section specifically on Singapore as well as an outdoor garden on the second floor. Reservation can be made online, but should not be necessary outside holiday time and weekends.

Omni-Theatre

address: just beside the Singapore Science Centre

Omnimax movies and planetarium shows can be viewed on a tilted 23 m high screen. From Jurong East MRT, transfer to Bus 335 or walk 8 min from the station.

address: 15 Science Centre Rd

Set up to promote interest and learning in science and technology through assortment of exhibits. There are more than 850 exhibits in the various exhibition galleries firmly aimed at younger children (6-10) and it is not possible to view all exhibits in one visit. There is also an interesting water park area near the front entrance.

Singapore Discovery Centre

phone: +65 6227 5731

address: 157 Neil Rd

Located at the fringes of Chinatown among a row of shophouses, the Baba House is a showcase of Peranakan culture in Singapore and features traditional furnishings typical of Straits Chinese households. The house has a distinctive blue exterior.
Do
To find out what a sauna full of bugs feel like, go for some steamy jungle hiking. Best times are
very
early in the morning or in the late afternoon.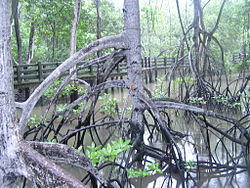 address: Hindhede Drive

At 166 metres this is Singapore's highest point — if you don't count the city's skyscrapers. It is also one of the last places in Singapore that is home to the original primary tropical rainforest that used to cover the entire island. You can scale the hill in 15 minutes if you follow the paved road (boring) or 45-50 minutes if you do it the long way around (more interesting). Watch out for monkeys! Don´t expect a stunning view from the top, though. Almost nothing can be seen through the thick trees.
phone: +65 6468 5736

address: Lornie Rd

Rather more exciting than it sounds, this serene artificial lake is surrounded by acres of virgin jungle (and not a few golf courses). On the north side, the HSBC Treetop Walk is a 250 m bridge suspended as high as 27 m above the ground. Trails range from 3 to 11 km, and are of different difficulty levels. One can even hike all the way to Bukit Timah. There is a basic food court at the south entrance, and a ranger station with toilets and water at the 4.5 km mark (near Treetop Walk) on the north side. The park is also a popular haunt of canoeing enthusiasts, joggers, and strollers. For history buffs, this was also the site of a Shinto shrine (then called the Syonan Jinja) built by the Japanese during World War II, and the ruins of the shrine, while largely inaccessible without navigational equipment, still survive. For wildlife enthusiasts, the area is also home to two species of monkeys; the crab-eating macaque, which is very numerous and you are almost guaranteed to run into, and the banded surili or banded leaf monkey, which is very shy and critically endangered in Singapore, meaning that you will be very lucky to spot some in the forest canopies.

Sungei Buloh Wetland ReserveIf you want to see a mangrove forest, this is your chance. As the reserve is basically a swamp, bring plenty of mosquito repellant and keep an eye out for crocodiles. The nature reserve is a site of international importance for migratory birds. It is also Singapore's first ASEAN heritage park.
And there are a few things to do that don't involve stomping about in the jungle:
Buy
There is little noteworthy shopping in the north or west. The major shopping malls are
Jurong Point
(nearest MRT station: Boon Lay),
IMM
,
Jem
and
JCube
(nearest MRT station: Jurong East). A stroll around the HDB heartlands may uncover interesting finds, though, not to mention an authentic taste of ordinary Singaporean life.
phone: +65 6463 4610

address: 200 Turf Club Road

The former turf club is now a fancy mall. A good place for European food and artisanal products.
Tourist attractions such as Singapore Zoological Gardens, Jurong Bird Park and Singapore Botanic Gardens have gift shops overflowing with cute plush toys and tacky local kitsch.
address: 22 Dempsey Road

Good butchery and deli plus a bistro specialising in German meat and beer.
Eat
Budget
Hawker food is cheap in the boondocks, and there are a few culinary gems to be found — if you can find them, that is. There are also clusters of good western cafes and restaurants in Holland Village and Dempsey Hill.
Bao Gong XO Fish Head Bee Hoon

address: Blk 721 Clementi West St 2 #01-100

This place lets you find out what happens when you add XO cognac to fish soup. Less adventurous souls may want to try sliced fish instead of fish head.

Joo Siah Bak Kut Teh

address: Blk 349 Jurong East Ave 1 #01-1215

One of Singapore's best-known joints for bak kut teh (lit. "pork bone tea"), a peppery pork rib broth. Two bowls, rice and a serve of mui choy veggies will set you back $9.10; add in $0.50 for some you tiao fritters from the shop next door to dip in your soup.

Samy's Curry

phone: +65 6472 2080

address: 25 Dempsey Rd

An old-school Singapore institution in an open-air colonial building, serving rice and curries on real banana leaves as ceiling fans whir. Waiters walk around with buckets of curry (very cheap) and take orders for tandoori, fish head curry and other treats (which can be more expensive). No air-con, no reservations, no alcohol.

Yan Kee Food Stall

address: Taman Jurong Market & Food Centre #03-137

A local legend for Chinese-style curry fish head ($14/17 small/large), the gravy is good to the last drop.

address: Blk 120 #01-75, Bukit Merah Lane 1, Alexandra Village Food Centre

The best laksa in Singapore according to Makansutra and its many regulars. Expect to wait at least 30 minutes. Order with shrimp instead of cockles if raw shellfish is not your thing. Sold in sizes of $3.50/$4.50/$5.50.
Mid-range
phone: +65 6898 5001

address: 100 Neo Tiew Rd

Tucked away in rural Lim Chu Kang, this exuberantly colorful bistro with air-con and alfresco seating draws crowds on weekends with simple local dishes, made from fruits and vegetables grown on their backyard organic farm. The menu changes regularly, but favorites include their nasi lemak (coconut rice), banana curry, desserts like kueh kosui (coconut-brown sugar cake) and home-brewed teas. Kids can romp around the farm, while adults can pick up organic fruits, veggies and herbs to go. All meat is halal, but the restaurant is not certified.

phone: +65 6556 1533

address: Bishan Park II 1382 Ang Mo Kio Ave 1

Tucked away in Bishan Park and best known for serving brunch every day until 17:00, after which you can move over to the bar and get sozzled on Oz wines. The menu also features soups, salads, pastas and other cafe food. Indoor and outdoor seating with great tropical views.

Colbar

phone: +65 6779 4859

address: 9A Whitchurch Rd

Stuck in the past and proud of it, this low-key eatery started life as a canteen for British soldiers, and fare like ox liver with peas and chips still figure prominently on the menu. Recently relocated (complete with original building) out of the way of an expressway, but still very popular. Try the famous curries if British grub isn't to your taste, and don't expect any frills like air-con.

Donna Carmela/Caipirinha

phone: +65 6463 4206

address: 2 Greenwood Ave

A family-run Brazilian churrascaria and an Italian restaurant with a vast array of pasta sharing the same premises, offering excellent home cooking in unpretentious surroundings. Their popularity is further cemented by the Italian wines they import direct and sell at retail prices from $25/bottle. Book ahead on weekends.

Lim Seng Lee Duck Rice

address: 38 South Buona Vista Rd

Well-regarded specialist restaurant serving up tender boneless duck with their special sauce; be sure to order some "spare parts", their name for liver and gizzard. Prices above average but worth it.

The Lodge on Flamingo Lake

address: in Jurong Bird Park

Visitors to the Bird Park may wish to dine here for local food at reasonable prices, coupled with views of nearly 10,000 pink flamingos.

Marina Bistro

address: 10 Tuas West Dr

In the Raffles Marina at the extreme west of Singapore right next to Second Link bridge to Malaysia, offers very competent Singaporean and Western food. Try the excellent beef satay. Hard to get to, unless you're heading to Malaysia after.

Zi Yean Food Centre

phone: +65 6474 0911

address: Block 56 Lengkok Bahru #01-443

Locally famed outdoor coffee shop serving up Cantonese dishes like mui choy chicken (stuffed with pickled veggies), prawns wrapped in tofu skin and deep-fried, kangkong with century eggs, and abalone with chicken (a steal at $5/plate). Prices generally reasonable but some dishes can be expensive. Open for lunch and dinner, closed alternate Wednesdays.
Splurge
The
Bukit Timah
area to the west of the city is one of Singapore's poshest residential districts featuring many high-quality restaurants, particularly in the expatriate enclave of
Holland Village
. Another good option is
Dempsey Hill
, a convenient cluster of British-era army barracks converted into restaurants for the expat set, just ten minutes from Orchard Rd.
phone: +65 6257 9234

address: 117 Beaulieu Rd

On Singapore's northern coast, the restaurant is housed in an old colonial-style bungalow that is believed to have been built around 1910, and has sea views towards Johor. Both Western and Chinese food is served. Best reached by taxi.

Borgo

phone: +65 6446 7762

address: 789 Bukit Timah Rd

Small Italian eatery specializing in Tuscan charcoal grills. The pastas are also excellent, but pizzas are mediocre. Reasonably priced and very popular, so book ahead, especially on weekends.

Brazil Churrascaria

phone: +65 6463 1923

address: 14-16 Sixth Ave

Waiters walk around with meat-laden skewers, just choose and eat. Decent salad buffet for the vegetarian contingent too. Open daily for dinner only.

Margarita's

phone: +65 6471 3228

address: Blk 11 Dempsey Rd #01-19

Popular eatery featuring reasonably authentic Mexican eats like enchiladas with mole poblano (chocolate) sauce and refried beans, washed down with their namesake margaritas. Fills up fast on weekends with expats out to satisfy their Tex-Mex cravings, so book ahead.

Original Sin

phone: +65 6475 5605

address: #01-62 Chip Bee Gardens

Continues to win awards for its Mediterranean vegetarian food.
Another small cluster of upscale restaurants is nestled on the grounds of the Botanic Gardens.
Casa Verde

phone: +65 6467 7326

Located right at the entrance of the Visitor Centre, offers a mixed menu of local and Italian food at slightly elevated prices, but this is still by far the cheapest and most casual place to eat in the Gardens. The best pick here is the large wood-fired pizzas from $20.

Halia Restaurant & Villa Halia

phone: +65 6476 6711

The location in the Ginger Garden of the Botanic Gardens is a reason in itself to visit especially at night, with stunning floodlit views of the surrounding jungle. The food is international with Asian twists, and while consistently excellent comes at a fairly steep price. To get there, enter the Gardens by the Tyersall Ave side entrance and walk a few minutes following the signs. Indoor and outdoor seating available, reservations recommended.
Drink
Except for the odd karaoke TV pub, beer at your favorite hawker stall and a few low-key hangouts in expat enclave Holland Village, the north and west of Singapore were long virtually devoid of nightlife. However, since 2006 there has been a veritable boom of colonial black & white bungalows being repurposed into upscale dining and drinking complexes, with areas like
Portsdown Rd, Rochester Park and Tanglin Village (Dempsey Rd)
now buzzing on weekends.
Baden-Baden

address: 42 Lorong Mambong

Well known restaurant-pub with German fare. Wood paneling, pork knuckles, German beer and good service.

Klee

phone: +65 6479 6911

address: 5B Portsdown Rd, #01-04 Wessex Estate

A low-key colonial bungalow tucked away in a quiet nook (blink and you'll miss it when driving past), this is a great place for a chilled-out drink with friends. There's no menu, so tell the waiter what you're feeling like, perhaps suggesting an ingredient, and they'll come up with a cocktail just for you, using fresh fruits and herbs. Beware the "Cocktail Nazi" seating arrangements though: you will not be served unless you can snag one of the dozen or so inside seats, with the outdoor terrace allowing wine and beer only.

phone: +65 6773 0070

address: 1 Rochester Park

Two-floor bungalow with a well-stocked wine bar, a lush outdoor seating area and DJ playing jazz and funky tunes, visiting this feels like crashing a Singaporean house party.
Sleep
There are very few choices when it comes to accommodation in the west and the north of Singapore, and you are probably better off staying in the centre and taking the train out from there. If you really want to stay in this region though, there are a handful of choices:
Budget
address: Block 166 Woodlands St 13 #01-545

A family-run 12-bed hostel.

phone: +65 6271 2771

address: 512 Kampong Bahru Rd

100 rooms, all equipped with air-con and water heating system, and telephone services. Facilities and services are gym, concierge services, and car parks.
Mid-Range
phone: +65 6808 8600

address: 31 Rochester Drive

This hotel caters mostly to business clients for the nearby one-north precinct. However, if you want to explore the west of Singapore, this might be a convenient location, as it's very close to a MRT interchange.

phone: +65 6577 8899

address: 2 Town Hall Link

A business hotel in the Jurong area.