Singapore/Orchard
Orchard Road
is the main shopping street of
Singapore
. North of the
Singapore River
, to the west of the Central Business District, Orchard Road turns into
Bras Basah Road
as it heads east.
Understand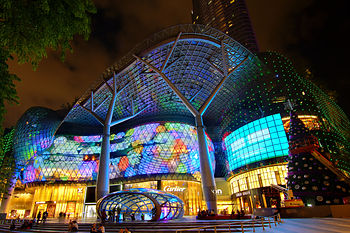 Orchard Road is named after the fruit and nutmeg orchards that used to line it in the 1830s, one of them coincidentally belonging to a Mr Orchard. The manhole covers along the road all depict various tropical fruits. Large trees still shade the road, providing a modicum of relief from the heat. Fortunately, Orchard Road has an extensive network of underpasses that connect many of the malls providing even more shelter from the blistering equatorial heat and, on occasion, rain. Weekends in the area are often packed with locals and visitors alike out to consume en masse.
Only at the eastern Bras Basah end do the shopping malls peter out, with some fine colonial architecture and a few of Singapore's top museums to be found instead.
The
Christmas decorations
along Orchard are mildly famous and entirely over the top, with reindeers cavorting through palm trees and gingerbread houses topped with fake snow.
Visitor Centre
Singapore Visitors Centre

address: 216 Orchard Road

Oodles of free information on Singapore. There's also a similar but smaller operation in Ion Orchard. Also sells some nice souvenirs.
Get in
The MRT stations of Orchard, Somerset, Dhoby Ghaut and City Hall on the North-South Line follow the alignment of Orchard Rd. Change to the North-East Line or Circle Line at Dhoby Ghaut or the East-West Line at City Hall.

Get around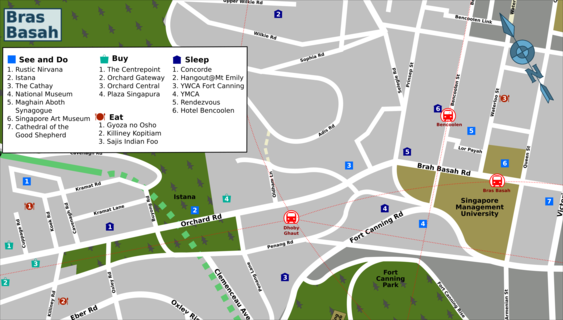 Orchard Rd is walkable, at least allowing plenty of breaks in air-conditioned shopping centres. You can no longer cross the central Orchard/Scotts intersection on foot: instead, take the air-conditioned underground walkway system that links Orchard MRT/Ion Orchard to Wisma Atria, Ngee Ann City and Lucky Plaza (east), to CK Tang/Marriott (north), and to Shaw House and Wheelock Place (west).
See
Two of Singapore's top museums are in Bras Basah, within striking distance of Dhoby Ghaut and Bras Basah MRT stations.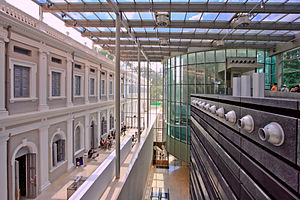 phone: +65 6332 3659

address: 93 Stamford Rd

Formerly Singapore History Museum, recently refurbished from top to bottom with a new wing added. The star of the show is the permanent Singapore History Gallery, a 2800 sq.m. multimedia extravaganza covering six centuries of island history, navigated with a super-flexible, if occasionally somewhat confusing, interactive audio guide system that lets you choose the events and items to focus on. There are also four Living Galleries focusing on food, fashion, film and photography, plus various temporary exhibitions and a few nice cafes and restaurants.

phone: +65 6332 3222

address: 71 Bras Basah Rd

Modern art from both Singapore and the region. The permanent collection is lackluster, but exhibitions can be interesting. Guided tours in English at 11:00 and 14:00, with an additional timing on Fridays and weekends.

IstanaCompleted in 1869, this Malay-Indian hybrid building was once the Government House of the colony of Singapore, before being repurposed on independence as the official residence of the President. The 100-acre grounds occupy some of Singapore's choicest real estate and incorporate several gardens and even a 9-hole golf course. There is a Change of Guards ceremony every first Sunday of the month. The Istana is open to the public on only five days a year: Chinese New Year, Deepavali, Hari Raya Puasa, Labour Day and National Day.
There are few tourist attractions as such on Orchard Road itself, the thing to do here is shop, shop and shop!
Religious Buildings
phone: +65 6337 2189

address: 24/26 Waterloo St

One of two synagogues in Singapore that have been catering to Singapore's small Jewish community since colonial times. Also home to Singapore's only kosher restaurant and grocery store.

Cathedral of the Good Shepherd

phone: +65 6337 2036

address: A Queen Street

Singapore's Roman Catholic cathedral, and the oldest Roman Catholic church in Singapore, and also home to Singapore's oldest working pipe organ. For many years dingy and run down, it has since been restored to pristine condition in 2016.
Do
It's difficult to find anything more strenuous to do on Orchard than lugging around shopping bags, getting pampered at a spa and watching a movie, although Orchard Central has some interesting active lifestyle spots.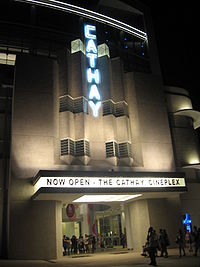 address: 2 Handy Rd

A modern shopping mall (partly) hiding behind a stately 1939 art-deco facade, the main draw here is the eponymous cinema on the top floor. The Picturehouse, Singapore's first and only arthouse cinema, shows movies uncut, but many are restricted to 21 and above.

phone: +65 6738 1234

address: 10 Scotts Road

Damai is the lifestyle centre at the Grand Hyatt, offering a spa, pool, fitness centre and healing treatments based on Chinese, Malay, Indian, and European traditions.

phone: +65 6238 6890

address: 11 Cavenagh Road, #B1-01

Balinese-style spa with over 80 face and body treatment options, including the inimitably named Kung Fu Bouncing Herbs. Ladies only.

Lucky Plaza

address: 304 Orchard Rd Level 4

Various beauty salons can be found on the fourth floor. Facials, a wax and mani-pedis for a fraction of the cost at salons in the rest of the city. Get a stylish haircut at a full-service salon for about $10, even for ladies. The best salons accept most major credit cards to cater to the demand of tourists.

Orchard Central Via Ferrata Wall

phone: +65 6509 1300

address: Orchard Central #04-22

There's a Via Ferrata wall and separate rock climbing facilities if you need to stifle the urge to scale the high-rises of Singapore.
Buy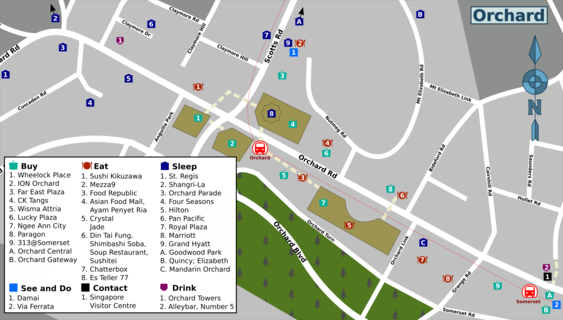 Orchard Road
and neighbouring
Scotts Road
form Singapore's premier shopping district, with several kilometres of road lined on both sides by practically nothing but shopping malls. The latest round of frantic upgrading in 2008-2010 has seen half a dozen new malls open up and most of the rest renovate in an attempt to catch up.
Orchard Road also participates in the annual
Great Singapore Sale
in June. During this period, street events and late night shopping (till 23:00 on Fridays and Saturdays) are held at selected malls, and tourists are entitled to additional privileges.
Malls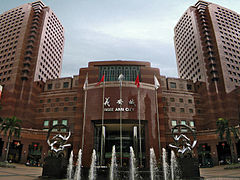 While most malls in Orchard are distinctly upmarket, there are one or two that still cater to the average Singaporean wallets. Most of the shopping centres operate from 10:00 to 22:00. A selection of malls, from west (Orchard MRT) to east (Dhoby Ghaut MRT):
address: 14 Scotts Rd

Frequented mostly by teenagers, this mall is a bargain hunter's paradise slowly creeping upmarket. Not bad for unique clothes and accessories at reasonable prices.

address: 501 Orchard Rd

Previously notable primarily for the giant Borders bookstore that used to occupy the entire ground level, this has been replaced by a large Marks & Spencer department store. There's a pretty good selection of restaurants on the 2nd floor.

address: 2 Orchard Turn

Opened 2009, this is the largest new shopping mall on Orchard in years, extending four floors both above and under ground. While the spacey, pulsating, neon-lit facade is dominated by high-street flagships for Louis Vuitton and co, the interior has plenty of more affordable options including Japanese retailers Uniqlo and Muji. The fourth floor has the ION Art gallery, while the basement 4 Food Opera food court, while a bit pricey by Singapore standards, is enormous and very popular. Located on levels 55 and 56, at 218 metres, ION Sky offers a 360-degree view from the highest point on Orchard Road. It houses an observatory and contemporary restaurant Salt Grill, presided over by Australian chef, Luke Mangan.

address: 320 Orchard Rd

Singapore's very own old-school department store.

address: 435 Orchard Rd

Designer boutiques and international brands populate this architecturally fascinating mall.

address: 304 Orchard Rd

Most visitors end up in Lucky Plaza thanks to the dubious street-level camera and electronics stores, which are legendary for ripoffs and poor customer service, and are best avoided unless you really know your stuff. However, there's more to the mall than that: cheap souvenirs (2nd floor), low cost salons that offer most services such as manicures, pedicures, facials, waxing and hair services (fourth floor), off-season designer perfumes and cosmetics (most floors) and a cheap and surprisingly good food court in the basement. Lucky Plaza is also the favorite hangout spot for the Filipino community and gets packed on weekends, making it one of the best places in Singapore to sample Filipino cuisine.

address: 391 Orchard Rd

Where the tai-tais (wealthy ladies of leisure) hang out. Expensive branded goods on the first floors, more affordable shopping in the two basement floors. Also features Kinokuniya, Southeast Asia's largest bookstore, on the 4th floor. As a favourite hangout spot for the Japanese community, there is no shortage of Japanese food to cater to that crowd.

Paragon

address: 290 Orchard Rd

Long one of Singapore's flashiest malls, packed with Prada, Gucci and other luxury brands, although ION has stolen some of its thunder.

address: 313 Orchard Rd

313@somerset is directly linked to the Somerset MRT station and features a concentration of mid-range retail and dining outlets. Retail options include local and global fashion labels including Zara, Uniqlo, New Look, Esprit and a Forever 21 flagship spanning 4 floors. There are also some popular dining options including a cluster of restaurants and lounges such as Brotzeit German Bier Bar & Restaurant, Kamado Japanese Wood Fire, Central Hong Kong Café, Flying Chillies and Trattoria Cuccina Italiana on Level 1.

address: 277 & 218 Orchard Rd

This mall is built in the space between Orchard Central and 313, so you might not even notice that you are in a different mall. A special feature of this mall is that it stretches over both sides of Orchard road, connected both via an underpass and a link bridge. This mall houses a public library on the third and fourth level, which is a good spot to take a break from the crowds of Orchard Road, as well as the Singapore visitor centre. Naiise on level 2 has a range of local souvenirs and designer gimmicks.

address: 181 Orchard Rd

Modern, soaring twelve-story mall with a funky series of outdoor escalators and nice views from the terraces. Floors 7 and above are devoted to food, with restaurants such as Japanese set meal specialist Ootoya or Tsukiji Fish Market with sashimi rice bowls. The mall also houses the world's tallest indoor Via Ferrata climbing wall, a collection of public art installations by acclaimed international artists and a 24/7-operational Roof Garden.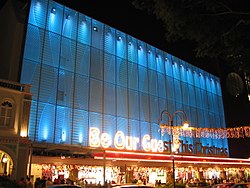 address: 176 Orchard Rd

One of the stalwarts of Orchard Road, now largely outshone by newer competitors. Their decorations during Christmas used to be among the most flamboyant, but has since toned down. Has a large branch of the Metro departmental store.

address: 68 Orchard Rd

Singapore's oldest air conditioned shopping mall, just above the MRT interchange and recently given a thorough face lift. Numerous eating options and a large cinema complex on the top floors. Very busy now that Dhoby Ghaut serves as an interchange for three different MRT lines.
Eat
Orchard is a good place to sample not just Singaporean food, but food from all over the planet. That said, if you're pinching pennies, prices tend to be slightly inflated by Singaporean standards, but well, at least it's not as bad as Sentosa.
Budget
Almost every shopping mall has its own food court, but for gourmet snacking, it's hard to beat the collection of shops and stands at Takashimaya's basement. Be careful though, those $2 squid balls won't fill you up.
Asian Food Mall

address: 304 Orchard Rd, Basement

One of the cheapest food courts in the district. Prices are about 30% cheaper than the food courts at nearby malls while still maintaining excellent Singapore standards. Stalls serve local and Asian fare: the chicken rice stall usually sells out well before closing and the ayam penyet is no slouch either.

phone: +65 6235 7385

address: 304 Orchard Rd #04-25/26

Very popular Indonesian eatery specializing in ayam penyet or "smashed chicken", breaded, deep-fried and flattened, served with the fiery chili sambal of the name. For a less spicy treat, sample their excellent rawon (beef soup).

Es Teler 77

address: 8 Grange Road, #B1-02

Indonesian food, famous for its coconut milk and fruit ice desserts. Located at the basement of the Cineleisure Mall behind Mandarin Orchard.

Food Republic

address: 435 Orchard Rd, Level 4

Food court done up as a series of hawker carts and decorated with various nostalgic knick-knacks. The food is a notch above average (try e.g. the hokkien mee fried noodles, with a perennial queue snaking out in front), and so are the crowds. Slightly more expensive than the competition.

Gyoza no Osho

address: 5 Koek Rd

On the ground floor of a musty mall filled with dodgy Japanese karaoke joints, this greasy spoon joint specializing in ramen noodles and gyoza dumpling will make you sweat — partly because the soups are hot, partly because they don't have air-con.

address: 67 Killiney Rd

A Singaporean legend now franchised across the island, this ordinary-looking coffee shop continues to pack in the crowds for its famous kaya toast (a steal at $0.80 per slice), with the kaya itself also sold at $3/5 for a small/large jar. For lunch or dinner, try the more substantial chicken curry with grilled French bread ($4.50).

Sajis Indian Food

address: Blk 261 Waterloo St #01-29, Stall 12

Known for its Indian rojak, deep-fried goodies served with an amazing peanut dip. Halal.
Mid-range
address: 290 Orchard Rd #B1-03/06

The Singapore branch of the award-winning Taiwanese chain, serves some of the best xiao long bao ($8.50 per platter) this side of Shanghai. Expect to queue near mealtimes, but it's a big place and the queue moves fast. There has been a lot of outlets popping up, and along Orchard road you can find them at Wisma Atria and Centrepoint.

address: 290 Orchard Rd #B1-41

The best Japanese soba noodles you'll find in Singapore, made by hand in the adjoining glass-walled workshop. The best time to come here is lunch, when you can get filling set meals for $15 or so.

address: 290 Orchard Rd #B1-07

Offers not only excellent Chinese-style soup, but also plenty of traditional Singaporean Chinese fare, including their trademark samsui chicken (slow-boiled chicken eaten wrapped in lettuce with garlic sauce). Eat a Chinatown Heritage Course ($50 for two) for lunch and take the leftovers home for dinner. Franchises throughout Singapore, including Suntec City and Changi Airport.

address: 290 Orchard Road #05-04/05

A popular chain of conveyor belt sushi joints. It's a bit more expensive than he cheaper chains Sakae and Sushi Express, but the quality is better.
Splurge
Orchard Road
is brimming with fiercely competitive restaurants. One easy option is
Crystal Jade
, a popular chain of Chinese restaurants with outlets in nearly every major shopping mall in Singapore, including Suntec City, Shaw House, and Paragon.
Chatterbox

phone: +65 6831 6291

address: 333 Orchard Rd

Possibly Singapore's most famous chicken rice, and at $30/plate after tax, certainly its most expensive — but you do get very generous portions, air-con, red-lacquered furniture in a very posh hotel. (For the budget alternative, go to Mr Chicken Rice in the Downtown East Mall in the very east of Singapore, run by Chatterbox's original chef and offering the same for $3!)

Crystal Jade Palace

phone: +65 6735 2388

address: 391 Orchard Rd #04-19

The flagship of the chain, which serves authentic Cantonese food. Dinner here is fairly expensive, but the set lunch for two is good value at $50. The dim sum during the lunch time is worth trying as well as the roasted meat and wonton noodles during lunchtime. Reservations recommended as queues can be as long as an hour.

Mezza9

phone: +65 6730 7189

address: 10-12 Scotts Rd 2F

Famous for their Sunday Munch, arguably the best of Singapore's many extravagant hotel brunches. Worth a splurge at $148 per person, including free-flowing Perrier-Jouet champagne. Reservations essential.

Sushi Kikuzawa

phone: +65 6738 3833

address: 360 Orchard Rd #02-13

Tiny hole-in-the-wall sushi joint, but the ten counter seats here are packed every night thanks to their simple concept: pay a flat fee and the chef makes all the sushi you can eat. You can either let the chef pick, or order off a ten-page menu. Reservations highly advisable.
Drink
Singapore's nightlife is concentrated just south of Orchard Rd by the
riverside
, but there are still a few notable nightspots. The largest cluster is
Emerald Hill
opposite Somerset MRT, a beautifully restored cluster of shophouse-cum-bars.
phone: +65 6732 6966

address: 2 Emerald Hill

True to its name, this bar has been set up in an alley between two shophouses — not that you'd really notice from the slick modern decor and the endless parade of Singapore's nouveaux riches.

phone: +65 6732 0818

address: 5 Emerald Hill

Friendly bar housed in a 1910 Peranakan shophouse. Downstairs is loud, upstairs is quieter with a pool table. The cocktails are good, but for a fiery kick try their Chilli Vodka or its industrial-strength big brother, Chilli Padi Vodka.
A few places of interest lurk elsewhere along the strip.
Orchard Towers

address: 400 Orchard Rd

Undoubtedly Orchard Road's most notorious nightspot, this building is a Designated Red-Light Area famously summarized as "four floors of whores". The first floor bars are borderline legit and not too bad for a noisy drink, but the rest are outright sleazy — and the Thai "ladies" propositioning passersby in the hallways may not be ladies at all.
Sleep
Accommodation on Orchard Rd incurs a hefty premium for the location and is uniformly expensive (at least by Singapore standards). Cheaper rates are usually offered only by older hotels in varying states of decay.
Budget
Mid-range
Splurge
If you want to splurge, there are two major styles to choose from, colonial hotels, harking back to the turn of the century, and modern hotels, firmly in the present.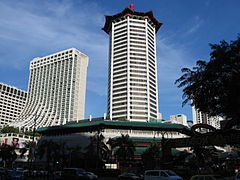 Connect
There are Internet cafes on almost every floor of Lucky Plaza on Orchard Road that charge only $2/hour. Other locations include Capitol Building at the corner of North Bridge Rd and Stamford Rd. The Starbucks on Scotts Road outside The Shaw Centre offers free WiFi.