Singapore/Riverside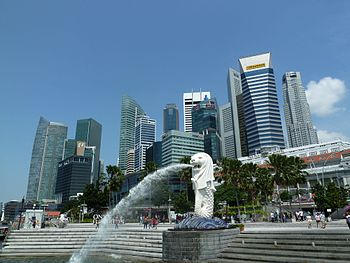 The
Singapore River
forms a central artery in
Singapore
's densely packed Central Business District. The north bank of the river is where Raffles landed and founded his colony, and to this day many central government buildings can be found in the area. The newer south bank, laden with skyscrapers, is where Singapore's bankers make (or break) their fortunes. Between the two are the bulk of Singapore's nightspots, found along the riverside streets of
Boat Quay
,
Clarke Quay
and
Robertson Quay
.
Get in


The riverside is best accessed by the MRT stations Raffles Place (North-South/East-West Lines) for Boat Quay and the Merlion, City Hall for Raffles Hotel and Chijmes, and Clarke Quay (North-East Line) for the bars and nightlife. There is no convenient MRT station for the western end of the river though: you'll have to hike on foot for 15 minutes, try to work out the buses, or hop on a bumboat.

Get around
By boat
A popular way to see the heart of the city is with
Singapore River Cruises
. Stations are scattered along both banks of the river and reservations are not necessary. Prices start at $3 for a short ride.
On foot
The Esplanade/Merlion/Boat Quay area has some great views of Singapore and makes for a fine walk (or jogging trail if staying nearby). It can get quite hot during the day though; evenings are cooler and breezier, and the nighttime skyline is equally attractive.
See
The bulk of Singapore's historical attractions are packed by the river, and the best place to start your tour is at the mouth of the Singapore River. While this area has formed the downtown core of Singapore since the early 19th century, sadly, most of the once-iconic shophouses and street markets have given way to modern skyscrapers and shopping centres, and those who wish to experience a more authentic slice of colonial Singapore life would do well to head up north to the Malaysian island of
Penang
instead. Not all is lost though, and several important government buildings and places of worship dating back to the 19th century survive, and provide a rare glimpse into the city's colonial past.
Monuments
Cavenagh BridgeSingapore's oldest bridge and its only suspension bridge, constructed in 1869, now a pedestrian walkway across the mouth of the Singapore River. Note the original sign forbidding cattle to cross.

Civilian War MemorialStands in memory of the civilians who perished during World War II. Mostly bypassed nowadays by underground passages, the memorial is sited above the final resting place of the remains of some unidentified war victims, part of the reason why the CityLink Mall does not travel in a straight line.

Merlion

address: Merlion Park

Singapore's official symbol, 8.6 metres tall and weighing 70 tons, spouts water daily on the south bank of the mouth of the Singapore river. (The statue previously stood further down the river, but was moved in 2002 after the opening of the Esplanade Bridge.) Designed by the Singapore Tourist Promotion Board in 1964, many a commentator has pondered on the inherent contradictions of a creature that is half-cat, half-fish. Any time of night or day, a steady stream of tourists troops up to see the mythical beast, and a purpose-built pier lets you take pictures with the Merlion and the CBD in the background. When paying your respects, don't miss the bite-sized Mini-Merlion (officially the "Merlion cub"), a mere 2 m tall, 28 m away towards the bridge.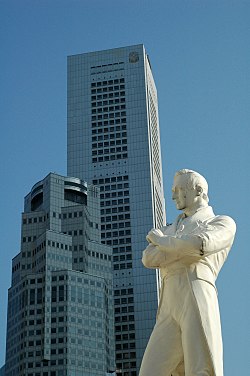 Raffles' Landing Site

address: 1 Empress Place

A statue of Stamford Raffles, the founder of Singapore, is built on the (supposed) exact spot where he first landed. Second only to the Merlion as most popular place in Singapore to take a picture of yourself, and having the skyscrapers and the shop houses of Boat Quay in the background helps to explain why! The statue here is a replica; the original can be found in front of the Victoria Theatre.
Tan Kim Seng FountainA fountain commemorating Tan Kim Seng, a merchant and philanthropist who donated money to build Singapore' first reservoir, MacRitchie Reservoir, and the accompanying system of waterworks.
Lim Bo Seng MemorialA pagoda commemorating Lim Bo Seng, a World War II hero who is known for refusing to divulge any information about his comrades despite being tortured by the Japanese, and subsequently died in prison.
The CenotaphBuilt by the colonial government to commemorate the British soldiers born or resident in Singapore who died in World War I. A second dedication was later added on the other side to commemorate the soldiers who died in World War II.
Museums
phone: +65 6338 6133

address: 2 Cox Terrace (Fort Canning Park)

The former HQ of the British army during World War II, now turned into an air-conditioned museum complete with animatronic figures retelling the events of the days before surrender. The nearest MRT station is Dhoby Ghaut, but it's a steamy hike up the hill. Guided tours only.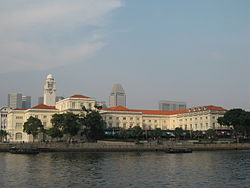 Historical buildings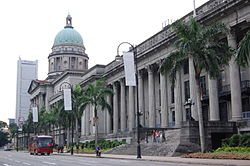 City Hall

address: 3 Saint Andrew's Rd

This grand old building has seen many important events occur within and on its front steps. It was the place of the Japanese surrender in 1945 and was also where Lee Kuan Yew declared Singapore's self-governance and subsequent independence from both the British Empire and the Malaysian Federation.

address: 1 Saint Andrew's Rd

The Old Supreme Court Building was built in the classical style, featuring Corinthian columns and an allegory of justice set below the main dome. The current Supreme Court Building is right behind and its "spaceship" structure marks quite a contrast between the old and the new. While the building itself is worth a visit, it now also houses the National Art Gallery.

phone: +65 6332 2996

address: 62 Hill St

The oldest surviving fire station in Singapore, it also houses the Civil Defence Heritage Gallery which showcases the history of Singaporean firefighting complete with antique fire engines. There are guided tours (that require booking) up the hose tower, once the highest point in 1920.

Old Hill Street Police Station

address: 140 Hill St

This striking Neo-Classical building catches the eye with its multi-coloured window shutters. There's an air-conditioned atrium inside which has a few art galleries and sometimes hosts performances, as part of the larger Ministry of Communication and Information. Somewhat fitting use of an old police station.
Skyscrapers and observation decks
phone: +65 6532 5003

address: 1 Raffles Pl

The viewing gallery at the rooftop of OUB Centre offers an unparalleled 360-degree view of Singapore from the highest point in the city-state at 282 metres. Visitors receive hi-tech interactive gadgets which allow them to see information about the places they are looking at. Each visit ends with a photo taken by specially mounted camera with a spectacular view of the Marina Bay as a background.
Religious buildings
As the historical hub of Singapore, there is no shortage of religious buildings that date back to colonial times.
phone: +65 6337 6104

address: 11 St Andrew's Road

Singapore's Anglican cathedral and arguably the most impressive looking church in Singapore.

address: 60 Hill Street

The first ever church to be built in Singapore and part of the Oriental Orthodox communion.

address: 30B Phillip Street

The oldest Taoist temple serving the Teochew community in Singapore, dedicated to the Goddess Mazu.
Parks
Hong Lim ParkHome to the Speakers' Corner, the only place in Singapore where protests are sanctioned albeit watched over carefully by the police. Never really used for its purpose until recent issues stirred locals from their apathy. Hosts Pink Dot SG (a 20,000-strong gathering to support gay rights) every June. Foreigners are allowed to watch but not participate in any protests.
Do
The entire Singapore river area is a lovely place for a walk, with small green gardens, old-style bridges and historical buildings, and the nightlife-rich expanse of Clarke Quay and Boat Quay.
If you'd like something a little more adrenaline-laden, head to Clarke Quay:
Jogging along the Singapore River is the best way to combine sightseeing and a workout, but there are two other options right next to Raffles Place MRT if you're willing pay for the air-con.
Try a Singapore Sling. Tourists typically head to the supposed birthplace at the Raffles Hotel's Long Bar (see
#Drink
section).
Buy
There are some shopping malls of interest around the City Hall MRT station, but serious shoppers will wish to head to
Orchard Road
for their shopping instead.
The Arcade

address: 11 Collyer Quay

A small shopping mall in the heart of the financial centre. Consists mainly of small shops operated by individual owners, which are unique to the mall.

CityLink MallFor the novelty of an entirely underground mall that links the Riverside district to Suntec City and the Esplanade. You could go round in circles here if you don't pay attention, as the mall starts from City Hall MRT to Esplanade MRT and back again. Brace yourself for the human crush.
Eat
You're spoiled for choice when eating at the riverside. Prices tend to be slightly inflated by Singaporean standards, so avoid any place that needs to use touts to get customers.
The west end of the river (around Robertson Quay) houses a significant Japanese expat community, and consequently the Japanese restaurants nearby serve up some of the best fare this side of
Tokyo
.
Peninsula Plaza
, which is located across the road from St Andrew's Cathedral, is the favourite hangout spot for Singapore's Burmese community, and is thus the place to go for authentic Burmese food.
Budget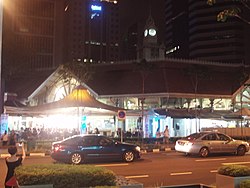 Komalas

phone: +65 6333 5644

address: 111 North Bridge Rd

McDonalds-style fast food, only they serve vegetarian Indian food on a banana leaf instead of burgers and fries. Worth a visit for the cognitive dissonance and good food, with massive meal sets under $5.

Lau Pa Sat

address: 18 Raffles Quay

A nicely done up Victorian-style hawker centre, but a little pricier and hence quieter than most. The satay here is famous though, and there's a long row of outdoor stalls on the south side (open only in the evening), with Fatman Satay (Stall #1) generally getting the best reviews.

phone: +65 6533 6128

address: 11 New Bridge Rd

Popular bak kut teh specialist serving light, peppery Teochew-style pork rib soup, best eaten with salted vegetables (mui choy), dough fritters (you tiao) and rice. Usually packed, but service is fast.

Yong Bak Kut Teh

address: 233 River Valley Rd

Well located for late-night snacks, this coffee shop serves up tasty KL-style dark, herbal pork rib soup. $5.30 for a bowl with rice and dough fritters.

Sofra Turkish Café & Restaurant

phone: +65 6291 1433

address: 100 Beach Rd #02-42/44

Somewhat localised but cheap and tasty Turkish treats.
Mid-range
phone: +65 6333 5438

address: #B1-07 Peninsula Plaza, 111 North Bridge Rd

This very authentic little eatery is run by and for Singapore's tiny Burmese community, many of whom are gem traders in the office block above. The food is an intriguing mix of Thai and Indian influences. Try the chicken curry weekday lunch set.

address: Clarke Quay Store 01-12-D

Excellent Mexican by Asian standards, with an inside restaurant area and a casual area under the canopy.
Splurge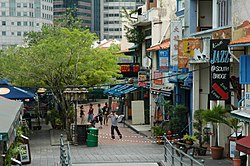 The best places for a splurge with a view in the evening are
Boat Quay
,
Clarke Quay
and
Robertson Quay
, which have many riverside restaurants offering
al fresco
dining. However, especially on Boat Quay, avoid any restaurant that has to resort to touts to find customers.
Another good choice popular with the expat crowd is
CHIJMES
(30 Victoria St), the former Convent of the Holy Infant Jesus, now an atmospheric assemblage of high-end food & beverage outlets near the Raffles Hotel.
Carnivore Brazilian Churrascaria

phone: +65 6334 9332

address: 30 Victoria St #01-30

A real Brazilian churrascaria (barbecue), where waiters walk around with skewers of South American beef and you can eat all the meat you want. churrascos, extensive salad bar, and there's a good selection of wines, cold beer and caipirinha, the Brazilian national drink made with sugar cane.

phone: +65 6339 3822

address: 30 Victoria St #01-24

One of the most expensive Cantonese restaurants in town, this Hong Kong-based restaurant group serves high end cuisine with an emphasis on garoupa, lobsters, prawns, and other seafood. Popular when entertaining business guests, just hope you're not the one who gets stuck with the bill.

phone: +65 6431 6156

address: 80 Bras Basah Rd

Singapore's largest Italian restaurant seating 320, it has a pizzeria, a deli, a wine bar, and the main restaurant. Good for their pastas and pizzas, the calamari rings, and mushroom soup is also good for a start. The tiramisu is another highlight.
Drink
Singapore's nightlife is almost entirely concentrated near the river. The main party zones are
Boat Quay
, on the south of the river next to the financial district (MRT Raffles Place, exit G) and
Clarke Quay
on the north bank a few blocks inland (MRT Clarke Quay or Fort Canning). Less well known but also worth a look are
Circular Road
, parallel to Boat Quay just behind it, and
Robertson Quay
, an up-and-coming nightlife/restaurant zone at the western end of the river. Bars and pubs come and go with dizzying speed, so just head out and find today's hip spot. All four are within crawling distance of each other.
Mohamed Sultan Rd
, inland from Robertson Quay and until recently the place to be, has been severely eclipsed by newer upstarts and most bars have been replaced by restaurants and furniture stores.
Bars and pubs
Cafes
phone: +65 6536 5319

address: 54A Boat Quay (Level 2)

Singapore's first cat cafe, inspired by the Japanese. Customers can cuddle cats or just watch them peacefully. However, drinks can only be consumed outside the enclosed area. Reservations are recommended as there are a limited number of people allowed at one time.
Nightclubs
At all clubs listed below, arrive early (or very late) because otherwise you may be stuck in line for a while. ID is theoretically required but rarely checked.
phone: +65 6333 9973

address: 3A River Valley Rd #01-03

Popular "New York style" club complex split into four zones: the outdoor 'lilypad' bar by the river, the main dancefloor (R&B, funk), the inner chill-out courtyard and Attica Too, the members-only club upstairs (house/trance). Picky bouncers, so dress sharp.

phone: +65 6538 2928

address: 20 Upper Circular Rd

The former Home club, now repoened under as Canvas.

phone: +65 6738 2988

address: 3C River Valley Road, #01-05, The Cannery

Singapore's best-known nightclub and in fact a complex of 4 spaces: Zouk itself for harder dance music, Velvet Underground for loungier stuff, Phuture for experimental edge and the outside Wine Bar for chilling out. A full-entry ticket will set you back a rather pricey $35, but two drinks are included and the place is happening especially when foreign DJs are in town — which is more often than not!
Sleep
Unless you're a shopping maven intent on maximizing time in
Orchard Road
's shopping malls, the riverside is probably the best place to stay in Singapore.
Mid-range
There is a large cluster of older mid-range hotels on and near
Havelock Rd
at the western end of river, not the best location for sightseeing or shopping.
SBS bus 51
from Havelock Rd offers a good escape route to Chinatown, Clarke Quay and Orchard. In the center, the bus goes north up Eu Tong Sen Rd/Hill St, but returns south via North/South Bridge Rd.
Splurge
In addition to the hotels below, check out adjacent
Marina Bay
, which has a major cluster of high-end hotels.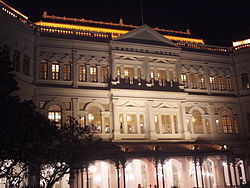 phone: +65 6339 7777

address: 80 Bras Basah Rd

Formerly Raffles the Plaza and the world's tallest hotel, now neither but still one of Singapore's best hotels: recently refurbished, unbeatable location, good service. The South Tower rooms are newer than the North Tower. Pool shared with the adjacent Swissotel The Stamford and thus crowded at peak times.

phone: +65 6403 6000

address: 41 Seah St

A hip hotel 5 minutes walk from City Hall MRT. 40 rooms and suites.

phone: +65 6337 1886

address: 1 Beach Rd

A Singaporean icon offering luxury in colonial style, founded in 1887 by the legendary Sarkies brothers, who also founded Penang's Eastern & Oriental Hotel and Yangon's Strand Hotel. Known as the birthplace of the Singapore Sling and the final stand of Singapore's last tiger, shot in the Billiards Room. Famed for super-attentive service, with more staff than guests, but needless to say, it's also one of the most expensive hotels in Singapore!
There are some luxury hotels of note scattered elsewhere on the river.
Cope
Laundry
Systematic Laundromat

phone: +65 6732 1438

address: 11 Unity St #01-22

One-day laundry service (no self-service available). Call ahead for pricing or they may charge you a hefty "tourist tax" of up to 200%.