Singapore/Sentosa and Harbourfront
Sentosa
is an island just off the southern coast of
Singapore
. This district also includes Harbourfront and the Southern Islands.
Understand
Formerly known by the rather unattractive name of Pulau Blakang Mati ("The Island After Death" in Malay) and the centrepiece of Britain's spectacularly unsuccessful "Fortress Singapore" strategy in World War II, Sentosa has been renamed and remade into one big tourist attraction, popular among Singaporeans as a quick island getaway. The new jewel in the crown is Resorts World Sentosa, an enormous complex comprising of Universal Studios theme park, S.E.A. Aquarium, Singapore's first casino, shopping malls and hotels.
The small southern islets of Kusu Island, St. John's Island, the Sisters Islands, and Pulau Hantu are a little to the southeast of Sentosa. Various plans to develop them have not come to much and they remain off the beaten track, but by no means undiscovered. The first two can be reached by public ferry, and the rest by chartered boat.

Get in
Basic
admission to the island
will set you back at least $1 per person which is included in the transportation fares from the mainland to Sentosa. Hotel guests can get an admission waiver. There is an ever-changing palette of combination tickets that may work out marginally cheaper if you plan to visit multiple attractions. The island is open 24 hours a day, 365 days a year.
The best way in is to take the North-East (Purple) Line or Circle (Yellow) Line of the MRT to
HarbourFront MRT station
and then make your way to Level 3 of Vivocity, where you'll find the
Sentosa Express monorail
to the island. The train operates every 5-8 minutes from 07:00-23:45 daily, and a flat fare of $4 applies (island admission included, EZ-Link accepted).
The cheapest way though, is to walk across the bridge via the
Sentosa Boardwalk
($1, EZ-Link accepted), and it isn't even much of a walk since there are travellators with plenty of shade. The next cheapest is to take a SMRT bus,
RWS 8
, from VivoCity/HarbourFront MRT for $2 and there are some shuttle buses from hotels in the Orchard and Marina Bay districts.
By
taxi or private car
, you'll need to pay $2 to $7 per vehicle to enter depending on the time of entry, and a $3 taxi surcharge also applies on the way out. Alternatively, the
Cable Car
between Sentosa, HarbourFront shopping mall and Mt. Faber is a little more scenic and the return ticket costs $26/$15.
Sentosa's ferry terminal has been demolished to make way for the casino, so to visit the Southern Islands you will have to head to downtown Singapore's
Marina South Pier
for the ferry to Kusu and St John's Island.
Get around
All transportation around Sentosa (except taxis) is free.
Three coloured shuttle bus services — Yellow Line, Red Line and Green Line — connect Beach Station to various points on the island. Buses run every 10-35 minutes from 07:00-22:30 every day and till 00:00 on Saturdays.
Beach trams, supplemented by minivans, shuttle people along the beaches every 10 minutes. One service connects Beach Station to Siloso Beach, another connects Beach Station to Palawan and Tanjong Beaches.
The Sentosa Express has four different stops (Sentosa, Waterfront, Imbiah and Beach), providing services between Resorts World Sentosa, the Imbiah attractions and the beaches. It starts at VivoCity (Sentosa station) and goes to Sentosa Island. The terminus is Beach Station.

See and do
Long a bit of a joke, Singaporean wags used to quip that "Sentosa" stood for "
S
o
E
xpensive and
N
othing
to
S
ee
A
ctually". Well, it's still expensive, but there are now more than enough attractions to spend a day or two taking it all in, especially in the family-oriented Resorts World Sentosa. In fact the crowd during the weekends and school holidays can be quite daunting, and it's never easy waiting in long sweaty queues under the mid-day sun but
Universal Studios Singapore
is a standout experience for theme park lovers and for those who haven't been to
Orlando
. For all attractions below, a "child" is defined as being between three and twelve.
Resorts World Sentosa
Resorts World Sentosa
can be reached via the
Waterfront station
of the monorail or via the dedicated buses
RWS8
from Harbourfront and other points in Singapore (see
Get in
). If you plan on visiting more than one park, check out the Multi-Park Passes. The most comprehensive, which includes Universal Studios Singapore, S.E.A. Aquarium, Maritime Experiential Museum and Adventure Cove Waterpark, costs $188/136 for a two-day visit and is curiously more expensive than the individual tickets combined, but allows for switching between attractions as you like.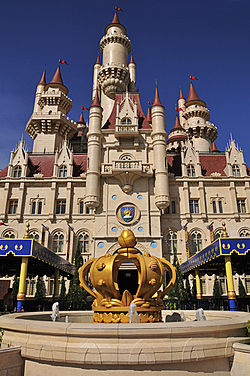 At the beach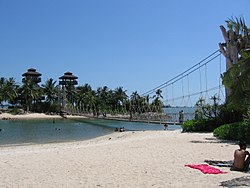 Among Singaporeans, a popular reason to go to Sentosa is to hit the
beaches
: Siloso, Palawan and Tanjong from west to east respectively. All three are artificial, but does it really matter? Unfortunately the water is rather murky due to the never-ending parade of ships across the Straits. Siloso has a nice beach promenade full of clubs and restaurants, some rather noisy, while Palawan claims to be the southernmost point of continental Asia (if you count the bridge connecting Sentosa, and ignore any competing Malaysian claims, as well as the parts of Sentosa that are further south). Tanjong, the quietest of the three, is the place for
beach volleyball
.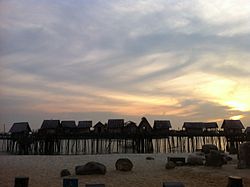 Wings of TimeMultimedia extravaganza with live cast, pyrotechnics, water jets and lasers. Popular, so book ahead, especially on weekends.

phone: +65 6377 3113

address: Beach Station

Artificial waves to go along with the artificial beaches, there's the Double Flowrider (easy) and the Flowbarrel (hard). Or just come and watch surfers bust up the waves, with a nearby beach bar and the occasional party event. Need to register at least 30 minutes before a session.
For some action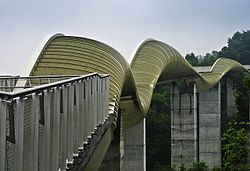 phone: +65 6571 0000

address: 43 Siloso Beach Walk

A giant wind tunnel five storeys high that gives visitors a chance to try out indoor skydiving and is even big enough to accommodate eight-way formation flying.

phone: +65 6884 5602

address: Imbiah Lookout

Zip wires, aerial obstacle courses, simulated parachute landings and trampolines, all for the adrenaline pump.

phone: +65 6274 0472

address: Beach Station

Up the hill in a ski lift and down again in a steerable bobsled. Kids safe. Good attraction for younger kids as the incline of the track hinders going very fast. Not very exciting for those over 15. If you are inclined to go, resist temptation to purchase multiple trips until trying it the first time. Luge trail is closed during wet weather.
Elsewhere in Sentosa
address: at the westernmost tip of Sentosa

Formerly the largest British naval base in Fortress Singapore, its guns staring balefully out towards the sea in preparation for enemy attack. The Japanese rode bikes down the peninsula instead; after your visit here, be sure to visit the Battle Box at Fort Canning Hill to find out what happened next. Now turned into a museum, you can follow a tour through the area (complete with lots of wax figures) to find out what the life of a recruit was like.

Images of Singapore & Madame Tussauds

address: near Cable Car Station

A sugar-coated, kid-friendly retelling of the official Singapore story, where people of many races have come together to live in harmony. Renovated in 2006 and now uses the latest technology, but there is not all that much substance under the glitz.

Sentosa MerlionA stretched-out 37 m version of the statue by the Singapore River, which is lit up at night. Admission enables you to take the elevator up into its mouth and gaze out over the nearby Port of Singapore, as well as experience some seriously cheesy exhibits downstairs.

phone: +65 6275 0022

address: 27 Bukit Manis Rd

The only golf club in Singapore open to the public, it features two famously challenging 18-hole courses and hosts the yearly Barclays Singapore Open. However, only one of those courses, the Serapong, is open for a limited number of guests daily.
On the main island
Labrador Park and Labrador Secret Tunnels

address: Labrador Villa Rd

Opened in May 2005, there are two ways of looking at these two restored British-era bunkers: either they're done a pretty good job of making a tunnel interesting, or even if you dress it up with spot lights and recorded booms, it's still just a bunch of tunnels. There are also some machine gun posts, old artillery guns etc scattered about in Labrador Park, which also has some walking trails and a quiet stretch of seashore opposite Sentosa.

address: Mt Faber

On the mainland, it's a 9 km long walk starting from Mt. Faber that passes over treetops and through housing estates. Offers an easy getaway from shopping centres and tourist attractions. The Henderson Waves are the first major stop on the trail.
Southern Islands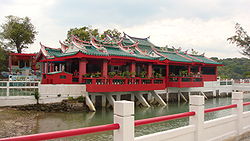 There are a few sights of minor interest on
Kusu Island
. The name means "Turtle Island" and there are indeed lots of the reptiles scampering about, but don't expect an unspoiled tropical paradise: the island was thoroughly reworked with land reclamation in 1975 and looks similar to Sentosa. Kusu island can be reached by ferry from Marina South Pier.
Da Bogong (Tua Pekong) TempleAn unassuming little Taoist temple dedicated to the Merchant God. This is the focal point of the yearly Kusu Festival (Oct-Nov), when pilgrims come to the island to pray for prosperity.

Keramat Kusu

address: Kusu Island

An unusual Muslim shrine (not a mosque) atop a small hill, dedicated to the saint Syed Abdul Rahman and his family, who lived here in the 19th century. The shrine is painted bright yellow and is visited in particular by childless couples.
Kusu and St. John also offer some beaches, which are quieter but otherwise not much different from those on Sentosa itself. St. John is also a popular spot for
fishing
.
Buy
Every corner of Sentosa is inundated with gift shops filled with all the plush Merlion toys you will ever need (and then some).
address: HarbourFront MRT

This giant complex on the mainland just next to the Sentosa bridge is Singapore's largest shopping mall, featuring anchor tenants like The Gap, two food courts and creative landscaping. There is a huge hypermarket featuring Singapore's largest organic supermarket. The Sentosa Express monorail station is integrated into the mall - the ticketing station can be found on the 3rd floor beside the retro theme food court, and the Singapore Cruise Centre is connected to VivoCity via a bridge to the HarbourFront Centre, where there are also other shops as well.
Eat
As you might expect from a giant amusement park, food on Sentosa is (by Singaporean standards) rather pricey and mediocre. Things have, however, gotten slightly better in recent years with local chains allowed to open up outlets. Since the opening of the casinos, good (though still pricey) fine dining options are available at Resorts World Sentosa. For cheaper food options, grab a bite at either VivoCity or HarbourFront Centre.
Budget
Seah Im Food Centre

address: Seah Im Rd

Popular with locals, has a range of Indian Muslim food stalls and a variety of local cuisine. The building is rather old, but the food is quite good.

Food Republic VivoCity

address: 1 HarbourFront Walk, #03-01

Retro themed like a collection of 1960s hawkers, only with air-conditioning (and hygiene). Slightly expensive for a food court, but the selection is good and it's usually packed.

Malaysian Food Street

address: Resorts World Sentosa

Notable for its retro 1970s depiction of Malaysia, with food hawkers selling Penang laksa and KL hokkien mee. Fits in with the theme park facade, but any good foodie would rather head across the causeway for the real thing.

7-ElevenThe only store in Sentosa that sells drinks below $3. Good for a snack.
Mid-range
address: Mt. Faber

On a hill opposite Sentosa, accessible via the cable car or a 20-minute walk uphill from Harbourfront MRT. The food is nothing special, but the view on Sentosa is really quite worth the hike up.

phone: +65 6376 2662

Offers the improbable combination of pizzas, pastas, and a trapeze school.
Splurge
phone: +65 6371 1966

address: 101 Siloso Rd

Mildly over-the-top beachside restaurant complete with rippling waves projected onto the ceiling. Competent if not cheap Mediterranean and Chinese seafood dishes and grills. Terrace and outdoor seating. Free parking and they'll even reimburse your Sentosa entrance fee.

phone: +65 6708 8310

address: 2 Bukit Manis Rd

In sight of jungle, beach and sea, repeatedly voted the most romantic restaurant in Singapore and popular with bosses out for a naughty night with their secretaries. Book a table on the lower deck for the best views.
Drink
The beaches can offer some pretty wild parties on Friday and Saturday nights, especially if one of the on-again, off-again
foam parties
pops up. The
New Year's Eve
party in particular is legendary, as is
ZoukOut
, a massive yearly outdoor party organized by
Zouk
, featuring a roster of international and local DJs. Beaches, beer, bikinis, and booming bass. What more do you need?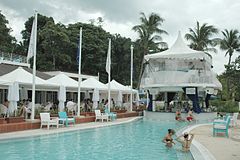 Bora Bora Beach Bar

phone: +65 9005 4238

Laid-back beach bar playing jazzy tunes.

Cafe del Mar

phone: +65 6235 1296

A franchise of the famous Ibiza club, offering a pool by the beach and chill-out music. The restaurant is pleasant but slightly overpriced and the outdoor seating is very nicely set up, although the volume is often cranked up way too high. Reserve in advance if you want one of the little pavilions.
There are a few nightspots of note on the mainland side of Sentosa Bridge.
Privé

phone: +65 6776 0777

address: 2 Keppel Bay Vista

Built on a private island connected to the mainland by a bridge, arriving here is half the fun. There's an expensive steak restaurant indoors and an equally expensive Japanese eatery upstairs, but the crowd-puller is the slick, breezy outdoor bar with DJ playing chillout tunes.

phone: +65 6270 7676

address: 3 Sentosa Gateway

Former power station now hosting no fewer than 9 clubs and bars with different themes, including Powerhouse for dance pop, Dragonfly for Mandarin/Cantonese live music, Movida for Latin rhythms and Bellini Room for jazz. Popular with Singaporeans and somewhat more downmarket than the options at Clarke Quay. Opening hours and prices vary per club, but most are open Wednesday to Sunday and charge $10-20 for entry (including one drink).
Sleep
The cheapest place to stay is actually off the mainland on the Southern Islands. Camping
is
possible on St. John's Island, the Sisters Islands and Pulau Hantu, but free camping permits from the Sentosa Development Corporation () are required.
Sentosa is not a particularly convenient base for sightseeing elsewhere in Singapore, and most of the accommodation targets visitors looking for a simple beach holiday. However, the Sentosa Express monorail has improved access to the mainland, so some excellent deals can be found if you scout around.
Mid-range
phone: +65 6275 1034

address: 30 Imbiah Walk

Offers simple "kampung" huts (maximum 3 people) for $109/79 peak/off-peak and new air-con chalets (maximum 2 people) for $159/109; there are additional discounts for trade union NTUC members. In addition to the nearby beach, guests can use a swimming pool.
Splurge
Sentosa features a sprinkling of resort hotels catering to those who want a beach holiday within striking distance of the city.
Crockfords Tower

address: Resorts World Sentosa

All-suite hotel exclusively for casino high rollers. Even if you aren't staying here, take a peek at the lobby and its several million dollars' worth of Chihuly glass.

Hard Rock Hotel

address: Resorts World Sentosa

Corporate rock for wannabe rock stars. The lagoon-style pool with real sand is nice though, and the Rang Mahal Pavilion is among the better options.

Hotel Michael

address: Resorts World Sentosa

Designed by and named after architect Michael Graves, but mostly in shades of lime.

Festive Hotel

address: Resorts World Sentosa

Family-oriented hotel where most rooms feature a special loft bed for the kids. More upmarket than you'd think.

Equarius Hotel

address: Resorts World Sentosa

Spacious bedrooms and bathrooms, with panoramic views of the sea or forest.
Go next