Singapore Changi Airport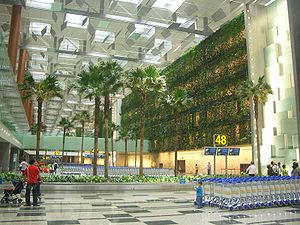 Singapore Changi Airport
(
SIN
) ("Changi" or just "the airport" to locals) is the main commercial airport of Singapore, located 25 kilometers on the eastern edge of the island and has good public transport links to all parts of Singapore.
Consistently voted one of the best airports in the world, Changi is quintessentially the hub for flights between Southeast Asia, to where virtually all Southeast Asian airlines fly, and a common stop on the Kangaroo route between Europe and Australia. It is the hub airport of the island nation's flag carrier Singapore Airlines, its sister airline SilkAir, and its low cost subsidiary Scoot.

Understand
Changi airport is on the east coast of Singapore, about 25 km from the downtown area with good rail and road connections. There are no domestic flights due to the small size of Singapore; all flights from Changi are international. (Singapore only has one other civilian airport: Seletar.)
Opened in 1981 on reclaimed land to alleviate the ever-increasing air traffic at what was then Paya Lebar Airport closer to the city, Changi is one of the world's busiest, and has been consistently voted in the top three world's best airports. Passengers are made to feel at home while in transit, with more facilities than you'd typically expect at an airport. Air-side gardens and artworks soothe the eyes, a massage parlour and spa relax the muscles, a swimming pool at Terminal 1 helps keep the body fit, while a cinema and giant television screens provide visual entertainment. There are even butterfly gardens and koi carp ponds!
The airport's schedules are dominated by Singapore's flag carrier, Singapore Airlines, and its regional subsidiary, SilkAir. Singapore Airlines operates the world's longest nonstop commercial flight from Singapore to
Newark
, covering a distance of 15,344 km and taking over 17 hours. All Southeast Asian major airports have at least an international flight to Singapore, while routes to East Asia, Australia, the Indian Subcontinent also see multiple services per day by different airlines. Non-stop flights to many European cities, Africa, and even the USA are also on schedule. In fact, 3 of the top 10 world's busiest routes start from Singapore, namely to Kuala Lumpur in Malaysia, Jakarta in Indonesia, and Bangkok in Thailand.
Due to the location of
JEWEL Changi
at the center of the airport property, a shopping mall which opened in 2019, its establishments are also included in this guide.
Flights
Changi houses four terminals: Terminal 1, 2, 3 and 4. Most airlines, especially low cost carriers, use Terminal 1, but a few others use Terminals 2 & 3. Singapore Airlines flights depart from either Terminal 2 or 3, depending on your destination. If you are flying Singapore Airlines and arrive by taxi at the airport, be sure to tell the driver your destination so he or she knows which terminal to take you to; their flights may arrive at either terminal regardless of point of origin, so if you have friends picking you up, make sure you ask them to check the flight information system via the airport web-site.
Terminal 1
All other airlines not operating in Terminals 2, 3, and 4
Terminal 2
Singapore Airlines flights to Southeast Asia, Bangladesh, Sri Lanka, Maldives
Terminal 3
Singapore Airlines flights to Northeast Asia, India, Australia, New Zealand, Europe, United States of America, Dubai & South Africa
Terminal 4
AirAsia Group (AirAsia, Indonesia AirAsia, Philippines AirAsia, Thai AirAsia), Cathay Pacific, Cebu Pacific, Hainan Airlines, GX Airlines, JC International Airlines, Korean Air, Lanmei Airlines, Spring Airlines, VietJet Air, Vietnam Airlines, West Air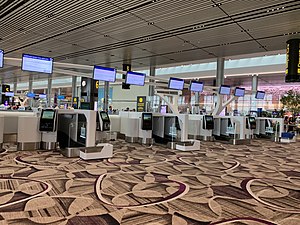 Terminal 3 has concourses A & B. Concourses C & D, E & F are in Terminals 1 & 2, respectively. Concourses G and H are found in Terminal 4. These letters precede the gate number for any flight information. Each concourse has a transfer desk to collect your next boarding pass. Check the TV screen for information about where to retrieve the boarding pass for your flight.
If you are arriving on a Singapore Airlines flight and are transferring to another Singapore Airlines flight, you can often find your arrival and departure gate information from the onboard entertainment system, or from information screens when you exit the arrival gate. There are
no boarding calls
and
boarding gates close 10 minutes before departure
.
Fortunately transfers are quite easy, and Terminals 1-3 are connected by a free Skytrain service from 04:00 to 01:30, without passing through immigration. Terminal 1 is also physically connected to Terminals 2 and 3 airside, and you may not notice you're in a different terminal unless you read the signs.
To transfer to flights at Terminal 4, a free shuttle bus service is provided at Terminal 2. Terminal 4 is further south of the airport and has no direct Skytrain link to the rest of the terminals.
Unlike most other airports, there are no separate zones for departing and arriving passengers in the main terminals before passport control, hence arriving passengers are free to shop and eat at the airside if they are not in a hurry. In addition, unless they have checked luggage, they can clear passport control at any terminal; security checks are done at the gate of the respective flight. An exception to this is Terminal 4, where there is centralised security screening after immigration.
Ground transportation
From the airport there are a number of ways to get into the city:
By train
Changi Airport is the terminus of the
East-West line
of the MRT. The MRT station is located between Terminals 2 and 3, and is well indicated from Terminal 1. When going to the city, you'll need to change trains at Tanah Merah – exit on the
left hand side
door and cross the platform. When going to Simei, Pasir Ris or Tampines, exit on the
right hand side
. When returning to the airport, cross to the middle platform. If you use the Downtown Line, transfer at the Expo station, just before the airport. Going to anywhere from the airport should cost you less than $3 (
Singapore dollars
), for instance the 40-minute ride to City Hall station costs $2.30 (+$0.10 non-refundable deposit). Trains run from 05:31 to 23:18.
Unfortunately there are no direct routes running between the airport and the
Woodlands Train Station
, at which you can take a train to Malaysia, a transfer is required at downtown and overall journey takes at least 1 hour and 30 minutes.
By shuttle
A Ground Transport Desk is available in the arrival hall at all terminals and can arrange shuttle bus transfers. The shuttle costs $9 per adult and $6 per child (aged 12 years and below) and will take you to most downtown hotels.
Transtar Travel
operates a coach service from Terminals 1 and 4 to
Johor Bahru
Customs, Immigration and Quarantine Complex (CIQ). Fares are $10 from Changi Airport to Johor Bahru, and RM10 in the reverse direction. Payment is accepted by cash and EZ-Link card. The first bus departs at 08:15 and the last leaves at 23:15.
A
shuttle bus
operates from Terminals 1 and 4 to
Tanah Merah Ferry Terminal
, where you can catch ferries to the Indonesian islands of
Batam
and
Bintan
. Fares are $3 per person, and can be paid either by cash or EZ-Link card.
By taxi
There are 2 types of taxis to choose from. Depending on how many people are travelling with you.
Taxi (cab) is easiest - simply follow the signs after clearing customs. Meters are always used in Singapore. A trip to the city during the day will be between $20–30 including a $5 airport surcharge in effect 17:00 Fridays to 23:59 Sundays and $3 at all other times. An additional 50% surcharge applies 00:01-05:59. By law, only a maximum of 4 passengers can use one taxi.
Comfort or Citycab

phone: +65 6552 1111

Premier Taxis

phone: +65 6363 6888

SMRT

phone: +65 6555 8888

Transcab

phone: +65 6555 3333
Limousines charge a flat $55 and $60 for a party of 4 & 7 respectively, to anywhere in the city and are a pretty good deal after midnight, as you can skip the queue and avoid the surcharge. The same pricing applies to chartering van-sized MaxiCabs, which are good for large families or if you have lots of baggage.
By bus
Bus terminals can be found in the basements of T1, T2 and T3, and at ground level at T4. 06:00-23:00 only. Fares are around $2.50, exact fare required (no change given) if you pay cash. Bus number 36 directly goes to the city centre, which takes roughly 50 to 60 minutes travelling on expressways through the
East Coast
to
City Hall
and
Orchard Road
. It serves all four terminals.
By car
The airport is at the terminus of the Pan Island Expressway (PIE). A drive to Downtown takes around 30 to 40 minutes; a drive to Jurong at the western end of the expressway is twice as long. All parking lots except the one for Terminal 1 and Jewel Changi are eligible for long term parking, with parking rates capped to $57.60/24 hours; short term or general parking at all terminals convey a rate of $0.04/minute, starting from 10 minutes after entrance. An open-air parking lot between Terminal 2 and JetQuay terminal offers a cheaper parking rate of $35/24 hours or $0.035/minute.
Car rentals counters are open 7AM to 11PM. Mainstream brands have their respective kiosks at the arrival level of all terminals except terminal 1.
Get around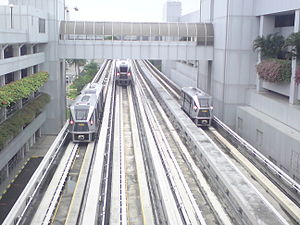 Passengers whose flights depart from Terminals 1, 2, or 3 are free to use most of the facilities within these three terminals (e.g. if your flight departs from Terminal 2, you can head over to Terminal 1 to use the swimming pool there). This is because Terminals 1, 2, and 3 are well-connected to each other by the SkyTrain, an automatic driverless people mover which operates both landside and airside, that operates from 04:00 to 01:30. When the train is not in operation, you must walk if you wish to remain airside. A walk from Terminal 2 to Terminal 3 or vice-versa should take about 30 minutes as you have to pass through Terminal 1. A buggy car that will take you to your boarding gate, very useful if you are in a hurry, is available upon request. If you are landside, a shuttle bus is available between the terminals when the SkyTrain is not in operation.
Terminal 4 is located in a separate area from the other 3 terminals, and is not served by the SkyTrain system. Shuttle buses both landside and airside connect Terminal 4 with Terminal 2. If you need to transfer between Terminal 4 and Terminals 1 or 3, you will need to catch the shuttle bus to Terminal 2, and make your way to the other terminals by SkyTrain.
Wait
Landside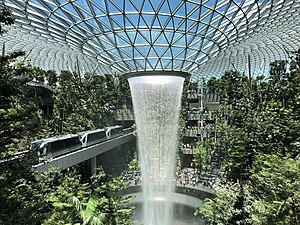 Free Singapore ToursIf you have between 5.5 and 24 hours to spare, get out the airport and see the both the old and new sights of the island nation, for free! Just register at the airside booth at the latest 1 hour before tour starts.

Jewel Changi AirportA shopping mall with numerous restaurants and shops, many of which open their only shop in Singapore here. If you would rather bask yourself in natural beauty, head to the Canopy Park at Level 5 for assorted mazes and walks between flowers, or the Shiseido Forest Valley to shelter yourself under the trees. The iconic HSBC Rain Vortex is the world's highest fountain, and at night it becomes the stage for a light and sound show. Those who don't want to move landside can still see the fountain by taking the skytrain between Terminal 3 Concourse B and Terminal 2 Concourse E.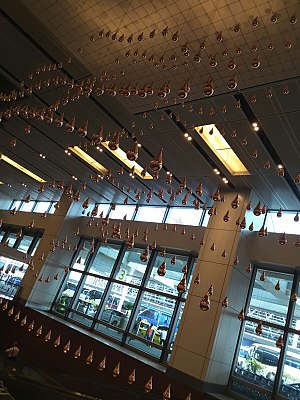 There are several kinetic art installations located at all terminals. The most significant ones include the Kinetic Rain at Terminal 1 that displays sequence of rain drops forming shapes as they go up and down, A Million Times in Changi at Terminal 2 that displays clocks on a giant wall, whose moving hands synchronously create shapes and texts, and Daisy at Terminal 3, a windmill whose movement corresponds to the movement of travelers within its immediate area.
Airside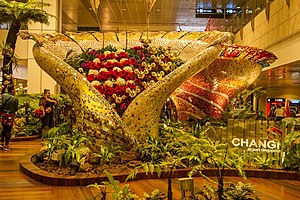 Even if you are stuck in the airport, there are plenty of ways to kill time as each terminal has a unique design and the airside areas of T1, T2, and T3 are attractions in themselves. T2, arguably the most interesting, has an indoor garden, a music listening area with couches and mood lighting, a computer gaming room, a small cinema (you can bring your luggage trolleys inside and park them at the back), paid massage services and, of course, plenty of duty-free shops. T3 has a butterfly garden and plenty of natural light, but fewer entertainment options. T1 has a swimming pool for $13.91 and jacuzzi, both open until 23:00. There is an outdoor cactus garden on the roof of T1. You can travel between the main terminals without passing through immigration and, if you have no checked-in luggage to collect, you can clear passport control and customs at any terminal. T4 is smaller than the other three terminals, but has a Peranakan heritage area with exhibits about Peranakan culture and history.
Movie theaters with several current movies are played in the loop at Terminals 2 and 3. Simply park your trolley and tuck in, for no charge!
An Entertainment Deck at Terminal 2 invites game players to entertain themselves with XBox Kinect, Playstation and several arcade games.
There is at least one TV lounge at every terminal, inviting football fans to watch matches live.
Have a little time for art? Create your own woodblock print at the art stations in Terminals 1,2, and 3.
Gardens
Being a tropical country, the airport tries to introduce native faunas for travelers who lucked out of visiting Southeast Asian gardens and jungles, or just to unwind themselves.
Terminal 1: Cactus Garden, Water Lily Garden, Discovery Garden, Piazza Garden
Terminal 2: Enchanted Garden, Orchid Garden, Sunflower Garden
Terminal 3: Butterfly Garden, Crystal Garden
Terminal 4: Steel In Bloom
Lounges
Ground services dnata & SATS have lounges at each terminal. Inquire your airline about which lounge they use.
British Airways, Emirates and Qantas have large lounges for first and business class passengers in Terminal 1 with shower facilities, food and drink, Wi-Fi access and internet terminals.
Thai Airways has a lounge in Terminal 1.
Terminals 2 and 3 have Singapore Airlines SilverKris lounges for business- and first-class passengers, each of which has separate sections exclusively for first class passengers. If you are flying in economy on a Star Alliance airline and hold a KrisFlyer (Singapore Airline's frequent flyer programme) Gold card, or Star Alliance Gold card, you will be redirected to separate, somewhat busier, lounges.
Cathay Pacific has a lounge for first and business class passengers in Terminal 4.
Plaza Premium Lounge has a lounge in Terminal 1, and another one jointly run with SATS in Terminal 4.
Local bank DBS operates lounges in Terminals 2 and 3 for their private banking clients.
Eat and drink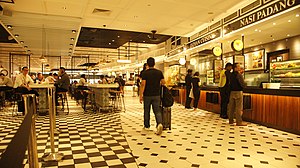 Some of the restaurants, especially in the food courts and the transit area, accept neighboring and world major currencies; change is always given in Singapore dollars. The food courts and convenience stores are, with few exceptions, open 24 hours.
Terminal 1
Public
Staff Canteen

address: Terminal 1 Car Park 1B

Head here if airport food is expensive and less delectable for you. Though the name means it's dedicated to staff, the public can still savor the local delicacies for a fraction of the price at airside!
Transit
Food Gallery

address: Level 3

The food court offering diverse Singaporean delicacies.

The World Is Flat

address: Level 2

Relax at a bar featuring rotating selection of craft beers on tap and mixtures of cocktails.
Terminal 2
Public
Staff Canteen

address: Terminals 2 Level 3M Car Park 3B

Head here if airport food is expensive and less delectable for you. Though the name means it's dedicated to staff, the public can still savor the local delicacies for a fraction of the price at airside!

Swensen's

address: Arrival Hall Level 1

Serves diner style breakfast and snacks, steaks, pastas and pizzas, and of course, ice cream!
Transit
Chutney Mary

address: Level 3

Craving the authentic Indian spices? Head here for either a light street snack or a more substantial thali set.

Kaveri Indian VegetarianOne of the few vegetarian friendly restaurants at the airport. Specializes in southern Indian flavors.

Nando's

address: Level 3

The go-to place for its reknown spicy (peri-peri) chicken with various optional salads and side dishes to make it a hearty meal. You can of course, choose the level of spiciness.

Straits Food Village

address: Level 3

A food court offering assorted dishes from Singapore in a rustic wood atmosphere. Order the food by selecting from the kiosk and pick up your meal from the restaurant when your number is called.
Terminal 3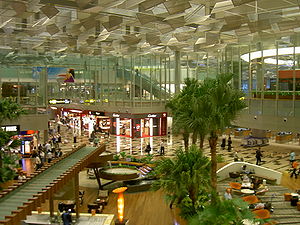 Transit
address: Level 2

In mood for something warm and hearty? Head here to savor its noodle with a choice of beef or pork broth, simmered for at least 12 hours resulting in rich flavor and high protein content, or congee with toppings you can select from, including the recommended silk tofu and century egg.

The Kitchen by Wolfgang Puck

address: Level 2 Departure Lounge Central

Enjoy breakfast by morning or steaks, pastas, and pizzas by the afternoon and evening, with recipes tailored by the renowned chef.

Singapore Food Street

address: Level 3

A 1960s themed food court offering culinary delights from the island nation.
Terminal 4
Public
Food Emporium

address: Level 2M

Perhaps the only food court on landside. Prices comparable to outside establishments.

London Fat Duck

address: Level 2M

look for its tender and crispy signature roast duck, either on its own or on rice, noodles and congees. A small selection of dim sums are also offered to those who want just a little snack.
Transit
International Food Hall

address: Level 2M

Food court offering diverse range of dishes from all over the world.

Tiger Den

address: Level 2

Enjoy Singapore's very own beer, tapped up to a pitcher or bottled.

Treasures Yi Dian Xin by Imperial

address: Level 2

An extensive selection of dim sums in addition to noodles and congees. Look for its set menu which for a cheaper price makes a complete meal.
Food options are varied and generally reasonably priced, with some choice picks including the Peranakan-themed
Soup Restaurant
(T2 landside), which serves much more than just soup, and
Sakae Sushi
(T2 airside).
For some local food, try a kaya toast set at
Ya Kun Kaya Toast
(T3 landside) or
Killiney Kopitiam
(T2 airside). Soft-boiled eggs, coconut jam on toasted bread, and some
kopi
(coffee) are nice to eat at any time of the day.
There is also a good dim sum restaurant in
London Fat Duck
(T4).
Buy
Get your free money!
Passengers flying Singapore Airlines or SilkAir and transiting in Singapore for less than 24 hours are entitled to a
$20 voucher
for buying basically anything at the airport but convenience stores & money exchanges. Simply show your electronic ticket or boarding pass and passport at the iShop@Changi counter at Terminals 2 & 3 to claim.
Your spare change can go a long way.
If you have spare Singapore dollars or other currencies you wish to dispose of, you can do so at the Travelersbox vending machine for credit at various merchants (such as Starbucks, Facebook, JD.com, Grab, Lazada, Amazon China or Japan, Facebook, Tokopedia) or donate them to charity.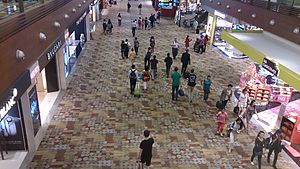 ATMs abound, although they mostly only represent Singaporean banks and Citibank is the only international bank. Money changers offer reasonable rates as well, although you pay a small premium compared to the city. Credit card payments are accepted at all establishments. Duty free shops even offer payment in the traveler's home currency or in Singaporean dollars; make sure to check the forex rate of your credit card issuer first.
Shops are extremely varied and, if moved to more than 100 countries, would constitute their largest mall! All accept American Express, Visa and MasterCard; most accept Diners Club, JCB and UnionPay.
If you're just arriving and need to buy a SIM card for your phone, there are plenty of tourist help-oriented shops that will be happy to sell you one with $50-70 of credit on it (and that's how much it will cost). 1GB of data for a week is only $7 though, so if you're only in Singapore for a short time, the bigger cards are definitely overkill. Instead, head to the money changers - you can buy a $15 SIM card there. You need to present your passport when purchasing SIM cards.
Perfumes & Cosmetics by Nuance Watson

address: Multiple locations at all terminals

They claim to have the cheapest prices compared to downtown Singapore or other airports in Asia.

Discover Singapore

address: One at each end of all terminals

For your last minute gift ideas on Singaporean memorabilia and icons as souvenirs.

Irvin'sOne of the new delicacies of Singapore you can effortlessly take home with: bite sized fried fish skin (or cassava or potato chips) coated with salted egg. The fish skin usually sells out by mid afternoon! Whoever tries will be addicted.

Bee Cheng HiangMost famous for its bakkwa (thinly sliced dried pork meat) cut in various shapes and sizes, freshly BBQed for near-future consumption or vacuum packed for longer shelf life. Also sells meat floss and mini cookies.

address: All Terminals, level 1

Sells SIM Cards with humongous internet quotas or alternatively, rent a WiFi that can be shared with multiple devices. Inbound travelers can also benefit from pre-purchase of admission tickets to tourist attractions as well as tourist passes. Departing passengers can purchase rail passes for Japan or rent WiFi for other countries
Connect
There are two ways to connect to the Internet at the airport. One option is Wi-Fi connectivity with the WiFi@Changi access point that resets every 3 hours. Either login with your phone number and an access code sent by SMS or simply ask for one at the information counter. Don't really count on its speed and reliability though. A much better option is to use the 200 Internet kiosks throughout the airport. You have 20 minutes for each session, although you can always re-login. They are always free of charge.
Any local calls made within the departure transit lounge are free. You can use the public payphones or head over to the convenience stores. If you are on the land side, you can rent a smartphone or buy a prepaid card.
Passengers that have liquid, aerosols, and gels that are too big to make their way pass the security checkpoint, can take advantage of the Speedpost@Changi service. Purchase an envelope from the security offices or at the mailbox, drop them in, and wait for them to be delivered within 5 working days to most cities. You must drop them in the mailbox by 30 minutes before departure.
If you want to send some last minute postcards, you can buy stamps from the 7-Eleven on the airside of Terminal 1 on the right-hand side of the immigration control, and put the cards in the mail box behind the Aspial store. You can also drop them at Transfer F at Terminal 2 or near the GST Refund Counter at Terminal 3.

Cope
Baggage Storage can be found at all terminals both landside and airside. Rates range from $5 for loose items to $18 for extra bulky items, per 24 hours. These can come in handy if you wish to stroll the city only for a couple of hours.
Although smoking is not allowed at most areas, outdoor smoking areas are peppered within the terminal (Terminal 1: near Cactus Garden and Snooze Lounge, near Gates D36 and C16. Terminal 2: Sunflower Garden, opposite gate E5, behind Sunglass Hut. Terminal 3: Opposite gates B10 and A21, next to Harry's Sports Bar, Butterfly Garden. Terminal 4: near gates 4 and 16, Level 2M).
If you'd rather sit, there are chairs throughout the area. Charging points are also adjacent while a few are even equipped with feet massage.
Although prayer rooms can be found at all terminals, these are actually catered to Muslims.
Should you feel unwell or require medical assistance, the Raffles Medical Clinic at all terminals will be able to assist you. Pharmacies from mainstream landside brands such as Guardian and Watson can be found at all Terminals, with generic medicine and vitamins you might need.
While all toilets are both child and disabled friendly, there are a couple dedicated for baby care, both at public and transit areas. (Terminal 1: near gates D36 and C24, behind Kaboom shop, level 3 near Playground and 7-Eleven. Terminal 2: near gate E1, behind Guardian. Terminal 3: Gates A1-A8, A16-A20, A21, B1-B4, between B8 and B9. Terminal 4: Near Gates 4, 7, 10, Baggage Claim.)
Airport maps and signs to some essential facilities are clearly indicated at various points in the terminals, although you can also just grab a free guide book to make your way through the airport. You can also scan your boarding pass at the scanner kiosk to look for which gate your flight is departing from.

Sleep
Airside
Snooze lounges
for a little nap or lounging while charging your devices can be found at all terminals. Though they are often packed, travelers do come and go quite frequently within the hour.
Terminal 1: Level 3, opposite O'Leary's Sports Bar
Terminal 2: Level 2, opposite Gates E5 and E11
Terminal 3: Level 2, along the passage behind the shops with a view of the runway.
Terminal 4: Level 2M, opposite International Food Hall
For a more substantial sleep on real beds, there are
transit hotels
in Terminals 1, 2, and 3.
phone: +65 6808 2388

address: Terminal 1 Level 3

Rooms of assorted sizes from 1 to 4 people, with either shared or private showers. Also operates a swimming pool and gym (fee applicable for non-hotel guests) .

address: Level 3, Terminals 2 and 3.

Rooms from 1 to 3 people, most with private showers. Also offers lounge and gym facilities (fee applicable for non-hotel guests), in addition to pampering package.
Landside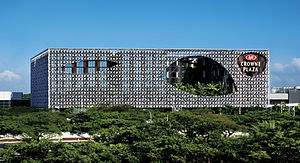 There are several options available in the neighbouring Changi Village and other parts of eastern Singapore. Sleeping at a budget price is available within the Geylang Area, a 20 minute ride with the MRT to Aljunied or Kallang stations.
Within Airport
phone: +65 6823 5300

address: 75 Airport Blvd #01-01

Pool, gym, spa, bar, two restaurants, pay-per-minute Internet.

phone: +65 6407 7888

address: Jewel Changi Level 4

A more affordable option within the airport. Small rooms but featuring modern design and amenities. A room fit for 4 is also readily available. In-house restaurant with breakfast for extra fee.
Around Airport
phone: +65 6823 5300

address: 2 Changi Business Park Avenue 1, Changi, Singapore 486015

171 hotel rooms, including 70 suites with kitchenette. An iPod dock & flat screen TV is in each room. Plus an outdoor swimming pool & fitness centre, but no restaurants.

Capri Fraser Changi City

address: 3 Changi Business Park Central 1, Changi, 486037

A larger & more modern hotel than its neighbour. Rooms are like suites with a kitchenette. Each room has an iPod dock & DVD player. Airport transfer is free.

address: 351 Cranwell Road, Changi, Singapore 509866

There is no MRT station within walking distance, so the only feasible way is by taxi. Rooms are somewhat spacious You'll have your very own Nespresso coffee machine, L'Occitane toiletries, and a wall on your room where you can write everything! Complete facilities such as wide restaurants & a swimming pool.

Village Hotel Changi by Far East Hospitality

address: 1 Netheravon Road, Changi, Singapore 508502

There is no MRT station within walking distance, so the only feasible way is by taxi. Basic rooms but might be a bit less spacious. A wide infinity swimming pool & restaurant. Airport transfer is free.
Stay safe

By and large, the airport is safe as police frequently patrol by Segways and buggy cars and the building is well-lit throughout the day. The airport practically never sleeps, so even at dawn there will always be a few people at some points in the airport. Loitering at the airport for a few hours though, may result in scrutinized questioning.

Nearby
If you arrive early enough (often there are big queues) and have between 5.5 and 24 hours to spare, there are
free city tours
that take you to either the old or modern sights of the island nation, with frequent departures.
Register at a Free Singapore Tours (FST) Registration Booth
at least one hour before
.
Terminal 1 - go to Terminal 2 for registration
Terminal 2 - Between Transit F and Skytrain station
Terminal 3 - Opposite Transit A next to Gates A1-A8
On the other hand, if you only have one night in Singapore, you could grab a classic Singaporean late-night supper in
Geylang
or
East Coast Lagoon Food Village
in the
East Coast
. Or head over to the pubs and clubs in
Riverside
and
Chinatown
.