Sinop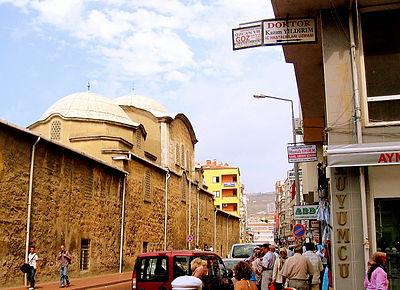 Sinop
is a city in the
Black Sea
region of
Turkey
.
Sinop is a charming Black Sea port town with excellent views. You can easily spend a day here wandering around the town, restaurants and sea front, although you could also easily see everything in half a day.
Understand
Sinop is a resort town on Black Sea. It's the most popular holiday spot for Turkish students. During summertime, the resort is very crowded and full of young men and ladies.

Get in
There is a daily Turkish Airlines morning flight to Istanbul (IST) Airport.

Get around
Sinop is easily navigable by foot. Parking is likely to be difficult in the summer.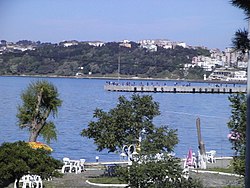 See
Sinop has impressive fortifications running through much of the town. The walls stand at 3 m thick and up to 30 m high, with 7 large towers.
Statue of DiogenesThe Greek philosopher Diogenes of Sinop (a.k.a. Diogenes the Cynic) holds a lamp, supposedly looking for an honest man, and is followed by a dog - he admired canine honesty.
Buy
Grilled fish at one of the small restaurants.

Eat
Get up early and visit one of the local bakeries for a fresh loaf of Ekmek (a sourdough bread). Served hot and sometimes with butter and honey - It is a treat for the taste buds. A warm cup of tea goes well with this treat.
There is a large number of informal open-air cafes along the harbor serving deliciously fresh fish.

Drink
One of the fortified towers has turned into a cafe/bar, and is a great place to get a drink. It also has a good night scene. The Mavi Esinti Cafe is on the seafront and has a free Wifi connection.
Kale Burç Cafe Bar

address: Bülent Ecevit Caddesi

The best bar in Sinop with live shows.
Sleep
Early booking is highly recommended if you travel in summer season.
address: Kurtulus Caddesi, close to the port

A budget place - 20 TL for a basic double (summer 2005), shared bathroom, reasonably clean. In August 2012: the price is 30 TL for a basic double room. Bathroom and toilet are smelly. The general cleaning is not enought. No wifi.
Go next