Sinuiju
Sinuiju
(신의주시) is in
Pyongan
province in
North Korea
.
Understand
Sinuiju is the main border city with
China
on the Yalu river (which marks the border). The large Chinese city of
Dandong
is literally within walking distance over the bridge. Given that it represents the main trading and transportation hub between the two countries it is relatively easy to observe.
Get in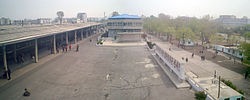 is an important stop between
Pyongyang
and
Beijing
.
Entry is theoretically possible by foot over the from the Chinese border city of
Dandong
, although this option is mostly limited to Chinese citizens with appropriate visas.
A small exists that sometimes takes flights from Pyongyang. The airport in Dandong over the border will have a more reliable schedule and more accessible connections.
A way "to get into" North Korea without actually passing border controls is to take an excursion boat from the Chinese city of Dandong. These boat are apparently allowed within a few metres of the coastline as long as nobody actually gets off.
See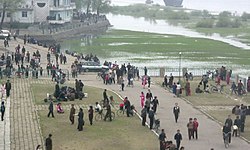 Sinuiju BridgeBombed by the United States during the Korean War, only half of this bridge remains standing next to the newer friendship bridge.
Do
Ferris wheelWith 14 colourful gondolas in a small park with two smaller rides, this eerie ferris wheel, which is seldom if ever in operation, is an easy-to-spot landmark.
Sleep
Stay healthy
Water quality has a poor reputation, with residents apparently purchasing Chinese bottled water from across the border.

Go next
Dandong on the Chinese side of the border