Sioux City
Sioux City
is on the western edge of the state of
Iowa
. It is on the Missouri River and many parts of Sioux City are among the unique Loess Hills formations.
Understand
Sioux City sits on the cusp of the westernmost reaches of the industrial Midwest. Most of the rest of the United States between it and Denver is dominated by wide expanse of sparsely populated prairie. Sioux City is proud of its frontier history and you can find markings all over town dedicated to the western exploration done by Lewis and Clark. The Sioux City metropolitan area (Siouxland) covers portions of three US states; it is primarily in
Iowa
, but extends westward into
South Dakota
(North Sioux City) and
Nebraska
(South Sioux City).
Orientation
Sioux City sits on a major bend in the Missouri River and this dominates its geography. The state boundaries are marked by rivers. The Missouri River divides Nebraska on the South side from Iowa and South Dakota on the North Side. The Big Sioux River divides Iowa on the east side from South Dakota on the west side. Interstate 29 (I-29) runs along the Missouri River in Iowa until it enters South Dakota where it then follows the Big Sioux River. I-29 is the major highway used to access Sioux city. In Sioux City, Gordon Drive divides Sioux City into North and South. Lewis Blvd is the main thoroughfare that runs North and South on the East Side of town while Hamilton Boulevard is on the west side of town. In Sioux City street numbers increase as you move north away from the river. In South Sioux City, Nebraska street numbers increase as you move south away from the river. U.S. Hwy 20/75, sometimes referred to as "the bypass" is on Sioux City's easternmost side and curves around the mall area eventually crossing into Nebraska.
Get in
By car
Sioux City is accessible by a number of highways. Interstate 29 connects Sioux City to as far north as the Canadian border, and as far south as Kansas City. Highway 75 extends to the northeast and southwest of Sioux City, to cities such as Le Mars, Iowa, and Tekamah, Nebraska. Highway 20 brings motorists for the east or west to Sioux City, all the way from Illinois and Wyoming, respectively.
By plane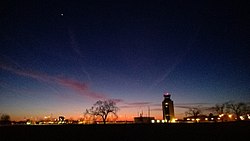 Sioux Gateway AirportSometimes referred to as "The Big SUX". The locals have embraced their airport designation. Non-stop service daily is on American Eagle to Chicago O'Hare and to Dallas/Fort Worth

phone: +1 402-494-3667

address: 615 Old Hwy 20 W, South Sioux City 68776

Martin Field is a privately owned, public use airport 3 nautical miles (6 km) southwest of the central business district of South Sioux City, in Dakota County, Nebraska
By bus
phone: +1 712 255-7678

address: 501 Nebraska St
By boat
Yes, it sounds crazy but you can arrive in Sioux City by boat from any coastal city on the
planet
. Sioux City sits at the northernmost reach of the navigable Missouri River, a major tributary of the
Mississippi River
which is the only in the
lower 48
to be longer than the Mississippi itself. This means you can take your boat (or perhaps shallow draft luxury yacht) from Sioux City all the way to the Gulf of Mexico by way of the Mississippi River in
St. Louis
. From the Gulf it is to anywhere you are adventurous enough to go.
phone: +1 712-224-2628

address: 1100 Larsen Park Rd.

It is not unusual for people to travel from as far north along the Missouri river as Yankton, South Dakota. However, there is no public transport system by boat so you will have to use your own, (or a borrowed one.)
Get around
Public transit
phone: +1 712 279-6404 (route info)

address: Martin Luther King Jr. Transportation Center, 505 Nebraska St.

The bus system is a fairly well built out public transit system for a small Midwestern city. It serves Sioux City, South Sioux City, Nebraska, and North Sioux City, South Dakota. Routes schedules and maps can be found here.
Taxi Service-several taxi companies operate in the Siouxland area.
Action Taxi and Limo

phone: +1 712-252-4778

CAB's Inc.

phone: +1 712-276-5440

Mr. GoodCab

phone: +1 712-444-4444

Siouxland Taxi

phone: +1 712-277-0000

South Sioux City Taxi

phone: +1 402-494-8041

Taxi Xpress

phone: +1 712-577-1111
On foot
address: Downtown

The Downtown Skywalk system is a great, climate controlled way to get around in downtown! The system is roughly 2 miles long and covers 10 blocks in the heart of the city, with 27 access points that get you to and from the street
Trails- Sioux City, Iowa and the major suburbs of South Sioux City, Nebraska, and North Sioux City, South Dakota, all maintain a network of walking trails that connect to each other through Sioux City. Trails are walking and bicycle friendly and include a connection over the Siouxland Veterans Memorial Bridge which connects downtown South Sioux City, Nebraska, to downtown Sioux City, Iowa.
Ride sharing
Lyft
and
Uber
operate in the Siouxland Region.
Car rental
Many car rental companies operate at Sioux City Airport and throughout town.
See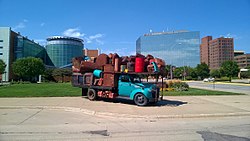 phone: +1 712-279-6272

address: 225 Nebraska Street, Sioux City, Iowa 51101-1712

Features many rotating exhibits from around the world. Hands on experience available for children in their Kids Art Zone.

phone: +1 712 239-8670

address: 33rd & Floyd Blvd

Giant Jesus and Mary statues made of metal. A life-size wood carving of the Last Supper. Trinity Gardens.
Do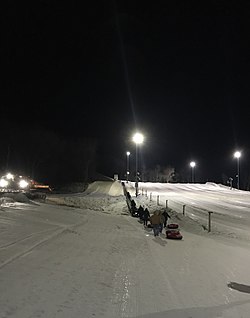 phone: +1 712 279-6126

address: 3800 Line Dr.

This park's main attraction in winter time is a multi-lane snow tubing hill with an automatic conveyor belt type lift and night time lighting. Other activities include an outdoor ice skating rink, a recreation trail and (in summer) a splash pad.

address: 401 Gordon Dr.

Multiple sports activities are hosted here. From NAIA college athletics championships to Musketeers hockey, this venue handles all kinds of events. When not hosting events, you can practice rock climbing on their climbing wall.
Events
phone: +1 712 277-2575

address: 24th and Grandview

An annual music festival held primarily at the Grandview Park Municipal Bandshell in Sioux City. Started in 1991, the festival falls on the Saturday closest to the 4th of July and attracts around 50,000 people from all over the Midwest for the weekend.
Live theatre
Sioux City has a robust performing arts scene including multiple theater companies and many venues to catch a live performance.
Buy
Southern Hills MallThe biggest shopping mall. Indoors.

Lakeport CommonsAn outdoor shopping district.

Downtown Sioux CityCoalition of multiple downtown businesses.

phone: +1 712-255-4346

address: 1922 Pierce St.

Awesome gift shop specializing in Sioux City specific items and goods made by local artisans. Though the store front is small you will be surprised at the neat, and sometimes self deprecating items in store.

Palmer's Olde Tyme Candy Shoppe

phone: +1 712-258-7790

address: 405 Wesley Pkwy

Old Fashioned candy shoppe and gourmet food store.
Eat
La Juanitas

address: 1316 Pierce St

Flavorful Mexican food, open late for the bar crowd.

El Fredo Pizza

address: 523 West 19th Street

A Sioux City original, with a sweet and spicy pizza sauce.

address: 1100 Larson Park Rd

Fine dining, patio and bar with excellent views of the Missouri River.
Drink
address: 1101 4th St

German beer hall with American flair and great craft beer selection. Try the Elkwurst. At The Diving Elk, you'll find a friendly atmosphere where you can relax and enjoy a revolving craft beer list, classic cocktails, and quality local food.

Miles Inn

address: 2622 Leech Ave.

Stop in for Charlie Boy and a Schooner.
Sleep
address: 111 3rd St.

This hotel is connected to the Hard Rock Casino and offers many options for food from a buffet to a steak house. It is also home to a concert venue. Check out all kinds of Rock and Roll memorabilia inside.

phone: +1 402-494-4000

address: 385 east 4th st., South Sioux City, NE 68776

Higher end hotel right on the river front in South Sioux City. Features a good steakhouse inside and nice view of downtown.

Days Inn Sioux City

phone: +1 712 258-8000

address: 3000 Singing Hills Blvd

phone: +1 712 255-4698

address: 5001 Talbot Rd

Along the Loess hills bordering South Dakota, this state park offers campsites and cabins.
Go next