Sioux Lookout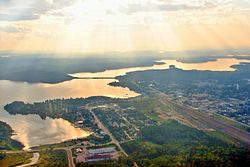 Sioux Lookout
is a town of about 5,300 people (2016) in
Northern Ontario
, approximately 350 km (220 mi) northwest of Thunder Bay. The town's name comes from nearby Sioux Mountain, where the native Ojibway people would watch for any oncoming Sioux warriors looking to ambush them.
Understand
Sioux Lookout is best known as a railway town on the Transcontinental Railway - a place where you can get off
The Canadian
cross-country passenger train and have a smoke.
Urban Sioux Lookout fronts on Pelican Lake, and the municipality undertook a lakefront improvement program to beautify this area. There are now more parks, paths, and other recreational facilities along the lakefront. Many other lakes are easily accessible by car or boat from Sioux Lookout.
The population explodes during the spring and summer months when seasonal residents arrive. Most of Sioux Lookout's tourism comes from people wanting to experience outdoor activities. Fishing is the main tourist attraction during the summer months due to the access to numerous lakes, such as Lac Seul and Minnitaki Lake.
There are a number of fishing camps in the area that allow access to an extensive lake system fed by the English River. The town is surrounded by several beaches, including Umphreville Park, a historical site that predates the town. During the summer months, Sioux Lookout's population rises as tourists, most of whom are American, arrive to take advantage of the many of lakes and rivers in the area. Experienced guides, employed by the camps, can find the best locations and also provide an educated tour of the unique land known as "sunset country".
History
Sioux Lookout's name comes from a local mountain and First Nations story. This mountain, known as Sioux Mountain, was used in the late 18th century by Ojibway People to watch for any oncoming Sioux warriors looking to ambush their camp. A careful eye could see the sun shining off the birch of enemy canoes crossing nearby rapids. Women and children could be led away safely while the warriors could intercept the Sioux on the water. Illustrating this old story on the front page of the local newspaper,
The Sioux Lookout Bulletin
, is an iconic image of a First Nations man, holding a hand above his eyes to scan the waters.
Sioux Lookout was founded a railway town on the Transcontinental Railway. It became an aviation hub for Northern Ontario when gold was discovered in Red Lake; when Sioux Lookout Airport was opened in 1933, it was the second-busiest airport in North America (behind only Chicago). During the Cold War, the town was home to a radar base watching the trans-polar route from the USSR.
Now, the Canadian National Railway is a significant employer, but it and the forest products industry are no longer the largest sectors of the municipality's diversified economy. Instead, as a service centre for numerous northern First Nations communities, health-care, human and social services, education, and the provincial and federal government are major sources of Sioux Lookout employment. The closure of the lumber mill in Hudson, around the time of the global financial crisis and recession in 2008-09 contributed to significant employment changes and demographic shifts.
Climate
Sioux Lookout experiences long, cold winters and short, warm summers.
Get in
By plane
phone: +1 807-737-2829

address: #7 Airport Rd.

Regular flights to Dryden (), Thunder Bay (), Winnipeg (), Red Lake (), and all northern communities in Northwestern Ontario. Bearskin Airlines, SkyCare Air Ambulance, Slate Falls Airways, Bamaji Air Service, Perimeter Aviation and Wasaya Airways operate out of the airport.
By car
Take the Highway 17 leg of the
Trans-Canada Highway
to Dinorwic, then head north for 65 kilometres on Highway 72.
By train
By bus
Kasper BusBus service to Winnipeg and Thunder Bay.
See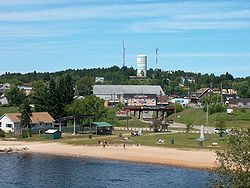 Eco-tourism is becoming popular in the area.

Sioux Lookout Museum

phone: +1 807-737-1562

address: 75 Wellington St
Do
Walleye Weekend Tournament, in the second weekend of June.
Blueberry Festival, in the first week of August, since 1983. The festival celebrates the town and its surrounding environment. The festival includes sporting events (slo-pitch, beach volleyball, bocce, tennis, and golf tournaments), charitable fundraisers, blueberry-themed food, historical walks, musical performances, a car & truck show, and a farmers' market. The town mascot and face of the festival, Blueberry Bert, makes frequent appearances around town throughout the duration of the festival.
Sioux Mountain
Cedar Bay Recreational Facilities

phone: +1 807 737-2033

address: Southwest of Sioux Lookout on Highway 72

Call +1 807 223-7535 in winter. A 2600-ha park with a sandy beach and good swimming. Cycling is a popular way to explore the campground. All boats are allowed in Ojibway's numerous lakes. Canoes are available for rent at the park office. The lakes in the park also link to longer canoe routes. The lakes teem with Northern Pike, walleye, Smallmouth Bass and Lake Trout. A fish cleaning station, with running water and cutting tables, is near the north boat launch. Huge Smallmouth Bass can be caught from the dock. Six hiking trails (0.5-6 km, easy to moderate) through the boreal forest, with interpretive stops that describe the diversity of trees, plants and wildlife typical of the boreal forest.
Eat
Sleep
Ojibway Provincial Park campsite

phone: +1 807 737-2033

address: Southwest of Sioux Lookout on Highway 72

Call +1 807 223-7535 in winter. A small, quiet park where reservations are not required. Beginning in 2020, reservations can be made online or by phone +1-888-668-7275. 50 campsites, half of which have electricity. Campsites can accommodate equipment ranging from tents only to large trailers. Seasonal leased campsites are also available. Amenities such as water taps, comfort stations and laundry facilities are close by.

phone: +1-807-737-7177

address: 10 First Avenue South

A poorly-maintained, run-down hotel with a restaurant, bar/lounge, free Wi-Fi, business centre, air conditioning, microwave and refrigerator in room, accessible rooms, kitchenette, non-smoking and smoking rooms available.

Best Western Sioux Lookout Inn

phone: +1 807 737-4444

address: 2 Sturgeon River Road

Continental breakfast included, indoor pool, exercise facility, cold weather hook-ups, refrigerator, air-conditioning, wheelchair accessible room.

phone: +1 807 737-1330

address: on Highway 72 at the entrance to Sioux Lookout

Full service hotel with a private beach with warm sand and shallow water in a quiet bay, a beach volleyball court, and a licensed deck overlooking the grounds. Free shuttle service to and from the Sioux Lookout Airport.