Sisian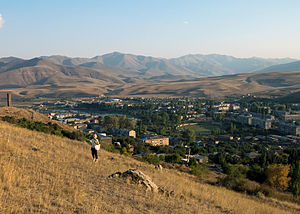 Sisian
is a city in
Southern Armenia
.
Understand
Sisian is a pleasant if unremarkable town, always cooler than Yerevan. It is a good base to visit Ughtasar mountain, and the thousands of petroglyphs on top. A river runs through the town, which has an ancient church called Sisavan on top of a small rise in the center.

Get in
By bus
Yerevan – Several marshrutkas a day. 4 hr.
Goris – 1 or 2 a day (2,000 dram, 45 min), potentially coming from Stepanakert (4,000 dram).
By taxi
Taxis can be found at the bus junction. They can drive to nearby attractions for quite reasonable prices and also to
Goris
for 6,000 dram.
Get around
Walking around town is easy enough.

See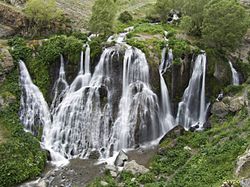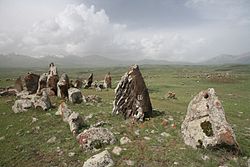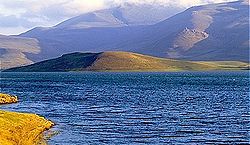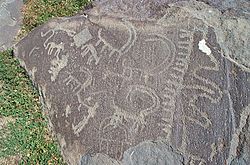 St. Gregory the Illuminator church

address: Adontsi st. 6a

The church was built by the ruler of Syunik Kohazard in 6-7-century.

phone: +374 283 23331

It's notable for its rich archaeological and ethnographic exhibits, as well as rich collection of stone monuments.
Nearby
Ughtasar PetroglyphsMountaintop is literally littered with petroglyphs, with up to 10 or 20 on some boulders. People, animals, dancing, hunting and designs that are 5 to 8,000 years old!

Zorats KarerIt is Armenia's older and cruder answer to Stonehenge in England. Big rocks, some with holes carved in the tops, form a couple of overlapping ovals.

Shaki WaterfallA nice place for a picnic on a hot day, you'll have to pay them to turn the waterfall on full blast. No, seriously, most of the water is normally diverted to generate electricity, so you'll have to make up the difference! (it's quite affordable, actually)

Vorotnavank MonasteryFortified monastery. Rarely visited by foreigners, it's quiet and interesting.

Aghudi MemorialThis centuries-old Armenian memorial is a few stories high and a bit out of the ordinary.

Shamb HotspringsA bit past Vorotnavank Monastery, and not really all that hot, it's a popular place for locals to go swimming, and a picturesque spot.

Vorotnaberd Fort Ruins

address: between the villages of Vaghatin and Vorotan

One of the oldest fortresses. Fortress is often referred to as Davit Bek's Castle, because his troops were also fighting against the Turkish conquerors.

Tanahat Monastery Ruins
Do
Bike, hike, swim, explore.

Buy
The art school has some kids arts and crafts on sale sometimes, and Ashot, the well known local painter who is heavily influenced by the petroglyphs also sells his paintings out of his studio.

Eat
The hotels are the best place to have a bite, or a barbecue joint.

Sleep
phone: +374 2830 4662, +374 91-3-4 434685

address: 1-5 Manukyan Str

Reasonably priced, nicely remodeled hotel with a very nice restaurant and spacious rooms.

phone: +374 2830 3333, +374 93 334392

address: 35 Sisakan Str.

Cheap. Soviet hotel which has been well maintained and is still a pleasant place to stay. Quite an exception to the dozens of other Soviet hotels which are unbearably bad. Ask for a "Lux" room for an in-room toilet.

Hotel

phone: +374 2830 4142, +374 94 104142

address: 1 Gai District

phone: +374 2830 6600, 5600, +374 91 481606

address: 29 Sisakan Str.

Sauna, Restaurant, Bar, Café, swimming pool

Sisian Hotel

phone: +374 2830 3471

Cheap, clean place, not much changed since Soviet times, but helpful and central. The Sisian Hotel is in the center of Sisian town. The hotel offers 31 rooms including two luxury suites. All rooms are traditionally furnished, and are equipped with telephone, color TV, and hot showers are available. Hotel serves traditional Armenian cuisine 3x daily. Can also cater for other requests from guests staying at the Hotel such as regional tours and transportation.
Go next