Sisophon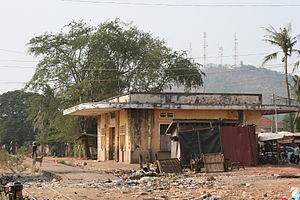 Sisophon
, also "Serei-sophon" or "Svay", is a small town in
North-western Cambodia
. It is the capital of Banteay Meanchey Province. Stueng Sisophon is a medium-sized river that meanders round the southern circumference of the town.
Understand
Control of Sisophon has often passed between the various regional powers. It is now part of Cambodia thanks to the French, whose sabre rattling forced the Siamese into relinquishing it (along with
Siem Reap
,
Battambang
and much of
North-western Cambodia
) in 1907. The town had been Siamese since 1867, thanks again to the French who gave it (and
Siem Reap
,
Battambang
and much of
North-western Cambodia
) to Siam in exchange for unobstructed French control over the remainder of Cambodia. Before then, a nominally independent Cambodia existed as a vassal state of Siam and Vietnam.
Sisophon is a transport hub that almost every overland visitor to Cambodia will unknowingly visit for at least 15 minutes. It is at the junction of two main routes: National Highway 5 (running south to
Battambang
and west to
Poipet
) and National Highway 6 (running east to
Siem Reap
).
The town's main tourist draw is the
Banteay Chhmar
temple complex, which offers a more remote and atmospheric alternative to the
Angkor Archaeological Park
.
The town is sufficiently large to benefit from modern technological advancements not found in the countryside but is largely untouched by foreign influences, which makes it an interesting representation of modern Cambodia. There's a smattering of aspiring English speaking students, mentally unsound Khmer Rouge survivors, peasants and provincial townsfolk which give those who care to spend any time in Sisophon a glimpse of folk that are not found in the more visited, more urbane cities.
Get in
By bus
Several bus companies' offices can be found on the north side of the shared taxi stand. This is where they pick up and drop passengers, though a new, less centrally located bus station is also used, with buses now often stopping at both.
Buses buses connect Sisophon with:
The milestones along the main roads on the approach to Sisophon have it labelled as
Banteay Meanchey
.
By train
Daily train services from
Poipet
to Sisophon recommenced on 4 April 2018, and these will be extended to
Battambang
by the end of May 2018, and to
Phnom Penh
by the end of 2018. Trains already run from Phnom Penh to
Kampot
, and
Sihanoukville
on a Friday-Monday timetable.
Get around
The town is small enough to be comprehensively covered on foot. Even the nearest attraction beyond the town, the lookout tower on Phnom Bak, can be reached on foot from the town.
Phnom Jorn-Tien is perhaps within walking distance, though the major road and unforgiving climate make taking a motodop the best way to enjoy it.
Motorbikes can be rented at the Golden Crown Guesthouse for US$10 per day, ideal for a solo trip to the Banteay Chhmar temples.

See
Banteay NeangThe village features a very small but intimidating mountain with a large golden Buddha at the top. There is a nice view of the locality and a refreshing breeze. However, this is only really for people with time to kill in Sisophon. It's no Angkor Wat.

Phnom BakA hill, elevation 131 m, that features an old government lookout tower used in the 1990s to watch the Khmer Rouge's movements in the area. There are great views of the town to the south and dusty plains to the north. The track to the top climbs the hill's north side. The guard at the top will unlock the gate to allow access to the tower itself.

Phnom Jorn-TienA hill, elevation ~98 m. There is a pagoda half way up and a well. The hill's vertical face has been used by visiting climbers, though there is neither equipment hire nor guides. Two crazy outcast women live next to a small shrine at the top of the hill. Take care, they bite, but are easy easy enough to outmanoeuvre!

Sisophon StationIt is on the Phnom Penh to Poipet rail line. Services to Sisophon were terminated in 2006, and the station is in decay. Its French-built art deco architecture can still be appreciated, as can the platforms and the informal economy that has taken over the station area, which lends the area a lively flavour of urban squalor.
Do
Climbers have been reported to have scaled Phnom Jorn-Tien but there is no equipment hire.

Buy
There are several ATMs, including at Canadia Bank, which does not charge commission.
Sisophon Market (Psar Sisophon) is to the north of the shared taxi stand. Its stalls sell many necessities from toothpaste to basic meals.
English language newspapers and stationary can be obtained from the Apsara Book Shop near the market on the street north from the shared taxi stand.

Eat
Golden Crown Guesthouse RestaurantUnderneath the guesthouse, is your standard, tiled, Khmer restaurant, serving rice, and different meats.

Mirror RestaurantA reasonably new fast food restaurant, with air-con, serving fried chicken, French fries, and, according to the proprietor, fried ice cream.
Drink
There are a number of Khmer 'karaoke' clubs dotted around. Otherwise, a tin of beer at the shop is usually US$0.50.
Committed winos will find solace in the rather pretentious supermarket on Hwy 56 that surprisingly stocks well-priced plonk for ~US$7/ bottle. It's within walking distance of the town centre.

Sleep
Golden Crown Guesthouse (US$6-12), is considered the only decent guesthouse downtown, and can be found to the east of the central shared taxi stand, where most buses drop passengers. Free Wi-Fi is available throughout.
Pyn's Place (US$10 fan, US$20 air-con), is on Hwy 5, 3.5 km west of town, at the base of the mountain. Free Wi-Fi and swimming pool.
On the shared taxi stand's south side is a row of cheap, basic guesthouses with box rooms (US$2.50).
New and clean Botoum Hotel (US$15 air-con walk-in) and a few other new looking places are at the junction of highways 5 and 6.

Connect

There are several Internet cafes in town. Two are centrally located: one opposite the Golden Crown Guesthouse and the other just around the corner on the street that runs approximately north from the market's east side. Both are US$0.50/hr.

Go next
The
Banteay Chhmar temple complex
is 60 km (1 hour) north of Sisophon on Hwy 56. As of September 2015 the road is wide and paved all the way. Self-drive motor bikes (US$10/day) or tuk-tuk drivers (US$30/8 hr) can be arranged at the
Golden Crown Guesthouse
. Banteay Chhmar is 50 km west of
Samraong
, the road to which is also paved.
There are no bus services to Banteay Chhmar.