Sistan and Baluchestan
Baluchistan
is the southeasternmost region of
Iran
, along the country's border with
Pakistan
.
Talk
The native language of the region,
Baluchi
, related to ancient Persian (Avestan), is spoken in western, southern, and eastern parts of the region. As in the rest of Iran,
Persian
is also useful.
See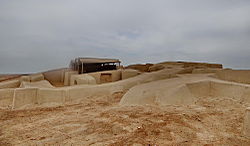 Shahr-I Sokhta — the ruins of a city abandoned around 1800BC, this archaeological site was inscribed on the UNESCO World Heritage List in 2014.
Guel Afshan- a well that spews mud to the air
Lut Desert, partially located in Sistan and Baluchestan, the rest in Kerman is a world heritage listed salt desert.