Sisters
Sisters
is a city in
Central Oregon
.
Understand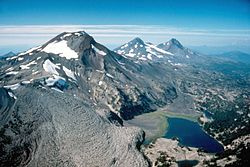 Sisters (pop. 2,040) is named for the Three Sisters, a group which comprises three of the five tallest mountains in the state. The three volcanic peaks, North Sister ("Faith"), Middle Sister ("Hope") and South Sister ("Charity"), are located in the Three Sisters Wilderness about south of town.
Get in
By air
Redmond Municipal Airport a short drive from Sisters and is served by three air carriers; Delta Air Lines, Horizon Air, and United Express with daily direct flights to Portland, San Francisco, Denver, Phoenix, Salt Lake City and Seattle.
Sisters Airport FAA LID 6K5 is an unattended small general aviation strip with self-serve fuel, fee tiedown, courtesy bicycles, and two hour free and fee for more but no overnights courtesy car available to pilots, air taxi service is 7% of annual traffic, one mile north of Sisters. Runway 2/20 is 3,168 ft / 966 m AMSL and is 3,550ft 1,082m paved with asphalt. +1 541 719-0602 hmagaret@sistersairport.com
Get around
Cycle On several scenic highways which cross mountain passes from the Eugene and Salem area and lead to Redmond and Bend, the immediate Sisters area is relatively flat in a mountainous area, making for easy local cycling when there is no snow on the ground. A bicycle or walking is perhaps the only reasonable way to travel during the rodeo and other tourist festivals when the out-of-town auto traffic effectively blocks the roads through town.
See
Black ButteAnother site from Sisters, also a good day hike to the top and amazing views across Central Oregon.

Three Sisters MountainsJust three of the countless mountains that can be seen from Sisters.
Do
Camping- Feeling like camping? Well in the Deschutes National Forest there are countless places that you could camp. In Camp Sherman you could camp along the Metolius River, just stop at the Camp Sherman Store and they can tell you all the great places to either park your RV or pitch a tent. Plus if you are in to backpacking some great places you could hike to, would include South Sister, plus the Pacific Crest Trail isn't too far away either.
Fishing - There are two ways that you can fish, one being fly fishing: On the Metolius which on the upper part is only fly fishing and catch and release, this river is one of the more challenging rivers in Central Oregon because of the forested river banks and quick moving currents. The Metolius is also a guide-free river, so don't plan on hiring one to show you the secrets. Another great river to fly fish is the Deschutes River, you will have to venture further than Sisters to find it. Area attractions, like Long Hollow Ranch, are renowned for the abundant Rainbow Trout and Large Mouth Bass available in their ponds and streams.
Golfing - There are a couple of places to golf in Sisters. Black Butte Ranch offers two courses. Also just outside Sisters heading toward Redmond is the Aspen Lakes golf course. These course offer some Central Oregon's greatest views and also a few challenges as well.
Shopping - There are a variety of independent shops in the downtown core of Sisters.
Horseback Riding – A great opportunity to tap into Sisters' Old West roots, guest ranches in the area, such as Long Hollow Ranch, offer excellent horseback riding experiences for visitors – allowing them to explore Sisters' scenic byways the western way.
Stargazing - Sisters, enclosed by mountains, has a dark skies ordinance, so light pollution is controlled, creating the perfect conditions just outside of town to be shocked by the bright band of light known as the Milky Way crossing the sky. On a moonless night, the velvet black sky is packed with a visible star density almost unheard of within walking or bicycle distance from a town with several overnight accommodations.

phone: +1 541-822-3799 (ticket office),+1 541 822-3377 (snow conditions)

address: 27400 Big Lake Rd

Hoodoo, which is twenty minutes west on highway 20, offers a great place to do some downhill skiing. They also have a tubing park and Nordic skiing.
Buy
Sisters has stores ranging from Quilting to year round Christmas supplies. Sisters also has a fly shop for your fishing needs, a general market and a larger mainline market.
Alpaca by Design 140 W. Cascade Ave. 1 541-549-7222, 10:30-5. One of the largest shops in the West dedicated to selling clothing and accessories made from alpacas and other natural-fiber animals. They have local as well as Peruvian-made items.

phone: +1 541 549-4251

address: 311 E. Cascade

An awesome shop full of all things antlers - chandeliers, tables, earrings, salt & pepper shakers - and they claim that they only used fallen antlers. Also a great place to pick up barn stars and other cowboy necessities.

phone: +1 541-549-0527

address: 273 W. Hood Ave

Sisters Coffee is a beautiful lodge like coffee shop downtown sisters, offering a cozy atmosphere to drink your local roasted coffee. They roast coffee fresh on site and offer some great organic blends. You can also take home a pound of any of their coffee blends.
Eat
If you are feeling casual, Sisters offers many restaurants in their Western Themed downtown that would satisfy your appetite. Sisters offers restaurants from Asian to Mexican and a multitude in between. Also not to far away and a beautiful spot to have a bite of lunch, the Camp Sherman store has delightful little deli and the chance to relax along the Metolius River.
Camp Sherman Store DeliThis store has it all, including a deli, here you will be able to have a mouth straining size sandwich and sit and enjoy the rambling river.

The Gallery RestaurantWith its western decor and large wood beams has down home family style food. Located right in the middle of the main street.

phone: +1 541-549-1963

address: 721 Desperado Ct

Three Creeks Brewing Company is Central Oregon's newest Brewpub. Nestled in the trees at Fivepine, our facility is smoke free, family fiendly and hosts a full restaurant, comfortable separate bar area and an on-site 10bbl brewing System.
Drink
phone: +1 541-549-1963

address: 721 Desperado Ct

Three Creeks Brewing Company is Central Oregon's newest Brewpub. Nestled in the trees at Fivepine, the facility is smoke free, family fiendly and hosts a full restaurant, comfortable separate bar area and an on-site 10bbl brewing System.
Sleep
phone: +1 541 549-1234

address: 505 Highway 20 W

Black Butte RanchGreat place to get away. They have it all but at a luxury price, condos, houses, golfing, biking, fishing, horseback riding. You name it they can help you get it done with class. They also have two restaurants that offer a variety of choices to satisfy your taste buds: The Big Meadow Restaurant which is on one of their golf course, offers a more casual family feel offer a menu with an Italian bistro feel. The Lodge Restaurant is more formal in atmosphere and offers Northwest theme menu.

Camp Sherman AreaA great place to go if you are looking for camping, RVing, Modern Cabins and rustic ones too. Contact Hoodoo to find out about camping.

FivePine LodgeFeaturing 24 Private Cottages of 3 styles & 8 Rooms of 2 styles in the craftsman-style modern lodge. Lots of open space; you can cast a fly line into the Metolius River, golf at Aspen Lakes, or work out in the state of the art gym. If it's rest and relaxation you're after, try the soothing touch of the Shibui Spa and sit in the tranquility of a beautiful water feature embraced with the presence of a one hundred and twenty year-old Buddha, a game of chess beside a cozy fireplace, or sample some great Oregon Wines at a nightly wine reception. Green-built and located on a campus with The Sisters Movie House, Three Creeks Brewing Co. Shibui Spa, Pleiades Restaurant and The Sisters Athletic Club. The conference center can be booked for reunions, events, business meetings and weddings.

The Lodge at Suttle LakeJust outside Sisters, also is a great place to stay. Its right on the river with some new cabins, rustic cabins as well. They of course have fishing and you can rent a boat for the day too. Also has a restaurant set along the shore of Suttle Lake with mountain views. The atmosphere is more formal for dinner and casual for lunch. The dinner menu is northwest themed.

Long Hollow Ranch