Sitges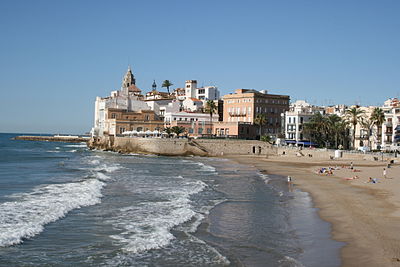 Sitges
is a lovely town, a seaside resort some 35km southwest of
Barcelona
in Catalunya,
Spain
.
Sitges has one of the most vibrant and hippest gay scenes along the coast. The beaches are very colorful and fun!
The city which overlooks the Mediterranean has large avenues, narrow streets, a museum and the gorgeous beaches of Costa Dorada/Golden Coast.
Get in
From Barcelona:
You can get there by train or by car.
The easiest way is by the Spanish Railways (
RENFE
). The journey by train from Barcelona costs €3.00, and takes around 35 minutes. Direct trains leave from Passeig de Gràcia or Sants stations - from Plaça de Catalunya a change is required at Barcelona-Sants. There are four trains an hour - two fast trains and two stopping trains.
By car, there are two routes - either via the C-31 (a local road which winds its way around the cliff faces) or the C-32 (a toll motorway). The C-32 is recommended for speed and safety, however it costs around €5, while the C-31 is free.
By Air, the closest international airport is Barcelona/El Prat de Llobregat(BCN) airport (Sitges is accessible by train, changing at El Prat de Llobregat). Reus/Tarragona(REU) airport is an alternative,for regional flights (Sitges is accessible by train changing at either Sant Vicenç de Calders or Vilanova i la Geltrú).Girona/Gerona(GRO) airport is over 125 km in Costa Brava.
Get around
Walk or taxi cab; it is a charming small city.
The best way is rent an electric bike.

See
Cau Ferrat: this house was owned by Santiago Russiñol, a modernist painter that gave a lot of life to the movement. many parties where held here, and now you can see paintings, sculptures, etc. the name comes from Cau, ("place") and ferrat, ("made of iron"), since the place has many decorative items made of these materials.
This museum has a small Picasso, several el Grecos as well as some small pieces by a range of Catalan modernists
Do
Beaches: there are 11 beaches of varying sizes, the most famous of which is perhaps Platja de St Sebastian, located just northeast of the Cau Ferrat.
Major Events
Santa Tecla FestivalOne of the most important Spanish traditional festival, between 15th and 23rd September. It has been celebrated since 1321 and it has been considered of national touristic interest by Spanish government. Human towers, historical parades and fireworks are some of the main activities.
Buy
Local souvenirs;Catalan/Spanish music ;Spanish/valencian music.
In Sitges (unlike nearby Barcelona) all of the shops are allowed to open on Sundays. You will find a wide range of fashion stores around the city. Several of them carry top brands. Pedestrian streets on the city center get quite crowded on Sunday afternoons with tourists and people from Barcelona buying. Be aware that several shops on the afternoon open just after 17:30 and stay open until 21:00.

Eat
FragataPaseig de la Ribera (under the old church). One of the best fine dining restaurants in Sitges with wonderful harbour views and stunning food. Inspired by the local fish and seafood but delivered with a style and flair that sets it apart.
Drink
The streets near the waterfront are filled with street cafes. Local youngsters gather on the beach after nightfall.

Sleep
Andy's RoomsSan Juan, Sitges - Located in the heart of the old town, gay owned and operated. Beautiful rooms in a 500 year old Catalan Casa,

Hotel Celimar

phone: +34 93 811 01 70

Passeig De La Ribera, 18. Modest rooms, with bath & shower, facing onto the beach front, about 30 minutes drive or train west out of Barcelona. About €100 per night for a double room.

Mediterráneo Sitges · Hotel & ApartmentsThis 4 stars apartment-hotel is in a great location right on the beachfront. The apartments have a bedroom, lounge, marble bathroom, kitchen and private terrace. You are directly on the beach and a short walk from the town centre.

Hotel Sunway Playa Golf Sitges

phone: +34 93 894 18 39

address: Paseo Marítimo 92-94

On the Sitges Promenade, by the sea and next to the golf course. 4-star hotel with doubles, studios or fully equipped apartments, most of them with sea views.

phone: +34 659 516 745

address: Avinguda del Port d'Aiguadolç, 4 08870 Sitges

A collection of luxury designer holiday villas and beautiful farmhouses with private swimming pools in and around the town of Sitges.
Go next