Sithonia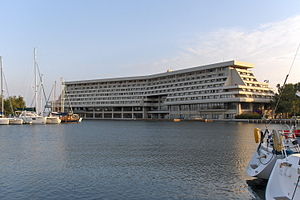 Sithonia peninsula
(Χερσόνησος Σιθωνίας) is in
Chalkidiki
.
Understand
The narrow peninsula is also called the second "finger" of Chalkidiki. In the interior of Sithonia it is very mountainous, but the mountains are not as high as Mount Athos but much higher than those on Kassandra. Sithonia is not yet as well developed as Kassandra. Sithonia is more calm. The noisy discos that are typical on the neighboring peninsula are rare here. The hotels were built later and therefore the architectural is more sophisticated. Giant hotel complexes cannot be found here, with one exception: Porto Carras in the south of Marmaras on the west coast, which was built decades ago. Also, the beaches are not quite so overloaded here. Tourism and traffic in summer have increased significantly, especially due to tourism from Southeastern Europe.

Villages
Get in
In the south of
Thessaloniki
is the international airport (). From here you can reach Sithonia within an hour. It is best to rent a car or go by bus. The roads to Sithonia are well developed. Until shortly after
Nea Moudania
you drive on the highway, then continue on a well-developed road.
Getting there by bus from Thessaloniki you take the KTEL
(KTEL)
busses, which travels three times a day from the bus station in Thessaloniki to Sithonia. From the airport you should best take a taxi to the bus station. The bus goes around the peninsula and stops at any place.
Get around
Sithonia is connected to the bus network of Halkidiki. There is a
reliable timetable
. At important bus stops the departure times are displayed but the buses often delay. When the bus arrives you also have to get up and wave, otherwise it will not stop.
The best way to explore the peninsula is by car or motorbike. The main roads are quite well developed, the signs in order. Only when you leave the main roads, it can be quite adventurous. Many are also traveling by bicycle here. But Sithonia is very mountainous and the routes are not suitable for inexperienced cyclists. And cycling is also not without danger, because many drivers, especially buses and trucks, hardly take account of cyclists.
See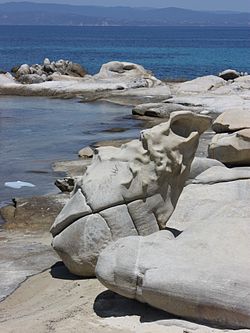 The excavations of ancient Olynthos, with the oldest mosaics (5th c. BC) ever found in Greece.
The old traditional villages of Parthenon, Sykia and Nikiti.
The Porto Carras vineyard and wine cellar.
The Toroneos cross swimming race in July from Nikiti to Kallithea.
The ancient ruins of Toroni and its ancient harbour Porto Koufo.
The spectacular view of Mt. Athos from Kartalia cliff cape.
The thousands of goats grazing free on the mountains.
Do
Beaches
There are many and various
beaches
, and many small bays that invite you to swim.
Nudist beaches
, for which Sithonia used to be famous, are scarcely available during the season, except for few
hardly accessible bays
.
The following have Blue Flag status: Armenistis, Platanitsi, Sarti, Sykia, Toroni, Porto Carras, Anthimou (Elia 2), Lagomandra and Makrya Lagada.
Northeastern Sithonia
Livrochio

Trani Ammouda

Latoura

Lagonisi

Talgo

Livari

Vourvouru

Karidi

Fava

Koutioumiusiu

Zografou

Bahia

Rodia

Banana

Manassu

Armenistis

Dukina

Paradise

Megaportocali

Orange

Kavourotripes

Platanitsi

Achlada

Sarti

Platania

Goa

Agridia

Valti

Griavas

Sykia

Linaraki

Tourkolimmionas

Klimataria

Prassou

Hawai

Kriaritsi

Kalamitsi nudist

Kalamitsi

Thalatta

Mamba
Southwestern Sithonia
Marathias

Porto Koufo

Toroni

Destenika

Tristinika

Aretes

Azapiko

Las Bandidas

Poseidon

Likithos

Diapori

Areti

Panos

Tonis

Kohi

Meliton

Neos Marmaras

Paradisos

Castelo

Lagomandra

Mitari

Elia

Spaties

Kalogria

Koviou

Agios Ioannis

Kastri

Nikiti

Metamorfozis

Myrsini

Pounta

Prasou
Go next