Sitia
Sitia
(Greek:
Σητεία
) is a city in the
Sea of Crete
region of
Greece
.
Understand
Sitia, 18 km from Palekastro and 60 from Ierapetra, with a population of 9500 people, is the easternmost city on Crete and perhaps the least developed. Even during the busy summer peak, Sitia retains a certain charm and laid-back style. On the other hand, this means that it is not deserted in the winter, like other tourist resorts of Crete.
During the Venetian occupation the town of Sitia was destroyed three times. In 1508 by a terrible earthquake, in 1538 by the pirate Barbarosa and in 1651 by the Venetians so as not to fall in the hands of the Turks. For two centuries Sitia ceased to exist as a town, until 1869. The present city was built in 1870.
Sitia is the seat of administrative and public services for the county.

Get in
By plane
Scheduled services
Domestic:
Olympic Air from Alexandroupolis, Athens, Karpathos and Preveza-Lefkas
Sky Express from Athens and Heraklion
By boat
Sitia has road and sea connections with various places in the island and with Pireaus and other Aegean islands.
See
It has been inhabited since the Minoan period. At Petra, to the east of the town, a section of ancient settlement has been excavated.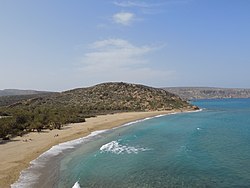 Vai forest and beach, the largest natural palm forest in Europe.

Moni Toplou

phone: +30 2843 061226

Founded in the mid 15th century, is one of the most significant monasteries in Crete.

Kazarma fortressA 13th century Venetian fortress.

Gorge of the Dead (at Kato Zakros).
Richtis Gorge and Waterfall (at Exo Mouliana village).
Ha Gorge (at Ierapetra).
Various archeological sites with ancient Greek and Minoan settlements, such as in Itanos and Mochlos.
There is a waterfront with restaurants and cafes, a large public beach, and an archaeological museum which holds many of the findings from Palekastro.

Archaeological Museum of SitiaSmall museum displaying local archaeological finds, with a focus on artifacts from the Minoan era.
Do
Strolling on the streets of Sitia
There is not too many tourists in Sitia, therefore you can really observe daily life of Sitians by walking through the town.
You can pick into the small shops, and stores, listen to old ladies gossiping, watch old men sipping their coffee.
Sitia's harbour
Sitia has beautiful harbour full of colourful small fishing boats, and good restaurants, tavernas and cafes.
This harbor is much different then the one in Rethymno or Chania because it is not too commercialized yet.
This harbour serves more Sitia's citizens and their families rather than tourists and that's what is good about it.
Information Centre on Sitia's harbour
There is a little building on the corner of K.Karamanli and A.Papandreou, on the harbour. You can get there lots of information on where to go and what to see. You can get there a list with all the events for July and August, such as shows, fiestas, concerts etc. You can get there a phone number to Hotel Union of Sitia 2843 0 28428. They can help with finding a room in Sitia, especially if you are on the budget and want to have your room booked ahead. Phone: +30 2843028300 Address: corner of K.Karamanli & A.Papandreou- on harbour Directions: little building on the corner of K.Karamanli and A.Papandreou, on the harbour.
Eat
Kali Kardia Tavern Kali Kardia Tavern is located two blocks from Sitia harbour. Phone: +30 2843022249 Address: Foundalidou street 22
Directions: Foundalidou street between N. Kazantzaki & Metaxaki (2 blocks from the harbour)
Sitia Cafe Great atmosphere. Bathroom clean. Address: K. Karamanli street, Sitia Directions: on the corner of K. Karamanli street and A. Papandreou street
Tzivaeri Rakadiko Popular with locals for dinner. This food is a fusion of greek cuisine and fast food, meaning, that it was still greek food, but mostly deep fried, greek salads however are huge and superb. Address: the corner of E. Venizelou and Kapetan Sifi - on the harbour
Zorbas People go there for meat dishes. The whole place has nice decor with beautiful view. Address: E Venizelou & N. Kazantzaki corner - on the harbour

Sleep
There are a lot of choices for accommodation in Sitia. There are some hotels near the harbour of the town. There are also one or two luxurious hotels, category A. But you can find cheap and expensive rooms or apartments as well. Some of them are new built and there are ideal for spending your holidays. Either in town or a suburb all of them are very close to the sea and keep the conditions for a good stay either you choose a cheap or an expensive option.
Hotel Krystal (Crystal). It is a nice building, conveniently located and easy to find. Front desk person is very nice and professional. Corner rooms on the 4th floor have nice view of the entire Sitia bay. Rooms are nice and clean, and have long balcony with great view. Nice size bathroom, TV and AC. Breakfast is more than enough, although boring after 4 days. Prices: US$20-40. Phone: +30 28430 - 22284. Address: 17 KAPETAN SIFI 723 00, SITIA Greece. Directions: located in the center of Sitia, 70 m from the sea and few blocks from Sitia boardwalk. Other Contact: info@ekaterinidis-hotels.com.

phone: +30 28430 28953

address: Agathias

Olive Coast Suites is located in Palekastro just 18 km from Sitia.

phone: +30 28430-28950

address: Agia Fotia

Category B' superior hotel, began working from the summer of 2004 and is constituted from 20 bungalows (of which 3 apartments) and 8 rooms that are spread in an extent area of 16 km. above sea. Each room contains autonomous unit A/C, for heat and cold, satellite TV, mini bar/refrigerator, safe, bath/WC (with hair dryer), veranda or balcony. Also provides swimming pool (thalasso), tennis court, basketball court, volleyball court, playground, pool bar, central bar, 1 pool bar, 1 central bar, tavern, lounge with central TV/DVD/home cinema, breakfast room (breakfast buffet), Internet connection in the reception area.

phone: +30 2843028320

address: Petras , Sitia

This complex comprises 7 Mediterranean style bungalows/apartments , fully furnished and equipped , very close to Petras beach(just 130 metres), opposite the town of Sitia. Ideal for families with children. The bungalows are built on 4 different levels of a hilloc. (Website:www.hotelcorina.com)

phone: +30 2843023427

address: 14 , Karamanli Str. , Sitia

Boutique-like, 4 floor hotel at the very sea-front of Sitia, a stone-throw away from the beach, immaculately clean, modern, nicely-decorated rooms. Spectacular view of the harbour and the sea, really friendly staff.
Go next