Sivas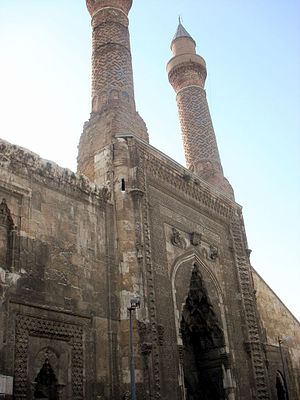 Sivas
is a city in northeastern part of
Central Anatolia
,
Turkey
.
Understand
History
Sivas is a very old city. Its name was Sebastiapolis in the Byzantine period and it was an important city in the theme of Cappadocia. After Turks arrived, the city became an important centre during Seljuk period. In Ottoman period, Sivas was the capital of the province of Rum.
Sivas Congress was an assembly of the Turkish National Movement held from 4 September to 11 September 1919, which lead to the War of Independence.

Climate
Summers in Sivas are hot and dry but with low levels of humidity, and winters are bitterly cold. As with most other parts of Anatolian highland, nights even in summer are a bit chilly in Sivas, so don't forget to pack along at least a cardigan with you.

Get in
By plane
There are daily flights from
Istanbul
and
Ankara
to
Sivas Nuri Demirağ Airport
(VAS). A number of other cities across Turkey are also served with less frequent flights. In summer, there are weekly flights from
Amsterdam
and
Dusseldorf
.
By train
The railway through Sivas is closed in 2019
because of construction of the high-speed line between Ankara and Kars. There's a replacement bus between Sivas and Bostankaya, 15 km south, with altered timings.
Normally there are direct trains daily from
Ankara
to Sivas, taking 10 hours. There are couchettes and a sleeping car; some trains have a buffet. The main stop along the route is
Kayseri
. Depending on the day of the week, these trains continue east:
via Malatya and Elazig to Tatvan (the Vangölü Express), with dolmus connections to Van, for trains to Tabriz in Iran;
via Malatya to Diyarbakir and Kurtalan (the Guney Kurtalan Express);
For details see
Turkish Railways
website.
By bus
There are frequent buses to
Ankara
and
Istanbul
.
Get around
By bus
There are several bus line in city center.
1-A, 1-B, 1-D, 2-A and 2-B passes Sivas Train Station.
Except 6-A, 6-B, 6-C, 11-B and 11-C, all bus lines go to the Coach Station.
6-B, 6-C and 11-B passes Sivas Police Headquarter.
6-C and 11-B passes the "Eğriköprü" which is a historical bridge.
2-A and 2-B passes the "Kesikköprü" which is a historical bridge.
5-A and 5-B passes the Tomb of Abdulvahhabi Gazi.
11-B and 11-C go to the Cumhuriyet University.
By taxi
Average prices for taxi rides along some important routes in Sivas:
Airport-City Center: 60 TL
Coach Station-City Centre: 25 TL
Train Station-City Centre: 8 TL
See
Buruciye MedresesiAn ancient Islamic school with wonderful architecture with the usual majestic gate like the other Seljuk sites have. A nice to take lots of photographs as great sights occur as the sun moves.
Divriği Ulu Camii, Şifaiye Medresesi, Çifte Minare, Ulu Camii, Sivas Castle
Buy
handcrafted silver, handcrafted cigarette holder and pen, famous carpets and rugs

Eat
Foods
Sivas Köfte — if you've been missing pork in this overwhelmingly Muslim country, this local specialty bears a strong resemblance to breakfast sausage.
pezük pickle, famous sivas döner, famous sivas kebap, sübüra, hurma, yumurta erişte
Restaurants
Sıla Etli EkmekA great place to have etli ekmek—long thin breads topped with finely minced meat, kind of a Turkish pizza, a speciality of Central Anatolia.
Drink
Çerkezin Kahvesi is a good place to have a cup of Turkish coffee.
Connect
The telephone code of the city (and surrounding towns) is (+90) 346.

Go next
Spas
There are a number of
spas
in the countryside surrounding Sivas.
Soğuk Çermik is a spa center. Hafik, Todurge (Zara), and Gokpinar (Gurun) Lakes are some of the interesting nearby places for picnicking, boating and fishing.
Besides its historical treasures, the surrounding region possesses several other specialties, one of which is Balıklı Kaplıca, an interesting spa in the town of Kangal. It is a thermal spring, filled with tiny fish living in the hot waters, which provides a different type of cure for skin complaints. It is the only cure center in the world for psoriasis, known in Turkish as sedef hastalığı.