Siwa
Siwa
is a town in the
Western Desert
region of Egypt.
Understand

The historic town of Siwa stands on an isolated oasis in the Western Desert, approximately 550 km west of the capital
Cairo
, 305 km south-west of
Marsa Matruh
and 50 km from the border with
Libya
. Extending 80 km in length and 20 km in width, the oasis is one of the most isolated settlements in the country. Siwa nonetheless holds a special appeal for many travelers on account of its isolation and unique character, its natural beauty and its historical associations. The town has a population of around 25,000.
The inhabitants of Siwa Oasis are ethnically Berber and their mother tongue is a Berber language called Siwi, though nearly all Siwis speak Arabic as a second language and many can also speak some English.
This oasis is not a stereotypical palm grove with a watering hole for animals, Siwa Oasis is a vast region of date palms and olive trees extending over the horizon, with villages and a central lake.
Climate
Siwa has a typical desert climate. It is extremely hot in the summer days and cool in winter nights.
Get in
By bus
From Cairo
The West Delta Bus Station is the city's main transportation hub and is near town's main square, up the street from the bank. Buses to
Marsa Matruh
and continuing to
Alexandria
leave three times daily at 10AM, 5PM, and 10PM. Booking ahead is well advised.
There are direct night buses from Cairo Gateway Bus Station to Siwa, leaving daily at 7:45PM costing LE60, or (as of Sept 2018) 11:45PM and costing LE160 respectively during Ramadan. These buses return to Cairo daily, leaving at around 8PM (as of Sept 2018).
To reach Siwa from
Cairo
on days not served by the direct bus, or to reach Siwa from Alexandria, catch a bus (or shared taxi) to Marsa Matruh, costing LE25-35. From Marsa Matruh, buses run to Siwa daily at 1:30PM and 4PM, costing an additional LE20.
From Alexandria
There are regular buses from Alexandria, leaving at 8AM, 11AM and 3PM, air-conditioned and with modest prices. Journey time 9 hr. The bus stops three times so you can buy a cup of tea and use the very basic toilets.
From Marsa Matruh
Busses leave
Marsa Matruh
at 7AM and arrive at Siwa at 11AM.
From Bahariyya
There is no bus service from Siwa to
Bahariyya
.
The road from the Bahariyya Oasis is in bad shape and must be driven by a 4x4. Drivers will make the journey when they have enough passengers, for a price starting from 1200 LE per vehicle. One must try to negotiate a bit and look for other passengers to share the price.
By taxi
Shared taxi service is erratic, but is available between Siwa and
Marsa Matruh
costing at least LE20. The shared taxis depart in front of Abdu's Restaurant (across from the Yousef Hotel). Confirming in advance is highly recommended.
Siwa is 752 km from
Cairo
, 960 km from
Kharga Oasis
, 760 km from
Dakhla Oasis
, 530 km from El Farafra Oasis and 350 km from
Bahariyya
Oasis.
Get around
By bicycle
Bicycles are the best way to explore Siwa and surroundings, and Chinese gear-less models can be rented for LE10 per day (LE5 half day). Before accepting a bike, however, check that it is sturdy, that the brakes are functioning well and that the handle bars are not cracked or bent. Driving on sand-covered streets can be quite a challenge for inexperienced cyclists.

By donkey cart
Donkey cart drivers are mostly children who have been riding donkeys for several years. Prices for this mode of transport are negotiable - just make sure the price is clearly agreed before setting off - and run from around LE3 for a short trip within the downtown up to LE30 for longer journeys. To get a few people and their backpacks from the bus station to town center can be as cheap as LE1.5. An afternoon trip to Cleopatra's Well will probably cost about LE20-25.

See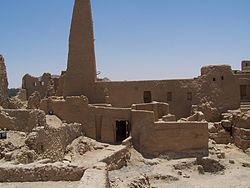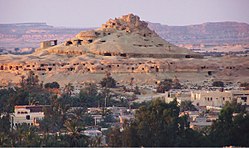 Siwa Oasis300,000 palm trees, 70,000 olive trees, 300 freshwater springs.

ShaliOld town.

Temple of the OracleBuilt in the 6th century BC, dedicated to Zmun (Zeus). Kings unsuccessfully sent armies to destroy this temple due to the power of the oracle. Visited by Alexander the Great, who asked if he was the son of Zeus. Poorly restored. Nearby village is worth a look.

Temple of Amun/Temple of Umm UbaydahThis structure is almost completely destroyed, owing to its dynamiting in 1896 by an Ottoman governor eager to acquire building material. An inscribed wall represents all that remains to be seen. Based on earlier drawings by pioneer explorers, however, scholars have deduced that the temple was erected by the pharaoh Nectanebo of the 30th Dynasty.

Cleopatra's BathA natural hot spring feeds this rock pool, a popular swimming hole for locals and visitors alike. The cafe offers a choice of cold and hot drinks and food, and you can get an uninterrupted view of the pool from the café or the Bedouin tent.

Fatnas SpringIdyllic setting among palm trees and lush greenery. Great place to watch sunset. Small Cafe.

Gebel el-Mawta / Mountain of the DeadThis hill features a large number of rock cut tombs, mostly dating back to the Ptolemaic and Roman periods (3rd century BCE - 2nd century CE). Make sure you see the tomb containing the 1500-year-old Graeco-Roman mummies which are in excellent condition.
the Tomb of Siamun - beautifully colored reliefs
the Tomb of Mesu-Isis - contains a mummified skull
the Tomb of Niperpathot - inscriptions and drawings
the Tomb of the Crocodile - deteriorating wall paintings show a yellow crocodile
Gebel DarkurGet thrown into a bath of hot sand for 20 minutes at a time then drink tea. Supposedly good for rheumatism.
Do
Excursions to Bir WahidHot spring out at the dunes of the Great Sand Sea. Spend a night on a desert safari in a 4x4. Experience enormous rolling sand dunes. Sandboarding can be done at a small additional cost, ask before departing. Swim in the hot and cold springs in the desert - excellent, although the hot spring is filled with (possibly rusted) minerals which will leave orange stains on clothing and towels. This may or may not be due to the pipe which supplies the pool. The cold spring is in fact lake-sized with very cold and clean water. Visit the fossilized sea remains in the desert. Sleep overnight at a touristy Bedouin camp, dinner provided. More than likely, the driver will leave and return at 8AM to drive back to Siwa town - although the Bedouin caretakers will look after you.

Excursions by car safariA nice trip by van or car can take you to a hot water spring in a camp next to Darkur, to the eastern lake, to zaytoun abandoned village, to Abu Shoruf cold spring and to the outskirts of the Great Sea of Sand. Cheaper than jeep safari. Around LE50 per person, no permit needed.

Abu-Zahra Bedouin SafarisOne of the most famous families working in the safari business with a good manner and well-known with the high care about keeping the environment clean.

View the Equinox sunrise over the Amun Oracle from the ancient ruins of Timasirayn templeOn March 21st and September 22nd only, view the annual spring and fall equinox sunrise over Aghurmi/Amun Oracle from Timasirayn temple. Be sure to get there early, and don't forget to bring your zoom camera and/or binoculars, as well as a sweater or jacket. In late 2013, an announcement was made regarding the surprise archaeoastronomy discovery of precise spring and fall equinox sunrise alignments over the Aghurmi mound/Amun Oracle when viewed from Timasirayn temple in the Western Sahara desert. This major discovery now places Timasirayn and Siwa Oasis in the same company as other famous equinox aligned temples and locations such as Angkor Wat in Cambodia; Tikal in Guatemala, South America; Chichen Itza at El Castillo, Mexico; and the Pyramid of the Sun at Teotihuacan, Mexico.
Buy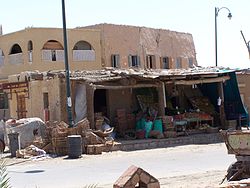 Popular items:
Crafts
Jewelry - LE50-150
Wedding dresses - Famous for red, orange, green, and black embroidery, embellished with shells and beads - LE250-500
Baskets - woven from date palms
Eat
Siwa Dates are the best in Egypt, and perhaps the whole world. Apart from regular dates, they are also sold stuffed with almonds and chocolate. Shops specializing in dates are found around Market Square, and prices range from LE7-8 for a 500-gram box.

Abdu's RestaurantSmall, popular place. Offers a breakfast and a variety of entrées such as pasta, vegetable stews, couscous, meats, and salads - all freshly made, so be prepared to wait.

East-WestFresh fish, pigeon, and pizzas.

Dunes RestaurantTables set under the palm trees. Pancakes, smoothies, stuffed pigeon. Sheeshas, live music.

Alexander RestaurantPizza, vegetable stews, great chicken and curry. Slow service.

New Star Restaurant & Coffee Shop

address: Sharia Subukha

Set in a beautiful palm grove. Usual food. Sells traditional clothes and crafts

ZeytounaPopular cafe.

Bakri's Cafe

address: Sohag Rest House

Great place for sheesha and backgammon.

phone: +20 46 460 0293

address: Seboukha St

Nour El Waha is a popular hang-out in a palm grove opposite Shali Lodge. The food is a mixture of Egyptian and Western cuisine. Sheesha is available at night. Enjoy the food & the music & the traditional siwa tea in a romantic ambiance.

abou Ayman

address: town center

Very good grilled chicken & Kofta (1/2 chicken ~LE20).

Albabenshal Siwa Restaurant

address: Market Square

Good food & dessert (feteer (meat/veg) @ LE15 1/2 chicken @ LE20. Don't miss the Konafa and the date chocolate fluf cake. You can have a drink on the roof.
Drink
Siwan Tea. This is a red tea that is commonly found on desert safaris and is available in most restaurants. 500 g boxes of red (or green) tea leaves are sold in date/olive shop and cost about LE15.

Sleep
Budget
Cleopatra HotelProbably the best value in Siwa. Staff will only clean rooms when requested to do so.

Palm Trees HotelBed bugs have been reported. Opt for the "chalets" rather than rooms in the main building. Bathrooms can be quite grotty, and don't count all of the toilets being functional. Very large, nice garden with trees and fire pit, where the staff will sit at night with guests. Roof terrace with a view of the oasis and Shali, can be used to hang clothes to dry if needed. Laundry done at LE1 per piece.
Mid-range
Albabenshal HotelBoutique hotel. Albabenshal offers 11 guest rooms on three levels, connected through a network of alleyways and terraces that look over central Shali and the palm groves beyond. Inside, guest rooms are furnished and decorated in authentic Siwan style, with colorful Bedouin carpets, palm frond chairs, tables and beds, and linens of fine Egyptian cotton embroidered by women of the oasis (Siwa Creations). On the main terrace, the Albabenshal Restaurant serves a diverse offering of Siwan dishes.

Shali Lodge16 rooms. Just a few minutes' walk from downtown Siwa along a palm-covered dirt road, the 16-room Shali Lodge has simple yet elegant rooms furnished with palm frond chairs, tables and beds, complemented with colorful Bedouin carpets. Highly regarded restaurant with several different places to eat. Specialities include date omelet, lamb casserole or vegetarian tajin, each flavored with fresh herbs of the oasis.

phone: +20 46 4602289

Overpriced and tacky. Bungalows and main building. De luxe hotel with air conditionning, cafeteria, restaurant, swimming pool. Visa card is accepted

Siwa Shali Resort200 m swimming pool.

phone: +20 16 53 400 18

address: Shali

Traditionally restored boutique hotel. Run by an English family who live in the oasis.

Taghaghien Island Resort

phone: +20 46 460-0455

phone: +20 46 921 0384

Peaceful boutique garden hotel located in the palms near the Amun Oracle and Amun Temple. With restaurant, swimming pool, roof terrace and small bazaar. 13 unique guest rooms. Request one of the upper rooms with skylight windows for a special sleeping under the stars experience. Request one of the lower rooms with small backyard gardens for your own outdoor privacy.
Splurge
Adrere Amellal: Desert Ecolodge40 rooms. With no electricity, the rooms are softly lit with a dozen beeswax candles.

Tamazigh8 rooms. A more intimate and more luxurious version of the Adrere Amellal. Large spring-fed swimming pool in lush garden. Some rooms are made entirely out of salt, including the bed and bedside tables.
Stay safe
As a very conservative and traditional town, Siwa is extremely safe. There is no risk of theft or physical violence as long as travelers behave according to expected norms (see 'Respect' below)
Mosquitoes can be a small nuisance.

Respect
Women should not wear clothing that reveals the shoulders, breasts, or legs.
Public displays of affection are prohibited.
Alcohol should not be consumed in public.
Male travelers should avoid contact with the local women as doing so is considered a rude and hostile act.
Connect
Tourist Information, phone 4602338, in the municipal building, open Sa-Th 8AM-2PM, F 6PM-8PM
Gas stations beside the mosque in Shali and behind Hotel Arous al-Waha
telephone office, post office, police across the street from Hotel Arous al-Waha
Go next
Buses to
Alexandria
leave Siwa at 7AM and 10PM, journey time 8 hrs. Buses to
Marsa Matruh
leave Siwa at 7AM, 10AM and 2PM, journey time 4 hrs. Booking in advance is advised but ticket sales start on the afternoon of the outbound journey.
Alternatively a group of up to 15 persons may rent a minibus to Alexandria or Marsa Matruh, and onward to Cairo from there.