Skagway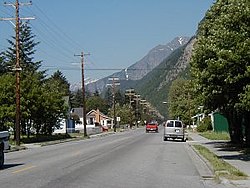 Skagway
is a town with a population of less than a thousand in
Southeastern Alaska
. It is the northern terminus of the
Alaska Marine Highway System
. It sprang up during the Klondike Gold Rush of 1896-1899, and now subsists almost entirely on tourism. The historical interest and natural beauty of the area make it a worthwhile place to visit.
Understand
Climate
Get in
The most common way to get to Skagway is by boat, whether cruise ship or
Alaska Marine Highway ferry
. It is also accessible by commuter flight from
Juneau
, and by car or via the Canadian South Klondike Highway.
Get around
The city is only a few blocks wide and a couple dozen blocks long, on level ground; walking works just fine.
S.M.A.R.T. City Transit
provides small buses around town and to and from the cruise ship docks. Bus fare for the short route that travels from the cruise ship docks to Broadway and 8th Street costs $2 per trip or $5 for an all-day pass. Buses run from May 1 - October 1, 7AM-9PM, 7 days a week. The fare for the bus route that goes from Broadway and 8th street along State Street to Jewel Gardens and Klondike Gold Fields is $5.
See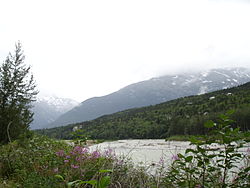 Start by stepping away from any buildings and turning 360 degrees for an impressive view of the nearby peaks that enclose Skagway.
Klondike Gold Rush National Historical Park Visitors Center

address: 271 Broadway

Built as the railway's depot, completed in December 1898, after a long history this building was transferred to National Park Service in 1976, with restoration completed in 1984, returning its appearance to the 1908-1915 time period. It now serves as the KGRNHP's Visitors Center and Headquarters. The National Park itself includes much of the historic downtown: the railway Administration Building, Soapy Smith's Parlor, Mascot Saloon and several other buildings, owned and restored by NPS and others, some leased even today for ordinary commercial purposes, to recreate the city's bustling activity.

Skagway Centennial Statue

address: 271 Broadway

Remembers the miners coming to Skagway in the Gold Rush.

Skagway Museum and Archives

phone: +1 907-983-2420

Photos and artifacts from Old Skaguay including a Tlingit canoe, a Portland Cutter sleigh and Bering Sea kayaks as well as Gold Rush era tools, baskets, beadwork and carvings. Also gold rush genealogy research.

Footbridge to Yakutania Point & Smuggler's CoveTrails, exercise course, picnic spots.

Skagway Sculpture Garden

Skagway Overlook

address: Mile 2 on Dyea Rd

Turnoff and platform.

phone: +1 907-983-2111

Unique flowers and vegetables, including some giants.

Gold Rush Cemetery

address: Alaska St

Old cemetery which includes the grave of Jefferson "Soapy" Smith and "The Largest Nugget in the World" which is really just a giant boulder painted gold. Trolley tours offered to the cemetery, but if you wish to walk from downtown it will take about 20 minutes.
Do
phone: +1 907 766-3007

address: 132 2nd Ave

Mountain Flying Service does charter flights and flightseeing out of Skagway and Haines primarily. They have a spectacular plane with very large windows for flightseeing. Paul the pilot has been flying tours in the area longer than anyone else.

address: 2nd Av

Railroad was built to transport miners from Skagway to the gold. It was in service until the early 1980s, servicing the Yukon's Mining Industry. Today, a portion of the railroad is restored and still in operation. An out-and-back day trip offers great views as the train snakes along the sides of mountains overlooking the river far below; although it goes into Canada, passports aren't required because you don't get off the train. The restored/replica passenger cars feature reversible seats so that passengers face forward both outbound and when the train reverses course to return to Skagway. Excursions start from $110. International trips to Fraser and Bennett Lake, British Columbia are also available. The railroad also offers a transport service for hikers returning from Bennett Lake after completing the Chilkoot Trail.
Buy
There is no shortage of shops along Skagway's main street (actually Broadway Street, one block from Main), offering an array of standard tourist souvenirs, native/local crafts and imported imitations, jewelry, and other goods. Here are a few:
Granny's Gallery

phone: +1 907-983-2775

address: 272 State St

Antique native carvings, art and jewelry.

phone: +1 425 306-8297

address: 4th and Broadway

Special showing of Alaskan Multimedia Artist, Tresham Gregg, working in woodcarvings, silk screen prints, tribal jewelry, puppets, paintings, and more. Plus exotic silver and stone jewelry.
Eat
A few restaurants and bars along the main street offering a variety of brews and cooking provide a pleasant alternative to - or break from - shopping and excursions.
You Say Tomato

phone: +1 907 983-2784

address: State St

Natural whole foods, fresh bread and produce, provisions for hikers.

Skagway Fish Co.

phone: +1 907 983

address: Congress Way

FISH. Halibut fish and chips, Alaskan king crab.

The Stowaway Cafe

phone: +1 907 983

address: 205 Congress Way

DINE. More upscale and overlooking the small boat harbor.
Drink
Red Onion SaloonHas that Gold Rush era feel. "Meet the Ladies of '98".
Sleep
Hotels
phone: +1 907 983-2521

40 rooms.
Hostels
phone: +1 907 983-2040

address: 488 8th Ave

One male dorm, one female dorm, one co-ed dorm, and one private room (sleeps 2). Kitchen facilities and outdoor barbecue. No lockouts or curfew. Open May through September.

phone: +1 907 983-2131

address: 3rd and Main St

Kitchen facilities, outdoor barbecue, free internet. Guests are assigned one chore. Same-sex dorms (sleeps 3 each) inside the main house; co-ed dorm in a bunkhouse in back (sleeps 8). People with pet allergies note that there is one cat and one dog living in the hostel.
Bed and Breakfast
phone: +1 907 983-9000

address: 8th and Main St
RV Parks
Connect
As of 2013, cellular users in Skagway and
Haines
have reported substantial network delays due to the load placed on existing infrastructure when passengers from multiple arriving cruise ships access the system simultaneously. An upgrade to 4G is planned but not yet implemented.
Go next